Collected Interiors– rooms that look like they evolved over time are probably what most of us are striving for.
And for me, I've found that they're not that easy to pull off.
Remember how I'm always harping on needing a plan when designing a room?
But, the very essence of collecting over time insinuates a certain amount of improvisation and so how does one reconcile collecting over time while also having a plan.
Still… it can be done because I've seen beautifully collected looking rooms all of the time. But maybe they only LOOK like they evolved. That's a possibility too.
One of my favorite homes that has exquisitely collected rooms belongs to Maura Endres who you can see more of her home here.
Beautifully collected interiors are:
stylish
timeless
always fresh
elegant
Last January, when I was 30,000 feet up in the air,  on my way to KBIS, I received a real Dear Laurel note from a reader named Elise.
She was responding to a recent post about how to work with white walls. This might be a good time to review that post. (in the link)
And here is what Elise wrote me about her home with collected interiors.
I love the look of white walls…in photos and magazines; so fresh and soothing. But when I tried to go white in my home, I hate the look. It looks unfinished, cold and generic.
I love collected interiors and have a mix of antiques and painted pieces, slipcovered furniture, colorful pillows and fine artwork, so there is no lack of color.
Is it just me and am I doing something wrong?
Well, that got my attention, so I asked her to send me some photos and with the lights off so that I could see the colors.
Elise thanked me for responding and went on to say:
I have been a little frustrated by the beautiful homes I see on Instagram and on blogs such as yours.
Just don't feel I can successfully pull this off in my home, even though I've seen many traditional, collected interiors similar to mine with white interiors.
I'm not sure if I'm the only person who is struggling with this.
The farmhouse white trend, which doesn't fit my personal style, has made me feel dated and out of touch with the rest of the world.
All of the public rooms and hallways are painted a light beige that leans slightly to green (oh, the horror)! Color swatch attached (it's kind of accurate). This is a very dark house in general. Small rooms and narrow hallways.
I have been lightening the color over the years, but most rooms are Porter Paints Newport Beige as you can see from the photos.
However, I could not bring myself to go any lighter or to go to an actual gray tone – even a warm gray. An off-white tried in one room just looked dirty. The paleness made my house feel more cluttered, if that's possible.
If this is worth a blog discussion, I'd appreciate it if you could:
a) convince me that I should save my pennies and paint the entire place white or
b) tell me to love my house the way it is.
Notes:
I've lived in this house for nearly 14 years.
All the trim is bright white – color unknown.
Stating the obvious, but I have a LOT of stuff.
Each time I have the house painted, it's >$6k, so making a mistake with color is disastrous for my wallet.
With great respect,
Elise
Before I begin, I want to say that over-all, Elise's home IS very lovely.
It has nine-foot ceilings and BIG windows. Yes, the rooms are small and there are a couple of other architectural details that I'm not sure why were done the way they are, but over-all, it's a beautiful home.
Let's take a look at Elise's Collected Interiors to see if we can figure out why she's struggling.
But first, this part is super important.
I am sure that others will have ideas as well, but please be respectful of other people's tastes and ideas. 99% of you are always darling and add so much! This is for the one percent who go too far.
The Family Room/Den
Above and below, the family room

See? Very nice, on the whole.
But, still, while very close, there are some things I'd love to tweak. Most of them are pretty easy fixes. However, I realize that some of them might be too costly.
Let's jump in and discuss the architectural problems.
The French doors with the transom is divine, but across from it lives a window that goes down to the floor, with no transom. It does not have to have a transom, but then it should be up at least 18″ or so from the floor. I have not seen this done before. It makes me wonder if the window was once a door?
My other issue is the cabinet on this side of the kitchen with the pass-through.
Pass-throughs are great if there's a reason to pass through. Since there's no dining table on the other side, it makes no sense. Plus the white isn't working for me. It looks like someone turned the kitchen around.
And yet, I can see a bit of a kitchen cabinet and it's oak.
Quite frankly, I'd rip it out as the door is also too close to it and replace it with a wall on the family room side. Then, a small console table might be able to go there with a beautiful mirror, possibly.
I would prefer a different coffee table. Something lighter, perhaps or with more style.
Vintage Ming coffee table in Dark Forest Green
There is also a pretty round glass and brass table below in the widget.
In any case, and I hope this doesn't sound like whining, but the elements on the table should be placed at right angles to the table, not on an angle. No worries, I see that a lot, along with two paintings hanging catty corner to each other instead of side by side.
For more ideas about table styling please check out my two favorites.
I do love the tray on the table!
The wing chair is not cohabitating nicely with the leather club chair.
In this case, I would find another home for the wing chair as it seems a little tall and fussy for this room. And then I would move the sofa over a little and have two matching end tables and two matching beautiful lamps.
While I think some people get carried away with too many pairs, in this space, I feel that there are too many singles.
Since there's no wood, let's do some handsome wooden side tables
with two beautiful lamps.
Wall color.
It's not bad, but I'm thinking that with all of the dark elements that a DARKER more saturated wall color would be wonderful. Maybe a beautiful grassy-green Like Benjamin Moore's lovely Herb Garden one of the Laurel Home Essential Collection paint colors.
This will help marry the darker elements, so they don't feel so heavy.
But then, we need more white to balance out the notes of dark, medium and light.
Here's where it all comes together.
Right now, we have windows that are too low and then a decorative element that is calling attention to the fact that they are too low, so I'd remove that. In addition, while I love the bamboo shades, they are dragging the windows down even further.
But I have a solution and I think it will help the room over-all.
We can keep the woven wood shades and I would add a drapery. It could be a panel and a half for fullness with a tailored valance, something like the one below.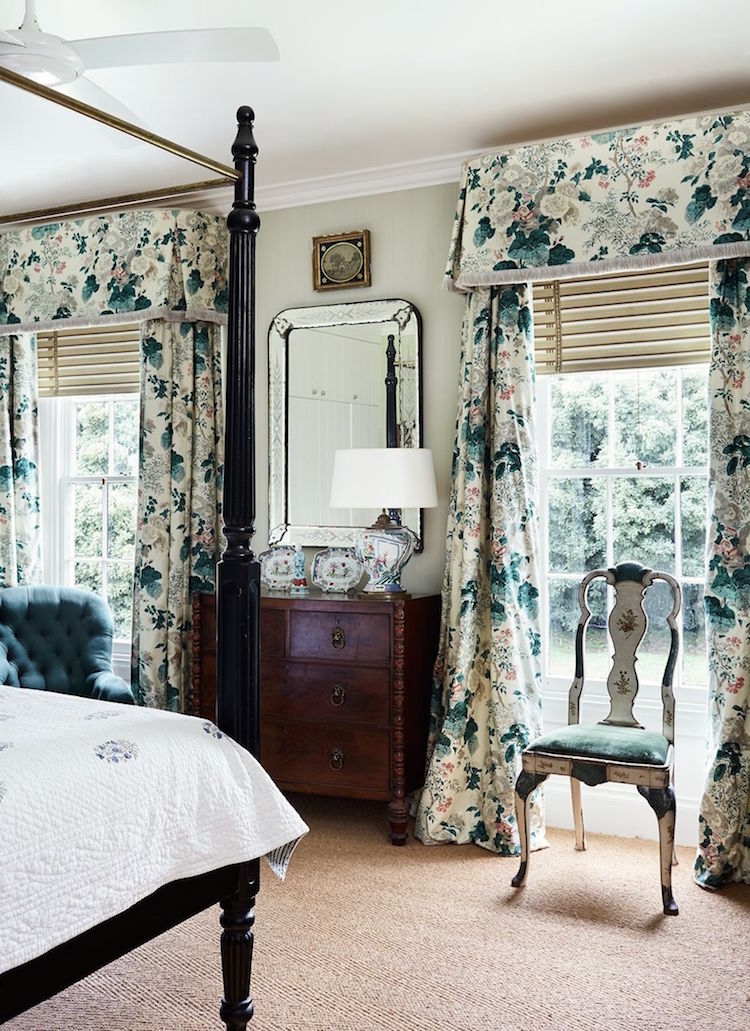 Elise could do a floral, but I think I would prefer a solid with a contrast ribbon trim maybe in a dark green or black.
Remember when we worked on this family room?
Well, I would do something like that only like the window treatment in this post. It's the white linen drapes with the green trim between the twin beds, by Sarah Bartholomew.
And I would do the valance about 18″ +/- tall and put it up as high as it will go as long as it is covering the bottom of the window casing. (please make sure it is covering the window casing when sitting down, not just standing up!) It will make the window seem like it goes up to where it should go.
If Elise does this, I recommend doing black-out lining.
That is because during the day, if light is going through the drapes, but not the valance, because the valance is in front of a wall, not a window, it will look funny.
Aside from that, I would not use the two very small lamps. I would move the apothecary lamp to the leather chair. If we do sconces flanking the bookcase, I think that we won't need another lamp by the fireplace. I would replace at least one of the metal tables with a garden stool. Maybe by the leather chair and we need a pillow there to brighten and lighten the chair.
One other thing. I would keep only the center throw on the sofa parallel to the bookcase.
If other throws are needed, maybe one on the other sofa or leather chair and then store the rest. I just think it looks a little too much.
And I would change most of the pillows with higher-end fabrics. It's one of my best tricks for making a room look rich.
And if possible, I always recommend Down and feather inserts in the pillows. It makes a huge difference in how they look! The inserts should be at least an inch or two larger than the pillow cover so that the pillows look nice and full.
Here is everything you always wanted to know about throw pillows plus some great sources!
The Dining Room
Aside from the white wainscoting looking too white; not much to say here. The dining room actually looks pretty fabulous. But hang on a sec.
Above and below is the front entry. Well, duh.
But see the slipcover skirt on those chairs? Love that! I would do the same thing on the dining room chairs. It's funny, but I was going to say that before I noticed these chairs! The slip seats might need to be redone, but it'll be worth it. I would add a beautiful lumbar pillow for the host chairs.
And I would put picture lights over the art work. That adds a little ambient light to the room which is really lovely too.
For the entry, I think it would look cool to have a larger sea grass runner under the other runner.  One might be able to go in the far room too with the pretty art wall.
I love the black door, but am not sure about the architectural pieces. I do like them, but we need sconces. We could keep them, if they are lowered to table height and then I would put beautiful sconces above. And I would probably paint the architectural pieces white.
Otherwise, small demi-lune or small chests could go under the sconces. If sconces aren't possible, then I would still paint the architectural pieces white and use a different candle holder.
And finally, finally.
What about the rest of the wall colors?
It's a little difficult to tell from these images. But from what I can see the color in the dining room is fine.
Could Elise do white walls? Yes, but then I think too many other things would need to change and that's not going to happen.
But, I am thinking how fun it would be to do a cool wallpaper in the entry and just going up the stairs. (there's one from Schumacher in the widget below. It is on the expensive side, but really gorgeous and the colors would look great!) I would add wainscoting with panel moulding on the staircase and maybe a sea grass runner.
I think that there needs to be a few more pieces of art here and there, and I would add in a little more color and more black and white, perhaps. You'll see some ideas for the accessories and art in the widget below.

Hope that gave Elise and others some good ideas! And please note that any measurements or recommendations are educated guesses. Please always check and double-check everything! That's the best piece of advice I can give anyone!
xo,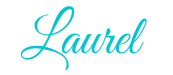 PS: Please check out the hot sales – home furnishings and some beautiful clothes. All on sale this weekend. But I spend hours picking through the crap to hi-light my favorites. Many are on sale for a brief time and with the clothes, most of them quickly sell out.