Hanging my head in shame…
a little.
It's about Sunday's post about clever ways to hide your living room TV and wires.
(hire a pro, for one thing!)
And what happened is that in the comments I was asked about the new "art TVs" and then new "mirror TVs"
???
and I had no idea what they were talking about. :[
But I should have had an idea; more than an idea. And I should've been the one to bring it up. Not that I'm not grateful that I was clued in. But just a little embarrassed. And that is why there is this follow-up post about your living room TV.
Because what I discovered is pretty amazing!
In my defense, regarding the new technology for the ubiquitous living room TV, the fact that I was in the dark gets my hackles up.
Do you guys have any idea how much crap I get in my email???
This product. That product. And 95% of it is something that has less than zero interest for me.
So why didn't someone– ANYONE send me something about the new Samsung Frame TVs? (like Samsung, perhaps)
THAT, I should've been sent info about.
It didn't even occur to me that anything remarkable had changed. I guess I figured that they had gone about as far as they could.
Boy, was I wrong about that!
cue the flashback effect……………… ;]

It seems like just last week that I was a little girl watching our black and white portable TV.
Except ours was in our damp, moldy basement.
Geezzz… That was just like our floor in our damp, moldy basement!
On alternate blue moons in southern Indiana, we got a semi-clear picture. (and sound) But, it was constant futzing with the antenna; I didn't care. As long as I got to stay up late on Thursday night to watch Bewitched, all was right with the world.
At some point, my brother put his foot down, because he had bad allergies, and the TV made its way into our living room. Calm down! ;] We had no den or family room. It was a small home. I don't remember exactly where or when. But I do remember being sick and being allowed to have the TV rolled into my room.
Years and years later when I was a young adult, I bought my very first TV. It was in the spring of 1986 and the last of a long string of room-mates had finally moved out of my small one-bedroom apartment in Manhattan.
I went just around the corner to the local branch of CRAZY EDDIE. (just before things got really crazy!)
Remember? His prices were INSANE! Literally. Eddie was also running one of the biggest scams of the century.
I got what we then called a "flat screen" and was mighty chuffed with myself. It was a Sony. But like an idiot, I got the extended warranty. Those televisions NEVER die and mine only needed a minor repair 18 years later.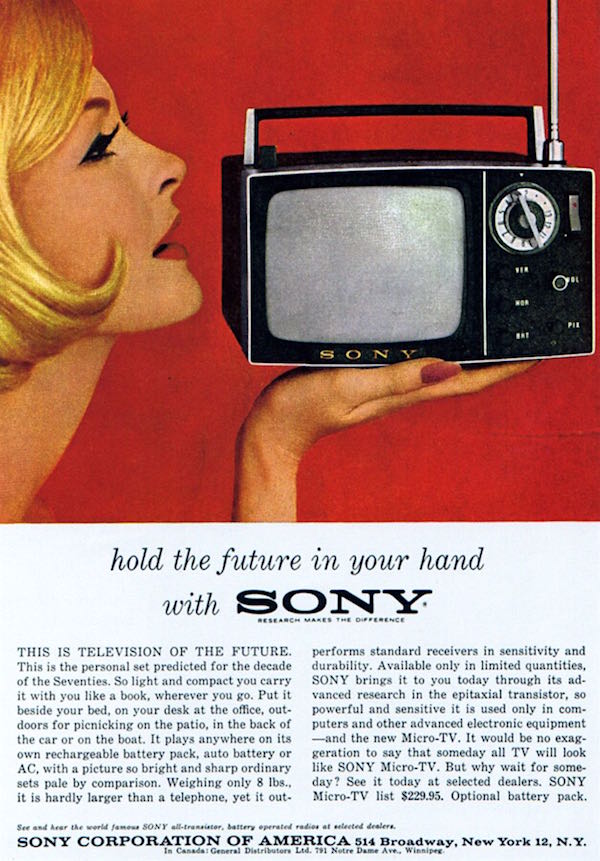 Television of the future?
Then, a decade later came plasma TVs for about 10 grand each.
And then the rest— LCD, LED and then hi-def.
super high def
and now?
We'll get to that in a sec.
But first…
Let me show you what the living room TV of today might look like.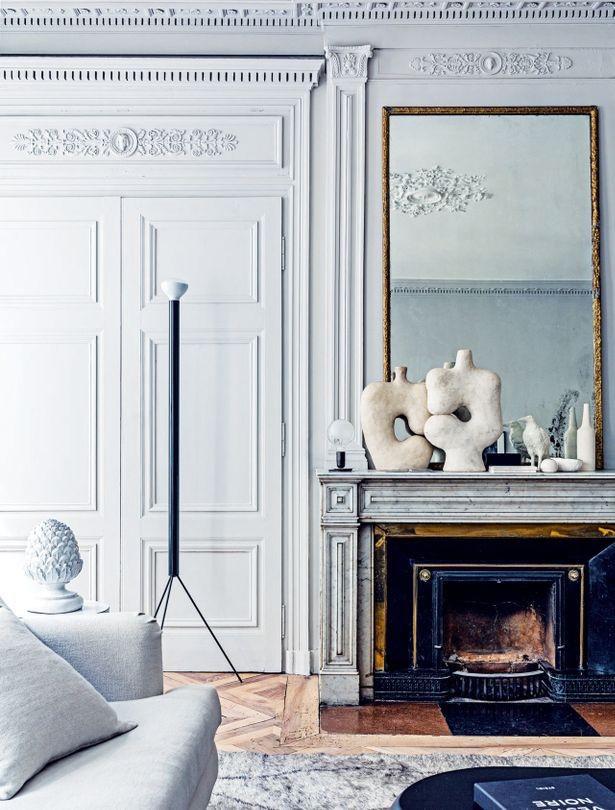 via Vogue Living
Tone on Tone
from a job we did a couple of years ago.
UHHHHHH LAAAAURRRELLLL… HAVE YOU LOST YOUR MARBLES???
I DON'T SEE ANY TV in any of these rooms!!!
Yes, I know that. :]
But just because you can't see something, doesn't mean it isn't there. ;]
For instance, we could have a TV behind some art that slides open either manually or with a remote control. There is a terrific tutorial on one of my favorite sites, Minted that tells you exactly how to do this.
Or a TV behind a piece of art or mirror like this one that slides up.
The only problem with this one is that you can't have a very large TV and usually the space above the mantel isn't large enough to allow the door to slide up. Better to have it like the first one.
Yes?
Well, the mirrors you showed are HUGE!
I don't think it would be a good idea to have them sliding.
Me neither. And they don't have to.
The TV can also appear like magic behind any mirror, with a frame or not.
Above images from the Savoy Hotel and created by an English company called Magic Mirror TV
There is technology now to do this. Not saying that it's cheap. I'm sure that it's anything but.
A Phillipe Starck Hotel in Venice
also has a TV behind one of the mirrors
original source unknown
Tell me that's not cool.
And if you tell me that it's going to hurt your neck, I'm going to wring it!
Well, no, not really. But please allow me my five minutes of coolness? And let's not get too hung up with physicalities. Okay? One does not have to hurt their neck with a TV a little higher than your direct line of vision. Just open your eyes a little wider. Good exercise for your eye lids. :]
But sure, if this doesn't work for you, that's fine.
If you're horrified that anyone would put any kind of a TV in a formal living room, get over it.
You don't have to put one in your living room.
Sorry if that sounds a little bitchy. But I think it sounds bitchy to chastise people for putting a TV wherever they want to.
Except for this.
For Eddie's sake, you are not to ever put a TV dropping down from the middle of the ceiling! First of all, it's phenomenally ugly and second of all, incredibly dangerous. What if you forget to put it back up and get up in the middle of the night to pee?
On the other hand, it might be a good way to get rid of unwanted house guests. hehe
Moving on…
There's an American company I found, Frame My TV, that makes these wonderful frames that go over the TV
Some have mirrors like this…
And when the TV is on, the mirror "disappears."
This is from the mounting instructions and shows how it works.
Or, if you don't want a mirror and prefer a piece of art,
they have a system where the art rolls up out of the way when the TV is in use.
They also have system that puts TVs behind a piece of mirror like in the images further up.
So far, I've only seen them in bathrooms. But I imagine that they can do it anywhere.
Now, I checked on the prices and the frames are gorgeous. The highest level is exceedingly expensive. But this is a viable option and their site is very thorough and helpful.
And now, for the game changer as  realtor in Irving, NY Andrea Martone called it in the comments on Sunday. BTW, Irvington is one of the fabulous "river towns" in Westchester County.
Let's take a look at the Frame TV
Via Vienna Blog
Again, it's by Samsung and it's called The Frame.
Can you tell which ones are the art and which ones are the TVs?
If you can't, that's terrific.
You're not supposed to be able to tell and from a couple of feet away, it's almost impossible, I understand.
There is a choice of four different frames.
And they even have an easel-type stand, if you wish not to put it on the wall.
How much are these babies?
Well, the base price is about two large.
However… you need to get the mounting stuff, the special cable, remotes, the artwork. There's a choice of about 100 pieces or you can use your own. I'm not sure if the art is extra or not.
But, I think that this is an exceedingly elegant solution for a problem that has plagued us ever since this addictive box first entered our lives some 70 years ago.
Where can you get this beauty?
Well, of course, any Samsung dealer.
However, if you are looking for a great deal, I did find one on Rakuten.
To be clear, I know nothing about this source, if they are crooks from a distant land or if they're just onto a good thing. But their advertised price is a few hundred less than everyone elses.
and you can also find them at the Samsung store on Amazon
That one should be a safe bet.
And that's pretty much all I have to say about TVs for now.
No wait. I lied. It's the next day and super-talented reader Caroline Z has a gorgeous instagram feed, a beautiful new blog, The Hyphenated Home filled with scrumptious looking food AND a new Samsung Frame TV! And I couldn't help but swipe a photo of it from her insta.
Since she's in an apartment, she wasn't allowed to install it on the wall, but it is still incredibly lovely on its stand.
Please also remember to check out the original TV post for some terrific ways of either hiding your regular TV or working it into the living room decor.
And…
Please get set for a very special edition of Hot Sales on Friday.
Also, I've been adding new things to my (obsessively curated) Favorite Home Furnishings and will continue to do so on a regular basis.
It's labor day on Monday. Oh, too soon! But that means some incredible sales.
To give you a head start. Beginning on the 31st, (tomorrow) there is a 20% sale – SITE-WIDE
But also right now, up to 55% off on their beautiful collection of outdoor furniture.
And this is not end of the season drek. (not that they have any to begin with), but my favorite exclusive styles at a massive discount. If you are looking for some beautiful outdoor furniture at a great price, I would head there right now. They say this sale is only on for 24 hours.
And also on Friday, get ready for some exciting news!
xo,