Please don't be confused by the date. It is a very old post, but it's been completely revamped, expanded and updated.
One of my favorite rooms to furnish in a home is the dining room. And my favorite table shape are round dining tables– preferably with a leaf (or leaves) so that it could become an oval and be able to seat more people.
I love the shape and I love how round dining tables are so congenial for conversation
Not all dining rooms can accommodate a round table, but most can with some clever maneuvering.
The room doesn't have to be square, but it does have to have enough usable space on two walls for a server and a china cabinet, in most cases.  Generally, I like a table of from 54″-72″  in diameter. Although there is nothing wrong with having a 42″ or 48″ dining room if the space is tight.
A 54″ table one will very comfortably sit six or seven, a 60″ can sit up to eight and a 72″ can sit up to ten.  In the Bronxville dining room we did a 72″ table and it is the perfect size for that room.  Another round dining table I did back in 2001, can be seen here.
One thing I need to point out about all dining tables is something I hear all the time.
It's the veneer issue.
This is very difficult, I realize because we've been programmed to think of veneer as cheap crap.
And yes, it can be.
But THE finest most expensive, the $30,000 dining tables are ALL made from veneers.
Yes, they are.
Why? It makes for a stable non-warping table-top. That's why. It's how it's been done for centuries.
How many people can you sit at your round dining tables?
Well, partly it depends on the chairs. If you chair is 20″ wide, you'll want at least 2″-4″ inches on either side of the chair— minimum. So, using the pi method to figure out the circumference here are the numbers for some common size dining tables
36″ D = 3-4
40″ D – 4
48″ D = 4-5
54″ D = 6
60″ D = 6 – 7
66″ D = 7
72″ D = 8
If your chairs are smaller, like 16″-18″ you can probably squeeze in one more chair for the 54″ – 72″ sizes.
Of course, many round tables are extendable (we'll be getting to that later on) and then depending on how many leaves and the size of the leaves, you add more.
One other thing to keep in mind is that today's chairs are frequently, IMO over-scale. Here is where you can find numerous dining room chairs that are all in good scale.
One last bit of business regarding round dining tables.
The chandelier.
Well, for a round dining table, the fixture is usually… uhhhh — round.
How big a round?
A standard diameter for a round dining table is half of the width of the table– max. I would not go larger than that, but you can go a little smaller.
Here is some dining room inspiration,  featuring round dining tables.
Timeless and so, so pretty this dining room is! Alexa is one of my favorite designers— so talented! I've met her a few times as well and she's also screamingly funny!
Fabulous colors and I adore the wall panels
This is one of my favorite dining rooms ever. Love the tone-on-tone Chartreuse!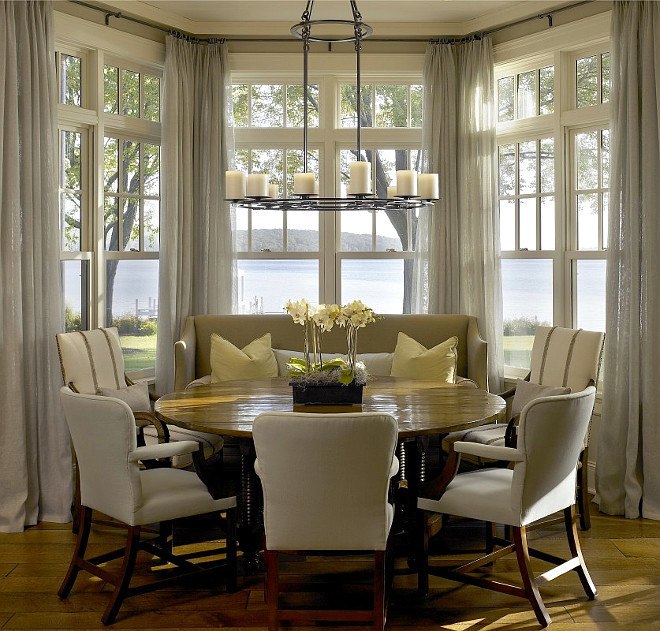 Pretty dreamy, eh?
Fabulous traditional dining room and I adore the Chinoiserie wallpaper. It reminds me of Mark D. Sikes.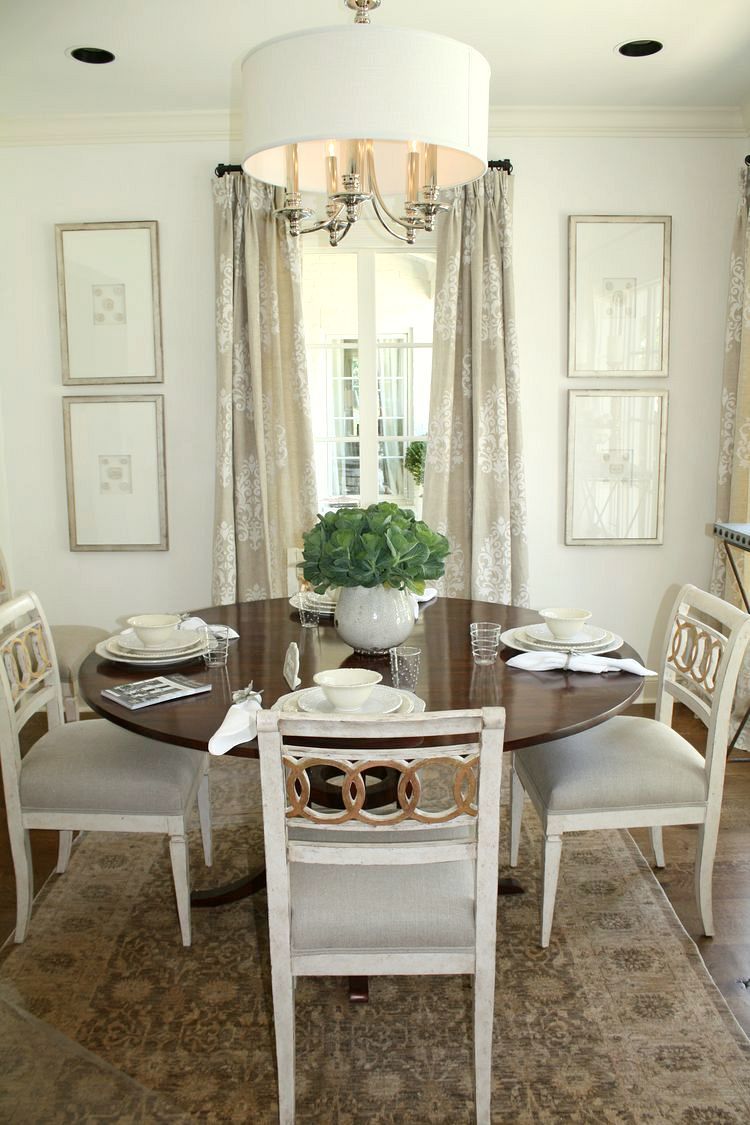 Love this Swedish influenced pale, monochromatic dining room.
The only thing is—The rug should be a bit larger. The chairs should be sitting on the rug completely.
I would go at least one foot wider.
Bunny inherited the Victorian round dining table from her aunt.
This is the same table as Phoebe's dining room that we did in the Bronxville dining room a few years ago. It is a 72″ round with two leaves. Phoebe's table looks to be a 60″. The dining table is to the trade from Englishman's Furniture. One of the 36 sources or so in Laurel's Rolodex that I cannot live without!
Below are some terrific round dining tables that I found.

The round dining tables below are mostly antique and vintage but one or two are new. Getting a wonderful old table for a great price and fixing it up if it needs to be fixed is a great idea!

A few comments about some of the tables
This is from a wonderful company, On Point Wood Design, I found which will make a totally custom table for you. Many different styles.
And they can also send you an unfinished table, like the one above if you like, so you can have a go at it, if that sort of thing appeals to you.
This is a way cool table I found on Chairish. It's enhanced by the brown paper and blue tape so artfully covering the floor. I'll forgive them, though because they did paint their brick fireplace surround.
It's an early 20th century ebony table. Very sophisticated. It can accommodate a leaf of up to 24″, but it would have to be made. The table is only $699.00, so that is a great deal.
This ebonized table is also wonderful. It has a hand-plained finish which looks very rich.

This table expands quite a bit. I love the classic detailing. AND it is only $495.00 !!!  Without the leaves it is 38″ which will seat up to four people. And with the three leaves, you can seat 4 more.
I've actually done this table twice! And for two completely different dining rooms. The table is from Baker and was part of their Charleston collection but was discontinued several years ago. And the price of $4,500 is fantastic. It retailed for twice that much 15 years ago!
Just so you know, this is an incredibly sucktastic photo. The top is not that orange. No way!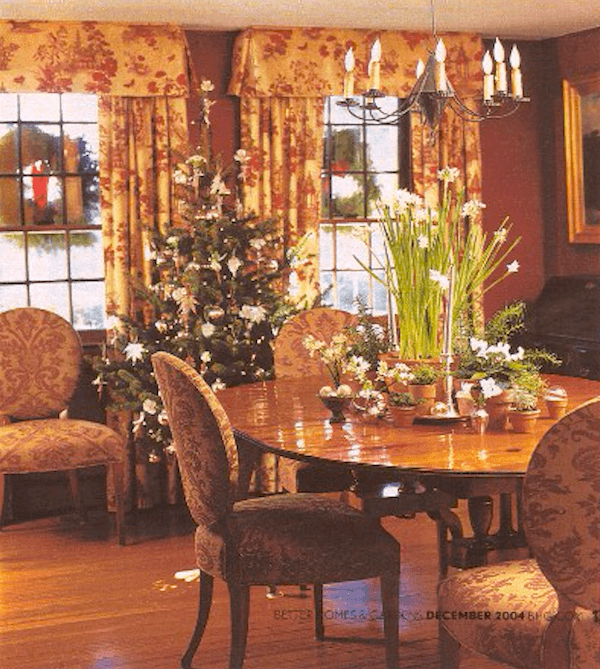 This dining room was done in 2000 and appeared in Better Homes and Gardens December 2004.
The table isn't this color either.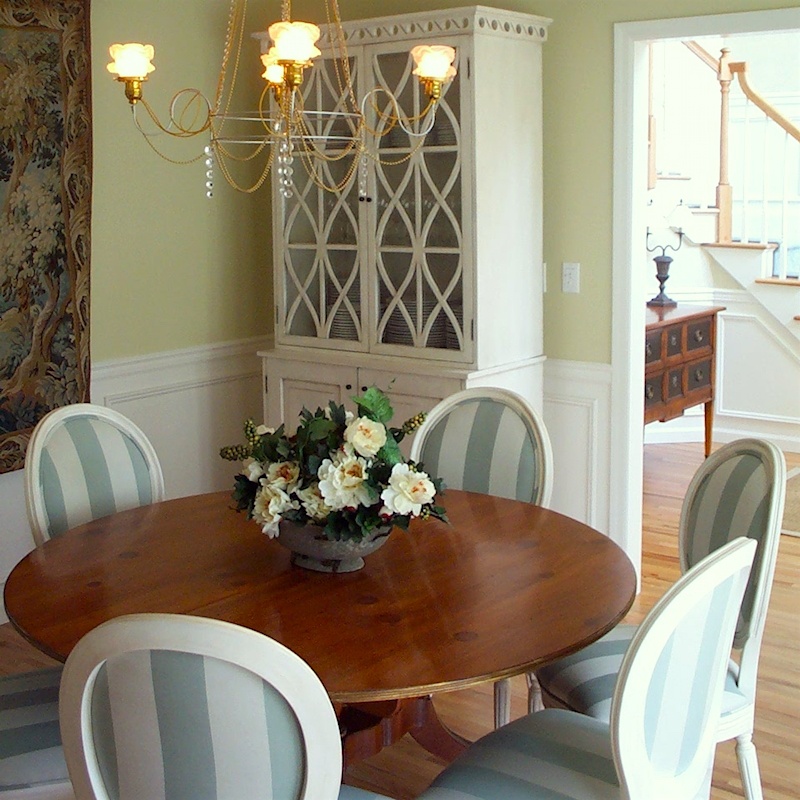 This dining room was done two years later, in 2002. This is a very close approximation of the color. It is a rich, warm cognac antique pine. And yes, the edge is a subtle antique gold. The table looks like an authentic antique. Very well-done.
A little story…
See that little Hepplewhite or Sheraton-style chair in the corner? There are two of them. Very pretty. Just one horrid problem. The oval chairs are from a different company and the chairs did not coordinate.
Yuck.
My client was very sweet about it but understandably, she wanted them fixed.
As it happened, I was doing some work with a decorative artist and paid him 400 bucks for the day to help me fix the chairs.
First we spent at least 3 hours, both of us covering up the fabric with blue tape and plastic. He got the first coat on the chairs and I came back two more days to antique them. It may not look like it in the photo, but believe me, they match. When the leaves are in, those chairs go on the ends.
How do you feel about round dining tables?
Wondering if you should even have a separate dining room?
And more dining rooms – here and here.
And are you struggling with dining room lighting? If so, you might find this post helpful.
xo,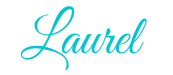 PS: Must remind you that tomorrow is the first day of early access for the

The info is on the Hot Sales page, but you'll need to scroll down to the bottom.
Or, you can read about it on the Nordstrom Website.
This is an amazing sale because what they do only once a year, is
they put all of their NEW ITEMS for the upcoming fall season on sale!