Hey Guys, I'm glad that you liked the post about small rooms and as promised, this post is about small kitchens.
That is things to do in your small kitchen and things to definitely not do!
Quite frankly, I'm not overly fond of football stadium-sized kitchens. You can give me a really small kitchen over that any day!
And when I started thinking about it, I realized that the largest kitchen I've ever had (not including an eating area), if there was one, was maybe 100 sq feet – tops.
The smallest was the one I had in my 500 sq. foot apartment on the upper west side of Manhattan. It was built into a corner and was at most 20 sq feet. I can't say it was easy or often, but it was possible to whip up quite a gourmet meal.  It helped that there were only two walls. This non-kitchen (not to be confused with an unkitchen) is not untypical in smaller Manhattan apartments.
Someone wrote me the other day (and I apologize for not remembering who) that I better not be posting any 250 sq feet kitchens. Certainly not! That is not a small kitchen at all! In fact, I think it's about the limit of what I would ever want to have.
I'm not saying that there aren't some gorgeous big kitchens. It's just not my preference.
One objection that I frequently get regarding small kitchens, especially when we start talking about possibly not having upper cabinets is:
"There isn't enough storage."
Here's my answer.
Get rid of some of your stuff.
Or, put it somewhere, off-site if it's only being used once or twice a year.
And, perhaps then, utilize the available storage better.
If one is thinking about the way storage was 20 years ago, then that is what the problem might be.
For a ton of great storage ideas for your small kitchen, please click here.
I'm going to begin with one of my favorite little kitchens ever. It makes such incredibly clever use of available space. Nothing is wasted.
Original photo by William Waldron for Elle Decor
Hey M-aaaaaa, What's for dinner? ;]
Okay, just kidding, but what? That must be a joke that the horse (albeit, he is awfully cute) is poking his head in. The kitchen is nice, however for this rustic country home by James Huniford.
Here is the fabulous small kitchen!
via House Beautiful-photo Eric Piasecki -designer Stephanie Stokes
So many wonderful things, but first is the mirrored backsplash. It makes the area feel so much larger.
The sleek electric stove helps too.
Glass fronted cabinets.
The appliances blend into the off-white cabinets.
Love this shot again taken by Eric Piasecki. Wonder what he had to do to get it. Whatever it takes. Right? But this kitchen is no larger than the average walk-in closet.
Pull-out pantry cabinets, make the best use out of the limited space.
Architect Don Cantillo for perfumer Shalini
This is a lovely little jewel box of a kitchen. Love the range and the apple-green cabinets. You can read more about it here. Just one thing. In a small space like this if I hood was needed, I would've done something clad in wood. I love the wooden hoods from Devol.
But what I really would've done is a down-draft range and then that wall could've been clad in mirror or a pretty subway tile. There could even be some miniature art pieces. It would be fitting with the French style.
But here… beyond perfect. Here there is a mirror behind the glass shelf. Not only does the glass shelf add lightness, but again the mirror magnifies and brightens the tiny space.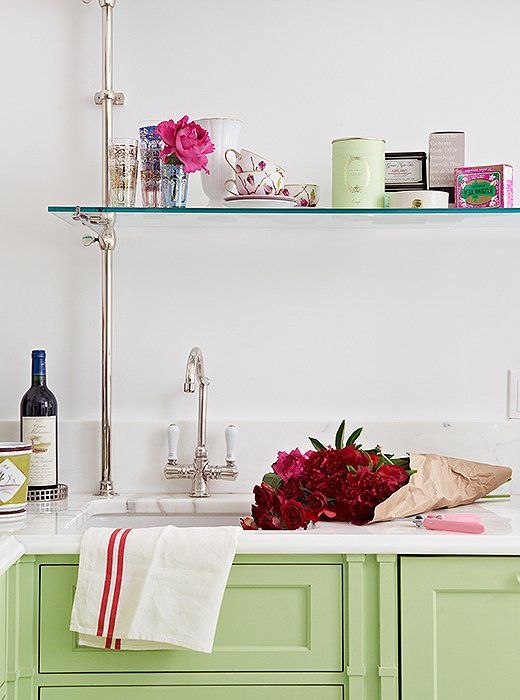 This shelf slides up and down. How clever is that!
More images and info about this kitchen here.
photo: Lisa Romerein
Whaddaya think?  I'll tell you what I think.
(we KNOW, Laurel!)
It's a nice place to visit, but I wouldn't want to live there. I'd walk in and go, "oh, how cool!" But then if it were mine would tire of it easily, I think.
And I definitely wouldn't want to be the next one to walk through the door and trash the lovely art work leaning into the path!
I love art leaning against the wall, but that spot is a little tight.
Another very tiny kitchen with a chair that looks great for the photo but no way would it be there in real life. Do they think that we don't notice these things? Yes, they do. And for the most part, they're right. In this case, I think it's because our eye can't stop looking at the gorgeous collection of porcelains.
Via House Beautiful-photo Christopher Sturman
A small classic white kitchen by Celerie Kemble. Most small kitchens can't accommodate an island. The minimum space on either side of an island is three feet. And I feel that the minimum depth for an island is about two feet. Otherwise, I think it begins to look a little odd. That's for the top. The base, of course, is a little less.
I also love the painted black and white checkerboard floor. In fact, it's my favorite part of this kitchen. I especially love the larger size of the squares. As in other small rooms, the scale of elements like this doesn't have to be dinky and in fact, I think, looks extra special in a larger scale.
Via First Dibs- photo by Simon Watson for House Beautiful
This is one of the most fabulous apartments I've ever seen by designer Bill Brockschmidt. The kitchen is behind these doors that are disguised with wallpaper! Just close the entire thing up and when not in use.
There are a lot more photos in this article.
Just had to include this shot of the living room. Wonderful design. This is the kind of color that if I showed it to a client, I would hear… "Ew mustard,"  like I had suggested that they wash their hair with it or something.
But Bill knows exactly how to work with this color. He used a healthy amount of black and white accents. Some blue to cool things down as well as other bright colors. Perfect composition.
Another wonderful vignette in the small kitchen of fab blogger and designer, Heather Clawson of Habitually chic.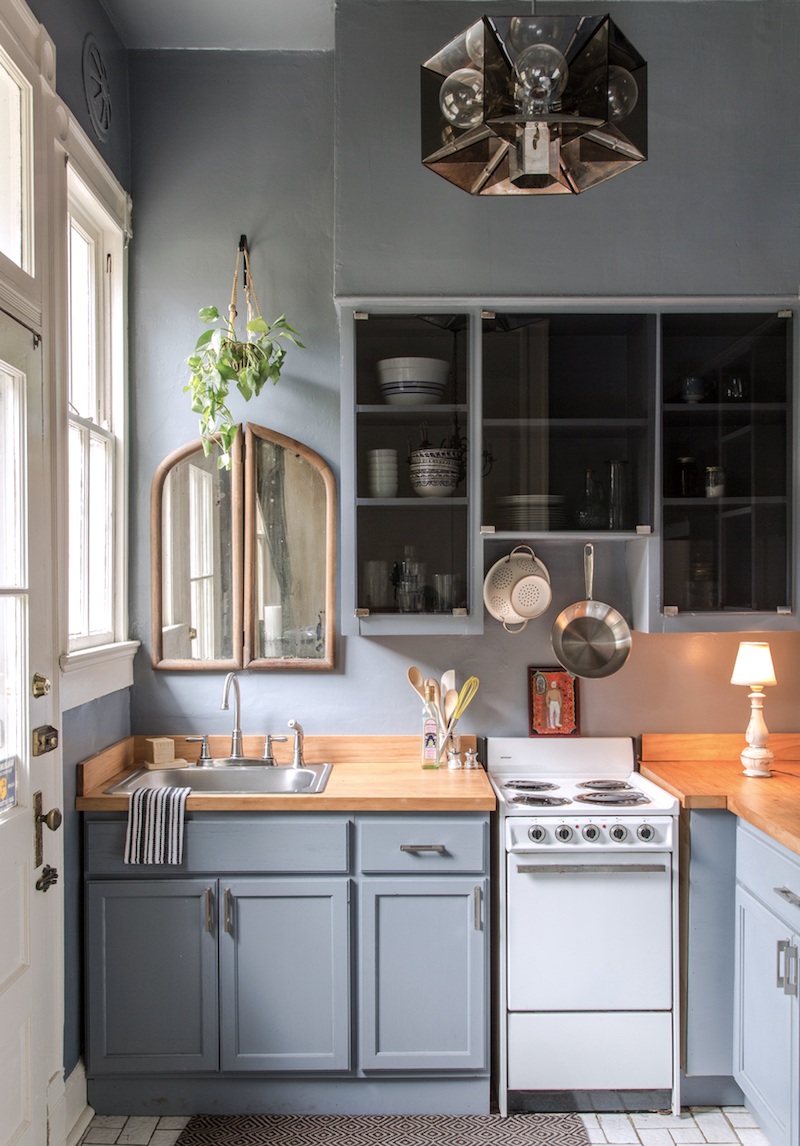 Is that the tiniest range you've ever seen? It's a very interesting kitchen. I wouldn't have thought to do the smoked glass fronts, but I think they do work here. I think this might be an Ikea kitchen. Love the retro pendant and always love table lamps in the kitchen.
That reminds me. My new cordless lamp from Modern Lantern is waiting downstairs for me. That was incredibly fast! Only six days!
Why is it down there and now up here? Well, the fed-ex guy didn't even ring my bell. grrrrrr… and he really should've brought it up. grrr… and I had to go get some groceries and finish my post. I'll get it later.
via HGTV Magazine- photo: David A Land and styled by Heather Chontos
This is definitely an Ikea kitchen and another example of a painted floor. A young couple used deck paint (Antique Silver by Glidden). That sounds very durable!
The pine shelves are from Home Depot.
And my favorite part of this kitchen is the antique Oriental rug. This is a very pretty home. There's much more in the link.
photo: Thomas Kuoh for House Beautiful
A handsome Shaker kitchen by Grant K Gibson is reminiscent of the recent English kitchens I've been posting. Love the encaustic tile floor. You can seem more of them by clicking the link.
via Elle Decor
This kitchen is not my taste but it seems I'm always asked "why don't you post any wood kitchens?"
This is why. It feels too heavy and I'm not a fan of this kind of wood, in any case. I am grateful for the rug. What's good is the layout. And this is what I mean by floor to ceiling cabinets providing tons of storage.  What's very interesting is that the rest of the apartment is very pretty and feminine and looks like it does not belong with this kitchen at all. Just my opinion.
Apparently, there were sponsors involved and that is why I guess that maybe the kitchen is like this?
Unfortunately, it looks like they're going to be preparing dinner in the dark. haha! Really now! Although the lighting that appears in the rest of the apartment is from one of my favorite vendors– Circa Lighting.
This was touted in House Beautiful as a wonderful "sliver of a kitchen." And yes, it IS wonderful. I think it's a brilliant idea to put the shelves in front of the windows. And I love the copper piping.
Just one problem. No, wait. More than one.
I guess these people only eat take-out? Or else, they just have a big cauldron hanging over the fireplace out of view simmering with stew?
There isn't even a nuker to heat things up. I suppose that might be a mini-fridge on the right; just big enough to hold some brew. Quite frankly, it looks more like an elegant indoor potting room. Right? The other possibility is that this isn't a kitchen at all but just staged by the manufacturer or something because the photo is attributed to Kohler. Makes sense.
And to finish off, one of the prettiest and not-white kitchens by the fabulous Sheila Bridges. Fabulous always needs to go in front of Sheila because she is definitely in my top 5 of all-time fave designers.
I have one little nit-picking thing. It's about the cabinets.
I really do prefer that they go up to the ceiling. Yes, it's a very high ceiling. It looks like ten feet. But perhaps a coffer could've been built going around the perimeter and including the window! That way the shade could sit below the crown instead of the crown overlapping.
Otherwise, it's perfect. Again, love the painted floor. It's a great solution when the floors could stand to be refinished but one doesn't want to go to all the expense and mess of heavy-duty sanding and staining.
To recap Small Kitchens love
Mirrors- especially on the backsplash
Shelves to keep things light (or consider taking the doors off of upper cabinets for a shelf-like look)
Floor to ceiling cabinets if possible
Smaller appliances usually and a counter-depth fridge
Consider a downdraft range.
Charming accessories and art help give a small space personality and style.
Collections of porcelains or ceramics and/or baskets for storage.
Using all of the available space
Monochromatic color schemes are great.
Try not to overlap cabinets over windows. Sometimes it's difficult in an apartment.
Paint floors can be very charming in a small old apartment.
Old rugs look terrific too.
Pay attention to lighting, but one or two fabulous ceiling fixtures can make the space.
One thing I've seen but am not a fan of is hanging up the pots.
It's not my favorite in most kitchens and in a small kitchen almost always looks too cluttered, IMO.
If one is down-sizing, then that means getting rid of stuff or storing it elsewhere.
I love small kitchens. My current one is about 85 sq feet and it's plenty big for me.
xo,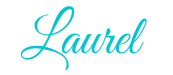 Save
Save