Dear Laurel!
I'd love to see a post on how to decorate a dark, long boring hallway. What to do to keep it from looking like a hotel corridor? Love your website!
Thanks!
Kate
Hi All. Most of my Dear Laurel letters are fictitious but this one is not. So, if you are interested in getting help for something and want free advice, you might take the approach that Kate did. I can't promise that I'll write a post about it, but it's worth a try.
Hotel Corridor made me laugh.
Yes, Exit.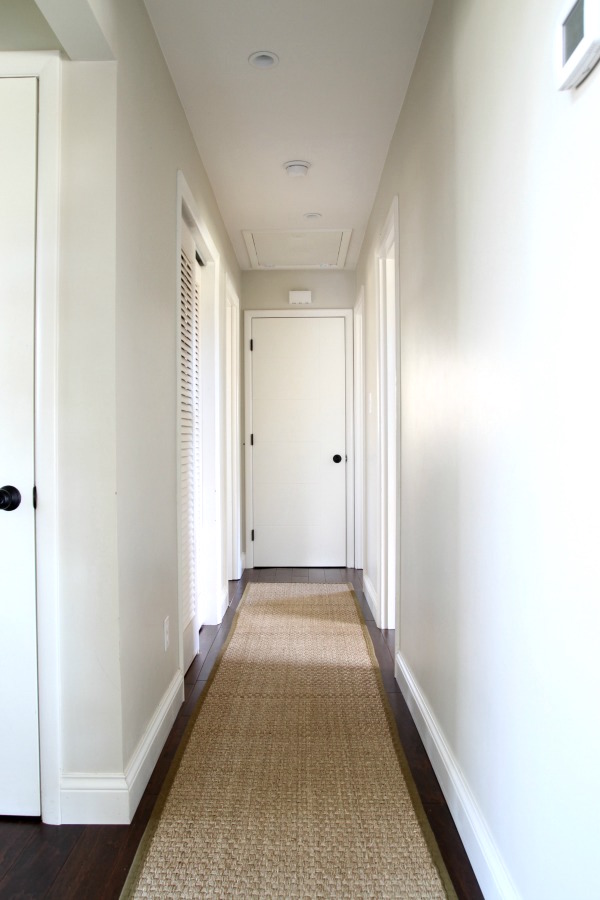 Kate's hall is more like this. It's a nice start with the sea grass rug. I prefer runners over wall to wall and there should be at least a 3 inch margin of wood but probably not more than 6″ for a narrow hallway.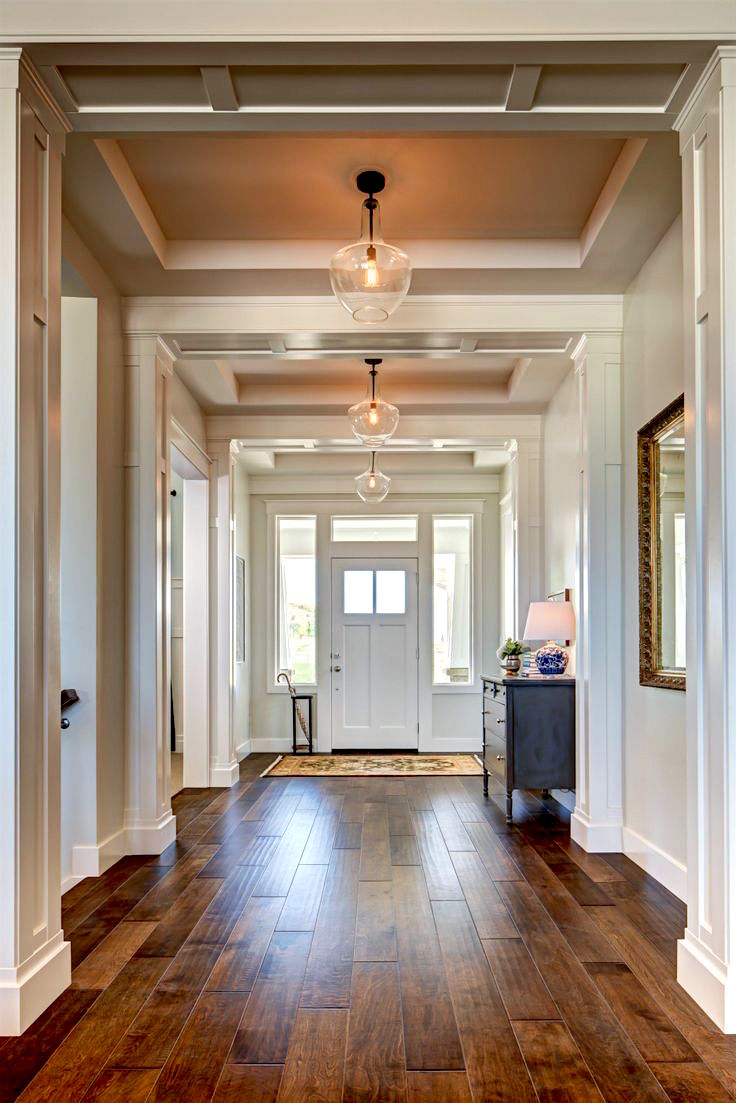 Brighton Homes
We're all not so fortunate to have exquisite, wide architecturally beautiful hallways such as this.
One of Kate's halls is 50 feet long. These are basement halls so maybe not as important as the main living areas, but no matter.
I'm going to give you numerous ideas to help make even the most narrow, dark, long, boring hallway reach its max potential.
The narrowest hallway is going to be only three feet wide. That's the limit on acceptability from a code standard. Quite frankly, for a very long corridor, I think it's really bad design. I really feel that most halls should be at least four feet wide and preferably five feet or more.
However, let's begin with the worst case scenario. A perfectly plain, no doors or windows, 50 foot long, 3-feet wide hallway.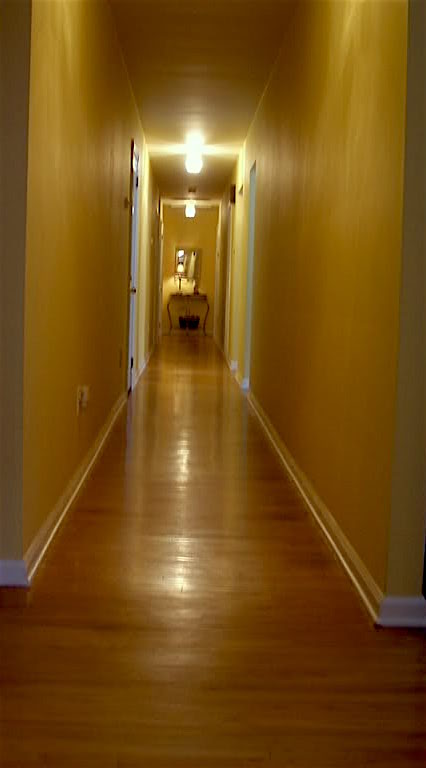 Ew.
First of all… On the other side of this insanely cramped, spooky sliver of a pathway lies another room. Right?
Can we borrow space from either of those rooms?
No, Laurel, we can't afford it. We're moving in 5 years or less…
Right. But if you can swing it, that would be my first consideration.
However, let's work with the suppurating, suffocating hallway.
We need to take a lot of the same principles that we find in our gorgeous wide hallway and use them here, but judiciously, of course.
Let's begin with the architecture.
You know me if you've been reading this blog for a while. I'm a nutjob about architectural features–because that is the key to creating a beautiful interior.
We can add some sort of wainscoting, be it picture frame moulding, rail and stile or the very popular board and batten which is like rail and stile only plainer. Assuming that we don't have a very high ceiling, I would not go up more than 36″ with wainscotting with a chair-rail. Otherwise, it might feel somewhat overwhelming.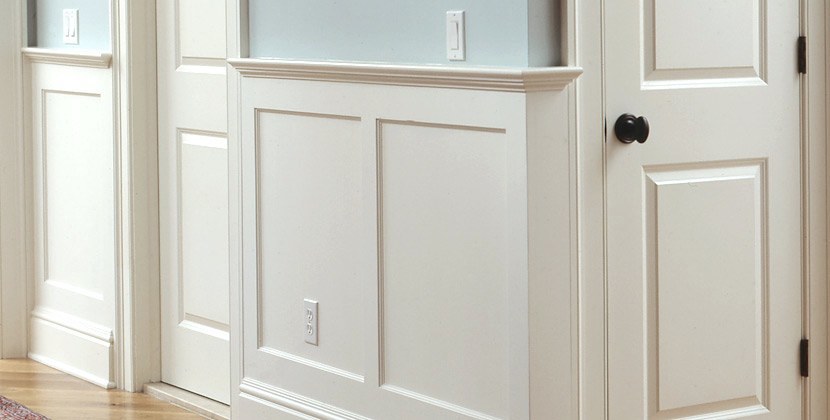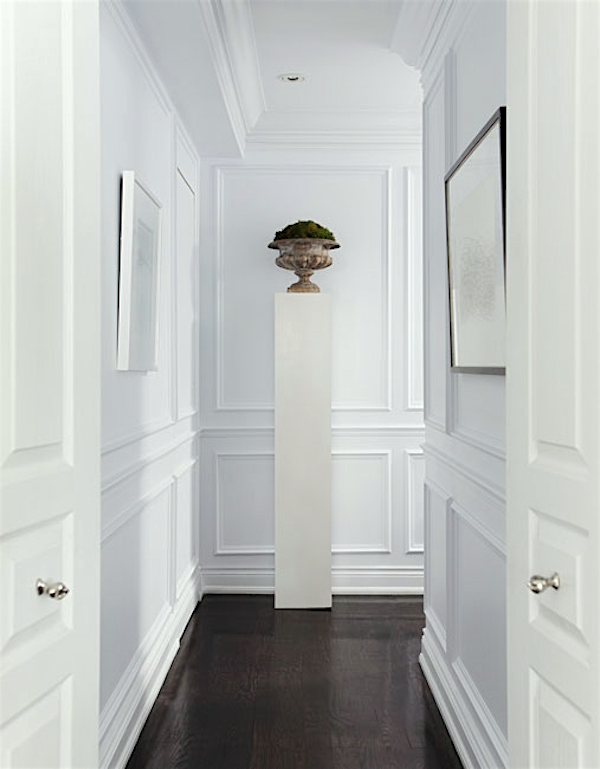 Here, we have a panel above the wainscoting which is very pretty and helps break up the wall nicely.
We can also break up this long expanse and create more of what isn't there.
We could add one-inch pilasters (engaged columns) to help break up the expanse.
Please see the example below.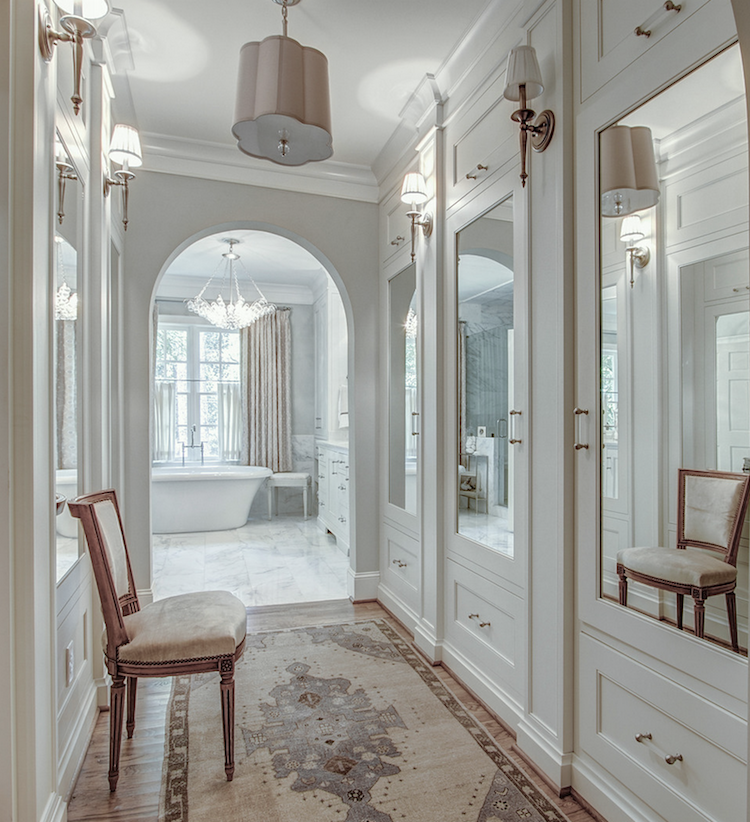 Image from a Real Estate Listing
We can add windows and/or doors, with or without mirrors, but mirrors will help expand the space a lot.
Yes, interior windows. We had them in our old home and I loved them.
You could even have it electrically rigged up to shine a dim light behind them so that they look more like real windows. I would probably use frosted glass, however. It depends on what's on the other side. There also might be enough direct sunlight.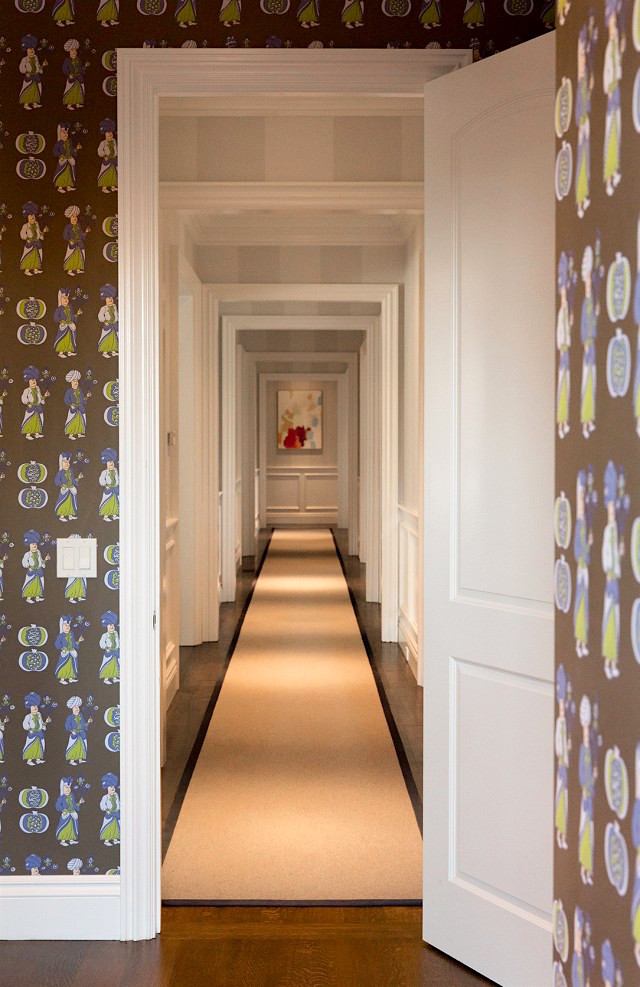 Chloe Warner via Domaine- Designer, Redmond Aldrich
We could add a soffit to create a sort of doorway. If the hall is only 3 feet wide, we can only afford to lose an inch or two on each side but that's enough to create the effect of stopping the eye from moving down a long, never-ending expanse of sameness.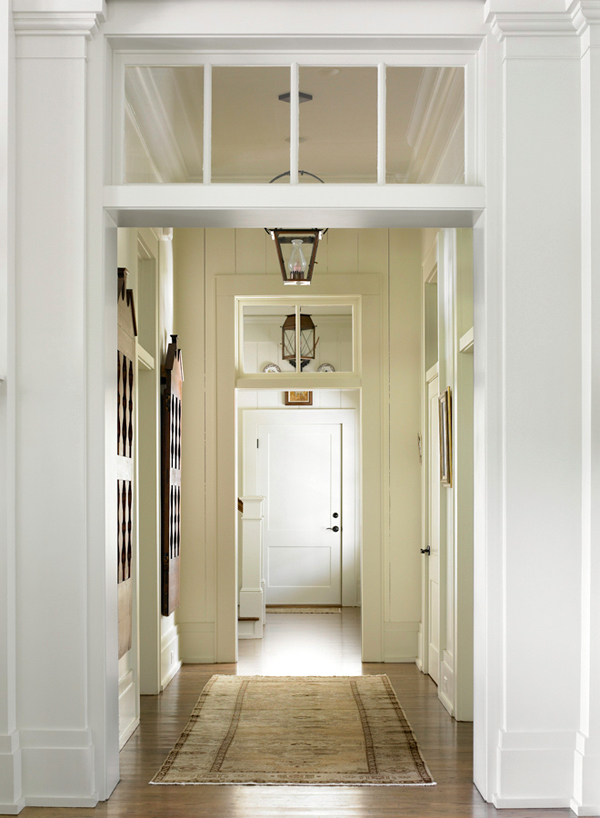 via: Red Clay Soul – Designer, Melanie Davis
photo: Emily Jenkins Followill
I love this idea of using a transom window instead of the soffit. (the rest of the home is just as stunning if you click on the Red Clay Soul link)
We could also create shallow between the stud cabinetry to mimic a doorway like we were talking about recently with our unkitchens.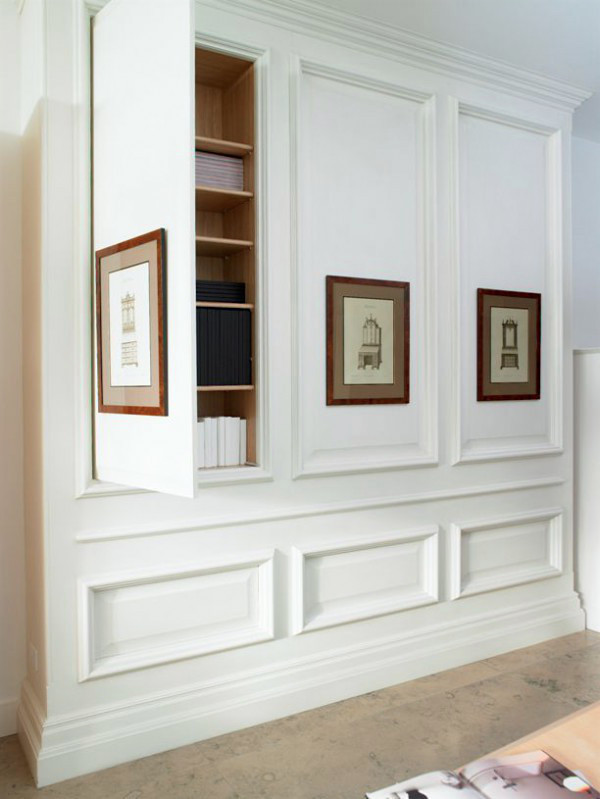 Providence Design
How fabulous is this hidden storage. We could do this anywhere!
We could even put in French Doors, again with frosted glass. Yes, it's shallow storage, but again, perhaps space can be borrowed from adjacent rooms. However, even if it was a dummy door, it would lend itself to giving the architectural feature needed to make the hallway far less boring.
Laurel?
Did you just say that I should put in a door that isn't an entrance into anything but a stud wall?
haha! I'm not saying you need to be putting up fake doors;
just presenting it as an option to get the ideas flowing.
original source unknown
Perhaps, in some cases, there's an option to make a real doorway from this side of the hall into the space that has no entrance.
What if the hall butts up against the concrete foundation? Well, there are still studs and the opportunity to do everything we've discussed except borrowing space.
Now that we have the architecture in better shape, our long boring hallway, might look more like this lovely hall below or one of the above spaces.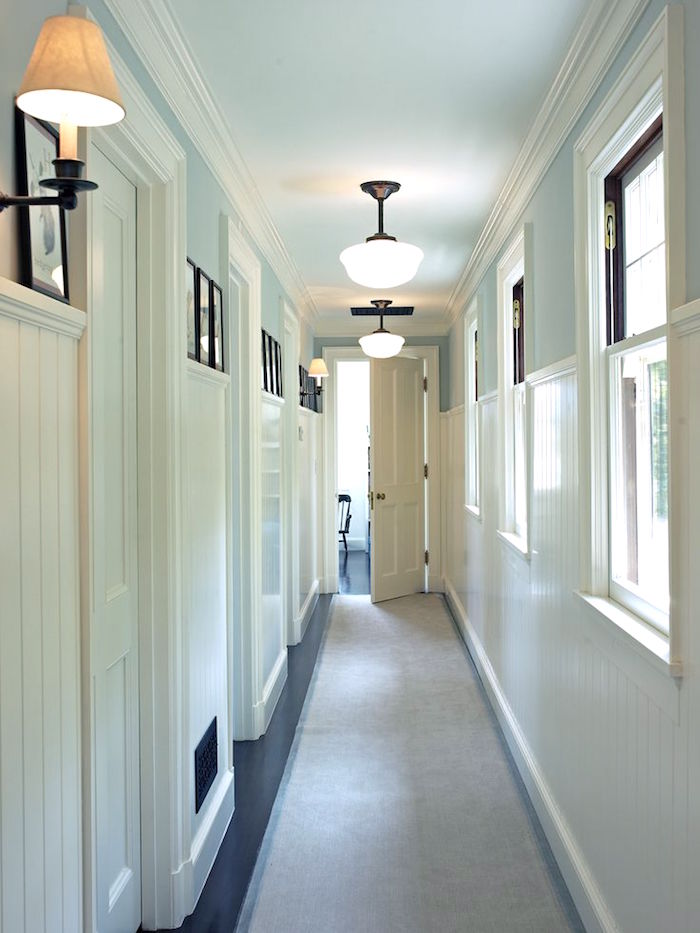 Lewin Wertheimer
Yes, those are real windows and doors, but we can create something along these lines. Here, they used beadboard or something like that.
Next we will address the floor.
I recommend some sort of rug runner to add visual interest. Or, the floor itself could be the visual interest. Having a beautiful floor will take the eye away from the cramped corridor.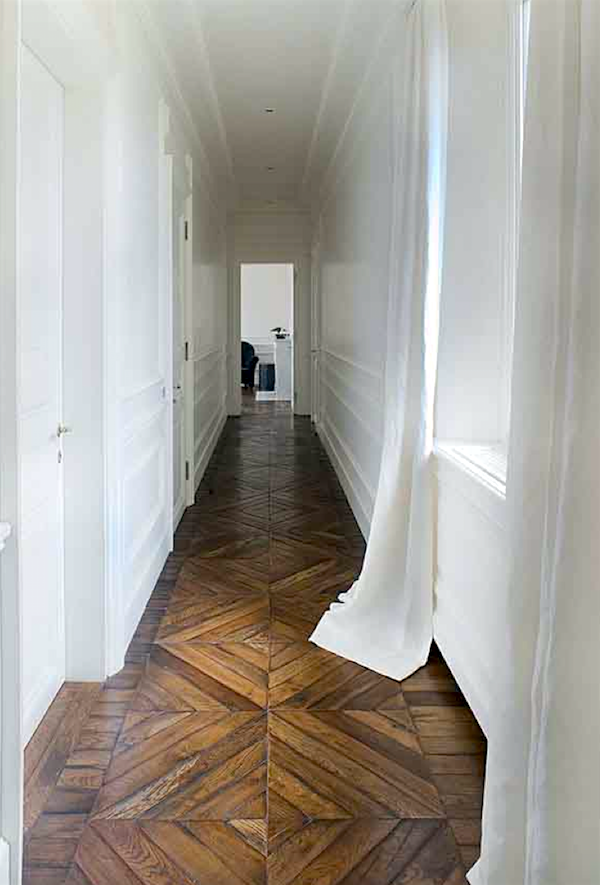 I Vassalletti
Irene Lovett
Love how these antique Oriental creates a smashing focal point. I think the way they handled the art is wonderful too. In a narrow hall, I wouldn't make a complete gallery wall on both sides. It's too much.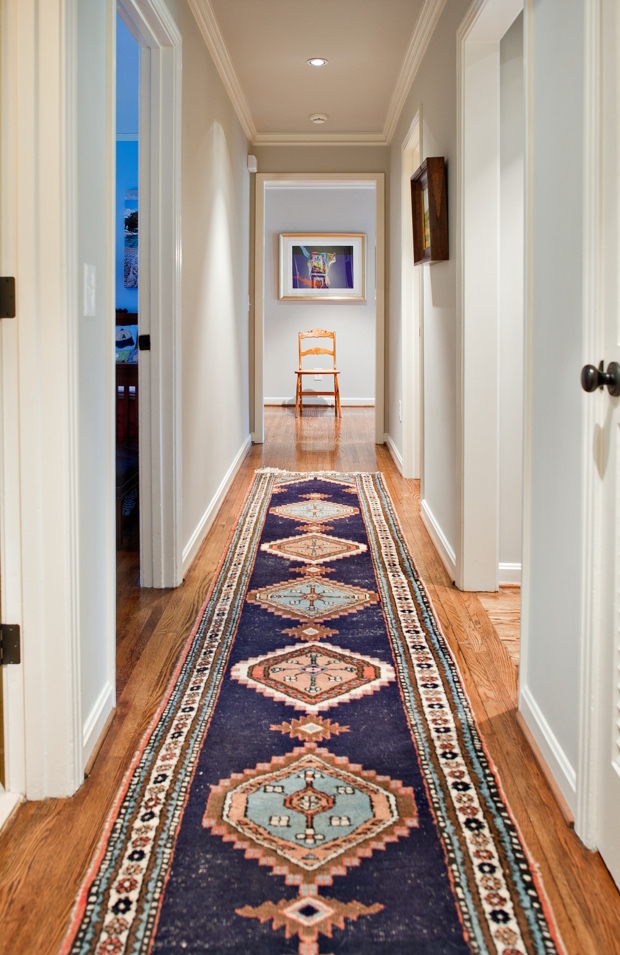 Dovetail Designworks
A focal point at the end of the hall is a great idea to draw the eye towards the back.
However, do not use vertical stripes for your runner!
Vertical stripes will only accentuate the length. If you do stripes, they should be horizontal.
Above and below by Dash and Albert
Good Boy! Horizontal stripes on the floor. Yes!
On the wall – NO! Not on a very long narrow hallway.
[tweet_box design="default"]Not only does it make your guests dizzy and nauseous, it serves only to make the hall seem longer and more narrow![/tweet_box]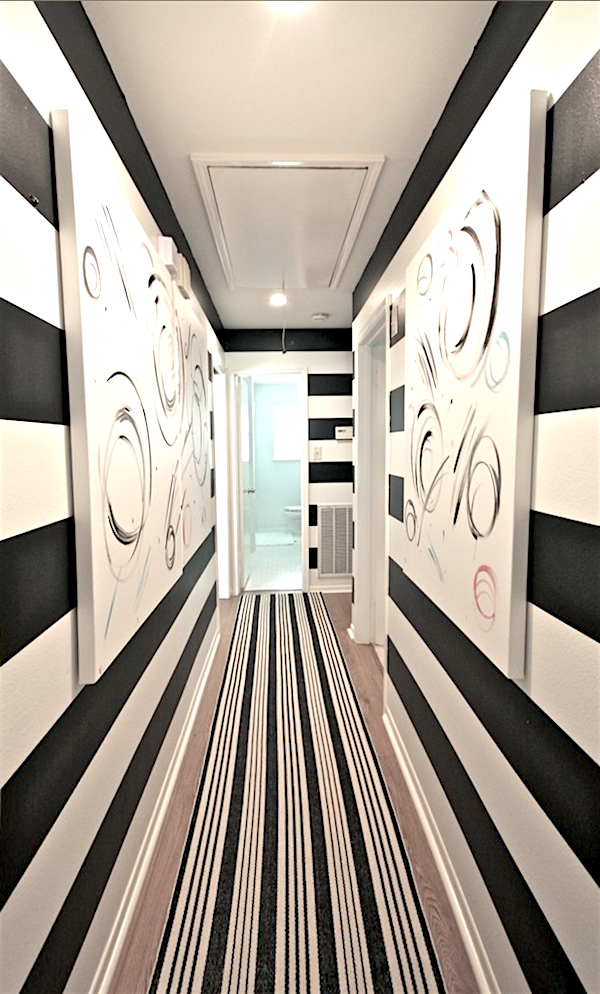 Good thing there's a bathroom at the end.
As I always say. "just because you can doesn't mean you should."
original source unknown
Painting the door a deeper color drawers the eye to the back, not to the narrow sides.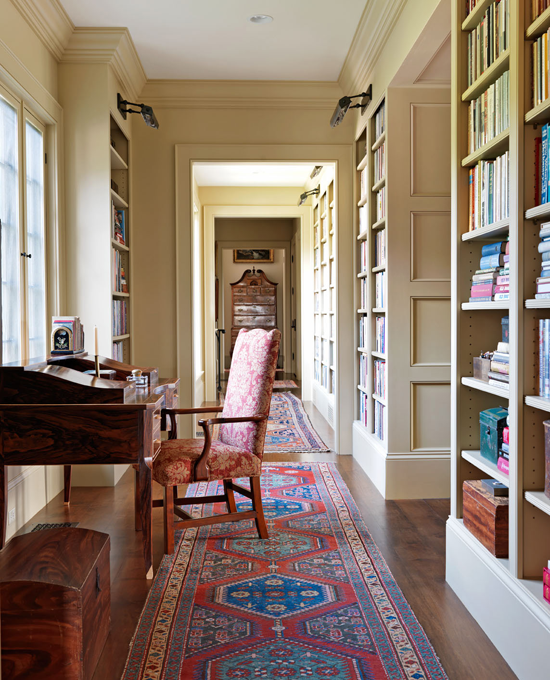 Photo: Jonny Valiant and Joseph St. Pierre for Traditional Home
If space allows, books are wonderful in a hall. Do you agree? Love how they tucked in a little desk.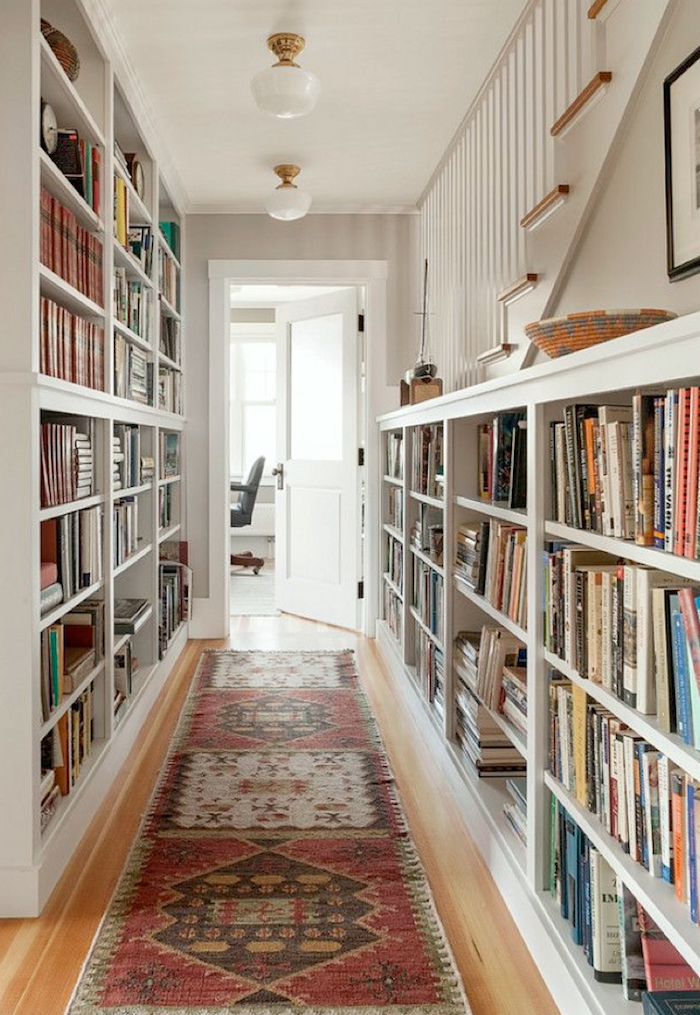 Suzanne Dimma
Lighting is very important.
Lighting can either be overhead or if not too narrow, sconces are always nice. I would not do sconces in a three-foot hallway because most sconces project at least 4-6 inches or more.
Dana Wolter Interiors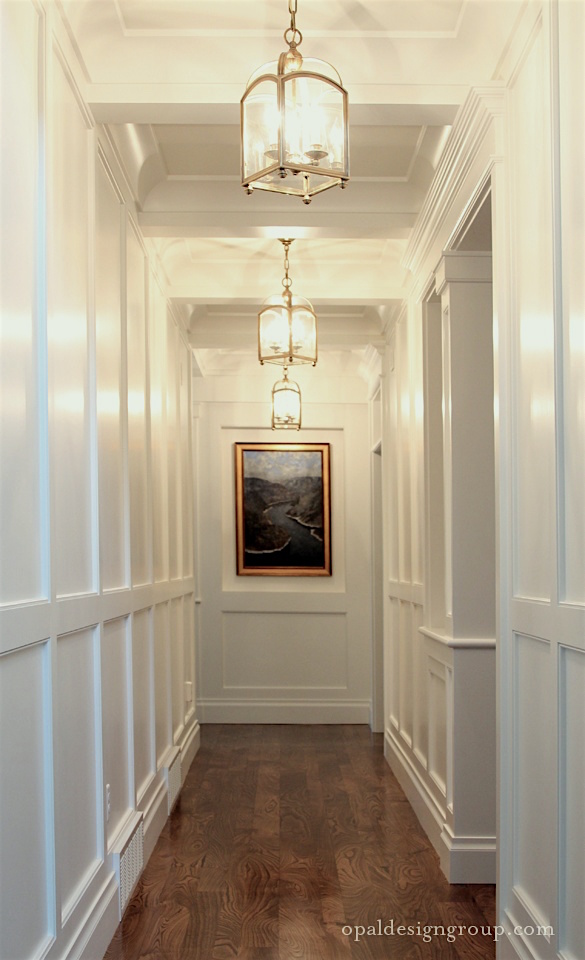 Opal Design Group
Lanterns for a tall ceiling are perfect.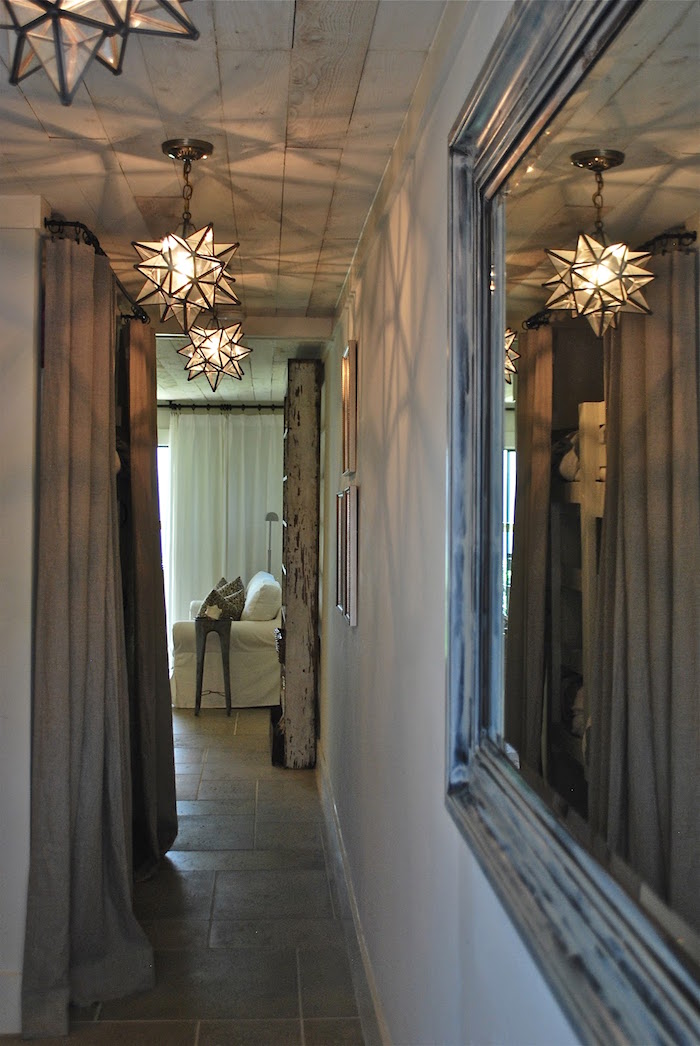 Jennifer Schoenberger
So are Moravian Star lights. Well, I've always liked them.
Wall Colors
Can we paint the walls anything other than white or a pale color?
Yes, absolutely but… with a very long narrow hall it requires a very deft hand.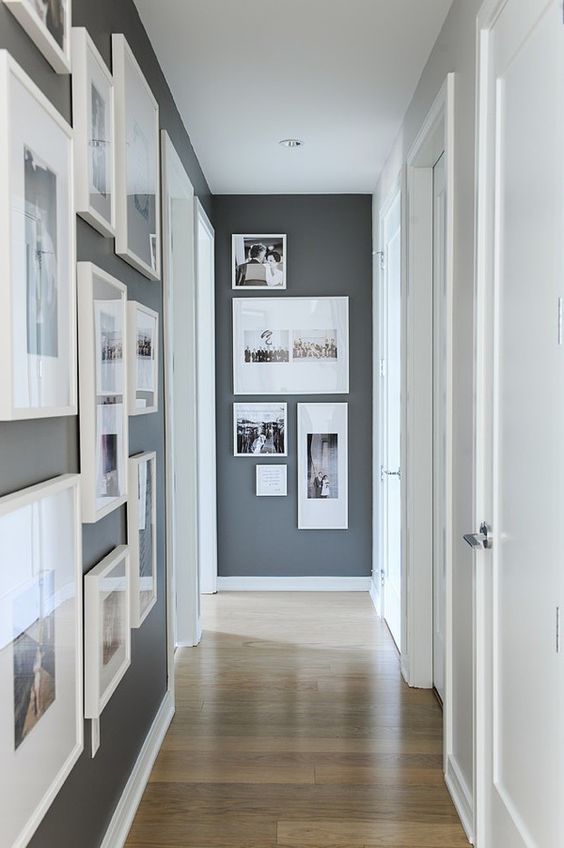 Shift Interiors
It's one scenario where I would advocate for an accent wall. In so doing it pushes the darker wall over, giving the illusion of a wider hall. I love the addition here of the fresh looking photos framed in white.
Dark halls require great lighting and either lots of white accents or colorful accents, unless you are going for something very contemporary and moody.
Architizer
This works because of the sophisticated styling of the home and very high ceilings.
My Scandinavian Home
This is a Swedish Home and I think that painting the color all the way around is an effective technique. I think with dark colors it is imperative that there be many breaks in the color with art, doors, windows, moulding, etc.  If the hall is wider and shorter, then it doesn't matter as much. I think this works because the left side is mostly doors and the hallway looks to be about five feet wide.
I hope that gave y'all some great ideas for decorating your halls–especially those problematic dark, plain long boring hallways. Did I leave anything out? Do you have some special tips for your difficult hallways?
xo,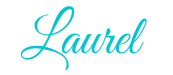 PS: Next Sunday I'll be at the Design Bloggers Conference in Atlanta. However, I will have a post for you.