Howdy. Sorry to leave you hanging, however, I'm back to give you the colors for your upstairs bedroom spaces. In case you don't know what on earth I'm talking about, this post is a continuation of the Benjamin Moore No Fail paint color post where I gave a tried-and-true-no-fail color scheme using all Benjamin Moore Colors for a stressed out pregnant homeowner that needs the paint colors yesterday.
Here is your upstairs floor plan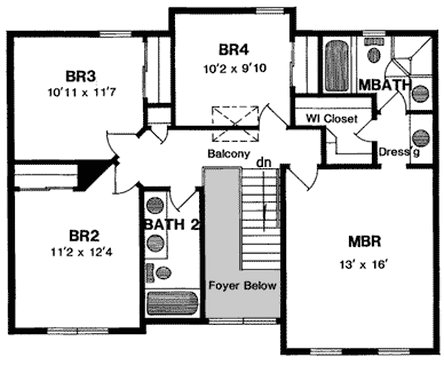 For the purposes of this exercise, I am going to assume that you  already have a boy and a girl and you're having a baby and don't want to know the sex. None of my business, and of course, up to you…but you're going to find out sooner or later… Why not make life easier for yourself and find out now so you can plan ahead? Just my opinion, of course. :]
One thing I hate more than I can possibly say are nurseries that dumb down. Ya know…Cute little ducks and boats and other stuff. Hey, put up some antlers and a photo of Katy Perry. Just kidding. Let's face it. Nurseries are for the adults, not the babies. Babies don't give a rat's ass where they are, what color their room is or if their linen is from Pratesi or Target. We all know that their raison d'etre is to sleep, eat and eliminate and if you're lucky like I was, you'll have a couple of adorable dumplings who will projectile vomit for 7 months straight. That sure was fun! Besides, they are only going to be babies for about 10 seconds. Really. Blink, and you'll soon be humming Pomp and Circumstance!
I want your children to grow up happy and self-assured, as of course, I know that you do too, so let's start by giving them sophisticated colors to help give them the best start in life and a taste for the finer things.
Before I get into our palette, please know that this is not in any way, my exhaustive list of colors. I've done dozens of bedrooms that have ranged from pink, purple, fire engine red, apple green, gold, khaki and many, many shades of blue and so forth. And quite frankly, they all looked great! However, for the purposes, of your needing to get this going, I'm going to give you a cohesive palette of neutrals that will be a natural extension of our first floor palette.
And once again, we are going with Benjamin Moore No Fail Paint Colors
So, let's begin with our sexless baby. We are going to paint the new nursery, OYSTER SHELL 864. Today. Yes, this very day, I did a paint consult with new clients who are pregnant and just moved in— yesterday! We looked at several shades of gray. [far less than 50, however] ;] We looked at some fantastic choices like Stonington Gray HC-170 and Wickham Gray  HC-171 but Oyster shell gave us the truest pale gray; really, really pretty.
Next is your daughter's room. She is eight. Have you started picking out prom dresses? If not, you better get cracking! I'm really only half-joking. Here's the deal. IF you have a precocious daughter, she may insist on painting her room a certain color, like PINK, or PURPLE. Almost every little girl wants a purple bedroom. Right? IF she really wants a purple bedroom, please do not take her shopping for purple paints. OR fine. Let her pick out her "color." And whatever she picks, ignore it and paint it AFRICAN VIOLET 2116-50. It is a really, really pretty soft purple with enough gray in it to keep your food down. She will love it too! I promise you that she will not know the difference. I have a client who just painted her daughter's room this color and it's very nice. Yes, yes, I know… I am telling you to LIE to your child. Well… it's just a little lie and truly for the better good of all. If she insists on pink. Then paint it WARM BLUSH 892. This is a very soft pale pink that is as it says— warm. No bubble gum or pepto bismol please.
However, if she doesn't have any real feeling one way or the other, then here is my recommendation. FEATHER GRAY 2127-60. This is a very sophisticated gray, a little darker than Oyster Shell with just the right amount of blue in it. It goes with absolutely everything.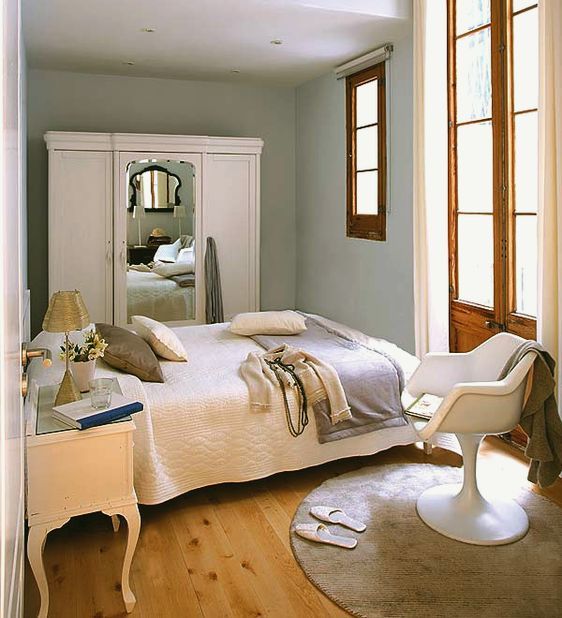 original source unknown
Michael Penny
Your son is four. Okay. I know… you probably want to paint his room blue. Fine, if you must. Then, go with PHILIPSBURG BLUE -HC 159. I also like BUCKLAND BLUE HC-151. This is a bit warmer and brighter if you prefer that. However… A few years ago, I painted a son's room. [actually, to be fair, he was a young adult son] this color. And I realize that you have a little boy. However, I am going to give you a color that is TOTALLY sick with wood colors and bits of black and you could add red, blue, white, beige, whatever you want and it's going to look fantastic. The color is CROWNSVILLE GRAY HC-106.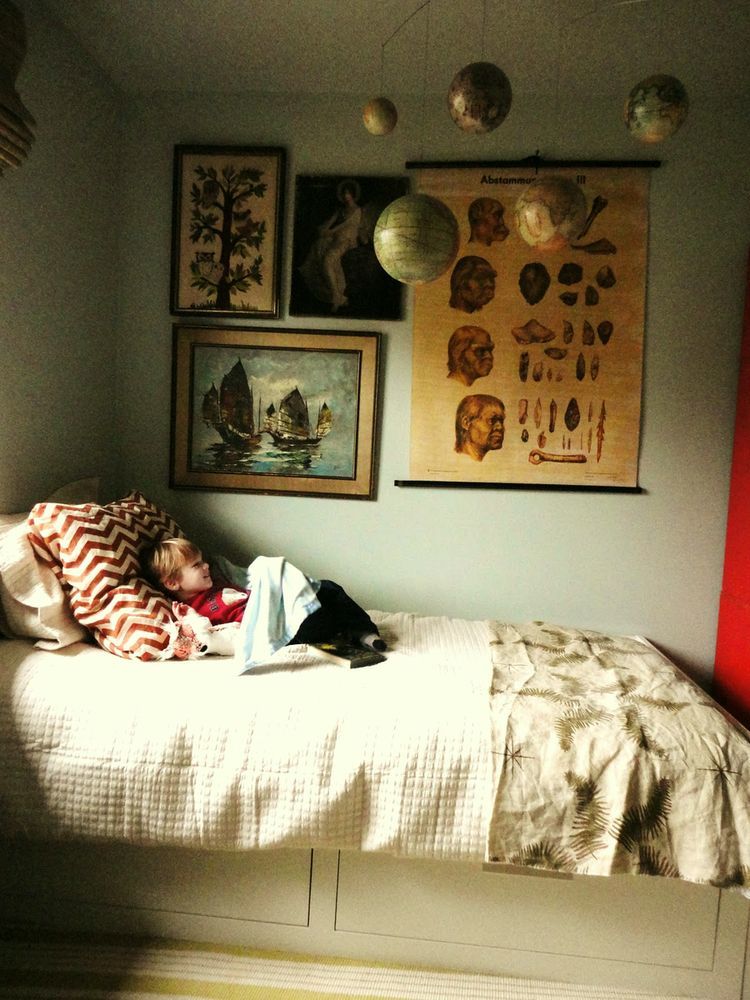 This is probably my all-time fave boy's room– very, very handsome!
Next is your room.
Okay.
You could go with lots and lots of colors– I guess it depends on how much sex you want. ;]
Alright. There are two schools of thought on this. One is using lovely pale peachy pinky tones which will make a woman look her very, very best. OR, deep dark rooms, rich, handsome rooms. I'm fine, either way. However… there is nothing sexier than a dark bedroom. I'm not saying painting your room dark will mean that you'll have more sex. You probably won't. But you might feel sexier in it. But by all means, please let me know if it works!
Here are two absolutely drop dead gorgeous bedrooms that are actually painted BLACK!
Mary McDonald
Alexa Hampton
Of course, there's a lot of other fabulousness going on as well. And don't worry, I'm not going to make you paint your room black. [I won't ever make you do anything unless I can plainly see that it's a BIG mistake]
However, I know that this color is still going to make a lot of you extremely nervous. It is verrry dark, but very, very rich. And that is NARRANGANSETT GREEN HC 157.  Actually, it also has a lot of blue in it.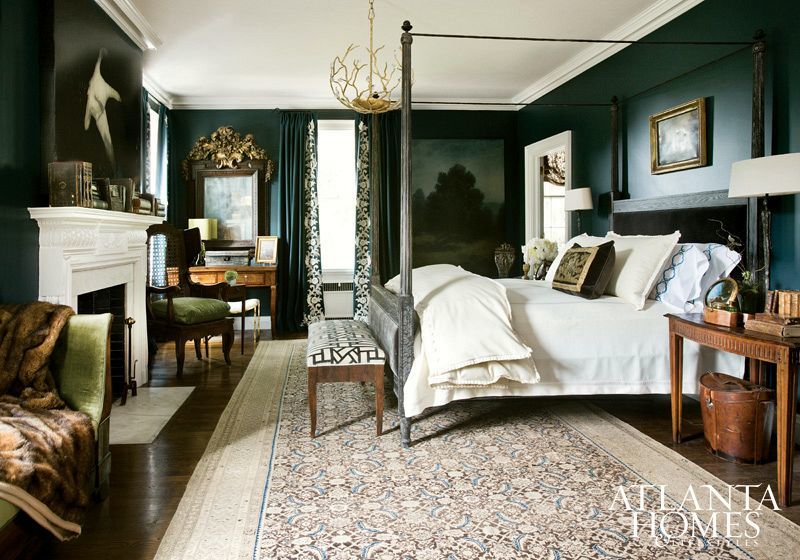 I absolutely adore her work! Fabulous designer! My favorite part of this bedroom is that exquisite painting in the back. LOVE!
Or, You could also just paint it white. COTTON BALLS 2145-70 I'm totally fine with that.
Marcus Mohon
I know, I still owe you two  bathrooms and the color palette. I'll put together the palette later on. That part takes quite a while, but I wanted to get this out sooner rather than later.
xo,