To be clear, I've never met Bunny Williams' husband.
And it's unlikely he's ever heard of me.
But still, he hates me because I'm writing about his wife, an icon in the world of interior design who I adore more than I can possibly say.
Now, why would writing nice things about his brilliant wife make him hate me?
Thank you for asking. That's a very reasonable question.
You see, Bunny Williams actually reads what people write about her! And sometimes, as she charmingly related in her recent keynote speech at the Design Bloggers Conference; she can't seem to pull herself away from the computer, reading all of our wonderful blog posts.
This is much to the consternation of her husband, the wonderful-in-his-own-right antiques dealer John Rosselli.
So here I am, giving Bunny yet another reason to stay glued to her computer. And giving John a reason to want to hate me.
Sorry, John.
John Rosselli and Bunny Williams outside of their Connecticut Home photo via:
About an hour before Bunny's presentation, I went outside the room for a break and just outside the door was Bunny herself!
OMG!
No time to think. This is your chance to meet her. Be brave, Laurel! After-all… she's just a person. (well sorta)
"Hi Bunny, I'm Laurel Bern," I said, trying to sound confident. I extended my hand.
"Oh yes…" she said, smiling warmly.
Yes? As if she knew me? Verrrry doubtful, but maybeeee, if she reads blogs?
"I'm such a huge fan of yours," I tell her, trying to suppress a nervous giggle. "I need to give you a hug!"
She broadens her smile, as if she's reacquainting with an old friend.
We hug.
I'm really giggling now.
All of this took place in a few seconds. And then, I was ready to go home.  I met my idol Bunny Williams and not only that we shared a lovely hug!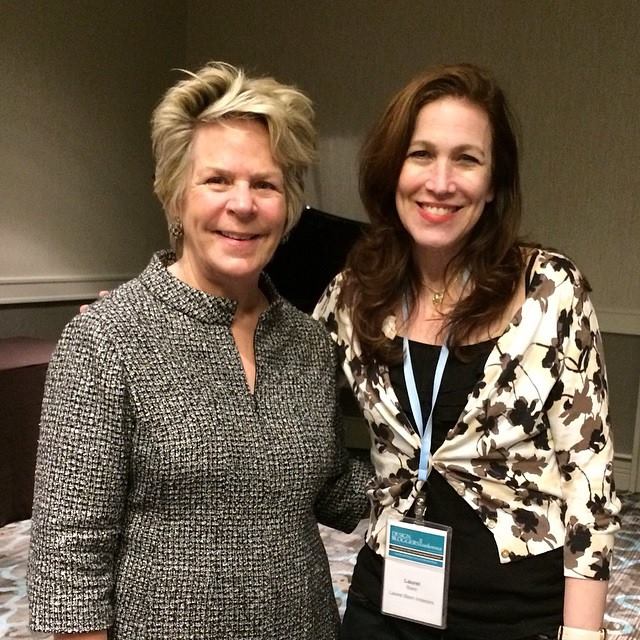 Here I am kvelling all over Bunny! (and trying not to tower over her!) Doesn't she look great!
In my research for this post, I discovered something repeatedly. Bunny has a knack for instantaneously making everyone feel like they are her new best friend! And that one thing alone is what makes her the super star of super stars!
Back to Bunny Williams' Keynote Speech at the design blogger's conference.
She finished her story about John which made everyone laugh. Then she thanked us for all of our kind blog posts. She is very appreciative and understands the collective PR value.
Bunny went on with her story…
The daughter of a horse breeder, her upbringing was in Virginia. In her down-to-earth manner, she somehow made "horse breeder" sound akin to "pig slopper." It wasn't until later that it dawned on me that her father was a HORSE BREEDER!
Bunny always had a propensity for decorating and really wanted to go to Parsons but her mom said no. Instead she went to a liberal arts school with an interior design program.
Her first job was for an antique dealer and it was there that she learned all about historical styles; she was most grateful for that experience.
One of my favorite bits of advice: She urged all young designers to work for someone whose tastes align with yours BEFORE venturing out on your own. And work for them for as long as possible. Oh, how wise, wise, wise! There really are no short cuts in this business!
Still, while enjoying the antiques, what Bunny really wanted was to be a decorator. She wanted to work for the grande dame of interior design, Mrs. Henry Parish, aka: Sister Parish. Mrs. Parish had just taken on a young partner, Albert Hadley who needed a secretary.
 Mrs. Henry (Sister) Parish and Albert Hadley
Of course, Bunny got the job, moved up the ranks and thus began a 22-year career working with the masters of interior design–Parish-Hadley.
She said that she didn't leave sooner because she was afraid of the business side of things. But she knew when the time was right. Interestingly, that was in 1988 which is when I started interior design school.
One of her key points was to do what you're good at and have somebody else do what you're not; here-here!
And, that's what she did and does.
It was so incredible hearing her perspective because I've been following her since the late 1980's.
With extreme admiration, I remember staring at this room, (I believe it was in House Beautiful) for hours.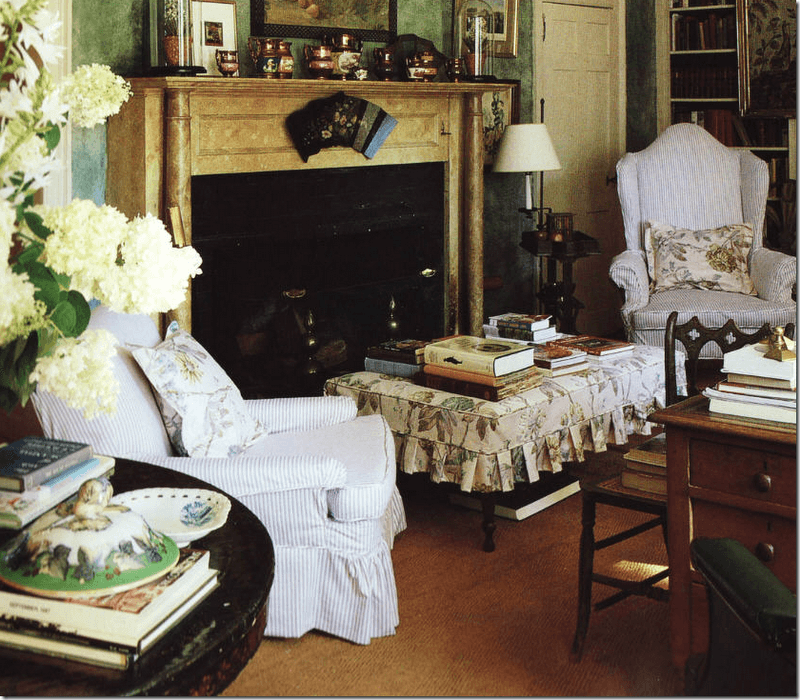 I love the slip covers out of crisp ticking and the pretty chintz ottoman with a box pleated skirt. The flowers and books. It is high English Country style. I think that this room looks just as fresh and classic now in 2015 as it did in 1988.
Here is a home that looks lived in and loved. That is what sets Bunny Williams apart; she doesn't just decorate. She creates homes.
Bunny Williams'  mantra is to furnish your home with what you love; furnish with quality–things that will stand the test of time.
Something she has observed over the years is that the interior design schools do not train their students adequately for residential interior design. I couldn't agree with her more, but that is another story.
Below is Bunny and John's astonishingly gorgeous home in Connecticut. It is the centerpiece of her book, An Affair with a House.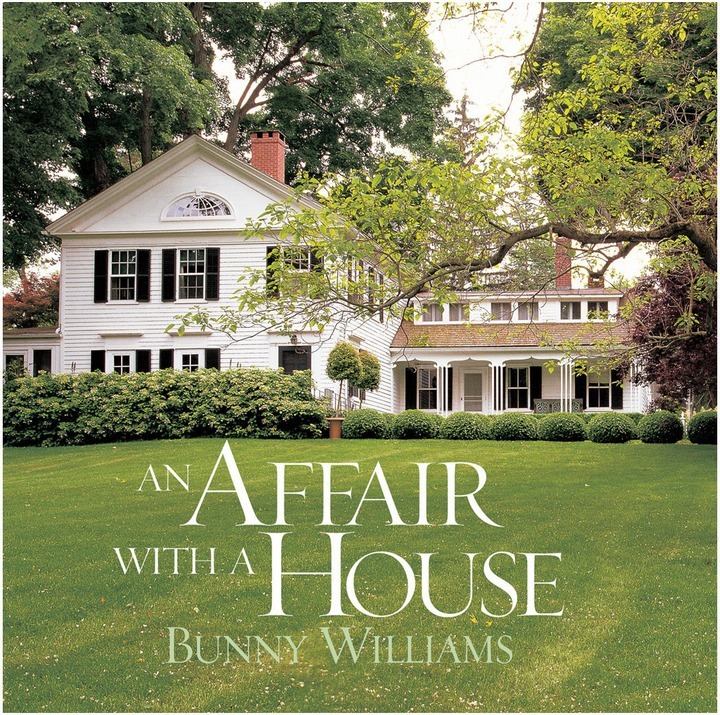 Above and below by Phyllis Higgerson for Tone on Tone
Phyllis, is an interior designer who pens the wonderful Henhurst blog. She was incredibly lucky to spend a day with Bunny and wrote about it on Loi Thai's blog, Tone on Tone.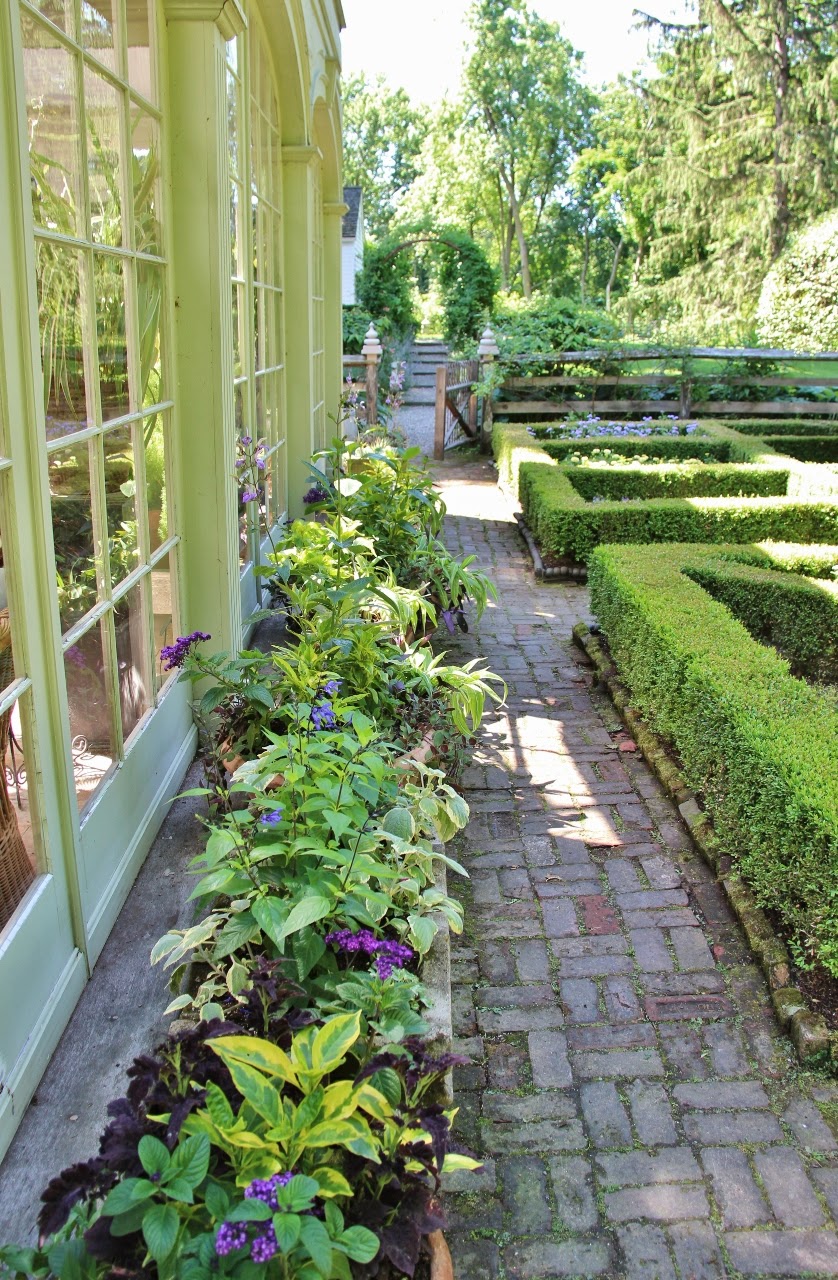 Here's a shot of the conservatory and a small part of the extensive and most exquisite gardens ever! Bunny says that if she hadn't been an interior designer, she would've been a landscaper. Well, she already is and the best I've ever seen! What a talent! She spends her weekends when it's not covered with 5 feet of snow–gardening. Oh man. Paradise!
Another shot of the conservatory and paradise by Mark D. Sikes. Mark is a close friend of Bunny and John and has written extensively about them.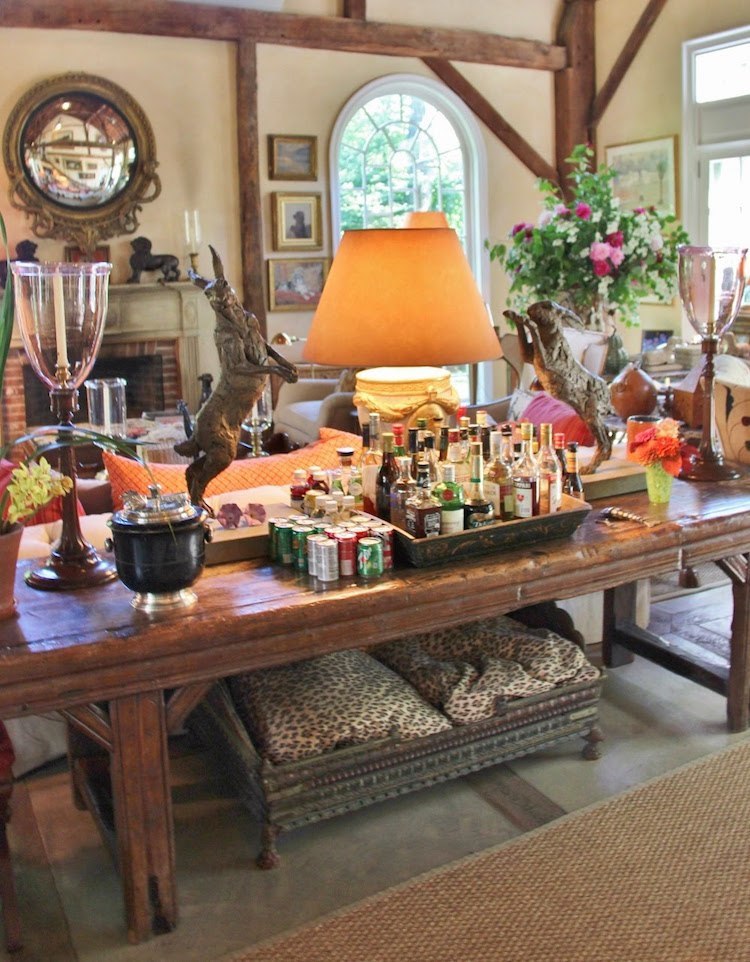 via Loi Thai of Tone on Tone.   Photo: By Phyllis Higgerson
Love the bronze bunnies! Bunny says that if you want people to go in a room, have a drinks bar. Smart.
Photo by Mark D. Sikes.
However, Bunny and John also have a New York City Life. (Oh my, I spy a Greek key pattern above their heads!) Bunny tells the story of how they became business partners.
After attending the Chelsea Flower Market together in London, some 22 years ago, they decided that New York needed a garden store. So, that's what they did. They opened up a gardening and antiques shop called Treillage on 418 E. 75th Street.
[Note: July 2015 Sadly, Treillage closed its doors for business this summer.]
Then, they fell in love and got married! How romantic!
Treillage is a gorgeous shop filled with antiques and new items for the garden or anywhere in your home. Of the several businesses they own, it's Bunny's favorite. I think it might be mine too.! Must visit soon!
Photo by Mark D Sikes of Treillage
Bunny has several licenses with several manufacturers, but the most recent one is with Ballard Designs. Please check out her fabulous collection of home furnishings at affordable prices!
In her speech she says how she loves table cloths from places like Pier One Imports (uh huh) and Anthropologie! That's my kinda girl! Priceless Ming vase on top of Indian cotton. Beautiful!
Bunny also admits with a wink to being an obsessive collector of china and porcelain.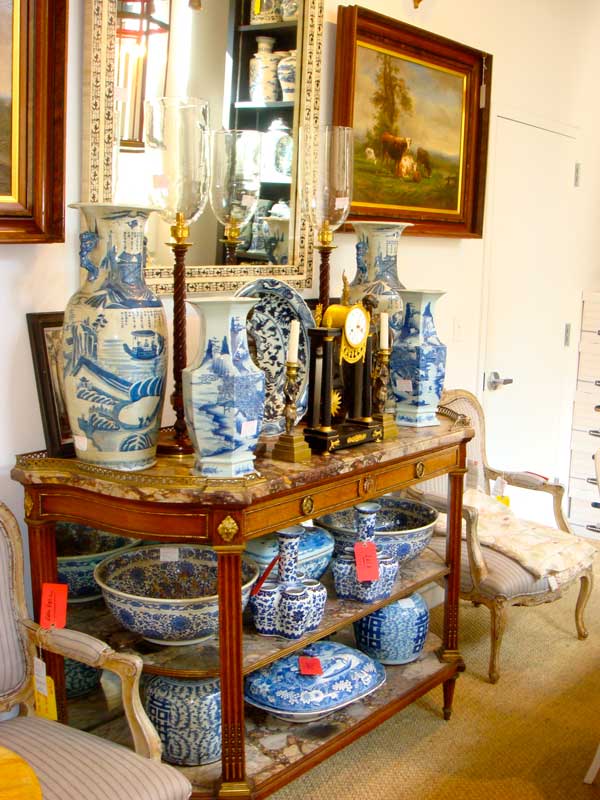 photo by Anne Lubner from John Rosselli antiques.
I have a feeling that John shares most of Bunny's obsessions.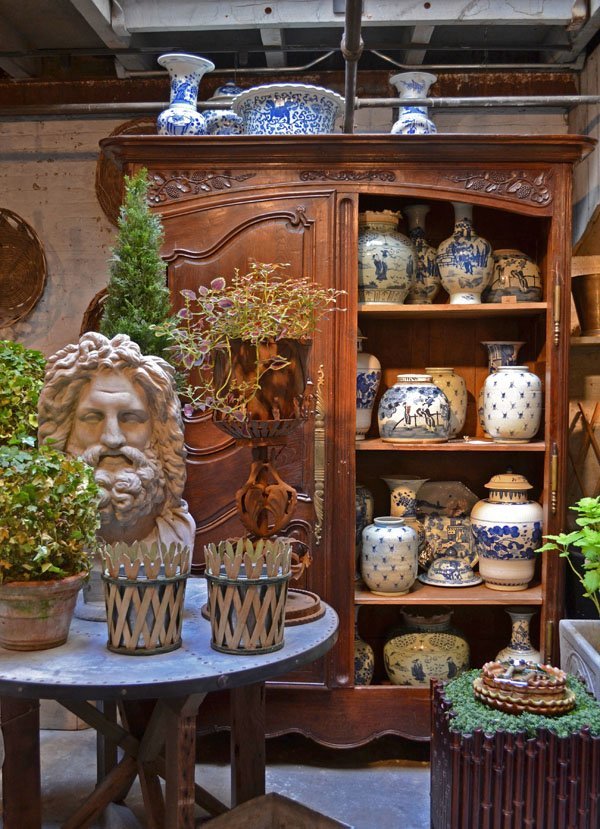 Photo by  Jeanne Chung
Mark D Sikes
Regarding that obsession with collecting china and porcelains, Bunny says…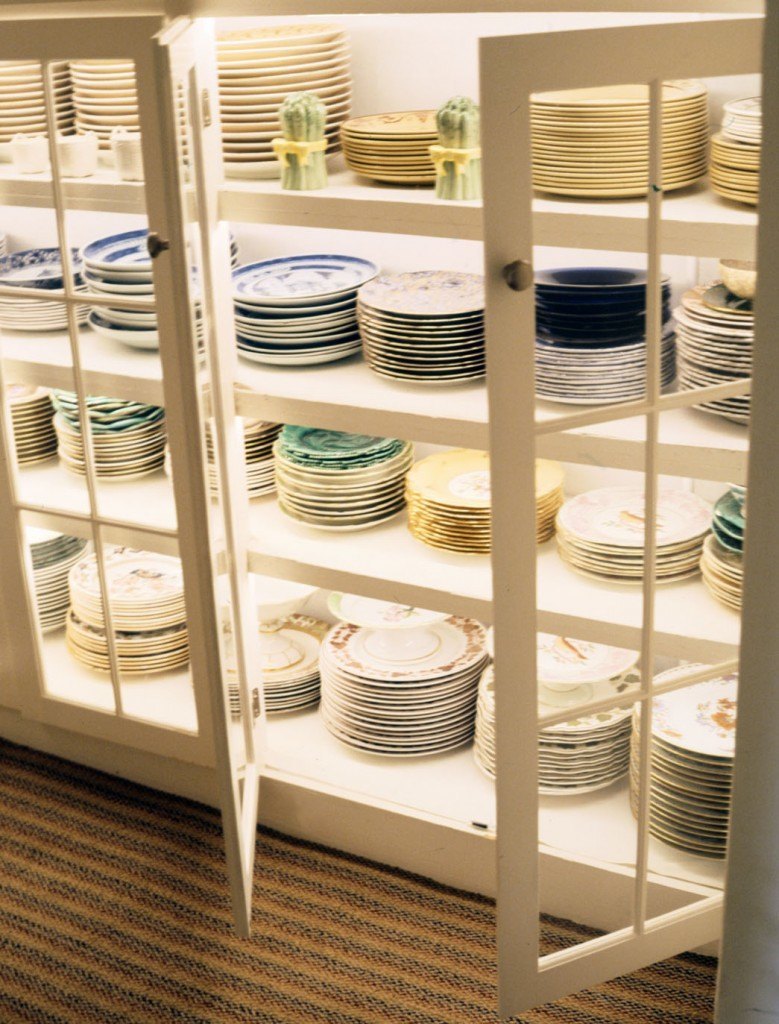 "It's gotten out of hand."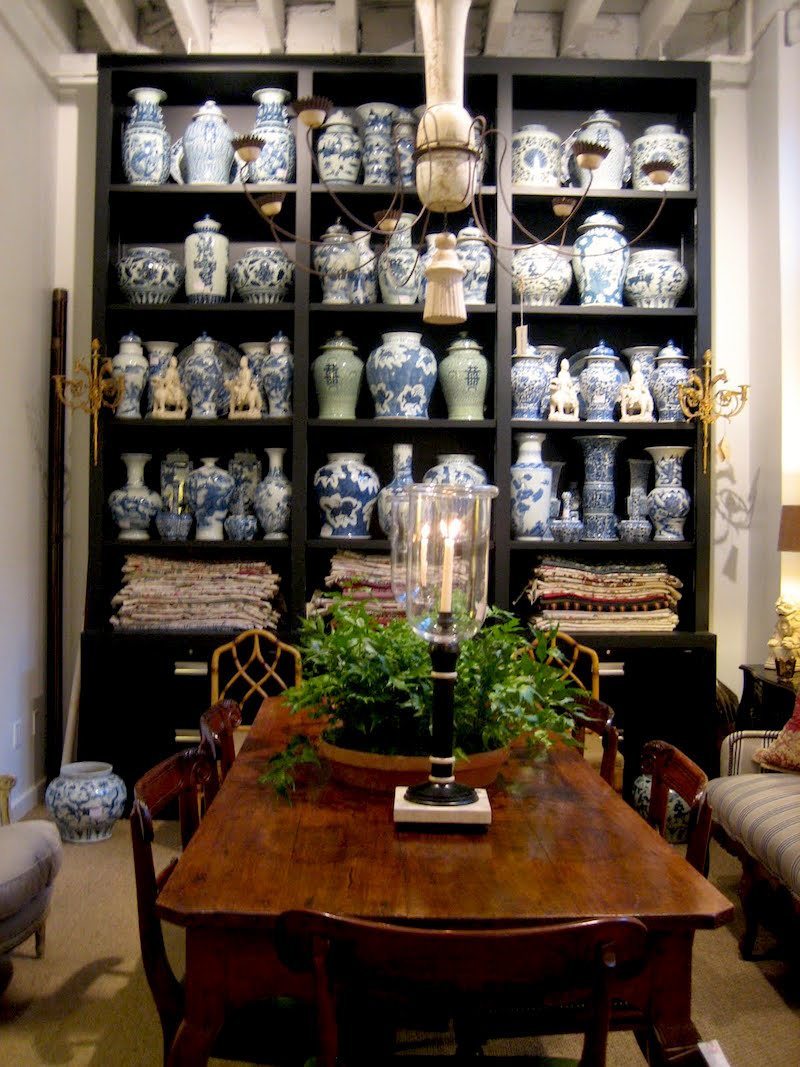 photo by Heather Clawson of Habitually Chic
naaaaahhhh… NEVER! It's never enough! John and Bunny comb the entire globe for these treasures and bring them back to sell to us. I adore this collection of blue and white Chinoiserie porcelains at John Rosselli Antiques.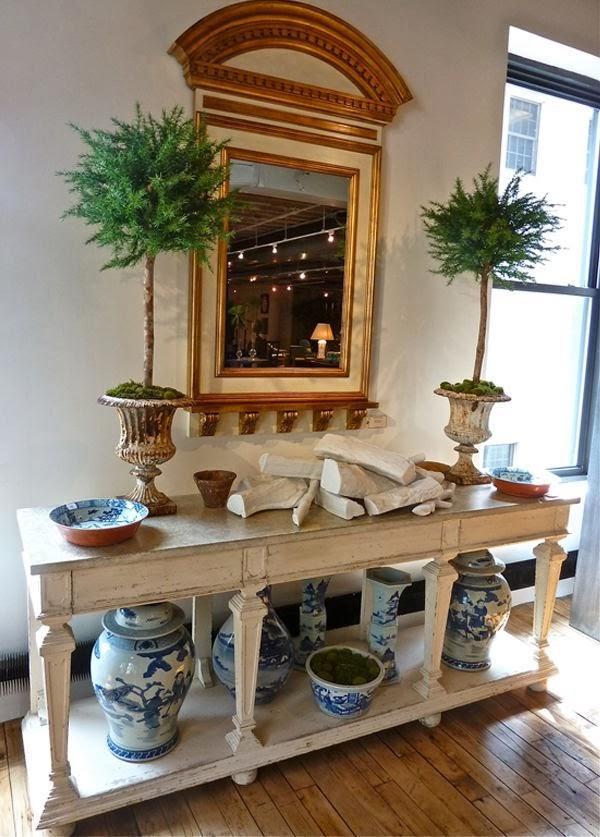 Photo by the fabulous lifestyle blogger Stacy Bewkes of Quintessence
Perfectly styled and gorgeous console table at a "pop up" store.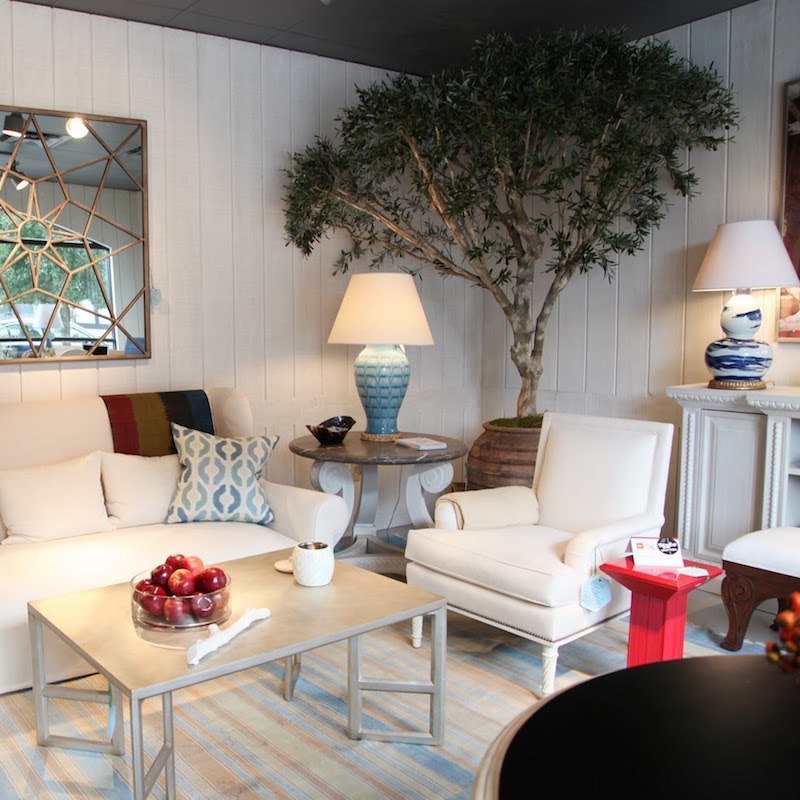 Heather Clawson
Another business started a few years ago was Beeline Home. However, Bunny was told by a lot of people in the know—Ya know—"branding" experts that the name was no good. It had to be HER name. Henceforth Bunny Williams Home was born. All of the furnishings above are the designs of Bunny Williams and sold at BWH.
Then, she went on to tell us blogger/designers at a blogging conference centering largely around "building your brand" that she hates the word BRAND just as much as I do. I can't tell you how hard I had to work to stop myself from jumping up with a big fat YES!!! It was very quiet in the room when she said that. haha!
Why do I hate the word 'branding?'
It's become a hackneyed term for people to build a consistent image on their websites, products, etc. Fair enough. The problem is, a lot of people don't really have an image. Then they go to marketers, web designers and graphic artists to help them create one. It's not real. It doesn't look real and it sounds too corporate. That's why I don't like the term.
I think that a better term for it would be building an image. It has to come from within. It has to be a reflection of you and no one can do that for you but you. At least that's how I feel about it. Yes, graphic artists can help you style and express that image into professional packaging, but it's not up to them to create it out of nothing.
How gorgeous is this! via Architectural Digest
There's much more of Bunny and John to come in future posts. But in closing, one of Bunny's most salient points was:
"Interesting furniture makes a room special. Don't order it all from a catalog. Make your home a reflection of you and the things you love."
***
Oh man, it's good to be back home. I have to get out to get some groceries before it snows—AGAIN!
But ol' man winter… your days are numbered! Happy March to all!
xo,

PS: And just to be clear because a friend on facebook was worried for me. John Rosselli does not really hate me! (at least I don't think so–lol)