Hi Everyone,
Today we're going to be talking about a beautiful interior design trend. It's one I don't hear much about. However, I sure do see a lot of tall, glass cabinet doors. And I've been seeing them for well over a decade.
In fact, as most of you know, I'm putting a pair of tall glass cabinet doors in my new kitchen.
I just have to interrupt myself to say that the kitchen cabinets being built by Crown Point Cabinetry are in cue to start production next month; they will be delivered at the end of September.
Crown Point has been a joy to work with every step of the way. In addition, I owe thanks to my friend, fantastic kitchen designer Susan Serra, who helped tremendously in the early phases of the design. With both Crown Point and Susan, working with them was 100% long-distance, except for one brief meeting when Mel, my kitchen designer at Crown Point, came over to measure.
Susan told me she loves doing long-distance kitchen consults. I highly recommend contacting her if you need a great kitchen designer.
Laurel, I'm confused. You said in your headline there's a danger in doing tall glass cabinet doors. Yet, you're doing them. That better not be clickbait!
Me? Clickbait? haha. I wish it were. And I'm not just talking tall glass cabinet doors; I mean extra-tall.
How tall is extra tall?
Well, anything over 48″ is considered extra tall for a glass kitchen cabinet door.
Here's the problem.
There's a chance the extra tall glass cabinet doors could warp.
In fact, there's a disclaimer on Crown Point's drawing of the back cabinet. (below)
Oh, hold on, please. Let me make that a little larger so you can see!
Any taller than 48″, and they can't guarantee the doors won't warp. That is why you often see tall glass cabinet doors stacked like this. (below)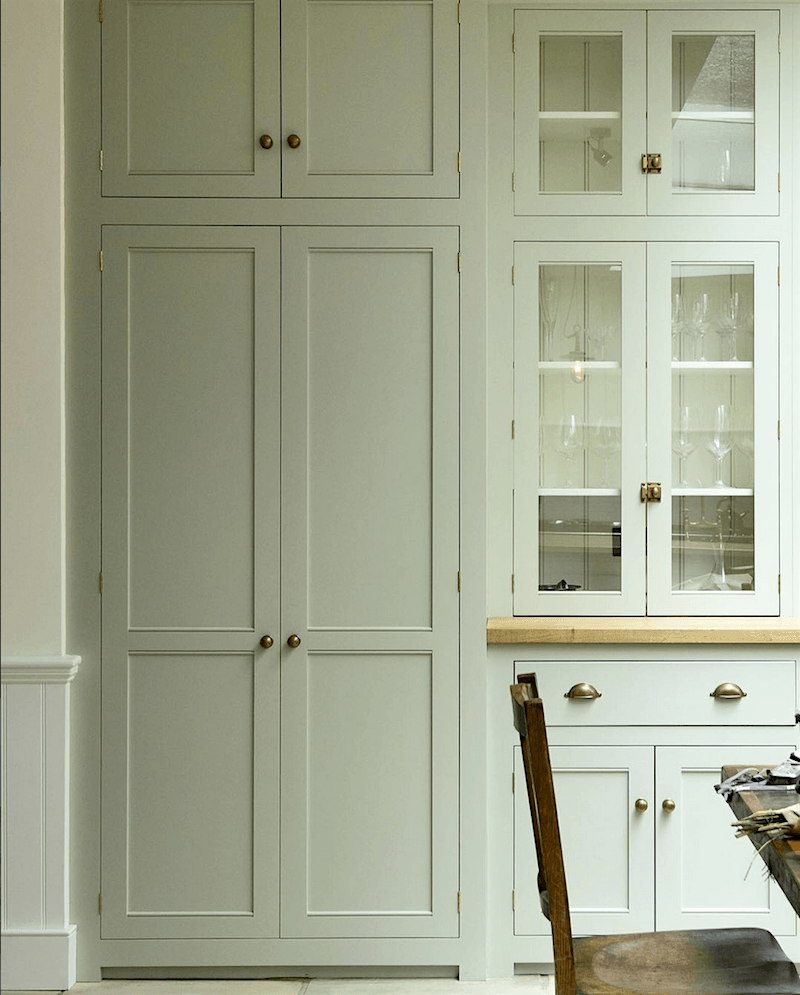 photo: Oberto Gili
Caroline Sieber London home kitchen dining area
Instead of very tall doors, like below.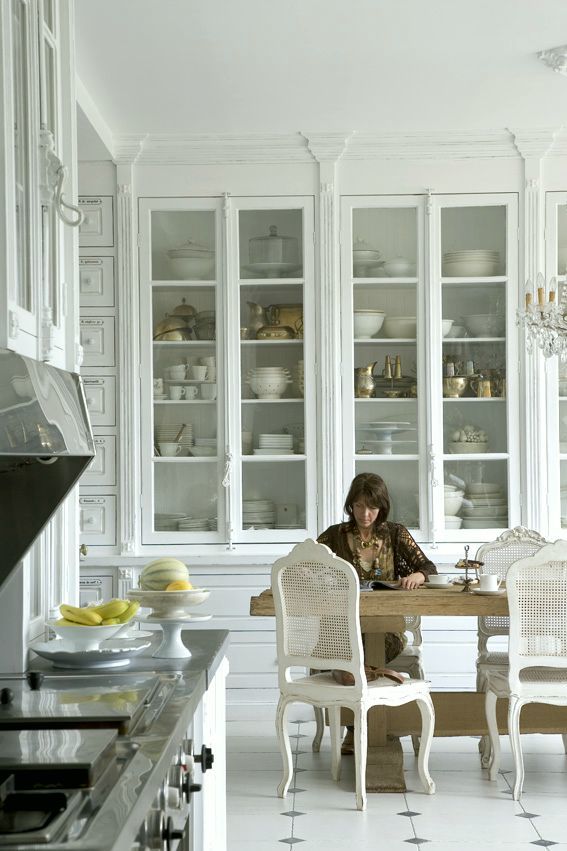 This oft-published eye-popping kitchen was photographed over a decade ago by Bieke Claessens.
My rendering from a few months ago. Does anything look familiar behind the glass doors?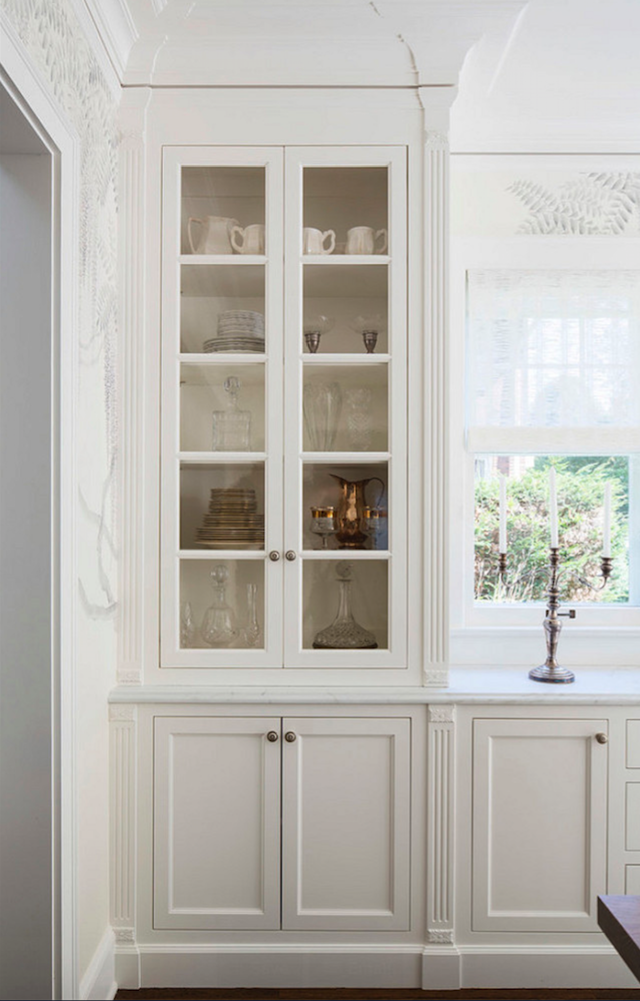 Some of the shelves in my cabinet rendering came from Martha O'Hara's beautiful design above.
Okay, let's look at more super tall glass cabinet doors, and then we can dish.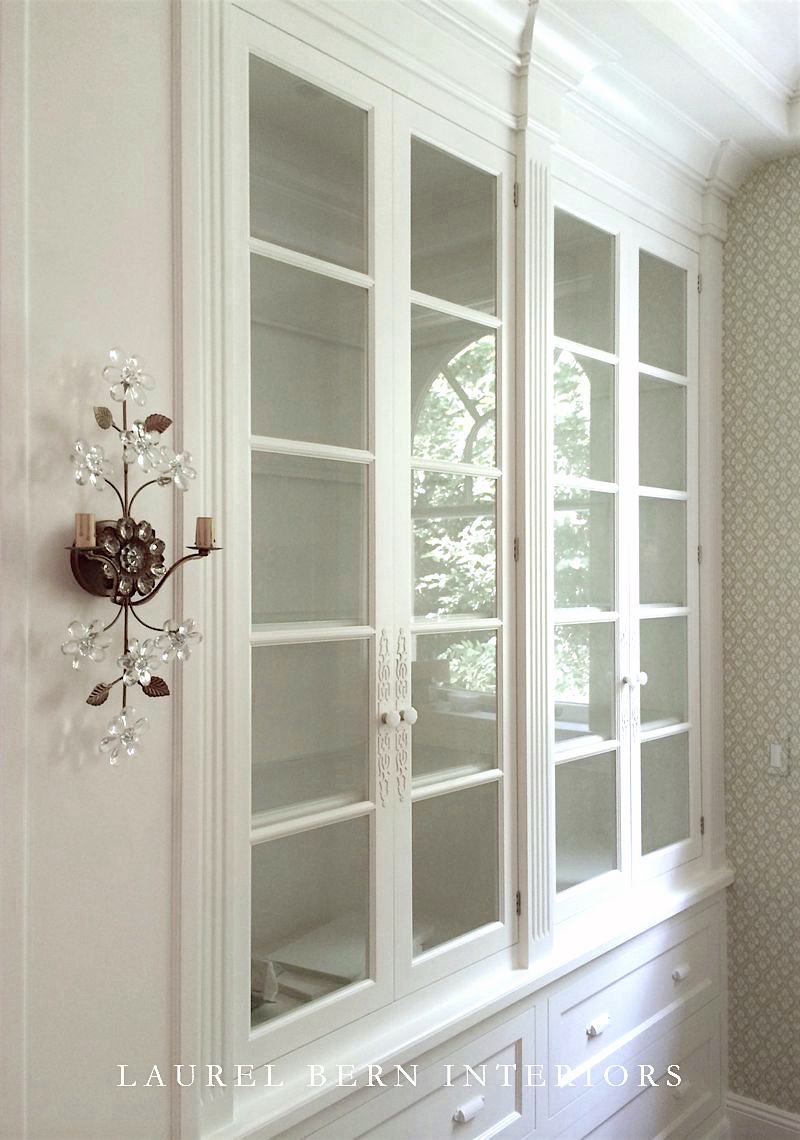 From a job, I did in 2013. And yes, I was inspired by the Beike Claessens photo.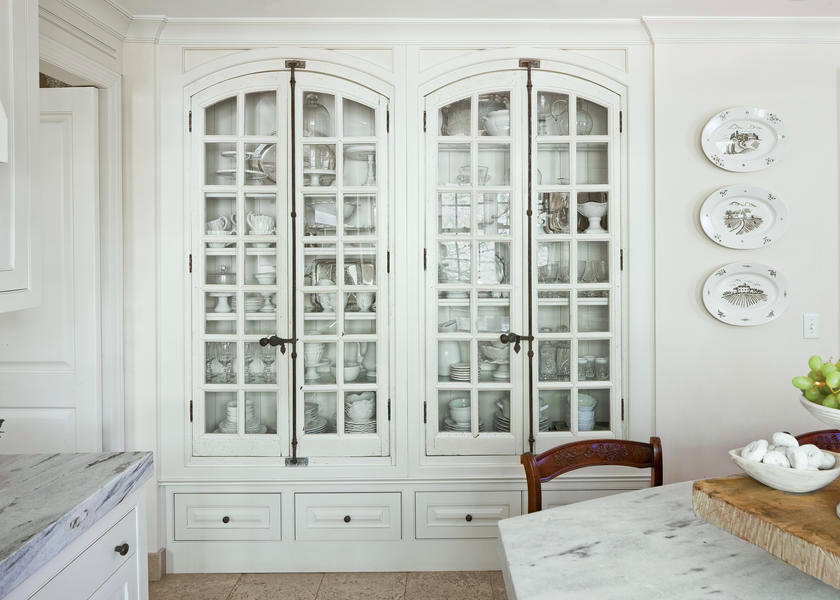 Another popular, incredibly amazing cabinet. Photo by Laurey Glenn via Southern Living
I bet they built the entire kitchen around those doors!
Speaking of.
That's what Darryl Carter did with this cabinet, it looks like.
Please check out my tribute to Darryl Carter's genius here.
This is Carolyne Rhoem's massive and fabulous butler's pantry.
For more tall glass cabinet doors, please check out this post about pantries.
You will also see that they are historically accurate. For some old brownstone floor plans with pantries, please go to this sister post to the one above.
Laurel, I don't see a problem with the big glass doors. None of them look warped.
Maybe not. Of course, that's what duct tape is for. ;] Hell, they might put some temporary small carpenter's nails in to straighten the doors for the photos. But let's take a look below at this drop-dead gorgeous vignette below from Madcap Cottage.
You may recall seeing it in the Granny Decor Mistakes You Might Be Making.
The glass door on the left does look a bit warped.
If it does warp, can it be fixed?
I don't know for sure. Perhaps the warped door(s) would need to come off and be taken to a professional who might get it damp and use clamps or something. I googled that query if you're interested.
So, why don't big glass French doors have the same problem? Well, they can warp, too, if the frames are too thin. Plus, the doors we use to close off doorways and closets are thicker.
Still, many fantastic designers like Minnie Peters, below, are doing super tall glass cabinet doors.
Oh, my, and embrasure doors too? Although those are not flush with the wall. But, it's the same idea.
Below are two more beautiful images of the work of Minnie Peters.
Please check out more of Minnie Peters' fantastic work here.
I will finish with two more exquisite examples of designers who've created breathtakingly beautiful tall glass cabinet doors.
Stunning Tall Glass Cabinet Doors

Photo by Ryan Kurtz
Miles did glorious fretwork muntins on these elegant tall glass doors. Plus, that's a most interesting inset on the lower drawers.
There are more images of this astonishing home in Ryan's portfolio. But, there are even more in the article found in Architectural Digest. Those are some insanely tall ceilings! Plus, you'll see many of Miles' signature saturated colors and designs.
So, how do you feel about the tall glass cabinet doors?
If you had the opportunity, would you do them in your kitchen? Or, would you play it safe and do the stacked doors?
Maybe you have some super tall glass doors somewhere in your home.
Mine are going to be 66″ tall. By the way, the drawers are going above the counter, as they are in Crown Point's drawing. If I didn't do that, the doors would be 74″ tall. That's double the height of the counter. That's a hair's breadth shorter than Cale. My doors are going to be a hair's breadth shorter than me. And that's tall enough!
So, why am I ignoring the advice to do stacked instead?
It's because I adore the look of the super tall doors. I have admired them for decades. Warping comes when things get humid, then dry out and then get humid again. So, I will try to keep things as stable inside, as possible.
xo,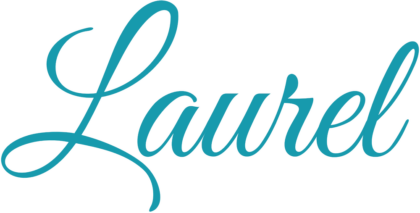 PS: Please check out the great HOT SALES this weekend!
***

Are you planning on doing some shopping on Amazon sometime soon?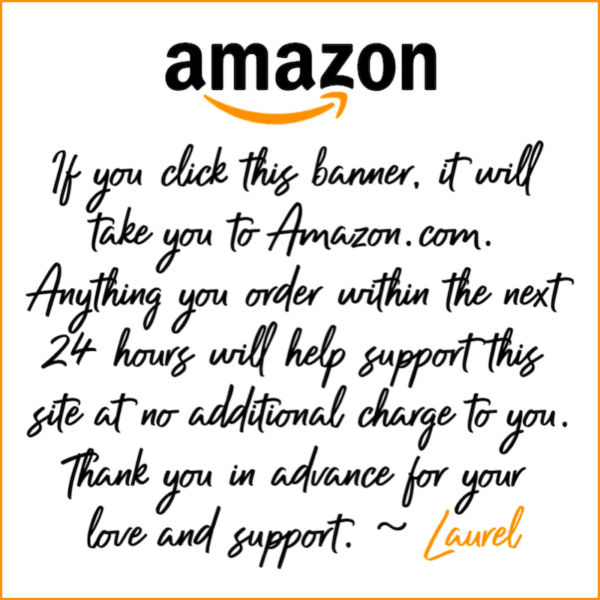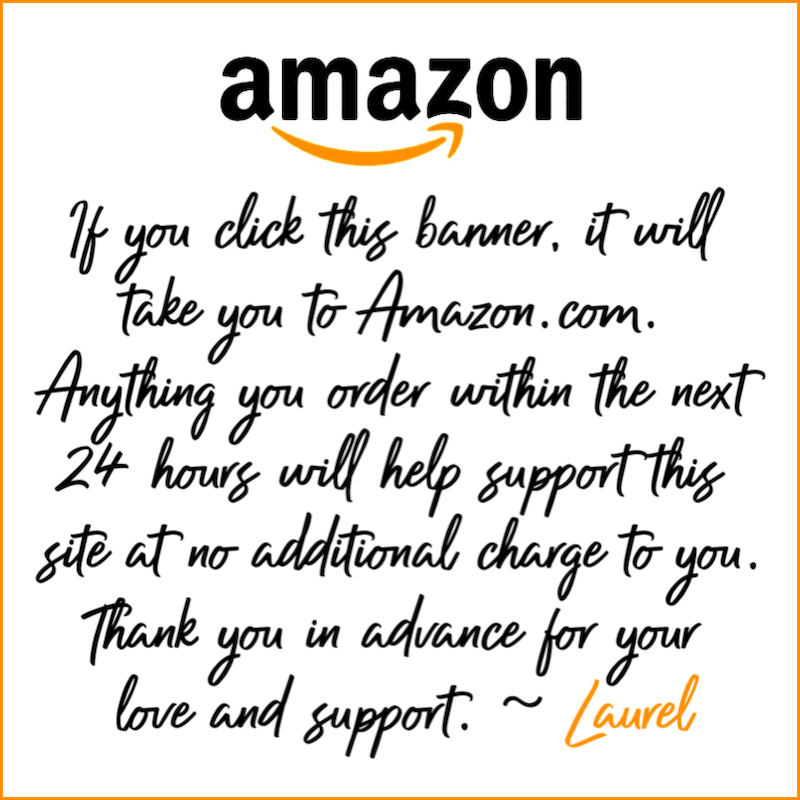 All you need to do is click this link and forget about it if you're not ready to shop now.
I will earn a small commission at no extra expense to you for any orders you make within 24 hours of that click. I very much appreciate your support of this website.