This is a real "dear laurel" letter from a kind reader who just received a new sofa.
Dear Laurel,
Not sure where to put this question. I'll just drop it in here. I'm not asking for a consultation (if only!) but thought others might have the same question.
My new red sofa just arrived. I love, love, love it. It's not oversized or weird, just a nice, normal sofa with turned legs and casters which was why I bought it.
I had a red plaid sofa in this little library at one time and loved it. It's long gone, and 2 cheap sofas later, I have this wonderful quality sofa with quality upholstery, but is it ever red!
The case goods in the room are espresso, which look black, Lloyd Flanders black rattan chairs with cushions in a brown, red, rose and green floral.
There are greenish bamboo window coverings and floral pelmets. There is also a little Stewart tartan in the room. The rug is a red and warm beige oriental.
Boy, does that sofa stand out. I should have chosen the softer red, but was voted down by the decorator and my husband in favor of this rich red.
Is there a way to make it not shout as you enter the room?
Oh, the walls are peach.
I looked at your post on red, and noticed the red sofa there was in a red room with mostly red rug. Is that the way to do it?
I'd never get my husband on board with red walls. So, my question is how do you make one piece of furniture not shout 'look at me' and blend with the rest of the room. If you can ever use this, there might be others who could benefit, too. And, I'd be very grateful! ~ Andrea

First of all, I really appreciate the fact that Andrea wasn't expecting free advice. And then she even apologized but there was no need for that. This is an excellent question.
What happens when you get a new sofa – or any piece of furniture and it's not quite right?
Well, it happens. It's happened to me. (more times than I care to count)
One or maybe two of you, (if that, haha) may remember when I received my Donald Cabinet way back in early 2013.
It was so wrong.
wrong. wrong. wrong.
And thank heavens it was me and not a client that it was wrong for.
I knew the solution, but dare I???
Paint it???
I had to.
So, I began gingerly to put a light wash of white over it and already with one door could see that it was going to be fine. Then, I did the entire piece and lived with it for a while and realized that it needed another coat and then it was even more fine. It was now perfect.
When I got my new chairs with the Windsor Smith fabric that I loved, it looked too summery in my living room.
Dare I???
Paint this gorgeous brand new EXPENSIVE fabric???
I had to. It wasn't right.
I began with the chair decking. (the part under the seat cushion that you don't see)
GORGEOUS! Exactly what I want to see. And then proceeded to paint the rest of the chairs.
I received some decorative cardboard boxes for my fabric samples.
Oh dear… they are wrong too. Too intense.
Yep. Painted those too.
I painted just about every damned thing that I got.
I even painted my Melchior De Hondecoeter copy. A little. It was a tad too bright in places.
So, what was going on? Why did I make so many mistakes?
Am I a lousy decorator?
For me, I am.
Plus, decorating is not easy
and– obviously, I'm nuts.
;]
But, lets leave all of that aside and go back to Andrea.
She caught me on a good day.
BTW, if you want to catch me on a bad day. Ask me for something on a Wednesday at 7:00 PM or a Saturday pretty much all day long. ;] It's not that it's bad, it's just that I'm usually in heavy "blog mode."
However, I know that this is an excellent topic.
What happens if you make a mistake and with something big like a brand-new sofa?
Honestly, if it's REALLY bad, I would consider selling it. But, maybe we can save it.
Let's say that something doesn't seem right but you can't put your finger on it.
Andrea said that her sofa is RED.
I took that to mean that it is RED.
Something like this.
This is the beautiful Serena and Lily Miramar sofa but in a custom fabric. (and I linked to the new bench seat)They don't have a fabric this red, but this colorway does exist.
My next thought was in regard to this comment:
I'd never get my husband on board with red walls
lol
I filed that one away in the "we'll deal with the husband issue later drawer" and set off to work.
I mean… What does Husband know? Red walls will be gorgeous!
I opened up my picmonkey to prove my point.
ummmmmmmmmmmmmmmmmmmmmmmmmm…
Good Lordy God!
Husband is RIGHT!!!
Oh sure, if I were Miles Redd and had about $100,000, I might be able to get this to look smashing, but this is not that kind of room.
Maybe if I add some white wainscoting it'll work???
Ugh.
Sure, we don't have all of the other elements in the room and that is always something to consider, but even so, I know that this is most likely not going to work.
The other issue is that I really do not think that peach walls are going to work either.
And I still don't know what Andrea's real-life situation is.
I asked if she could send some photos. In the meantime, I figured that I would work with what I have.
A RED sofa.
And I know that there are some black chairs and a blackish built-in cabinets. And a rug that I'm probably going to hate that hasn't arrived yet.
While I'm waiting for my designer's block to blow over, I remembered what my vet said about Peach's propensity to throw up.
"That's not normal," he said.
"Cat's aren't supposed to throw up. It's a sign of inflammation or helicobactor pylori or some other illness."
After Peaches survived his 7th life in 2011 and had emergency surgery for a bowl obstruction and then survived his 8th life, the aftermath, we gave him a daily dose of budesonide suspension. And we got to spend another 3.5 joyous years with him.
Does anyone know why these red sofas aren't working, or working just yet?
Yes, Maggie… You had your hand up first.
Ummm… is it that the balance is off? The sofa is such a strong element and that needs to be balanced out better?
BINGO!!! Thank you Maggie!
You guys are really paying attention. I'm impressed!
Yes, a strong large element is going to need other strong elements throughout the space, but we also need to calm that puppy (new sofa) down a little. That we can do with pillows or even a throw.
We always need elements of light, medium and dark.
So, what do *I* do when I'm stuck for a great design idea?
I used to go through my pile of magazines, but now I get on pinterest.
I put in the search term "red sofa."
But I also look at the similar images.
There aren't a lot of red sofas.
I came across this small room by Miles Redd. I think it's quite cool.
A lot of people will think it's too "cluttered."
It is… lol. But I still like it.
And then I came across this red sofa which I instantly recognized as a Dorothy Draper creation at the Greenbriar Hotel.
Oh, it makes me laugh. The painting is too big. The lamps are too big. And the end tables are too big,(high) too. The Chinoiserie coffee table is sublime. The green carpeting makes no sense. Or maybe the red leather sofa makes no sense. But somehow, it all kind of works in a funky unorthodox way. That's the genius of Dorothy Draper!
What I love the most about this vignette is the painting above the sofa. I filed that one away.
And then I remembered that Miles Redd uses this pretty blue color with red, fairly frequently.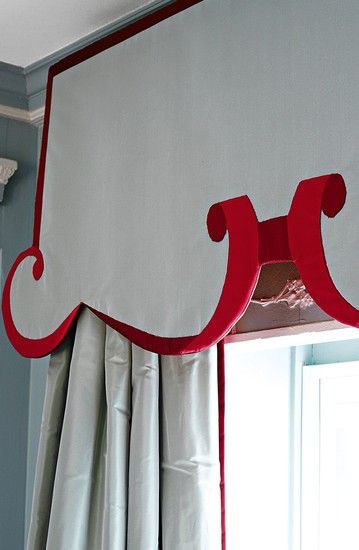 He often creates these interesting Chinoiserie inspired lambrequins too.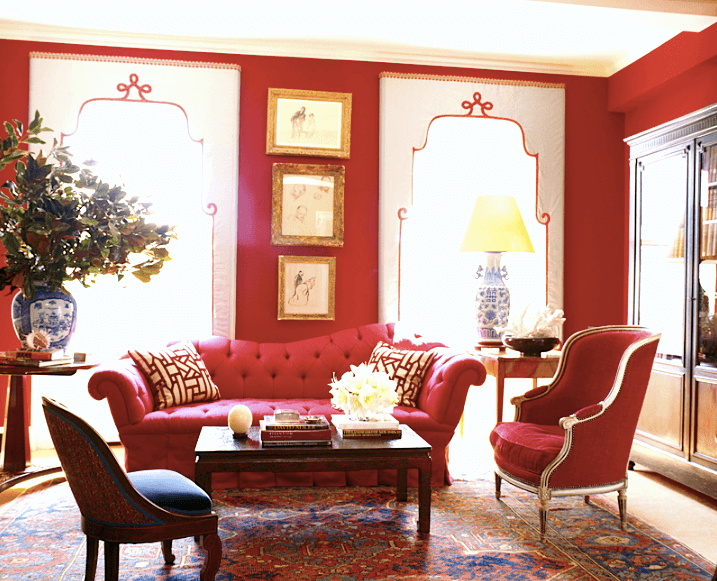 And he's also done Red on Redd ;]
But here, it works because of the big windows and large breaks of wall space.
And then I came across this image from his wonderful book, The Big Book of Chic
Love this! Okay… blue it is!
If only I could come up with some cool art like that.
I went over to Anthro (Anthropologie) because they have really beefed up their art collection and are working with Artfully Walls.
How smashing is this black and white art wall!
Another stunner in blue. Instant art wall!
And I found this interesting piece.
This is reminiscent of the Greenbriar painting.
And it has nine – five-star reviews!
So, then I started afresh on picmonkey to work with THE red sofa
I need to choose a pretty blue color.
And so, I chose Benjamin Moore's Dolphin's Cove, one of the 144 beautiful Benjamin Moore colors in the Laurel Home Essential Paint Guide.
I figured that while I'm at it, I'll make September's board since I'm going away in 20 days (to England) and have much to do to prepare for the trip.
Here, is what I came up with.
1 / 2 / 3 / 4 / 5 / 6 / 7 / 8 / 9 / 10 / 11 / 12
notes:
#1 – couldn't find the exact mirror, but the link takes you to a lot of pretty mirrors
#4 – appears to not come in white any longer
#5 – China Seas fabric on custom pillow. Source is recuperating from an accident
#6 – Lyford Pagoda Pillow. Sorry, the source is no longer making it.
#11 – is really larger than shown and too large for the coffee table.
The beauty of playing with the images on picmonkey is that one can see how they elements all work together.
This is a more maximalist iteration using a new Havenview wall mural from Anthropologie. I like this one too!
And one last one. Just because I'm on a roll now. :]

A custom art wall. All of the pieces are from Anthro. (please see the widget below for more info on the individual pieces)
I zoomed in and switched out the coffee table. That is a random table I found somewhere, but have no idea where. lol

Which  of the three options do you like the best, if any of them?
It's okay if you think that they all suck. I like them all, but if I had to choose, I'd pick door number three.
In the meantime, I heard from Andrea. And of course, her sofa and room look NOTHING like what I did.
AND, I was going to add some pointers and I started to do it and then I realized that I'm barking mad and that I am going to carry that over for Sunday.
I have a big weekend coming up.
I've been invited to a couple of events through RewardStyle for New York Fashion Week.
And no. I have no idea what I'm wearing.
But I figure if I wear my grungiest jeans, I'll be fine. ;]
This is a whole new world for me.
And finally.
Thank you, thank you to the countless people who made purchases this last long weekend. I actually rounded the number way up over 10% and was happy to donate a handsome sum to the Hurricane Harvey Relief Fund.
Now, we need to do something about his girlfriend, Irma. She's a woman hell-bent on destruction. Best to stay clear– and pray.
xo,