Last year, some may recall, I ran a little giveaway for a free consultation and a young woman named Katy was one of the winners.
Of course, one never knows what they're going to get, but in this case, I got an AMAZING home in St. Louis.
And a mess of a kitchen.
The young couple with two school-aged kids had already lived in and renovated several homes, but wanted something "different" for this home.
Here's the house. Stunning, isn't it?
More stunning above and below with two detail shots of the gorgeous ceilings.

But Below is the old, but definitely not original kitchen.
Different, it is, but not the good kind of different.
And oh man. And this is only HALF of the kitchen.
I think that at some point the cabinets were painted white, but still, this is not the right kitchen for this elegant Edwardian home.
I advised her to change the kitchen, to a black and white with a bistro feel but got a little resistance.
At first.
But I told her that although she might be tired of doing the same elegant kitchen over and over, the next owners will probably want something far more in sync with the classical Edwardian design. A mess of a mid-century kitchen is not going to cut it.
I shared some black and white kitchens that I felt would give some good inspiration to the look she should be going for.
Some of these I didn't show her, but no matter.
At Home in Arkansas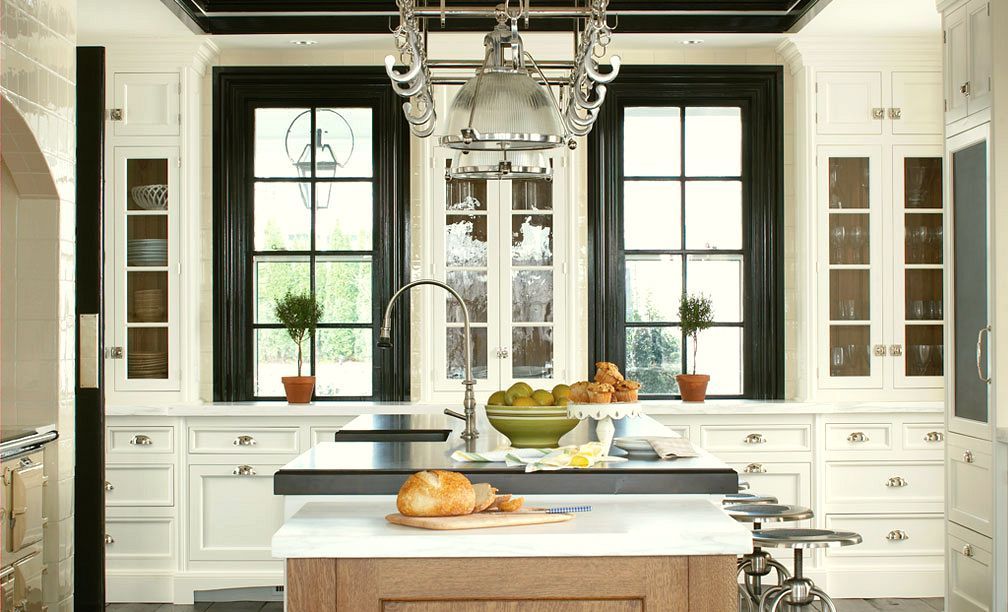 Christopher Peacock
Windsor Smith
Two different iterations of Miles Redd's gorgeous black and white kitchen with glass counters! I'm not sure which one is older.
But if I had to guess, I would say that the top one is newer since it looks like they painted over the laminate floor. I imagine that Miles' place came with that floor and he figured that he'd just live with it.
Love the lamp and all of the accessories.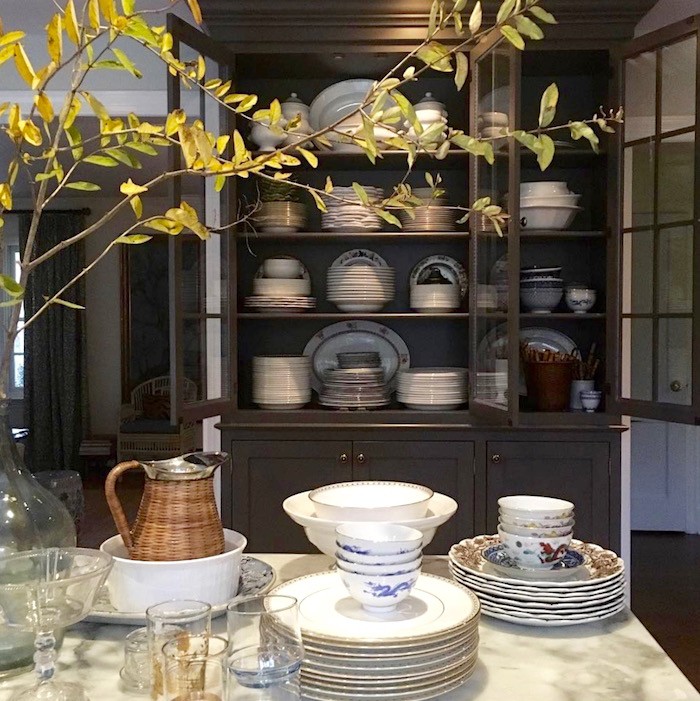 Maura Endres' kitchen isn't black and white, but the dark gray and white is also beautiful. For more of Maura's beautiful home and kitchen click here.
And if you don't already subscribe to Maura's instagram, you are losing out, IMO.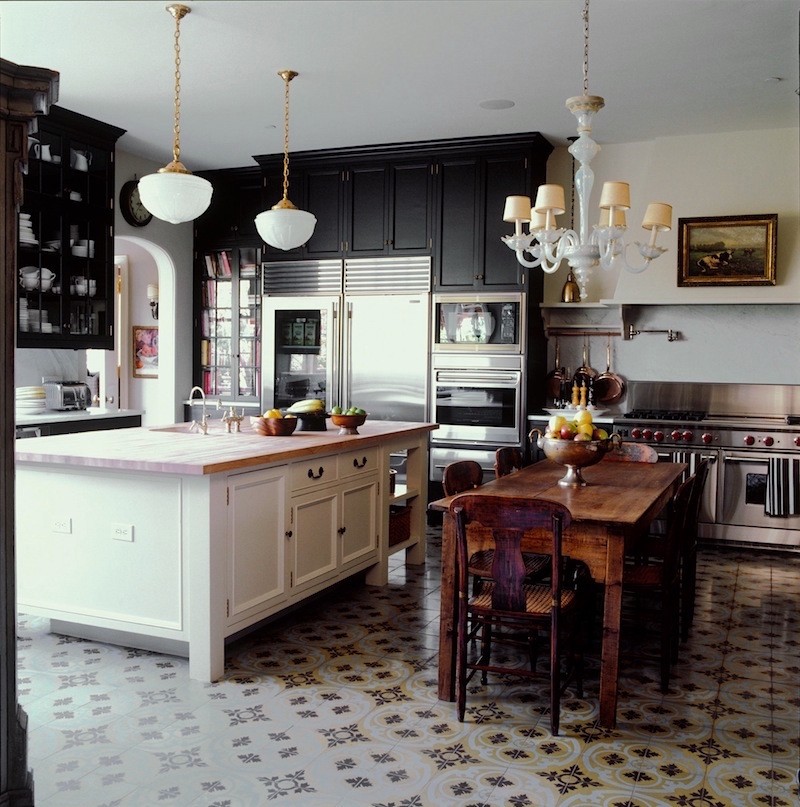 Kristen Buckingham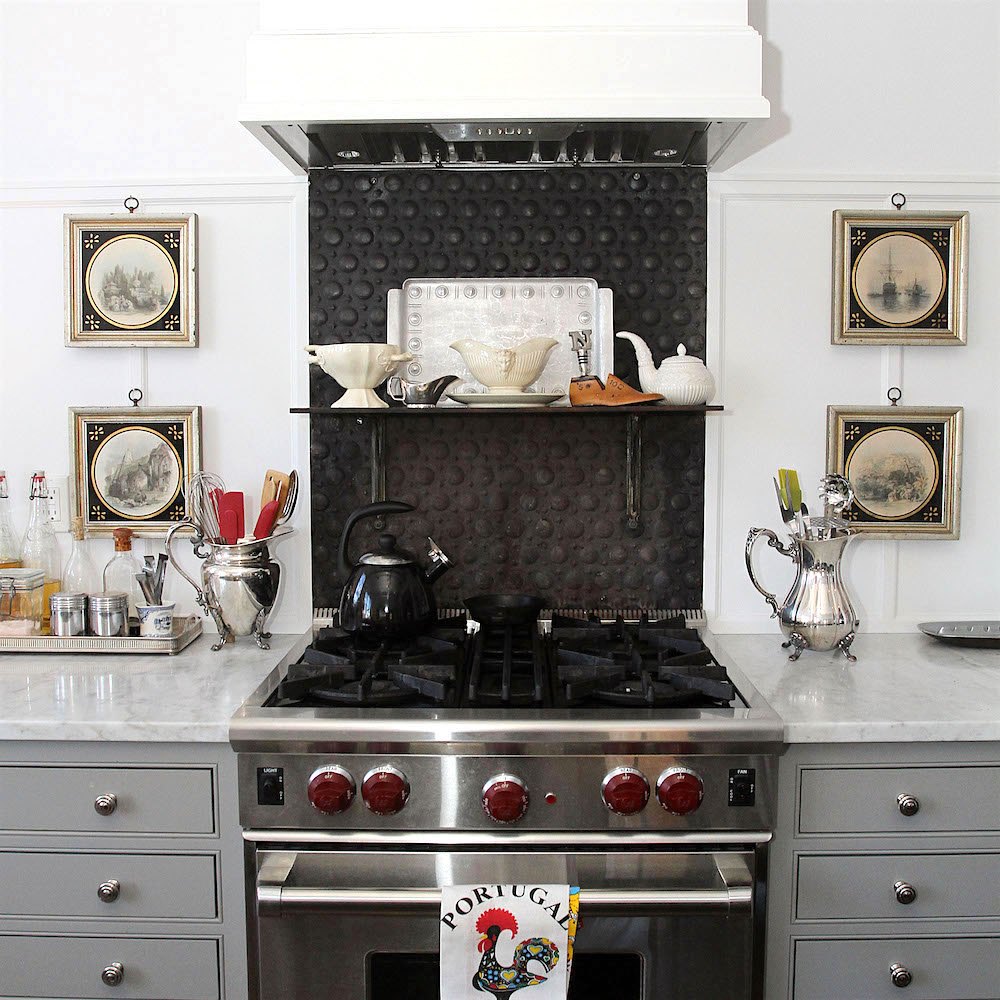 Nancy Keyes gorgeous range area. I want everything!
For more of Nancy's beautiful kitchen and home click here.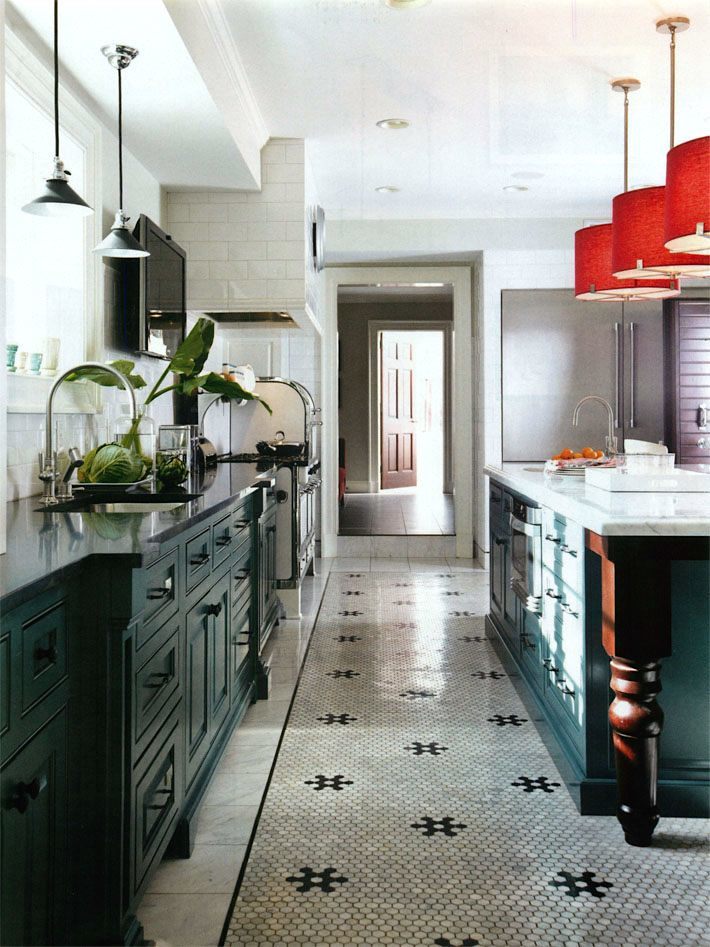 Mitchell Gold via Traditional Home
And that was that.
The other day, I received an email entitled
Fast-forward, a year later
This is the email verbatim. [except for my comments in brackets]
I promise you, that Katy is not a PR agent; at least not for me. I don't have one.
Hi Laurel, Hope all is going well!
Not sure if you remember me, but last year I won your giveaway for a consultation. We had recently moved into a 1910 Edwardian house in St. Louis.
[Yes, of course I remember you! Okay. Fine. You're right. I don't remember you at all, but I do remember your gorgeous house!] ;]
At the time, we planned to retain and work around the 1950/1960's era kitchen which you strongly advised against….the husband agreed
[WHAT??? He did???]
And a year later. We are just about done. Thought you might like to hear and see what ended up happening! (I've included a before pic to jog your memory too!)
You're going to think I am a stalker, but I used post after post of yours to guide me during the process and I can't thank you enough for sharing your insights!
[From one stalker to another; Thank YOU!]
This "unkitchen" post convinced me that I didn't need upper cabinets everywhere.
Plus we are short, so without stools, most of the shelves are wasted on us. Without the upper cabinets, the leaded windows now take center stage (debating on shades still). Plus, considering our lower cabinets are in black, the abundance of white on top doesn't make the kitchen feel the least bit dark.
[These are her links below and I don't know why they're appearing like this, but I like it. I remembered in time, not to copy and paste from G-mail. G-mail and wordpress are like oil and water for you geekettes out there.]
https://laurelberninteriors.com/are-you-making-this-mistake-with-your-kitchen-design/
The "Devol" post became my jumping off point for cabinets in terms of style. Seemed fitting with our home and I scoured their website for pictures for my carpenter that built the cabinets.
https://laurelberninteriors.com/beautiful-classic-kitchens-not-white/
I also didn't think twice about not including a backsplash after this post…
and only added a full height soapstone backsplash behind the stove. It's worked out perfectly and I have a feeling it won't be as trendy as some of the tile back splashes out there today.
https://laurelberninteriors.com/freaking-kitchen-backsplash-countertops/
Then I used your paint palettes "religiously" to guide me on color.
As I mentioned, I used to buy 10-12 samples at a time – knowing I needed to test them – and I would still get the color wrong. Now after trying many of your universal colors and knowing you know your stuff inside and out, I just go to your Paint Palette, pick a couple I like, get 2-3 samples, and I'm done.
[I think that I need to put this girl on the payroll!]
– buy a couple to make sure my lighting isn't odd and I'm done. Invariably one of them always works. For the kitchen, I went with your "Simply White" palette with the walls in White Dove and Onyx for the cabinets. (Tried Soot, but too navy and had to send the cabinets back…worth a $500 repaint for sure.)
[This is what Katy is talking about. It's one of 40 palettes from The Laurel Home Paint/Palette Collection.]
Aside from a few odds and ends, the only thing left to do is figure out my chairs. I'd like to pick up the green or maybe the gray from the "Simply White" palette, but don't want all my chairs to match (as I've read the post below too).
I've considered recovering that chair in the picture with an olive or gray velvet or leather and I scour Williams Sonoma, Ballard, Restoration Hardware, West Elm, and Anthropologie websites nightly to find just the right match, but haven't been able to make a decision yet.
https://laurelberninteriors.com/help-please-husband-wants-matched-set-dining-room-furniture/
Anyway, sorry for the long email
[Are you kidding? You just wrote half of my post for me!]
And thank you so much for all your help both initially and virtually through your blog as you have made some agonizing decisions so much easier!
And then Katy sent me some images of her beautiful new black and white kitchen.
Are you ready?
Let's go inside.
That's much more like it, but poor Katy. I made her send me three sets of photos. But I wanted to show off her beautiful work in the best light.
Oooooohhh… Look at all of that beautiful GREEK KEY PATTERN!!!
Katy told me later that they had the table custom-made based on an antique.
That wood element is wonderful and makes the room, I think!
The baking station with a lovely print over it.
Please note that all of the white is WHITE DOVE but different finishes. That is why the colors look slightly different and why it's not necessary to use different shades and possibly get a combination that's not going to look so great. For more of my favorite white paints click here.
Love the china cabinet!
As we can see, it's pretty much just the kitchen and it needs the finishing touches. And it's the details that make a room sing. So, for fun, I put together some things to finish off the kitchen.
These David Francis chairs are in the widget but are difficult to see.
There are several chairs that could work.
One think I often do, is get an inexpensive chair and reupholster it in a nicer fabric. And I included that in one of the options.

Don't worry honey. Of course you're staying!
You look fabulous in the new black and white kitchen.
xo,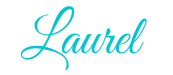 PS: Please don't forget to check out the newly updated hot sales pages.