Hi Everyone,
As most of you know, I no longer take on new clients.
However, in the past couple of years, I have helped two of my darling clients from circa 2015 or before with Mrs. F's kitchen in Larchmont, NY.
And Mary's kitchen in Bronxville, NY.
In truth, both clients did a lot of the work themselves. So, these were relatively easy jobs for me.
Last June, Mrs. F contacted me to help her with a new guest bathroom.
It is impossible to say no to her, so I said yes. And, as it happened, I already had plans to come to New York in early July, so of course, I paid a visit to the site to get a visual.
Well, there isn't much to see because the guest bathroom doesn't exist. The bedroom is upstairs, and the soon-to-be bathroom is currently used as a closet. A dormer is going to be added to make the space useable for a guest bathroom.
So, I contacted Mrs. F., and then OMG! found out her basement was flooded due to Hurricane Ida!
Therefore, I didn't want to bother her too much. But, I asked if there were any elevations for the new guest bathroom, and there were not. However, there is an existing dormer that this one is going to match.
Mrs. F was kind enough to send me a short video. (I did a screenshot of the ceiling angle.) However, I forgot to ask for more info.
Right now, it's good to have an idea, but it's not crucial to have the exact measurements.
Above, I created a scale layout based on the architect's drawing. The gray box in the lower corner represents a possible built-in linen closet.
Please note that I realized that the ceiling height where the wall meets the sloped ceiling is only about six feet after doing these boards. So, these elevations will need adjusting. Or, maybe a little more.

I found an image of some moulding in three sections which I can manipulate in Picmonkey. The middle section is a little larger than the two ends for my design.
Let's begin with inspiration for guest bathroom #one by Park and Oak.
Please see the Park and Oak Design portfolio here.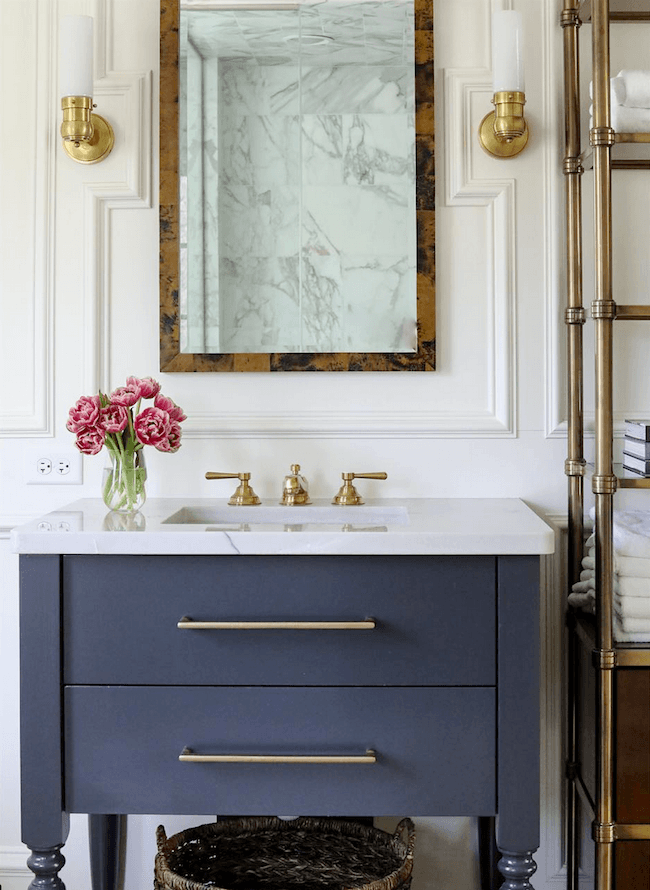 I've admired this bathroom for at least two years. You can also see it in this post about dark bathrooms.
I could not find this vanity.
Here's an entire post devoted to custom vanities and more.
But, I did find the mirror and etagere. It is a Laura Kirar design for Baker Furniture, and it retailed for about $4,500.00. Alas, the etagere, which I adore, is no longer being manufactured. Even if it did exist, it's too large and too expensive.
Okay, let's see the guest bathroom design inspired by the Park and Oak bathroom.
The toilet is Kohler's Memoirs which comes in several versions. The vanity is from Wayfair. They have thousands of lovely vanities.
The mirror is from Made Goods. And, it's pretty expensive, but I have to say that I really love it.
Now, for the etagere. This one is the right height at 60″. And, it has that cool detailing. It also comes in a beautiful antique brass finish. And, it's quite reasonably priced at under $600.00. It's from Restoration Hardware.
Wait just a redhot minute, Laurel! Didn't you write a post about five years ago, totally dissing Resto?
Haha. You mean this post- The Shocking Truth…? Well, dissing is your word for it. My aim was to demonstrate that many of their items are sold for a lot less money elsewhere. This is apparently true. I also wanted to convey that they are NOT the luxury brand they portend to be.
Although, if you conclude that they kind of suck, I probably won't disagree.
Still, it's apparent that they're very successful at sucking. (see above; the stock has gone through the roof since my post came out in August 2016.)
So, who am I to judge? Their marketing is bloody brilliant.
At any rate, I looked and looked and looked and this is by far the best option for an etagere for Mrs. F. Plus, it's reasonably priced, and it doesn't look cheap.
There's also the Silas etagere at One King's Lane. (OKLJOY15 – gives you 15% off!) I love it, but I think it's too big for this bathroom.
I'm going to be linking to everything in two mini widgets coming up.
The next inspiration for the guest bathroom is by the darling Instagrammer and blogger Alissa Bovino of a Glass of Bovino. She knocked my socks off with this gorgeous jewel box of a master bathroom.

That is the Artemis wallpaper from House of Hackney and sold at Anthropologie.
So, let's see what I did here.
I did this board before I found the image for the moulding. I kept the navy vanity for this version. And, also put up some art. However, the art is optional. I know that some of you won't like it, and some of you will.
The mirror is from Ballard Designs; it's one of my favorites, and reasonably priced.
Ideally, this mirror would be better with a 36″ or 42″ vanity because it's the same width as the vanity. But, since that's the width at the widest part, the mirror overall is about two inches less wide. So, I think it would be okay.
The sconces seemed to have vanished. Oh well. haha. I can easily put them back.
Another version has this pretty vanity from Home Depot as part of the Home Decorator's Collection.
A third version of a guest bathroom has this beautiful 28″ vanity from the Ambella Home Collection. These are much more expensive vanities, many with stylish details. Some of them, I think, are a bit much, but I like this classic style. Interestingly, there are no custom options with these. Although; one can always change the hardware if desired.
(Please click on any image for more information.)

We also loved this bathroom with Grace Wallpaper in Cyan by Jasper (Michael S. Smith) but feel the paper is a bit heavy for her guest bathroom. I have this image tagged Thornton but could not find it attributed to either Leanne or Summer Thornton. If someone has more information, I'll be happy to add it.
If that pattern looks familiar, it might be because we saw it here, in the pillow post, fabric, of course on the pretty blue sofa!
Mrs. F and I had a phone meeting last week, and we both also loved Schumacher's Indian Arbre wallpaper in Peacock and Emerald colorway. Mrs. F has a lot of green in her home, so this is a natural choice. I don't think it's necessary, however, to keep that in the bedrooms upstairs.

So, we just changed the wallpaper.

I also did this version without art. No, you don't have to use Chinoiserie porcelains, either. But, please put your finger over the yellow accent and see the difference without it.
Of course, a rubber ducky could do the trick, too. ;]
(Please click on any image below for more info)

And, finally, we loved these dark bathrooms.
Sabbe Interior Design

I added a fancy backsplash for fun, but it's not necessary.
Mélanie Cherrier of Blanc Marine Living – dark green bathroom via Canadian House & Home
Okay, now that I've remembered the sloped ceiling, I think the wallpaper might not work so well. For this room, I think I would take the color all the way around.
However, please let us know in the comments which guest bathroom you like the best?
If you don't like any of them, that's okay too. ;]
That's all in good fun. Obviously, it's Mrs. F's choice. After she lets me know, I can work on the tub and window elevation. And, of course, the bathroom floor and hardware.
You might also enjoy:
7 of the Hottest Bathroom Trends to Avoid or Embrace.
Affordable bathroom Fixes with Big Impact
xo,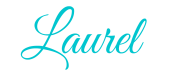 Please check out the newly updated HOT SALES!