Hi Everyone,
I'm so excited to share this post with you about some of the most exquisite and affordable wallpaper murals, and art too! It's one of my favorite topics. I think that beautiful art is what sets many rooms apart. However, original art can be costly.
Okay.
I know.
I know because every time I talk about "affordable art," I get lectured about how I'm hurting all of the starving artists.
And, as someone who's been dirt poor most of my life, I fully understand. And, please understand. All of the arts have always gotten short-shrift. It's not fair, and it's not right. But, that's the way it is. Nobody becomes an artist to get rich. If you want to get rich, start a blog and then prepare to work your buns off!
haha
However, some art can be acquired for free or for nearly free.(that looks expensive) Here's one of my favorite posts about that.
In fact, even though it's only 3.5 months old, I had almost forgotten about it. I'm so glad I found it, because I'd love to try out some of the ideas presented there. It's interesting, too, as it was published on March 18th, at the beginning of the Pandemic. Oh my. And, here we are.
I just want to say that while we're doing so much better, in that regard, here in the northeast, my heart goes out to so many of you, whose states are still surging with this horrible virus.
Still, I don't know why we're doing so much better. Seriously, New Yorkers pretty much suck. Well, not all and maybe not all parts of the state. However, around here, we do. I went out last night to do some grocery shopping. And, everywhere I looked, there were hoards of maskless, "invulnerable" (they think) teen-agers; huddled together like a swarm of hyper-active stinkbugs.
Infuriating is the word that comes to mind. And, they weren't the only ones; lots of entitled adults, too. I'm surmising that they are related somehow, to the teen-agers.
Oh, and there was NO sanitizer for my hands or cart when I entered the grocery store. Fortunately, I brought my own.
In addition, I found out two days ago that two people in my building on my floor and right below me were ill with Covid last April. Fortunately, they have both made a full recovery, as did our super. I'm so glad they're okay.
Alright, back to the topic at hand, which is affordable wallpaper murals. And, I have some new, wonderful art sources to share with you, as well. There's a good reason for this topic.
Naturally, I'm thinking a lot obsessing about my new home.
Please note, however, that it won't be mine, most likely until November, at the earliest. However, the only reason I'm mentioning it, is that I won't be living in the house for quite some time, unless the homeowners change their minds about a closing date.
The other day I went to measure. Cale came with me to help. He had no idea how difficult it is. And, I've never measured that much space in one gulp. Of course, I made lots of mistakes. Fortunately, I'm going back this Monday for the house inspection. I'm planning on photographing every wall and checking on things I have questions about.
So, what have I been looking at for the house?
Oh gosh. Everything. And, I am channeling Gerald Bland, Steve Cordony, William McLure and Mark D Sikes. haha, I just happened to put them in alphabetical order according to their last name. I'd gladly give any of them the keys to my house and tell them to have fun.
Do you want to know the funniest thing?
It's really good so please brace yourselves.
I adore Steve Cordony's dark wood trim!
In fact, I love his dark wood trim so much; I've actually thought about changing my white trim to stained wood!
I said, THOUGHT! My changing the white trim to brown is unlikely to happen. But, it just goes to show that something which I never imagined I would like, I love. It's the context. That's a great lesson for us all.
And, phew! I also love Gerald Bland's gorgeous white trim and black doors.
Oh, and his art. Well, actually, pretty much everything he has.
But, I'm also obsessed with Steve Cordony's wallpaper in his dining room.
My dining room is going to be part of my massive 14′ x 33′ living room. Ya know, I could just keep the room empty and turn it into a ballet studio. haha!
But, I'm not.
However, my point is, that I won't have a completely separate formal dining room. So, where could I do a smashing wall mural? I think I mentioned, the entry to nowhere. Although, I would love to capture a small portion of the upstairs apartment. I'm not sure if it's possible. We'll have to see.
Anyway, I keep thinking about a beautiful wallpaper mural in the entry.
A while back, we also looked at some ways to do Chinoiserie wallpaper panels for less money than some of the high-end-brands out there. There's a beautiful post in the link above where I go over those sources.
Gracie is probably the best-known company.
Mark D. Sikes is known for his gorgeous rooms with Gracie Wallpaper.
However, I found a company on Etsy HandPaintedSilkDeco, which is using Gracie's images for examples of their offerings.
These Chinoiserie panels are hand-painted, and they are $200 a square yard. That would make each panel about $600. That's a lot less than what Gracie charges. I'm not sure how much they cost, retail, but I read somewhere that someone had a quote of $40,000 to paper one room without installation.
Is the quality the same? Probably not. But, I don't know. They do make samples. Oh, how I would love to have some panels of that in my new bedroom!
I adore the Chinoiserie wallpaper murals and panels, but I am thinking of something of a more panoramic nature for the stairwell/entry. Of course, this might all change. But, let's take a look at what I've found.
These Panoramic scenes are either exotic/tropical or located in an Arcadian setting in Europe, the U.S. Or, something the artist made up.
Quite a while back, there were these two posts where we looked at some expensive hand-painted panoramic wallpaper murals.
One is this post about Grisaille wallpapers.
And, in its sister post about more Grisaille wallpapers.
Grisaille, if you don't already know, are tone-on-tone designs rendered in gray or sepia. Sometimes, some color is added to parts of the image.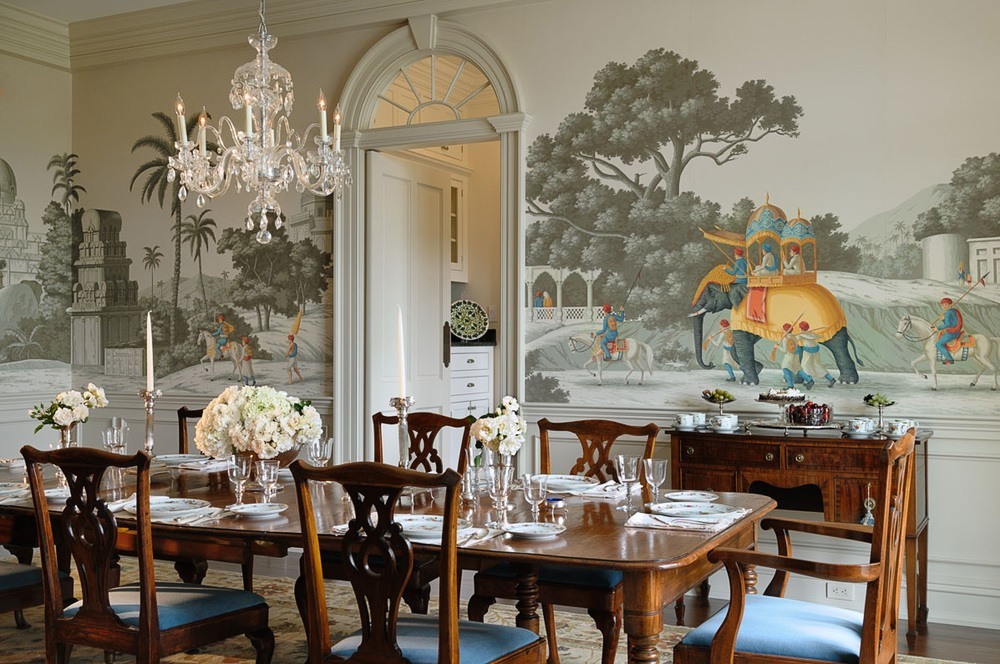 Above is a dining room by Rebecca Brandon (she does not have a website to link to) with one of my favorite Grisaille scenic wallpaper murals by De Gournay.
This panoramic wallpaper is by YR Mural. That is another source for hand-painted Chinoiserie papers. They have been around for quite a while. They are taking designs from the other big companies like De Gournay, Paul Montgomery, and Zuber. I don't know how they get away with doing that. Maybe they have changed the designs just enough. Not sure.
And, I don't know how much these papers are, but if anyone has ordered from YR Mural and can share their experience, that would be terrific!
This printed mural from the Chinoiserie wall panel post a week ago is very similar. The source is ChinoiserieHomeDeco on Etsy.
This is another wallpaper mural from YR Murals.
Below is a printed scenic wallpaper mural found on Etsy
Betty Wall Murals on Etsy in a copy of DeGournay's L'Eden. However, this might be an old design that DeGournay copied. I'm not sure about that.
This is DeGournay's hand-painted version.
But, there are dozens of companies I've found on Etsy which do a printed version of some of these wallpaper murals.
Tropical Rainforest Wallpaper, Vintage Grey – Florawallpaper – Etsy. To be clear, most of the papers from Etsy are printed and a LOT less money than anything hand-painted. Many of these also come in a removable version. But some also require traditional installation.
Florawallpaper is a new source with a lot of beautiful scenic wallpaper murals and many others– And great reviews.
Let's switch it up and look at some of the gorgeous designs by Paul Montgomery for The Mural Source. Paul does a hand-painted version, as well, of these designs. Frankly, I see no point in paying for the hand-painted version. Although I haven't made a side-by-side comparison, the quality of the printed murals on this gorgeous clothlike silky paper is extraordinary.
In addition to his beautiful Chinoiserie designs, as I have in my bedroom, he also does some equally exquisite panoramic, scenic wallpaper murals.
Low Country Room- Paul Montgomery Studio
This is a detail from a The Mural Source printed paper. Yes, this is a print! And as great as it looks here, I can assure you that up close, it is even more magnificent! Please notice the design is identical to the hand-painted version, above. This part of the design is towards the bottom left.
Another Paul Montgomery scenic mural in this traditional dining room.
Jefferson County from The Mural Source. Again, this is a print! Extraordinary!
This is one of my favorites from Paul Montgomery, entitled Dixie and hand-painted.
And, yes. It is also available at Mural Sources. (below)
This is an excerpt from the large mural (Dixie) from Mural Sources. You can get samples of these murals, which I highly recommend. I promise that your eyes will be popping out of your head when you get them.
Now, I want to share some more printed scenic wallpaper murals I found on Etsy. These are quite affordable, and there are dozens of beautiful murals in differing styles. And also a few new sources!
Later on, there will be a new widget with many other new sources and wallpaper murals.
Florawallpaper – Etsy – Tropical rainforest wallpaper mural
AwallonDesign Vintage chinoiserie scenic wallpaper murals – tropical theme
Awallondesign Chinoiserie wallpaper, tropical forest wallpaper Etsy
Blue Willow Decor – Etsy Old View Fairmount Philadelphia
Another great source is MakeupWallDecor on Etsy. They have dozens of gorgeous scenic wallpaper murals.
I had fun creating a smaller-scale version of the fun flowers above from Aurora Wallpapers on Etsy.
Below is the widget with some of my favorite affordable wallpaper murals and sources. Please click on any of the images for more info.

Okay, and to finish off– an exceptional treat.
Some of you may know of the phenomenally talented muralist Susan Harter.
She has taken the Arcadian style and loosened it up in a most fetching painterly way.
Susan hand-paints her murals, but many of them also come in a printed version. The samples you can get are only $8.00 I don't know how much her printed murals are, however. They can be customized, as well, especially color-wise.
Please do check out her website. It is STUNNING!
Above is a Susan Harter grisaille mural done for a showhouse.
Another one of Susan Harter's enchanting Scenic Wallpaper Murals.
One last, Susan Harter beauty.
And, I'm closing with some lovely art pieces. Please click on any of the images for more info.

Can you tell which one is digital? The others are vintage or antique originals that I think are reasonably priced.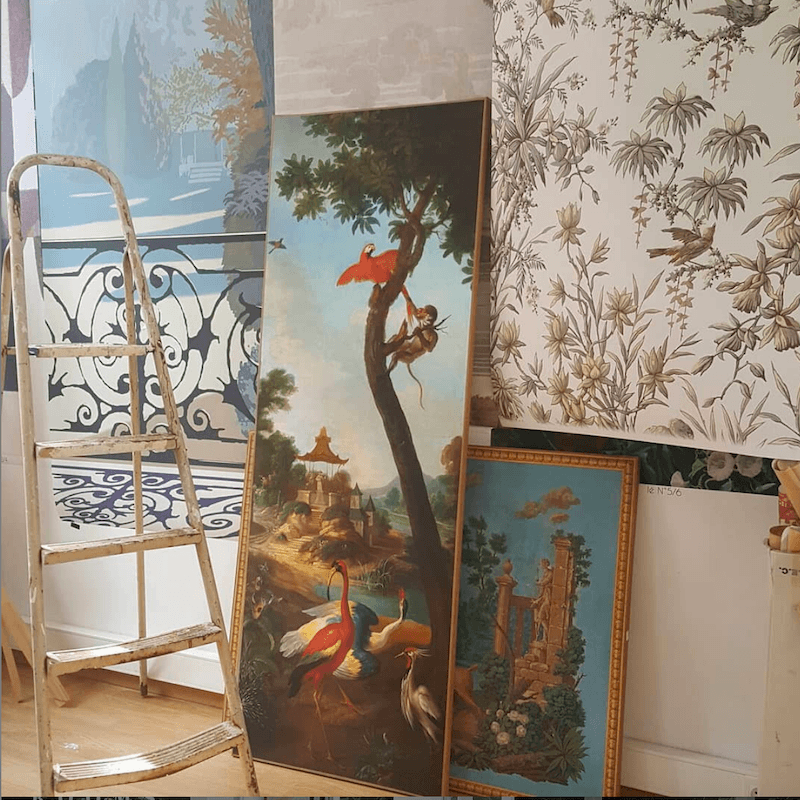 I need to investigate their gorgeous murals and art, too. The colors in that middle piece are unreal!
Well, I hope that you enjoyed these panoramic, (mostly) affordable scenic wallpaper murals and original art.
xo,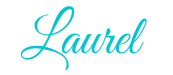 PS: Please check out the newly updated HOT SALES. There's a bit of sad news there as one of my favorite brands is going out of business. And, their inventory is selling out at lightning speed. You can get some of their great merch at huge discounts.