The other day I received a real Dear Laurel letter about wanting to know about the best upholstery fabrics
and especially with pets.
Dear Laurel,
First, thank you for your time reading this note. I'm hoping my question may be of relevant blog material or perhaps a quick response, but if not, I understand the (not so) gray space of offering free advice, especially for those of us in creative fields!
I'm 33 weeks pregnant and in the middle of a home renovation (ha!). It's time for me to select fabric for a classic, tight-back English roll arm sofa with 2-3 seat cushions. My head says Sunbrella or a sturdy equivalent, but my heart says cotton velvet. This will be the primary, high-use sofa, but dog and food stay off (not wishful thinking- just how we are). I know a true cotton velvet is quite durable, but there is something about a resilient indoor/outdoor fabric that's grabbing my attention.
Pilling of synthetic fibers drives me nuts, much more so than any patina a velvet may develop over time. I mentioned I'm pregnant; this is our first child, so of course there are lots of unknowns about how our family life will unfold in the living room. I do not plan to reupholster any time soon after making my choice, unless there is some type of disaster, in which case we probably have bigger problems.
Would you mind sharing your experience with this, and any preferences you may have?
Thanks again,
Emily
My first reaction to this was–
You're having a baby?
And you want to buy a sofa?
A good sofa?
I see…
That's fine, if you don't mind it covered with buckets of baby barf.
Both of my sons projectile vomited their milk
all over everything within 3 feet of wherever they happened to be for seven full months.
And then one day, like a spigot that got turned off– it stopped. Sure, go ahead and laugh. It's funny– now, that is.
We even have it on video. One such scene demonstrated the shower which landed all over me and the white cotton duck upholstered sectional.
And no, it does NOT come out.
I realize however that Emily is going to have a perfect baby that comes home from the hospital sleeping through the night, never throws up and is potty trained at 18 months.
Ha!
But what alarmed me in her note was the word "cotton" followed by the word, "velvet."
The most durable?
no.
It only took one experience some 23 years ago to convince me that cotton velvet is not one of the best upholstery fabrics.
It was in the days before I started my business and worked for someone else. We weren't sure, so we did the ol' coffee test.
Yes, I dumped a cup of coffee on the sample. Let it dry a little. Then washed it.
The once lovely cotton velvet was now a big bloody, crumpled mess.
After that, I decided that a 100% cotton velvet was not a great choice.
And well, you can't very well dump your sofa in the washing machine.
However, there's a sofa that makes my heart beat faster every time I see it.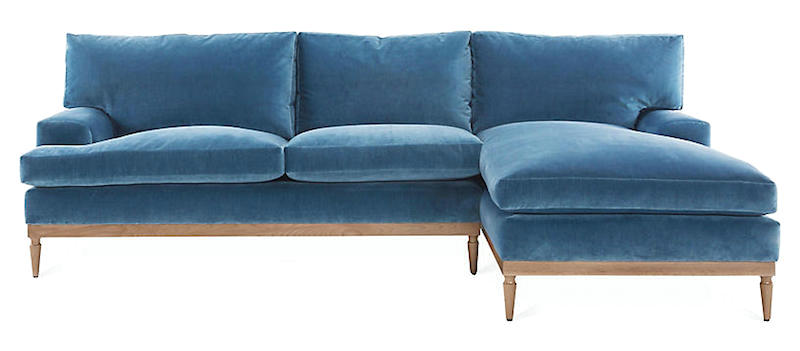 The Sutton Two-piece sectional in Harbor Blue from One King's Lane.
How inviting and pretty this sectional is to me. Oh, please be a polyester velvet. Pretty please?
I checked it out.
MADE OF:
frame, alder; upholstery, 79% cotton/21% polyester velvet; fill, feather/down
It made me wonder if 21% poly would be enough to make it okay, so I decided to do a little experiment.
Here's what I did.
I went into my library of fabric samples and within one minute found a lovely velvet from Duralee that is the exact same break-down – 79% cotton/21% poly.
And then I put it through my Laurel Test.

This just happens to be a velvet from Duralee that's 79% cotton and 21% poly. I put the tape measure there to see if it shrunk after I had put it through its paces. (It didn't.) The faded parts are where the tag was.
And then I found an almost identical velvet from Duralee that is 100% poly. While poly is an amazing fabric for upholstery and the cushions are machine-washable, it does have a tendency to hold onto dust, hair, lint, etc.
One important thing for ALL fabrics is that they need to be dusted and/or vacuumed regularly. Ground in dirt, is no bueno for fabrics.
First step, is I got both fabrics wet to about a third of the way down.
The cotton-poly above
The 100% poly.
Immediately, the poly was practically dry with no evidence of it being wet.
The cotton/poly I zapped it with the hair dryer and then I set them both out on a sunny window sill.
After an hour or so, both looked fine.
But now it's time to bring out the big annihilators.
COFFEE
AND PEANUT BUTTER
The cotton/poly is on the right.
I then took the tag off of the 100% poly but left a staple in to tell them apart.
Then, I washed everything out in soapy sudsy water.
rinsed.
hmmmm… Can you guess which one is the cotton/poly? Yes, the one on the right.
I dunno… It's not looking too promising is it?
But… it's wet.
I let that dry for a good long while, but the poly was nearly dry to begin with!
Sat them again on a sunny window sill.
and then lightly ironed them to hasten the drying and take out the wrinkles.
Two hours later…
It's difficult to tell here, because of the nap but both fabrics were spotless and looked better than how they started out! There was no evidence of coffee or peanut butter. The cotton/poly is on the right. So it did hold up very well after all. It just looked scary in the middle.
I still probably wouldn't do cotton on a sofa that kids are hanging out on watching TV. But the moral of the story is just like paints, please test your fabrics before shelling out big bucks for it.
I have used synthetic velvets, chenilles  and ultra-suede for clients for years and years. Those are my favorite upholstery fabrics for durability.
The new polys don't have that shiny, cheap look. They look like linen or cotton now.
I have not had any issues with pilling with 100% polyester.
What about pets, Laurel?
What about them? ;]
They wreck just about everything. Many of you will recall that I had the most beautiful kitty that ever lived…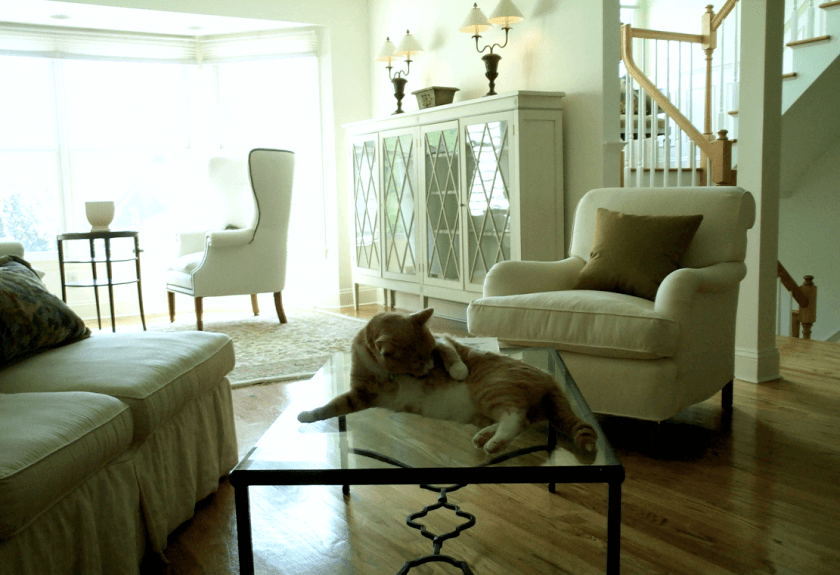 My darling Peaches in our old living room with WHITE FURNITURE. This photo is about 15 years old!
I have always adored white furniture and I did this with two grimy little boys, too!
Peaches was good with everything but the wing chair fabric. He had that for snacks in between feedings. It was a synthetic woven fabric– quite durable except for the cats claws.
The linen velvet upholstered sofa and wicker chair that he slept in– all-the-time held up very nicely too.
Velvet IS a great fabric for cats.
But, after I moved he was making a mess of my hand-painted Windsor Smith Malu Ikat which was backed with a performance waterproof backing. This is interesting, because he did very little to the white cotton chair in my old living room or the white linen slipcover. I didn't want him to die, but if he had lived a few more months, those chair arms would've been history.
And he made a bit of a mess of the chenille sofa arms. That fabric is 100% poly but it's a chenille, so not as smooth as velvet.
I trimmed the loose threads and then put the arm covers on until Peaches passed in early December 2014.
 My beautiful Peaches October 2014
So while Polyester is a terrific fiber for upholstery fabrics, some are better than others– with pets.
What is the best upholstery fabric if you have a cat(s)?
VELVET
It can be cotton or linen. Cat's can't dig their claws into it, so it should be fine.
Indoor/Outdoor Fabrics and Other Performance Fabrics
These are usually known by their brand-names Sunbrella™ for the former and Crypton™ or Crypton Home™ for the latter.
Lauren Liess wrote an excellent post about her experience with an indoor/outdoor fabric. It's commonly known as sunbrella™ which is a brand-name for a solution-dyed acrylic.
One small correction. This fabric is inherently able to be washed. There is no coating that can rub off.
Does outdoor fabric stain?
uh huh. It can.
But, it is stain resistant and pretty much everything can come out because you can even use diluted bleach and other strong cleaners on it. Here's a cleaning guide.
So, if they are both performance fabrics, what is the difference between Sunbrella and Crypton Home and which one is the best?
Gosh, you guys ask the best questions!
It's a different technology in terms of the fiber of the cloth. (or fibre if you prefer) ;]
The main difference is that Crypton Home (the residential version of Crypton) is strictly an indoor fabric where Sunbrella and its clones can go inside or outside.
Aside from that, Crypton Home is uhhhh…. rather cryptic about what is actually the make up of their fiber. Family secret recipe, I guess.
In addition, there are actually, three products related to Crypton.
Sunbrella™ is solution dyed Acrylic.
I have used both fabrics with terrific results.
The indoor/outdoor fabrics have come a long way since they first came on the market in the early 1960s.
One of my favorite indoor/outdoor brands is Perennials. It's more expensive than some, but the fabrics are beautiful and do not in any way look like outdoor fabric.
Serena and Lily carries a whole bunch of 'em— both solids and stripes and there are several more than shown above. They are awfully good-looking.
And all of S&L's upholstered furniture is available in their performance fabrics.
Serena and Lily Barton sofa in a Perennials stripe.
The striped rug is also indoor/outdoor!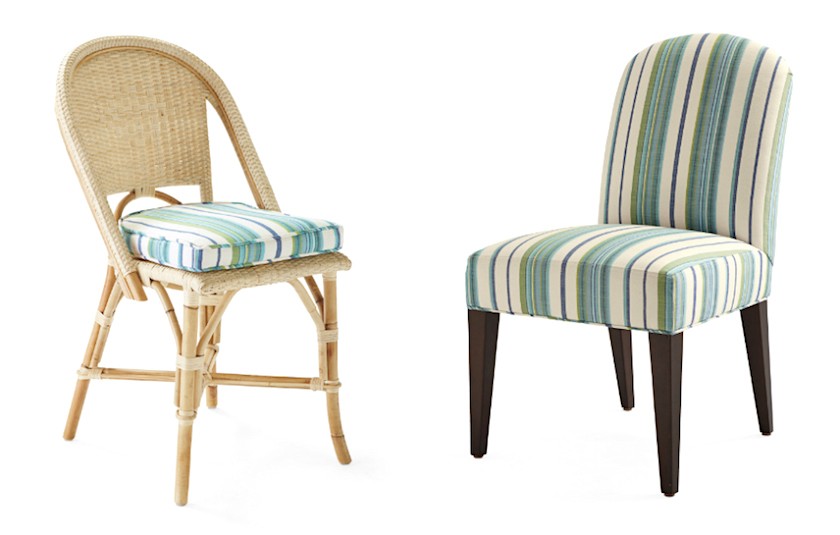 Outdoor fabrics like Perennials are fabulous for dining chairs like these from Serena and Lily.
On the left – Serena and Lily Riviera Side Chair in Natural (seat cushion sold separately)
On the right – Serena and Lily Ames Dining Chair
But, these performance fabrics also make it safe(r) to have white furniture.
Here are some of my favorites
Spruce Street Chair from Serena and Lily is slipcovered in a Perennials outdoor performance fabric.
It also comes in two sizes of sofa. A true classic.
Massoud sofa has a slipcover look.
Whatever Aerin Lauder is selling, I'm buying.
Bedford Sofa and Boyd Slipper Chair are from Williams Sonoma Home.
Another view of Emily's classic English roll arm Bedford sofa from Williams Sonoma Home.
BTW, like almost every retailer on the planet, Serena and Lily and Williams Sonoma are having some attractive Memorial Weekend Sales. Those are two of my favorite brands.
Michael Smith sun room with indoor out-door fabric.
A good online source to see a lot of indoor/outdoor fabrics is Decorator's Best. They have thousands of them, all different price points and about 20 different brands, so a huge selection– solids and patterns.
As a designer, I use this online source to shop. Designers can get a better deal by going directly to the vendor. But these are excellent retail prices. Their retail price that they cross out is hugely inflated, however. I don't like that practice, but otherwise, I think that this is a reputable, reliable internet source. I have not heard anything to the contrary and they have been around for a while now.
Decorator's Best also has about 1,200 different fabrics with Crypton technology.
Are there any other good upholstery fabrics? Or maybe I should say anything else to avoid?
Yes, but it depends on usage.
For instance, for slip covers, a sturdy cotton duck or denim is a great choice, especially if they are white.
And cotton for upholstery is a great fabric, but I wouldn't put it in a family room on the sectional.
Linen is a terrific material and actually fairly easy to clean. (but no scrubbing or machine washing). I had a linen slip-cover for some 17 years and it actually stayed quite clean for a very long time.
Most linen fabrics as well as chenilles and silks require a knit backing. Please look at this post about the horrors of what can happen. AKA – Laurel's painful (and costly) mistakes.
I also had a linen velvet sofa for 17 years. I'm sure I've told the story of the baby sitter who let my 2-yr-old eat an ice cream sandwich on it just days after it was delivered. And yes, there was ice-cream and that chocolate whatever-it-is smooshed all over it.
After contemplating murder, I decided that a lifetime prison sentence was not setting a good example for my children.
It was not easy to get out and the velvet looked like ice cream sandwich rats had been nibbling on it. But after a few years, I forgot about it and it wasn't as obvious where it had been cleaned. Self-healing, perhaps?
Wool is not my favorite. I find it itchy and it's expensive.
And surprisingly, the one fabric that I thought would be incredibly durable — mohair, is anything but.
Silk. It needs to stay out of the sun and it needs a backing. Remember my kitchen post? The chairs in the kitchen are antique that I picked up in Newport a long time ago. I had my upholster make new seats with the little box pleat skirt. The fabric is a silk damask and it has held up surprisingly well. But I probably wouldn't have chosen this for a client.
What About Leather For Upholstery?
Well, folks that sell leather say that it's as fragile as silk. And yes, some of it is!
But again, it depends about your budget and the look you are going for.
Here is a terrific primer about leather and what all of the terms mean.
But know that if you see a cheap piece of leather furniture, that this is not the highest quality leather. That doesn't mean that it won't look good or hold up, but please be careful.
I found this way cool contemporary leather sofa at West Elm. Their furniture has gone higher end in recent years. It's still relatively inexpensive, but looks great. This piece is only 34.4 inches deep which makes it terrific for smaller rooms.
As for leather being pet friendly. Well… it depends on your pet. Some pets will leave it alone and some will shred it and eat it for dinner.
Dogs chew and cats scratch. No, actually, they claw at it like there's no tomorrow.
OCD – Obsessive Cat Destruction.
And if you're looking for contemporary, (I've had some requests), here's another wonderful piece, the Andes 3-piece sectional from West Elm in a delightful plush polyester velvet! It also comes stocked in a soft dove-gray outdoor fabric.This is so smart in just about every way possible!
One thing you might consider if you have a cat and I just thought of this… is to get a yard of whatever fabric you are considering and upholster a scratching post with it.
And wait and see… It might be worth a try unless you know that it's very unlikely your cat will wreck it.
I know that some of my clients have actually put up invisible zapping fences indoors to keep pets out of certain rooms or areas of the house. I dunno..Does Anybody have any experience with that?
To recap. Most fabrics will be okay for upholstery with good care and the proper upholstery job. Polyester and performance fabrics are almost bullet proof. These are the best choices if you have a family like mine.
(not that I headed my own advice!)
But linens and cottons make fine fabrics as well.
Here's a recap when choosing the best upholstery fabrics
Test your fabrics before choosing, so get samples first. Dump stuff on them. Run your finger across and see if it holds up. Wash them and see what happens. Ask your designer or retailer for advice.
If you do all of those things, you should be just fine.
If all else fails, here's a superb cleaning guide to get anything out.
and a post about when I discovered Crypton Home at the Highpoint Market.
Also, Kat left a comment about a miracle spot remover called FOLEX. I have not heard of it, but it got superb reviews on Amazon. And I did some other research as well. The Carpet remover is a misnomer as it's for all sorts of tough cleaning jobs– fabrics, laundry, etc. But always test in an inconspicuous spot. Although it's a huge mess, what do you have to lose?
Happy Memorial Day Holiday Weekend!
I went on a beautiful historical walk today.
Here's a pic I took of the back of a beaux- arts home in Irvington, NY. Those windows! There is a home with a garden, not to be believed! I'll post that soon on instagram.
xo,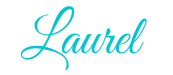 PS: If you're looking for Father's Day Gift Ideas please check out the curated collection I put together. Since there are so many sales on this weekend, this is an excellent time to get gifts, if you enjoy shopping online.