This is supposed to be a Halloween post. I'm saying "supposed" because the phrase "Halloween decor" generally evokes well…ummm…
I think that pretty much sums up how I feel about Halloween in general these days.
Oh, it's not that I don't like Halloween. I mean, when I was a child, I LIVED for the holiday! and to this day will never forgive my mother for not letting me go out a week after having my tonsils out when I was six years old. Cruel, is what it was! [but I do love you Mommie in spite of it!]
It's the tackiest of holidays and tastes like shit and if I see one more ORANGE PUMPKIN, I'm gonna smash one over your head   move ahead very quickly and try not to look at it.  Ya know? Those tacky orange you sick of them too? [sorry, I just had to get in one lame pun– or is that a spoonerism?]
Here's the primary problem for me regarding Halloween Decor
 it's about the color orange—
However… I've recently discovered something. Ya know the old adage? "When one teaches, two learn?"  Well, that's how it is with my blog. I'm sure I've said it before and I'll probably say it again. Many of the posts require extensive research.
In the process, not only have I learned a lot, I've discovered elements that I didn't even realize that I love! I know that it happens with my clients, too. Many times, through the process of deciding what they are going to put in their homes, they too, discover a love of something they hadn't before.
The new one for me is orange. At first, it was a tough sell… and in my defense, as a child of the 60's and early 70's who can blame me?
ouch.
I touched on this in the last orange post where I discuss the hot and timeless color palette of dark blue and orange.
I had already been warming up to the warm color over the last few years.
In fact in the early days of laurel home, I did the post about orange.
By the time I finished the dark blue and orange post, realized that I do love the color–especially, the shades that veer slightly towards red. Now that I've been researching this post, I've fallen in love all over again.
Over the years, I always considered myself to be a "green" person. But then, there are times that I've cheated on green with blue. I'm generally the loyal sort and while I'll always love yellowy-greens, I've decided that it's alright to have many varied-color lovers.
Some of you already love orange, however, for those of you who don't, please tell me if by the end of this post, how you feel about decorating with orange.
Here are some tips when decorating with orange and this goes for Halloween Decor Too!
less is usually more. Unless you are Mary McDonald or Miles Redd, that is. ]
vary the shades of orange for complexity and richness
orange loves all colors!
We will see this in the coming photos. Any color that exists freely in nature, goes with everything. That goes for oranges, pumpkins, mums, gold fish [they're really orange not gold].
therefore, don't be afraid to mix orange with any other color— even red.
however, orange LOVES cool— blue, turquoise, gray and white
consider shades that veer more towards red or more towards yellow. Maybe even an orange veering towards peach will be more pleasing to you
orange walls at night will make the room glow
orange might be bad for your diet, however, unless you want to gain weight
orange can make you feel happier. Do, we say… oh man, I'm so depressed— feeling really orange right now.
One thing I didn't realize is that so many of my favorite interior designers use orange and some of them quite liberally.
Let's begin with Sheila Bridges. I've long admired her work. Her exuberant palettes combined with classical furnishings are magnificent. I ran into her once in an elevator in the D&D Building; really sweet, shy actually. You'd never know it from looking at her rooms, however.
Her amazeballs living room in Harlem. I've admired it for years and years. And alright, saying  that there's orange here is a bit of a stretch, but then… look what's right outside the living room. [below]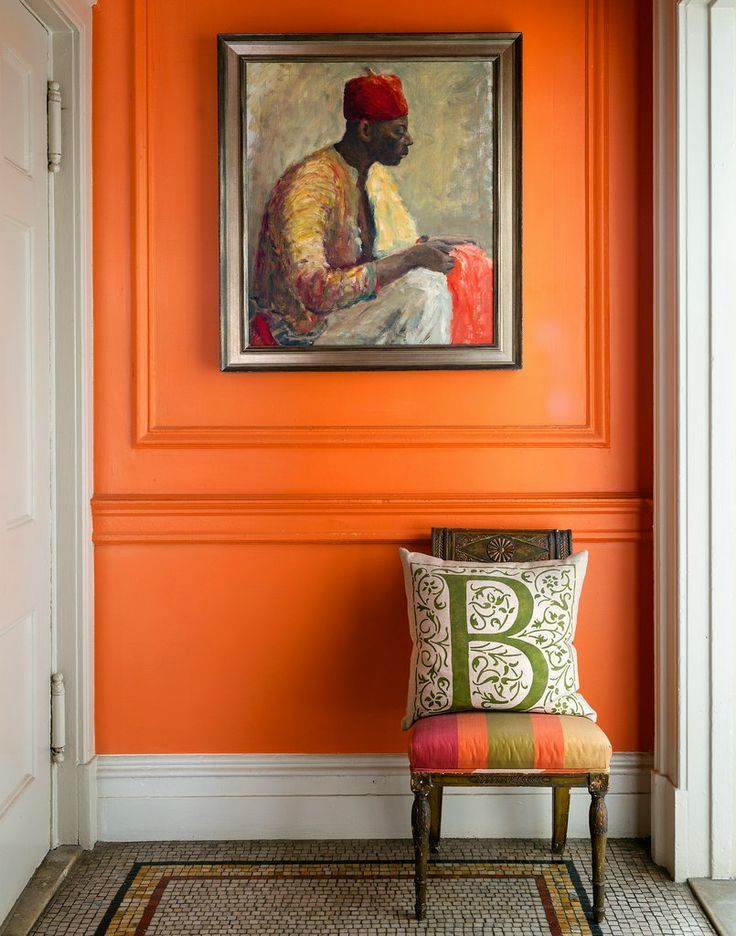 A French Toile from Manuel Canovas.
it takes a special sort of person to make a ceiling look like that.
I wonder what happens in Miles' client meetings?  He's showing his clients his concept which includes fabrics that are burgundy and orange next to an olive-green velvet stripe from Clarence House with gold faux tiger-striped pillows. The drapes are turquoise and the rug is a classic Oriental with rusty orange-reds, a touch of orange, navy, other blues, beige and cream. The mantel is faux painted to look like black marble. Can you see his clients? Mine would fire me on the spot. I can imagine that Miles is incredibly charming and ebullient and is smiling the entire time and reassuring them that it's all going to be fabulous.
And of course, he's right. There's a lesson there, that we can all learn from Miles and many other designers.
Wonderful vignette by Carolyne Roehm
This is my idea of Halloween Decor. perfect!
Mary McDonald's fabulous pagoda bed in room by Kim Alexandriuk
Miles Redd
An antique Oushak rug. I could easily live with one of these.
Carolyne Roehm
Love the French settee upholstered in the orange linen
Former lawyer Darryl Carter was oh, so wise to give up his day job, for a different day job.
Alan Campbell Fabric Potalla through Quadrille Fabrics
Lars Bolander.
Love this as long as it isn't me having to make the beds. haha!
Gracie Chinoiserie paper.
The windows. O.    M.    G.    !!!
Had to include Mary McDonald's fabulous Chinoiserie print from F. Schumacher. It comes as a wall-covering now, too!
Dorothy Draper inspired Pagoda cabinet in Black and Orange…hmmmm… by Wood and Hogan.
original source unknown
Antique Swedish Mora clock from Cups and Roses
Another wonderful antique Oushak in many oranges
Suzanne Kasler
The late great Albert Hadley
Lindsey Bond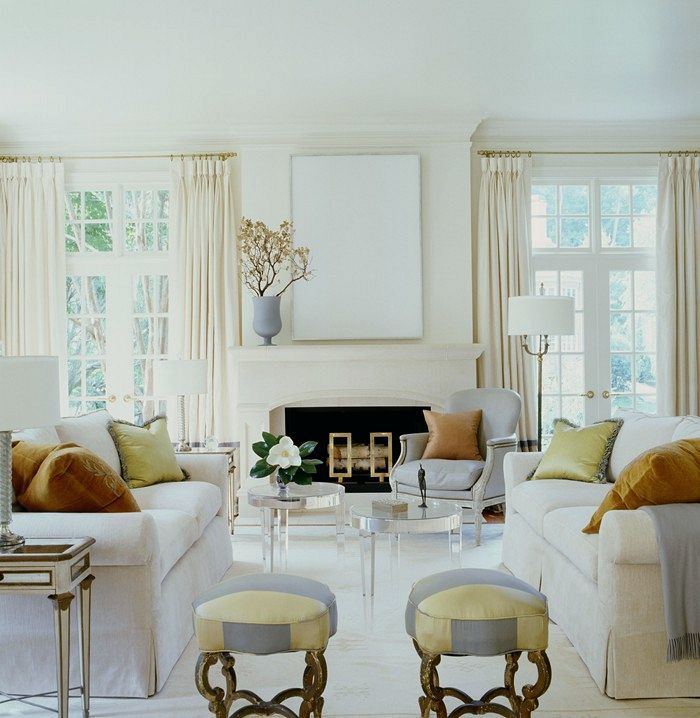 Suzanne Kasler
Bunny Williams
shut the door!
I don't think that orange is the "new black" as some have said, but I do think that it's a classic warm color to be embraced. And, not only for Halloween decor.
xo,