This is the third post for the Kitchen and Bath Industry Show. (KBIS) #kbis2019.
There's a lot to cover today and oh boy, do I have stunning custom kitchen details for you to see, plus sources.
The designs and trends are not ALL masculine as we saw hi-lighted in this post.
Today, we're going to see a beautiful balance of yin and yang.
And, if you missed part I where I fill you in on what you missed out on (FOMO), click here.
First up, today is Designhounds wonderful sponsor, Thompson Traders.
Thompson Traders, I daresay, is the darling of every designer on the design hounds tour. hashtag #designhoundsKBIS. You know, because their eyes light up and smiles broaden when they say, "Can't wait to go and visit Thompson Traders!" Their enthusiasm is infectious.
And, there's a good reason why they can't wait. Not only does Thompson Traders make a spectacular product; well, they are just so gosh darned nice. It's a family business and they aim to please.
Yes, I see some confused faces. What is it?
Laurel, are you going to tell us what their products are?
No, sorry; not today. We need to move on.
After we visited Thompson Traders, we hit Lamps Plus.
Can you guess what they sell?
I'll give you three guesses.
No idea? Anyone?
What's wrong now?
Oh, for Tommy's sake, please stop looking at me like I just got in the shower fully clothed.
I mean you do know why we're here. Right? ;]  Please be patient, and pleeeease lighten up. And that goes for your coffee mugs too. (some of you.)
Although I will still love you if you're feeling grumpy and need to complain.
You've a right to be grumpy for two reasons.
One, now that March has arrived, the weather has decided that we need to have a good wallop from the polar vortex. Thanks but no, thanks.
And, two.  I fully realize that coffee is an essential nutrient and if we are sitting somewhere, we need to be able to put the damned mug down. Referring to Sunday's coffee table styling post:]
But, yes, Of COURSE I'm going to show and tell you all about Thompson Traders.
Thompson Traders manufactures the most gorgeous, copper, nickel and stainless steel sinks, range hoods, as well as vanities, tubs and accessories.
And, while they do carry many stock items, much of their work is custom to your exact specifications.
That's the custom part of the stunning custom kitchen details. A fabulous range hood, sink and other accents can totally make a kitchen. Don't believe me, just yet?
Well, then, let's check out these exquisite kitchens, each with the most amazing custom kitchen details and all equipped with Thompson Traders Range hood covers– and more.
Okay, this is a little unusual. But for the first one, I'm not going to go into it, and, it's not the designer who said this, but I can't post one photo. However, it's a gorgeous kitchen and I know that you will enjoy it, so instead, I will only link to this one.
It is the beautiful work of interior designer, Brooke Cole. You can see it here, on her instagram.
Very beautiful, inventive work. Me like.
She also has a very cool backsplash which you can see here, she explains how she did it. She actually had a gorgeous Gracie Wallpaper put behind tempered glass. The effect with the copper hood hand-crafted by Thompson Traders is extraordinary.
Now, for the images of some other exceptional custom kitchen details featuring the stunning designs of Thompson Traders.
Above is an amazing kitchen by Maria Adams Designs that she did recently for the Julian Price Showhouse – if you click on the link, you'll also see the before images. Whoa!
(and please don't forget to follow Maria's gorgeous instagram account) @mariaadamsdesigns
The stunning nickel hood in burnished nickel is by Thompson Traders – photo @BillLuskStudio

I know that you guys love to have the sources. And if you click on the instagram link, you'll get to this image where you can see them for real.
The Old House Life Blog
I'm including this other image because you can see some things in this one that you can't see as well in the other photograph. (like that gorgeous Rohl Bridge faucet which we'll get to in a sec)
And, just before the hood was shipped out, Thompson Traders snapped this pic.  Fabulous. Love that burnished nickel finish.
This is reminding so much of the nickel hood we did for the Bronxville kitchen. Remember that one?
We also did the same bridge faucet from Perrin and Rowe (Rohl). Love that one!
Rohl Bridge Faucet with cross metal handles and side spray

Here it is with the lever handles.
They both come in a bunch of finishes. I adore the polished nickel, however.
And now for a very special treat full of the most amazing details by my friend and fellow Design Hound Lisa Mende.
Please check out Lisa's beautiful website here.
Lisa is the queen of show houses and each one she does is more spectacular than the one before.
In this one from last year's Southern Living Show House in Savannah, GA Lisa pulled out all of the stops for this stunner.  Above and below you can see the exquisite hand-crafted copper range hood by Thompson Traders.
AND, for an extra dash of WOW! who can ignore that amazing range by Thermador.
I love how deftly this room is balanced. Each wall is interesting on its own and yet, everyone is getting along so nicely. Oh, if only it were like that in the real world!

This shot above has a better view of the range hood by Thompson Traders.
Extraordinary. Love how the fridge is hidden. Oh, and the colors!
Yes, Laurel, what ARE the colors???
Man, will you guys stop kibitzing? In other words– hush now! We'll be getting to that. ;]
Above are the sources for Lisa's kitchen, but you can also see them here on her beautiful instagram account. Please be sure to follow her, if you aren't already.
And yes, I do have the cabinet color!
Benjamin Moore Bird's Egg Blue 2051-60
This is actually quite similar to one of the Laurel Home Paint Collection colors, Dolphin's Cove which was featured prominently in this interesting post. I love this color!
There is another Laurel Home paint collection color that is also very beautiful and just a tad deeper.
Benjamin Moore Tranquil Blue 2051-60 sq
If you're thinking of a medium blue kitchen, I would get samples of all three of these colors to try out.

A few more details which you can see here on Lisa's insta.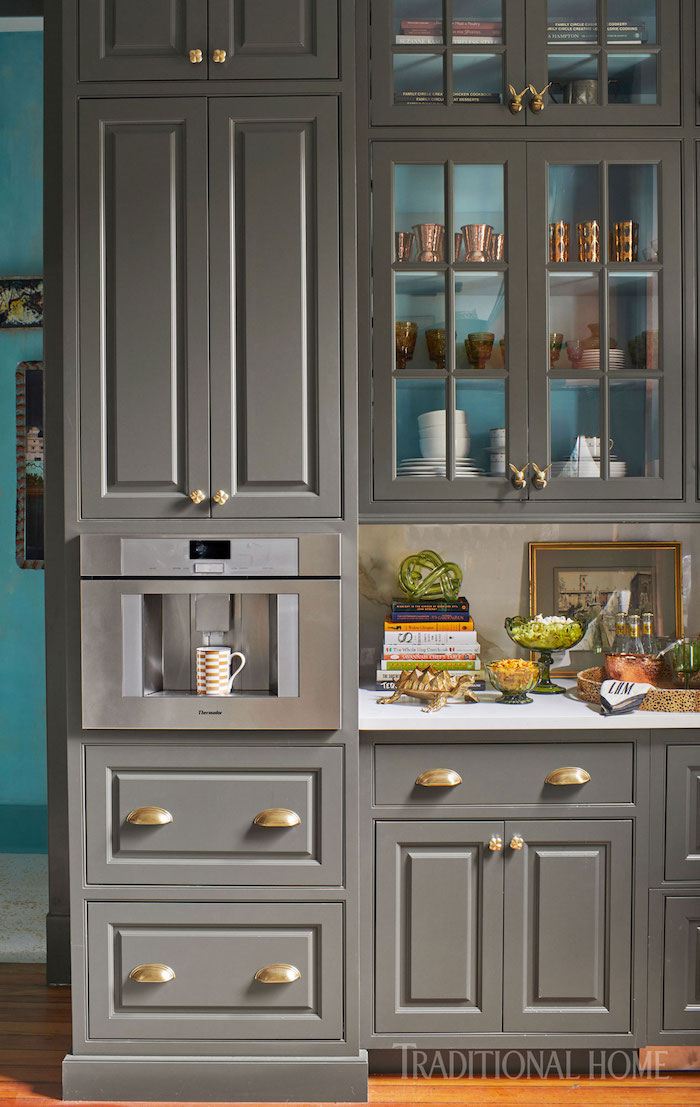 And, I can't resist sharing the other side of the kitchen because now that dark brown with a slight green undertone makes sense. Besides, I LOVE this cabinet.
And look, there's the Thermador coffee maker.  Oh, how badly I want that.
I mean, I need it.
After all, coffee is such an important part of our diets as stated near the top of this post. ;]
But, I'm also looking at all of the gorgeous and interesting hardware. Are those bunny rabbit knobs? Oh, Lisa, if you're out there… I love you!!!
And, this color is Benjamin Moore Dragon's Breath 1547.
Oh, I love colors like this. Is it brown? Gray? Or, is there some green?
Yes! There's all of that– in one, very rich, very sophisticated color.
It's reminding me of the color of Maura Endres' petite library which you can see here.
For more of Lisa Mende's beautiful designs, please click here. Everything she does is colorful and inventive. She takes what for most of us would be chances, but her rooms are always fun and full of delightful whimsy.
Below, from Thompson Trader's website
As you can tell already, I adore their hoods, but Thompson Trader's sinks are way cool too! Wonderful hammered stainless steel sink in this contemporary kitchen.
So, who are these Thompson Trader people?
The company was started a while back by Alejandra Thompson and joining her in the business, is her daughter Samantha.

Here they are at the show. So elegant they are and actually, I thought they were sisters!
The company is stationed now in Greensboro North Carolina. However, the family is not from there originally.
They are from here, originally.
Whaaaaaaaaaaaaaaaa???
Seriously?
No, not seriously. They are inspired by the magnificent Positano, Italy. But, in an earlier iteration of this post, because they showed it in their short and beautiful video on their home page, I had made an erroneous assumption. Oops! Sorry about that.
I must go there!
The Thompsons are from Santa Clara del Cobre, Mexico which is an area known for it's copper-smithing. And, while they live here most of the time, their facility and artisans are located in Santa Clara del Cobre.
I'll leave you with two more gorgeous range hoods from the Kitchen and Bath Industry Show that I attended two weeks ago in Las Vegas.

Another stunning range hood and hammered metal sink. Facing us on the right is another family member, Alejandra's son, who of course, is also in the business.
Please check out Thompson Trader's beautiful website and all of their offerings.
And also be sure to follow them on instagram as well.
I hope that you enjoyed some of these custom kitchen details from the Thompson Traders, talented design colleagues and the kitchen and bath show!
xo,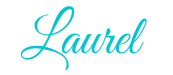 PS: please check out the newly updated hot sales for the latest home furnishings on sale and some of my favorites.