Wednesday was the second and final day at the kitchen and bath show 2019.
If you missed Day one, click here.
It started off quite spectacularly with a beautiful breakfast at the Venetian Hotel, sponsored by Mr. Steam.
After having spent three glorious days in Venice, I can say that The Venetian Hotel is to Venice what a pop tart is to a French Pastry. Alas, this is Vegas.
However, the breakfast was positively scrumptious. Honestly, it is very smart of them to feed us. Very, very smart! :]
Remember last year when I wrote about the dangers of steam therapy? I don't need to reinvent the wheel. It's one of my favorite posts which talks of this fabulous product and the history of the steam bath.
But, really.
The best part is watching and listening to the enthusiastic vice president of marketing and sales at Mr. Steam, Martha Orellana– AKA: "Mrs. Steam."  This woman has the happiest, sunniest disposition ever.
If there's one thing we know… It's how to make water boil.  ~ Martha Orellana, VP of sales and market at Mr. Steam.
And since I was obnoxiously transfixed on her every word, I forgot to take a pic. However, I found numerous images of her and you'll see that her effervescent smile is perpetual and infectious.
So delightful. And, if I were building a new bathroom, I'd definitely put in a steam system by Mr. Steam.
We have two more sponsors to cover for the kitchen and bath show 2019, but I'm going to save them for another post.
That's because there are so many things I want to discuss. And I know it's stuff you would like to know.
Like, are white kitchens still in?
What about stainless steel appliances?
No doubt, I could write at least a dozen posts, if not more.
But, for today, I want to focus on two main themes that were incredibly pervasive throughout the show.
The first one is that in kitchen and bath design, men rule the roost.
Did you know that?
I mean – the designs and prevalent colors and materials are earthy, robust, hunky, chunky, tall, dark and handsome, like a lumber jack in a pine forest. What I'm trying to say is that they are:
Don't believe me? (yet?)
A random pic taken by me at the Kohler booth at the kitchen and bath show 2019; Kohler's always the hottest ticket in town. I am counting at least 15 men and maybe 2 or 3 women in this image. Now, it's true that there is a higher proportion of men in the kitchen and bath end of the business than in the pillow-fluffing end.
But still. Every design hound this year is a female.
And yet, it is clear that there is a dominance of YANG to the YIN in the kitchen and bath industry design.
And the other overwhelming trend is that in addition to copious amounts of black and dark gray is the prevalence of emerald and hunter
Are there other colors, Laurel?
Oh yes and we will get to those in a different post.
Does this mean that white cabinets are

passé

now?
Okay, it appears that we need a little review; it's only eight words. But, please listen carefully because I'm only going to say this one time. :]
WHITE CABINETRY IS NEVER GOING TO BE DONE.
At least, that's what I believe to be true. White cabinetry has been around as long as they have been making white paint.
However, while largely earthy colors reigned here (with the exception of the Italian vendors), the white that I saw was more in the way of appliances than in cabinets.
The rest of the post will be focusing on all of the handsome fittings for kitchens and baths that I found at the kitchen and bath show 2019, in Las Vegas!
After our last stop on the Design Hounds Tour, I found myself chatting with the lovely Christine Kohut of Christine Kohut Interiors.   Christine is also a Modenus Design Hound and was on this tour last year.
After a short discussion it was decided that we'd walk around together for a while. Christine is a doll, plus, I figured that I'd learn some new things and I most certainly did. She was shopping for clients and had some specific items she was looking for.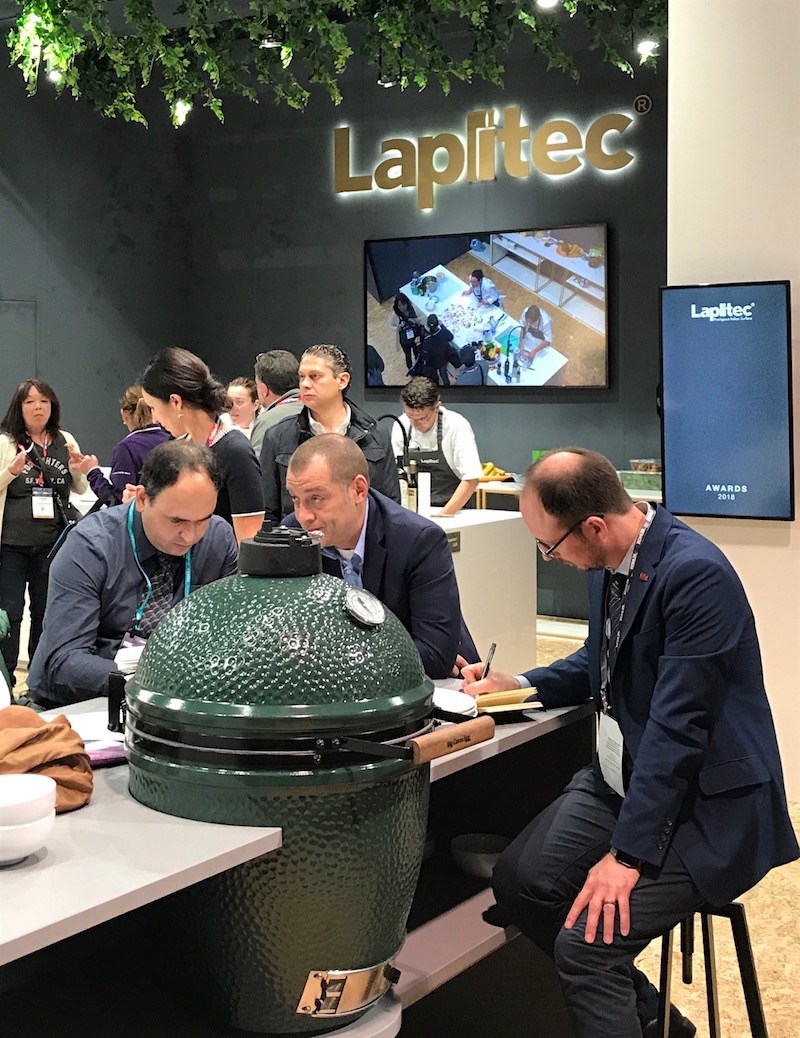 Our first stop was at a company that's new to me.  Lapitec.
They manufacturer a solid surface material that is altogether new and has many unique properties such as super stain, mold and bacteria resistant. You can find out more about this company in the link above.
Here's Christine Kohut enjoying a bit of bubbly they gave us at Lapitec.
Then, we hit the always fabulous Kohler booth.
One of the most photographed areas of this show is from this jaw-dropping kitchen at Kohler. The tile is by Anne Sacks.
Since Laurel forgot to go in for a close-up, she found one from the wonderful Pulp Design Studio headed by the dynamite team of Beth Dotolo and Carolina V. Gentry.
Please also follow them on instagram.
Kohler Tournant semi-professional kitchen sink faucet
The faucet comes in numerous finishes
Christine and I both thought this to be quite handsome. I could see it in a laundry room with navy walls. But, the way they've displayed it is quite nice, too.
Kohler handsome bath accessories, toilet, rose gold shower hardware
There is also a LOT of rose gold and copper along with the usual finishes.
For non-designers out there, or newbie designers:
One thing I very much recommend is to get samples of all finishes in your projects. The showroom lights can be so misleading and restocking fees and delays for having to re-order can make for a nightmarish experience.

More brass shower lovelies from Kohler
One more vignette from Kohler. You might recall that we saw the Aerin chandelier at the One King's Lane store in SoHo when I visited them last November.
Every bathroom should have a fireplace. Don't you think so?
Vettis Concrete Faucet – via jensennn_lan17 on instagram
Honestly, some things are such a blur, that I can't recall if I actually saw this at the show or somewhere else, but am including it as it fits so well with the masculine look of things. This is actually a concrete faucet. They only made 500 of them. I imagine that they are probably all sold out.
We saw some other cool Brizo faucets as well.
Christine was looking at one of these as a possibility for her client.
More beautiful Brizo – hardware – and green cabinetry!
one more handsome vanity from Brizo
To see one of the  Brizo faucets for sale, click here.
From there, you can do a search for all of the Brizo faucets for kitchens and bathrooms.
Another handsome collection by American Standard is the Town Square S shown above.
We also stopped by the striking booth of True refrigerators.
I love this 30″ white refrigerator by True.

Christine also needed some hardware for her clients and introduced me to this wonderful line, Belwith-Keeler.
Beautiful brushed brass handles from Belwith-Keeler for a classic contemporary look. You can find Belwith-Keeler on Build.com.
After this, Christine and I parted company. Thanks so much, Christine! That was fun!
I was running out of steam (I could've truly used a Mr. Steam to replace it!!! haha!) and desperately wanted to find the Bluestar vignette I had seen the day before.
However, two large dudes were oblivious to the fact that I very much needed pics for my blog. haha.
I zeroed in on Frank's badge.
And see that he's a first time attendee, so I'll cut him some slack. ;]
Some of you might recall how in love with the Bluestar brand I am and featured them in this post.
I did finally find the booth and I'll post more images later on.
During my search, I happened upon this beauty and might have to cheat on my Bluestar ranges. This is a new white matte finish by Cafe a, high-end division of GE. And more GREEN!
See what I mean? Now, I know that some of you love to know the colors and thankfully my dear friend Claire Jefford made a video about her take on the colors she saw at KBIS which you can see here.
Or, if you prefer to read her blog post, click here.
Aren't you going to tell us the color, Laurel?
Oh, blimey. Thank you for reminding me. ;]

Benjamin Moore True Green 2042-10

Another view of the kitchen and bath show 2019 beautiful kitchen and showing the stunning fridge and dishwasher.
This is reminding me a lot of Melissa Tardiff's charming green kitchen.

Above is an image of the GE Cafe matte white appliances from their website.
Phew! Hope you enjoyed this sampling of the beautiful products I saw at the kitchen and bath industry show (KBIS) 2019!
Oh, and many of these items can be found on Build.com. In fact, they are having a huge kitchen sale right now. Up to 70% off.
xo,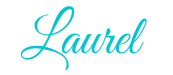 PS: please check out the newly updated hot sales and grab your promo codes for big savings from some of my favorite home furnishing brands.