Dear Laurel,
I've been enjoying your posts about your new apartment in Boston. I absolutely fell in love with your dark blue and white bathroom. That color scheme makes my heart sing!
Alas, my fiance loves orange. I mean, his apartment has an orange-ish leather sofa and matching chair and an orange accent wall. The rug is beige. And the entire thing looks so horrid.
I see in my future lots and lots of decorating with orange. Please, Laurel. Please tell me how to deal with this.
Thank you,
Violetta Norawnj
Happy Halloween, Everyone!!!
Well, by the time you get this, it'll be November, and we'll be on standard time.
However, I figured I better get in my annual post about the color orange, or else it'll be too late.
The Problem with Halloween Decor
After all, we are now officially in the holiday shopping season.
Therefore, if you're interested, please check out the brand new Holiday Shop for 2020. It is full of Christmas/Hanukkah decor and gifts for everyone, just about.
Look, I fully understand an aversion to orange. I am a child of the sixties and early seventies. Indeed, I was breastfed orange. And, I was also force-fed Howard Johnson's and American cheese that came in a big block. Um, that is NOT cheese. It is softened fermented plastic, dyed orange. I have no idea how any of us in the TV dinner generation are still alive.
But, I miss those days.
We were more innocent.
People were kinder.
However, except for a few geniuses like artist Cy Twombly and Albert Hadley, etc., the world of design was largely a bastion of really bad taste.
Take, for instance, the ubiquitous EARLY AMERICAN style, bathed in orange and gold.
You might want to go and grab a pair of shades for a spell.

Please forgive them, Thomas Jefferson.  They have forgotten about your exquisite attention to classical symmetry. But fortunately, your amazing Monticello is looking pretty spiffy these days.
Please see what building from the Renaissance inspired Jefferson's Monticello.
However, there is nothing early or American about this space above. Ahhh, we are so fond of the bastardized styles of anything from before we were born. Right? Remember this "Phony French Kitchen" post?
We had a sofa like that in the early 70s. I'm not kidding.
No wonder we reel when we think of orange.
Groovy!
Obviously, the use of LSD was a lot more prevalent than we realized.
I used to love that stuff! This must've been taken right before they all got neked and smoked pot.
Monochromatic orange decor hell. Apparently this is where they stash prisoners of war to get them to tell their secrets.
Please look at Poor Orange, the Most Misunderstood Color
*********
Okay, it is clear that those of us who were alive back then, why we have an aversion to decorating with orange.
However, orange is actually one of the most classic colors.
And, orange decor  is everywhere.
It's in wood and
leather
Vignette by Schoolhouse Electric.
flowers
the sun setting.
And, there are many other colors in the orange family, from pale peach, gold, coral and so forth.
One of my favorite posts is this one about 20 Fabulous Shades of Orange Paint and Furnishings with beautiful examples of how those colors can be used.
Of course, there is lots of orange in art.
Original oil painting by Rachel Uchizono

This Adobe orange makes a fantastic backdrop for this decorative art from Anthropologie
Nickey-Kehoe interiors. Please check them out too. They have a very interesting slightly Bohemian style of decorating. And they use a lot of orange, as well.
It's funny. I was reading their about page and as I was reading, I thought I had some shmootz on my screen. But, the cracks and smudges are part of the website. haha
Summer Thornton uses a lot of orange in her decorating.
We saw more of this fantastic home in this post.
Orange as an accent color is a refreshing note, particularly in a dark blue and white room.
Diane Bergeron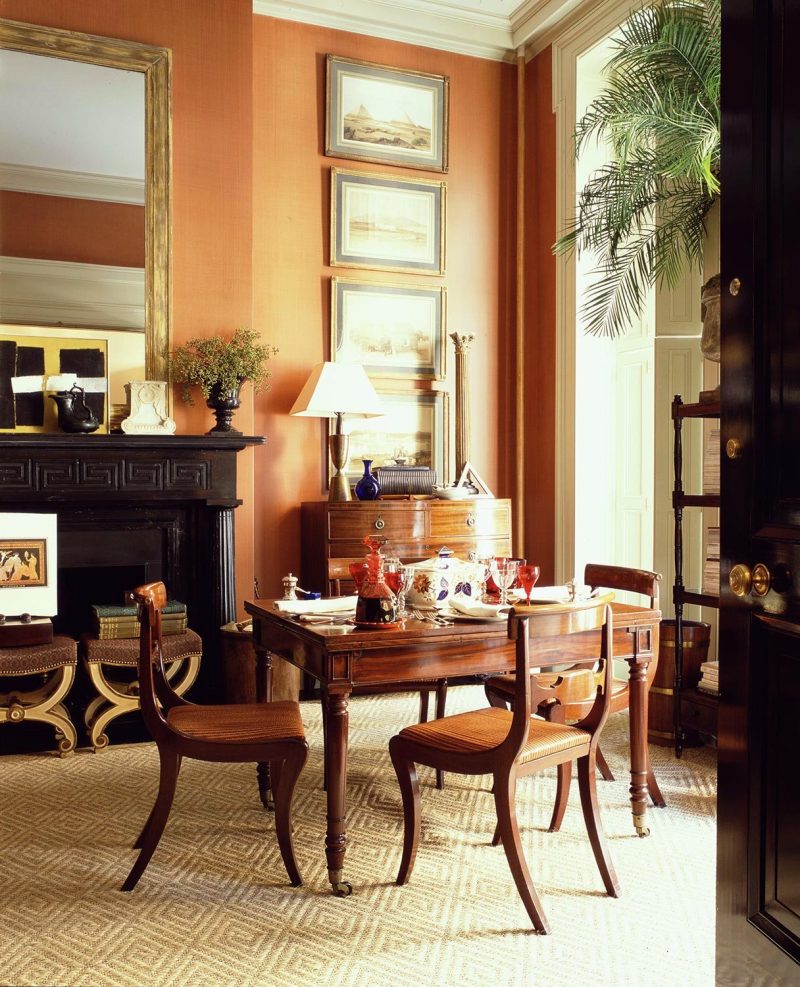 Gil Schafer's Greenwich village townhouse. He recently changed the wall color and some other things which you can see here.
Another designer who uses a lot of orange in her decor is Deborah French. Please check out her portfolio, here.
De Gournay Mural
Another wonderful vignette by Summer Thornton featuring coral walls. I think this is quite a masterful use of color.
@jamestfarmer on instagram – James is a huge fan of orange decor and uses all its shades in his fantastic rooms.
photo: Jeff Herr
And for more of my favorite James T Farmer rooms please go here.
Above is another James T Farmer beauty featuring a red-orange. photo: Jeff Herr
Above, one of the 40 boards from the Laurel Home Paint Palette Collection.
This guide is part of the Laurel Home Paint Color Collection of 144 curated Benjamin Moore Colors. Racing orange red is the reddest shade of orange in the collection. It makes a beautiful backdrop for art and antiques. And, it looks fabulous with blues and greens.
How do you feel about orange now?
There are so many beautiful ways to incorporate orange decor whether it's in the walls or the furniture. I hope that you enjoyed this post about decorating with orange and got some ideas for how to incorporate orange into your rooms to add beauty.
xo,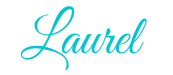 PS: Please check out the newly updated HOT SALES and HOLIDAY SHOP!