Hi Everyone,
Oh my! I'm phenomenally overwhelmed by the hundreds of fabulous comments and emails I've received from so many of you! So, thank you, thank you!
I wasn't going to make this post about my new home, but then I know that a lot of you are curious to see more of it. And, of course, you want to know my plans.
Me too! haha
But, a few things you should know about the new home.
It's not apt to be mine for 3- 6 months. The sellers had their interim home fall through and need a cushion. We're still working all of that out. And, yes, I have a lawyer to look out for my interests. I'm also lining up inspections for everything, including wood-destroying insects, lead, and radon in the unfinished basement.
If you missed the last post (click here to see it) and are scratching your head wondering what the hell is going on. Yes, I am purchasing a new home in Northampton, MA.
The house is currently set up to be a two-family (divided by floors) home.
Northampton is full of large old homes. And, many of them have been divided up to be two, three, four, or more apartments.
I plan to turn the upstairs into an Airbnb. However, as you can see, don't pack your bags just yet. That most likely won't happen until next spring. But, even if the closing is in November, I can still make plans for what I want to do to make that happen as soon as possible.
The beauty of having an Airbnb is that I:
Don't have to rent it if I don't want to.
Can get a far higher daily rate than if it is a traditional rental.
Can use the space when it's empty.
Don't have to worry about dealing with or evicting a bad long-term tennent.
Of course, I have much to learn about being an innkeeper; I'm excited about that. And, of course, turning the charming upstairs into one of the most sought out places to stay in Northampton.
As a matter of fact, I am spending my final three days here at a new place on Elm Street.
What's funny about that is that two weeks ago, before I knew anything about this place, I took a pic of it.
And above, is a photo I took after Cale and I went out to dinner in town.
I have the apartment on the bottom floor, to the right of the front door, facing the building. This is the living room.
As you can see, the inn is an enchanting 18th-century house turned into numerous apartments.
The hosts are a couple who are professional innkeepers. You better believe that I'm taking notes– of everything. There IS a big difference in what they provide compared with every other Airbnb I've ever stayed at.
So, let's get back to my new home.
I know that some of you found the real estate listing. However, I prefer not to link to it, because the owners might not like that.
Oh, wait!
Some of you may remember that second Saturday I was here when Cale took me through a forest for a short cut, and I got a million mosquito bites. Well, that forest is very close to my new home.
And, it came back to me. I saw the house, just before we went into the woods and commented to Cale. But, I didn't realize it until last Sunday.
The house looks HUGE here, but the entire home is less than 2900 square feet.
Let's look at the back of the house.

It needs some work. But, I've never had a yard at all since I was a little girl.
That's all it is. The owners were planning on pulling up this part of the driveway to make for more of a yard. I'm planning on that too. Only I want more of a garden.
Here's a lovely garden I saw on my walk a couple of nights ago.
And, last week, Cale and I were admiring this woman's lovely garden and started chatting with her. Then, she went and gave us some of her lettuce. Man, was it good!
Okay, let's go around to see the front of my new home.
Time to go inside.
If you'd like to see the porch, please see Sunday's post.
You enter the double front door into a gracious entry. Clearly, it is staged to sell. lol
Then, there's a beautiful curved staircase to nowhere. Well, it does go to the second floor. But, since it's going to be an Airbnb, I won't have direct access to it from there, unless I unlock the door. The entrance to that apartment is on the side of the house. And, yes, the rubber stair treads have to go.
Remember this post when I showed a bunch of gorgeous scenic murals? I could see that in the stairwell. I'm not sure about the entry part or not.
I adore Susan Harter's murals. But, that might not be in the budget unless I can work something out. And, of course, I also love Mural Sources. I've so enjoyed my bedroom wallpaper.
Looking towards the entrance from the living room.

When you walk into the living room to the left are the two large windows behind the front porch and the one on the side of the house facing the neighbor's garden.
Opposite that wall are the two fireplaces. I am obsessed with Steve Cordony's Rosedale Farm home. So, can you imagine how I plotzed when I saw not one, but two fireplaces in the same room!

Tomorrow, Cale and I are going to measure. I would love to put up a wall on each side of about 18″-24″ to create some separation of the two spaces, but still keep it open. I would include a soffit. To see what I'm talking about, please take a look at the Rosedale Farm post from a couple of weeks ago.
Opposite the second fireplace is the glorious bay window. I am envisioning this space to be the dining area and a small seating area by the fireplace, I think. But, I've been known to have an idea in mind, but when it goes down on paper, I realize that it won't work.
Yes, I'm not fond of the lighting cords. I imagine that's quite a job removing them and then patching and painting.
Past the second fireplace, is one of the home's charming architectural features and a tiny alcove. The door on the right is the door to the master bedroom.
And just beyond is the kitchen eating area or keeping room.

The interior window wall is one of my favorite parts of the house.
The porch newly enclosed porch is pretty pedestrian. I will definitely be painting it, and I would like to add some pilasters, if possible.
The kitchen is definitely the nicest one I've ever had. However, it doesn't have the feeling I'm craving.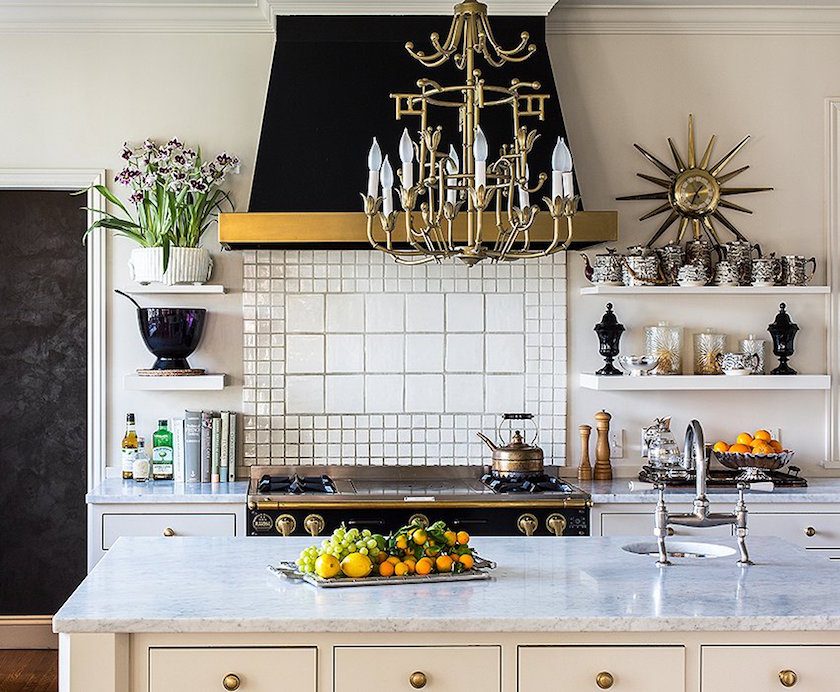 Kim Bachmann kitchen
The pine paneling is a new addition and not to my liking. I wish the counters were marble.
But, these things might have to wait.
The upstairs kitchen is more pressing, and it looks like a cabinet is missing. Plus, the doors aren't right. Yes, the lighting has to go. Ironically, I have that same fixture in my apartment in Bronxville!
However, I'd love to see this wallpaper maybe in the butler's pantry.

Yes, I realize that it's gotten a ton of press in the last few years. But, I love this paper. However, I feel it's best in small doses. You can buy it here and lots of other cool fabrics and wallpapers.
I'd like shelves like this, styled with beautiful white crockery.
I do like the wood counters.
Beyond the kitchen is a good-size dining area/keeping room with three beautiful windows overlooking the upstairs porch. The porch needs some work. But, it's not bad.
Beyond that is the spacious living room with a fireplace. And, there's a French door which goes to the screened-in porch.
Tucked away behind that are two bedrooms.
Each floor has only one bathroom.
Ideally, I'd love a powder room on the first floor. But, the only place I can imagine it, is in the entry where the owners currently have the stuff they are moving.
However, that project might be a plumbing nightmare and not worth it.
Well, it's getting late.
Tomorrow is my last full day here in Northampton for a while.
I'm going back to New York on Thursday and visiting my dentist in extreme northern Westchester on the way back to Bronxville. He checked my records and said I lost a very large, old filling. I'll most likely need a crown on that tooth.
Thank you again for all of your kind words and support! It means so much to me!
xo,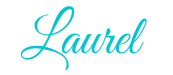 PS: Please check out the newly updated HOT SALES!