Dear Laurel,
Who knew that this decorating your home thing was so difficult? Oh, I know. You do. And now, I do too.
You would think something seemingly as easy as choosing a coffee table to go with a sofa would be easy-peasy. But I have no idea what goes with what. How do you do that?
I got the message about making a plan. I bought some graph paper and one of those architect's scales so that I can get it as close as possible to what it is. Oh, and I got a little template so that I could trace the approximate sizes of the furniture.
I drew out my room.
HELP!!!
Sophie Annatable
That's a very good question Sophie.
How do I know which coffee tables look good with which sofas?
Here's my design process when I am coming up with a plan for clients.
First of all, is always the house, itself.
The over-all design concept.
Is it young-trad, contemporary, a mix, modern, country, urban?
Are the clients more casual or more formal?
Most of my clients tend to be more on the casual side even for their more formal rooms. One reason is that 80% of them were quite young. (when I was taking on clients).
Are there any givens that we need to incorporate?
What is the feeling we wish to invoke?
All of those things help to narrow down the possibilities.
This is why having a plan is vital. Otherwise, when you go shopping for furniture, I can pretty much guarantee that it will not be a pleasant experience.
After those things are worked out, there are some technical rules of thumb.
Well, Laurel's rules of thumb.
I'm weird.
Apparently.
Well, not super-weird but here goes.
Coffee tables are always smaller than the length of the sofa. We all know that.
But how much smaller?
I read two-thirds of the sofa length somewhere.
That means if we have an 84″ sofa, that the coffee table should be about 56″ in length.
Ummmm… That would probably be the biggest, I would go.
But it depends also on the table and the size of the room.
And also, the table height.
Now, here's where I get into quite a tussle (in my mind) with many of the coffee table manufacturers.
We've been through the really big furniture that proliferates in the market-place and the same holds true for the coffee tables– in height, at least.
A lot of the tables out there are 19″-21″ in height.
My idea coffee table height is actually between 15″-17″— 18″ tops.
It's about proportion. Here's an example.
I actually really love this coffee table.
Well, I want to love it.
There's some lovely detailing here. But when I look at the table head-on, it's leg-heavy IMO.
For an 84″ sofa, I usually do a coffee table of about 48″-50″ long and 24″-30″ deep.
There's usually some wiggle room, however. If the table is very light, it would be possible to go a little larger, but absolutely no larger than about 60″ for an 84″ sofa.
What about round coffee tables?
I was afraid that you were going to ask me that.
Over the years, I've considered starting a company called "The Round Table Company."
Why? Because there aren't all that many round coffee tables to begin with and 95% of them suck.
And sometimes one wants a large round coffee table and then, it's even more difficult.
However, there are a lot of round coffee tables around 36″-40″ and those are great for two-seat sectionals where there is not a lot of room for anything larger. And the round shape is easier on the shins, I find. :]
But a 36″ square is fine too. (There's an example coming up)
Coffee Tables should be about 12″-18″ away from the sofa.
What else do we need to know about coffee tables?
Well, we have to decide if we need storage and/or a shelf.
Then, we need to decide if it should be more rustic or more formal.
But here's one coffee table that you are never to do.
And I'm probably going to get shat on because I know, I know that many of you have one of these!
But, it's okay if you do. I still love you!
How do I know?
I call it the Houzz-I'm-so-sick-of-this-coffee-table. :/  (like for the last then years!)
It's the ubiquitous-trendy-but-already-way-past-its-prime-but-nobody-seems-to-be-noticing-coffee-table.
Some version of this. Right?
Actually, it wouldn't be so bad if it didn't have that stretcher seemingly glued to the floor.
That is just so freaking weird.
But, the wood top that looks like it survived a house fire has had its day too.
That is not to say that we can't have a rustic wood. I have several coming up. But this is the centerpiece of a not very interesting room. Just my opinion and we know that I'm not short of those.
So first let's look at a bunch of what I think are mostly classic tables. Some might be a little trendy, but that is unavoidable. And some trends ARE good. I think that a little gold frame coffee table is always classic even if they are trendy now. I've been doing them my entire career!
Here's the table widget. And believe me, I fussed with this thing for way too long. And I can't control what order they appear in. In fact, if you refresh your page, they'll appear in a different order. That's on a desktop. I don't know what happens on a phone.

So let's take a closer look at some of these favorite coffee tables and their sofa pairings

The 47″ square Blake Raffia coffee table is a splendid choice for this sophisticated super-stylish living room.  The Blake Raffia coffee table also comes in a rectangular version which I've done before.
BTW, the side chairs are overlapping the sofa which is a big no-no. If anything they should be set back a few inches away from the sofa.
Oh, and that gorgeous Anya blown glass chandelier is on sale now at Serena and Lily.
And please don't forget to check out the massive tent sale that's going on there right now.
100s of gorgeous linens, towels, lighting and more at up to 75% off!
Another vignette with the Hanover Sofa from Serena and Lily. And more overlapping.
Obviously, they do this for the photo so that we can see everything.
This time, with a rectangular table. (that's discontinued) :[
The Hanover is 89″ long. So, any table that's from about 48″ – 54″ would be fine.
Style depends on the look one is going for.
The new Tanja Trunk table is new from Anthropologie. How fabulous is this?
There's plenty of storage for things like blankets and pillows or what have you.
It looks quite expensive, but it's only $998.00
Gorgeous top!
Another beauty I unearthed at Wayfair. They have practically every brand that God ever created and 100s I've never heard of. This one is from EXP Decor and they are calling it a handmade Oriental Antique Coffee table. Okay, it's not a real antique but it's very well-done for a repro.
And get this. It's only $610.00!!!
Holy Moly! Everyone who reviewed it had very nice things to say too. It is only 44″ wide, but since it's such a statement piece, I think it would be fine with an 89″ sofa. It would be splendid with any sofa that's at least 60″. I think most of the time there should be about a foot between the edge of the coffee table and the end of the sofa.
For a more contemporary touch, I found this narrow 60″ gold and glass coffee table. It is originally from World's Away, but they are phasing it out. However, I found it at Kathy Kuo for a good price. Because of its light weight, the 60″ table would be fine with 89″ Handover.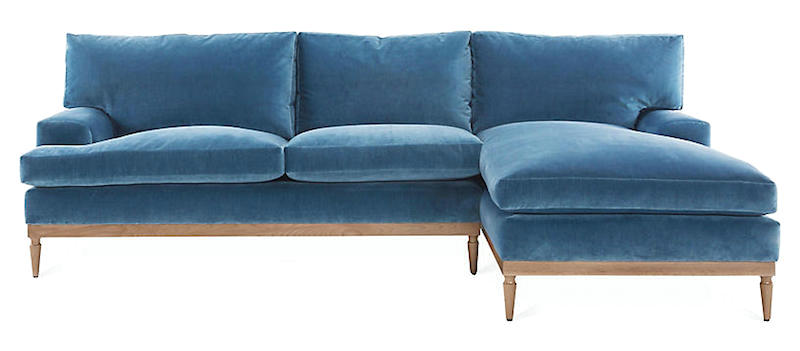 I've been so enthralled with this sofa with a chaise section, but what about a coffee table?
This little bone inlay table is 47 x 16.
And although a little long, because it's not very deep, I think would be fine.
But we could also do a sweet round table like the
lacquered round coffee table from Anthropologie
I've long admired the Spruce Street Sectional for its sleek handsome lines.
The Trestle table is brand new at Serena and Lily. I love the chic coastal look of this room, without screaming BEACH!!!
This 35″ square opium table would work nicely for a smaller sectional opening.
The Robin Bruce Bristol slipcover sofa is quite large at 110″ and 46″ deep.
So, if you want a real couch potato "bed" that's great looking, this one should work.
This sofa can take a large hunky coffee table like the Safavieh Opium table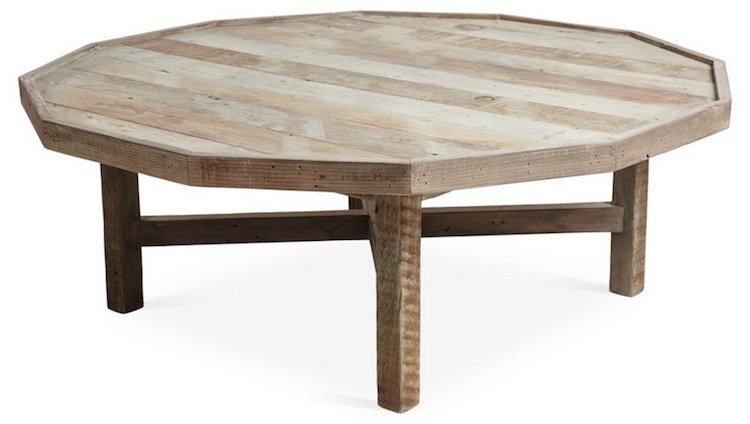 They are calling this an octagonal table from Brownstone Upholstery, but I count 12 sides. It is quite rustic.
I am always imagining painting things after I get them. But then again, I know… I'm weird.
This is a table from Sarreid I found on Gilt for only $699.00. What??? Sarreid furniture is not cheap! There is only one of them and it is only $699.00 I could see this handsome large table 59 x 31 x 13 in a casual family room or living room. It would look fabulous with the Robin Bruce sofa.
I think that it would also be fine with the 89″ Robin Bruce sofa. It's modeled on a Chinese bed, but those are usually really huge. I've seen some that are seven feet long! Fine for a bed, but pretty massive for a coffee table.
And one more table from Lexington for a large more formal round table. It is 50″ in diameter.
Well, I hope that gave some guidance on how to find the perfect coffee table for your sofa!
Oh, and once upon a time, when I was young(er) and dumb, I did a post about how to style a coffee table.
xo,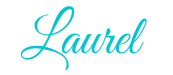 PS: Don't forget to check out the Hot Sales page.
Featured this week is the fabulous aforementioned tent sale at Serena and Lily
and the ongoing anniversary sale at Nordstrom.
Some items have sold out already.
I've hi-lighted a few dozen new things in the Hot Sales page. Gorgeous!
There are also a few new things in the Favorite Home Furnishing page.