Dear Laurel,
Loved the post about the throw pillows. I went in my living room and imagined how that might help spruce things up.
I stood, there in the middle… staring at the upholstery. 25 years of grape juice stains, grease spots; not to mention some serious fading.
I don't think that throw pillows are going to help. lol
Hubs and I chatted and since the vermin, I mean kids are now grown and pretty much out of the house, we decided to reclaim our living room with some spiffy new upholstery pieces.
So, we went shopping at the only furniture store in town. (there used to be three) I thought I was tripping when I saw the quote for one sofa, four chairs, an ottoman and nine throw pillows.
Are you ready? With S/H and tax it was $19,333.74
Okay, fine. We just don't have that kind of money. After putting four kids through college, our funds have limits

Then, I had the idea to have our old furniture reupholstered. I went to a place that I've heard good things about. I brought in photos of our furniture.
And once again, I've proven that one doesn't need drugs to have a psychedelic experience. This time the quote was  about half of the new furniture, but that didn't include pillows, plus S/H and sale's tax. Oh, and the guy said that if the furniture needed new springs that would add several hundred more dollars.
So, we're still talking about 14k! I didn't realize that getting my furniture reupholstered isn't that much less than brand new furniture.
Thanks to your article about throw pillows, I found some great sources to make some wonderful pillows for less than the upholsterer can do.
We've decided though that for the rest, we can't afford to spend more than about $5,000.
I guess it's Craig's List and consignment shops for us.
It's a shame too, because the furniture aside from the messed up upholstery is really quite good.
Sofia Stainer
That's a made-up Dear Laurel letter, but I've had some requests to do a post about
SLIPCOVERS
Unfortunately, like a lot of things, the word has taken on some not-so-nice connotations.
For starters, I have a problem with the term "Shabby Chic." Sure, Rachel Ashwell made a fortune with the brand and I'm happy for her.
I have to admit that for about 3 years back in the late 80's early 90's I liked it.
But then, those humongous chair and a halves and the rest lost its appeal.
And then… suddenly there they were…
dum, dum dum
Ready-made slipcovers.
Who remembers that movie with Raquel Welch in the mid-60's Fantastic Voyage when the white corpuscle swallows up the submarine the scientists are in?   haha!
Sure. I get it. You have kids and pets, teens who track mud in and a clumsy beer drinking, football watching husband.
You NEED a shmata to throw over the sofa until company arrives.
Fine by me. I don't judge.
Unless you do this… lol (And seriously, if you love this look, then please just ignore my snide remark.)
But that's not what I'm talking about when I'm talking about slipcovers.
This chic, not shabby slipcover is what I'm talking about
And this classic by Katrin Cargill
And the rest of these beautiful slipcovers, too
Victorian Hagan via Architectural Digest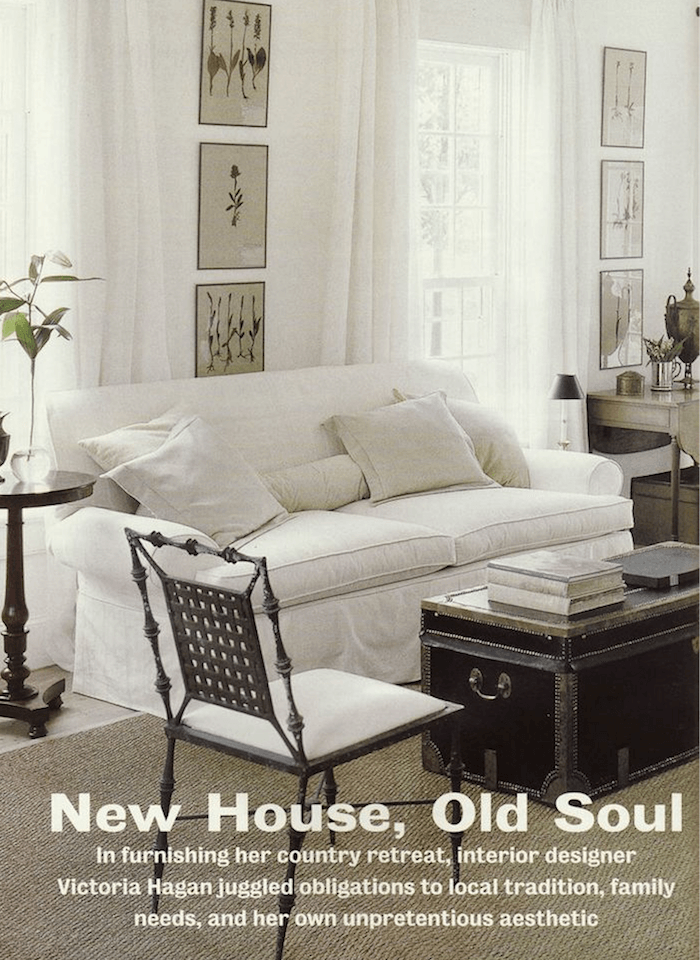 I've been looking for this for quite a while! This is Victoria's old home in Nantucket from around 1999. Oh, how I would stare for hours. I painted my living room this color. It's Ancestral from Pratt and Lambert which is creamier than it looks here. And I used this gauze fabric from Henry Calvin for my old home and for a number of clients as well.
Maybe you've seen this wonderful dining room on Pinterest.
Furlow Gatewood – photo- Rodney Collins
A classic English bedroom. Nobody does slipcovers, like the British!
JK Place Capri
Laurel's favorite hotel and possibly because all of the furniture is covered in white slipcovers!
Windsor Smith
Windsor, is one of my favorite interior designers. I love the chances she takes in her designs.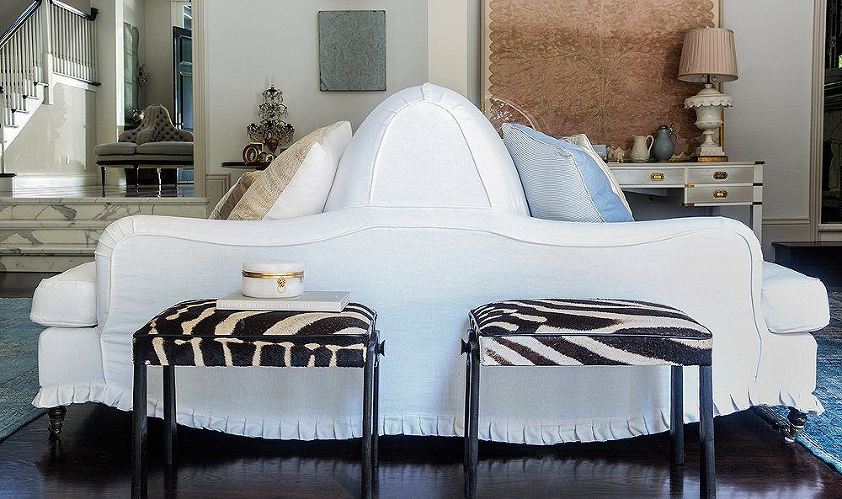 I'm trying to figure out if I think these Siamese twins… errr… I mean conjoined twins are cool or not. I do love her signature detailing on the hem, but think I prefer Mark D. Sikes' version (below) with a table in between the two sofas. (not to mention, getting that baby in through the door!)
Via Mark D Sikes book, Beautiful
What better way to update some tired old upholstery with this charming slipcover from Les Indiennes (Tulipe Fabric)
Love the button detail on the back of this houndstooth checked fabric slipcover.
Where Can I Get Custom Slipcovers Made?
Anyone who can do custom upholstery can also make a custom slipcover. I have found that the price for labor for a slipcover is about half of that of the upholstery and sometimes even less.
But… You might need a couple more yards of fabric, depending on the style. Some of the slipcover does get tucked into the creases under the cushions. Therefore, when consulting yardage amounts, please be sure that these are estimates for slipcovers, not standard upholstery.
The very best site I found with tons and I mean tons of advice, images and great sources for inexpensive fabrics is The Slipcover Maker
In fact, I could've just put a link to her site and called it a day. haha.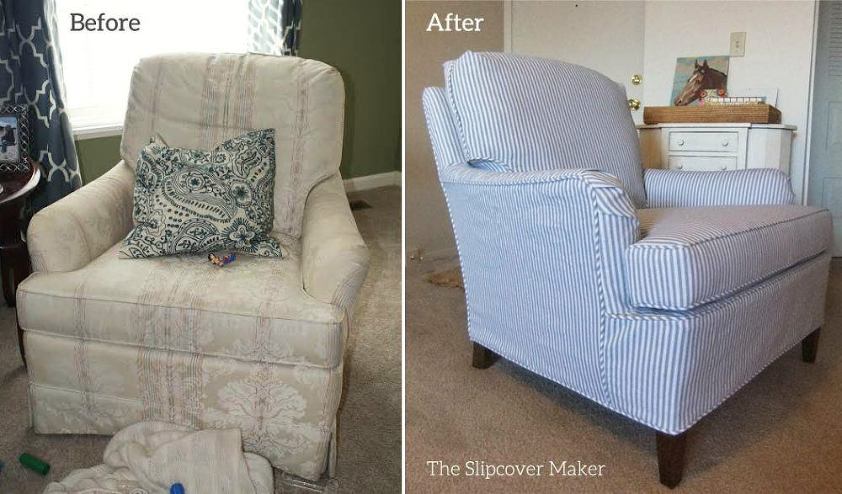 How fresh is this classic ticking stripe on some dated fuddee duddee upholstery. You must check out her site. She's located in the Kalamazoo, MI area, so if you live around there, you are in luck! However, if you have an existing slipcover that's kaput, she can copy it for you.
Beautiful ticking stripes sourced on The Slipcovermaker site.
What Other Fabrics Are Good For Custom Slipcovers?
Another terrific source on the Slipcover Maker site is called Big Duck Canvas They carry a 10 oz. Cotton Duck. It's a good weight fabric that's perfect for slipcovers and it's really cheap.
Of course, you can use linen as well as lighter-weight cottons.
You can use velvet, but I recommend using a poly velvet.
Any fabric that drapes well is good for slipcovers. However, I would avoid silk unless it's not going to be sat on a lot. And please keep it out of the sun.
Karen at the Slipcover Maker also provides a shrinking service. If you are using cotton, I strongly advise pre-shrinking your fabric. You can also do it yourself, but I'd spend the $ and have her do it.
Here is Karen's price list for her services.
Here are two other sources for custom slipcovers.
If you live in or around Eagle Mountain, Utah, please check out Slipcovers by Shelley.
How fabulous is this red and white Buffalo check on this dining chair.
Shelley has a terrific website also filled with advice and tutorials.
(and no, I'm not an affiliate)
If you live in the Raleigh-Durham-Chapel Hill, NC area, please check out Kristi, the "slipcover girl" whose website is called Pink And Polka Dot.
For The Adventurous and Talented who wish to turn their tired upholstery into a stylish new piece with slipcovers
Miss Mustard Seed who I'm sure a lot of you know already has a fabulous
video tutorial about how to make custom slipcovers.
Living In the Rain Garden
This clever woman covered an ugly brown leather Henriksdal chair from Ikea with a custom slipcover she made and get this. The fabric is a shower curtain from Target!
Diane, the author of Home Sweet Homemade, took a dining chair with some tired upholstery and made this cool corset-inspired slip-cover and put the chair in the guest bedroom. There's a tutorial in the link.
This slipcovered headboard is a great idea and affordable. You can get it here.
Beautiful dark blue slipcover with white piping.
You can also find out a lot about slipcovers all throughout Cote De Texas. Joni Webb adores them!
While there is no separate category for slipcovers, here are some of my favorite sources for slipcovered upholstery that are in Laurel's Rolodex.
The following companies do not make custom slipcovers but do make them for their pieces.
Lee Industries
The Best Slip Cover Company
Taylor Scott Collection
Do any of you make your own slipcovers? I know that some of you do and I'm sure that I've left some things out. Please feel free to share in the comments. (Please note that comments are closed in older posts.)
xo,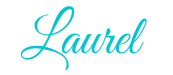 *Please note that a few of these links are affiliate links which means if you click on them, I'll make a nickel. I'm not joking.  A nickel. Any affiliate links are for brands that I use and/or recommend.
Save
Save
Save
Save
Save
Save
Save