Hi Guys,
If you're just tuning in, this is a reader-dilemma introduced very early Wednesday morning, eastern time. It concerns a modest budget updating of her pinky beige bathroom.
If you have already read the post, you can skim until you find the asterisks. ***

There, you will find my response.
Dear Laurel,
I thought I might take the chance to write and see if this is a problem you could write about on your blog. 20 years ago, I updated my bathroom to be just like Martha Stewart's at the time.
You know what it looks like, beadboard cabinet doors, seafoam walls, lots of green glass decor, and cup handles for drawer pulls.
Walls and floor of pinky beige travertine, with turquoise accent.
These cabinets are custom and very well made, with a baked-on finish that holds up to heat and humidity in the bathroom without cracking or chipping. I really don't want to paint them or replace them.
Is there any way to bring beadboard cabinets into what is now a contemporary transitional-style home? What decor could I do without remodeling? I've scoured the interwebs, and everything I see with beadboard is farmhouse which I do not want.
There's no shower curtain up at the moment because I'm in the midst of shopping for a new one. That's just a white liner you see, so I can shower.
Thanks for your input!
Robin
***
Hi Everyone,
I wasn't planning on doing another one of these on the heels of Vicki's dilemma. I just realized this is Robin M., who is a frequent commenter on the blog.
Here's what I said about the pinky beige bathroom tile:
Hi Robin,
This is a tough one. It's not the beadboard that I see as the problem. It's the miles of pinky-beige bathroom tile.
Of course, getting rid of that is even more problematic, but I'm pretty sure it can be lightened and made to look less rustic. (No, it can't, because later I found out that it's porcelain tile.)
What does the other side of the bathroom look like?
Robin sent a lot of photos!
What I didn't tell Robin is it's the grout that's making me crazy. I'm sure it's not dirty, but it looks dirty, and there's a lot of it.
By the way, guys. I know most of us are not too fond these days of pinky beige bathroom tile. As I mentioned earlier, this is actually porcelain tile made to resemble travertine. And Robin likes it.  Or, she likes it enough to keep it.
Now, one can paint tile; however, let's put that one on the shelf and work with what we have.
The next problem for me is that the cabinets are a yellowish-light beige and clash slightly.
Finally, the lighting is not helping to create a warm, inviting space.
So, we can fix the grout and the lighting. We have to work with the cabinetry, too, but we can paint the walls!
I would get a stunning shower curtain to tie the colors together.
I would get something long and luxurious and get a nicer rod. So, a 90″ shower curtain instead of the skimpy 72″ typical shower curtains.
We need to fix the mirrors, lighting, and faucets, and I'd change the hardware, too. While brushed nickel is very popular, I always think it looks cheap, even though it's usually not.
I received a few more emails from Robin. Here's what she had to say:
I have used your mood boards, paint colors, and Rolodex extensively over the past 3 years to redo almost my entire house. Learning from your suggestions and mood boards has been invaluable. My house is small and modest, with an accompanying modest budget. But it has been transformed, and I love it. Thank you for being you.
I wanted a little bit of glam, but I am mostly coastal style. I am determined to remove any cottage looks I had in the previous decade.
The living room I also redid after reading your design books that I purchased. I am absolutely in love with everything, and everybody that walks in gasps and talks about how pretty it is. The don't do it justice, but I've included them so you can see the room.
That is instead of piecemeal and never feeling like it was complete. I understand why making a plan first is the way to go.
The mood boards in your paint guide helped tremendously and inspired me to make bolder selections, which makes me so happy now that it's done.
Richmond Gray
Galapagos Turquoise
And Twilight.
But here's what helped the most.
I studied the boards very closely. I observed where you brought in patterns, where you created contrast, and where you left it alone and why. Then, all I had to do was add my more casual, coastal, textural preferences.
***
Thank you so much, Robin! I'm very proud of my digital guides. The 144 colors and 40 palettes are designed as a jumping-off point. Your design is the result of having them guide you in your selections.
I love what you did. But, this is also very helpful in thinking about the bathroom and working with the pinky beige tile.
Below is Robin's living room before.
Wow! What a difference! She did a great job.
So, getting back to the task at hand. Robin needs help with her pinky, beige tiled ensuite bathroom.
We are not allowed to touch the tile or the cabinets. We can change the countertops, sinks, faucets, mirrors, and lighting. And, I'd love to see a beautiful runner in there.
Maybe if we I think of the pinky beige tile as pinky beige Bermuda sand, we I will appreciate it more?
So, more Thursday evening; however, in the meantime, I did a little virtual cosmetic procedure on Pinky Beige.
She went from this, (below).
To this…
What do you think? Better? I think it is.
Okay, everyone. What would you do with this bathroom to bring it up-to-date?
I'm looking forward to reading your ideas.
***
Hi Everyone,
I'm back.
First of all, I forgot to post a few other images of Robin's lovely living room.

Above is the gorgeous rug from Karastan. You can find it here at the Rug Studio.
I have some fantastic shots of the before and after of her exterior, but I'll have to save those.
Back to the pinky beige bathroom!
I have worked on a design for several hours.
Okay, I'm working backward. You see, I got an email from Robin yesterday, that she wasn't opposed to changing the tile color.
Really? Okay!
And yes, it's totally possible with the right prep and products. Several of you mentioned it in the comments. In fact, these were some of the best comments ever.
Now, I did not read the comments until a few hours ago. I was smiling to see many of you coming up with the same ideas I did.
Please know that there's no one way to do this room, or even one best way.
However, I tried many different options and came up with some interesting results.
I discovered that I didn't like super-saturated colors in here. And dark counters didn't look so great either. Besides, Robin wants a beachy vibe.
And then I kept thinking about her Quiet Moments bedroom right outside the door.
What color is this? Well, it depends upon the light. It's a very grayed-down aqua color. For this reason, I find it especially beautiful in brighter rooms.
So, let's look at some ideas I tried while keeping the pinky beige bathroom tile.
The first one I tried is an impressionistic floral from Ballard Designs.
(There will be a shopping widget at the end with my selections.)
It is a regular curtain that will require some hemming, and she'll need two, but it'll be nice and full that way.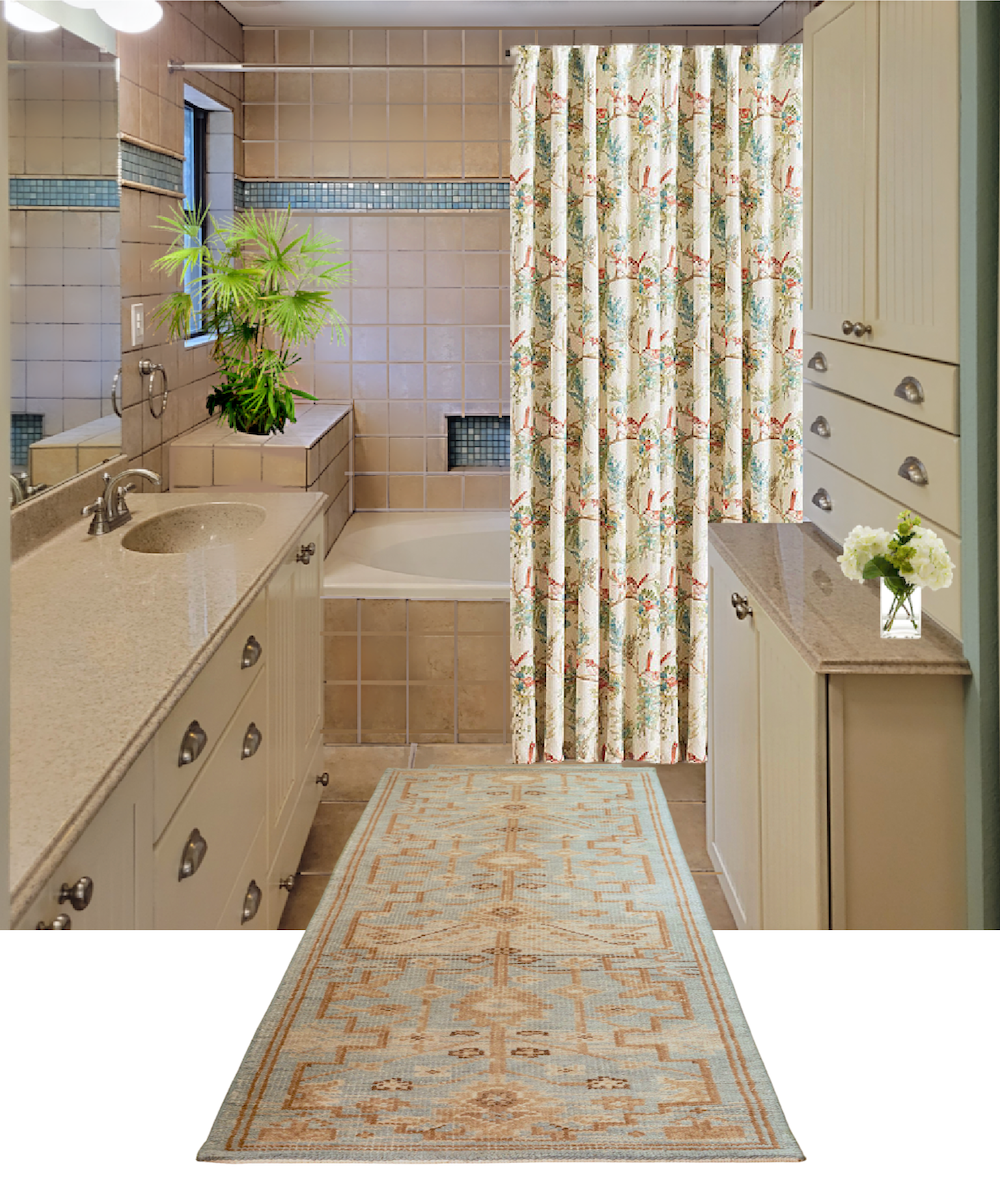 I paired it with this runner from Rejuvenation. Not bad. However, that stripe is bugging me. I realize that everyone has these stripes. I did, too, in my old apartment, and I painted over it. lol
Of course, some of you will love it the way it is. That's totally fine. As I said, there's no one way. The other thing I find is by playing around with the mood boards, opens up the creative space, and new discoveries are made, which you'll soon see.
So, I took out the stripe.
I prefer it this way. I changed the countertop too. Sorry, this is so sloppy.
Now, I'm going to show you the one I did yesterday. This one, I did spend several hours on.
Yes, that's the same tile but painted a new color. What color is it? It's off-white. But, with a slight greenish tinge. I see it as water and white sand now, instead of pink sand. This curtain is from the Well Appointed House.
The Hexile rug is from Dash and Albert.
And yes, I did go ahead and paint the two cabinets. If the cabinet is properly primed and the right kind of paint is used, the finish will hold up beautifully.
Okay, yes. To do this costs a lot more than $4,000. It would probably be more like $14,000 with the new counters and fixtures.
Okay, I did one more board keeping the pinky beige bathroom tile.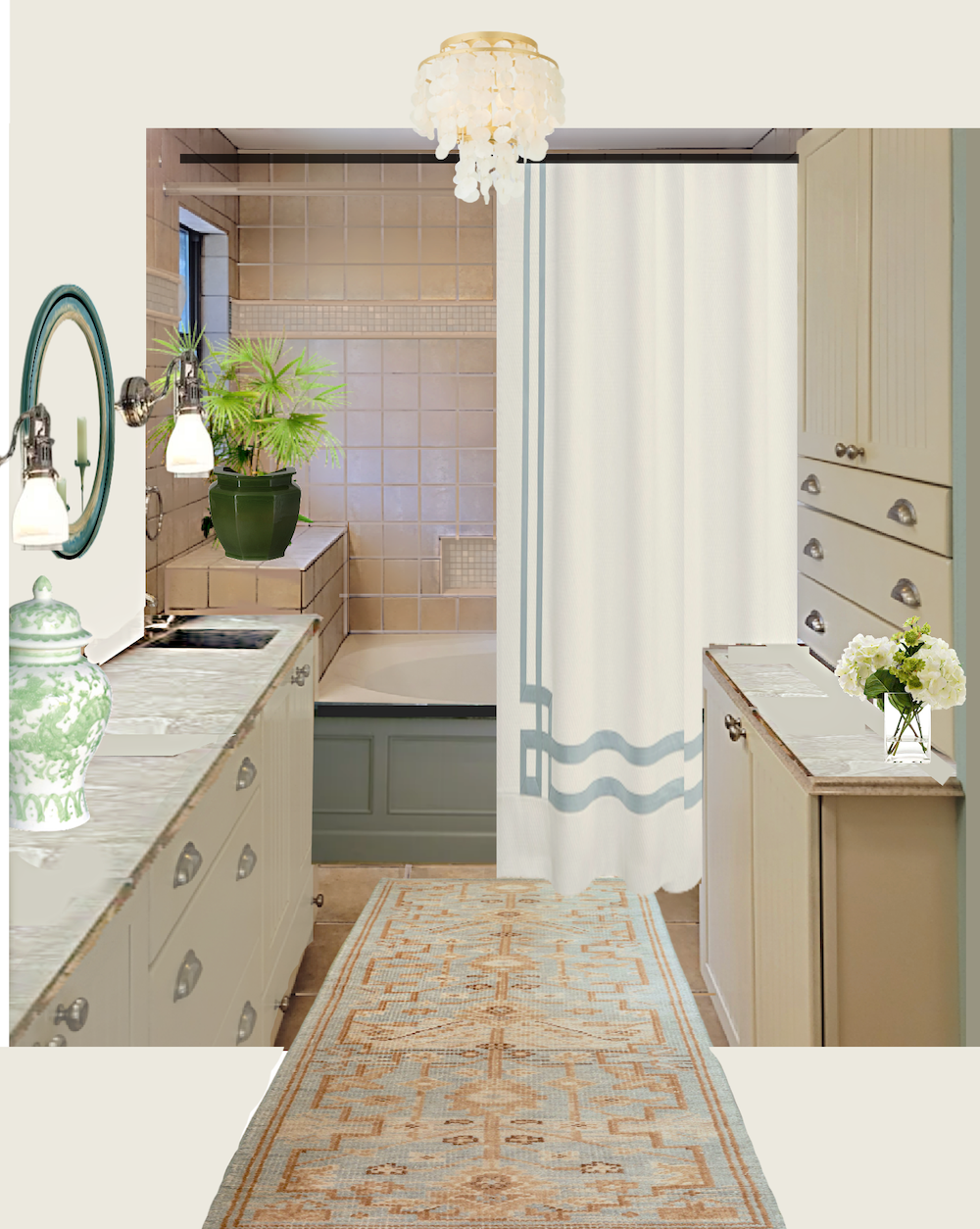 I didn't change the cabinets this time. I did still eliminate the contrasting stripe. However, if Robin or any of you keep your stripes, it's fine with me.
Oh, yes, there's a tub surround. Several of you mentioned that too. I thought yesterday that with the painted tile, it might not be necessary, but if possible, I think the paneled bath surrounds look fantastic.
However, the reason it's this color is an accident.
I saw it on Wayfair (my neighborhood shop) and when I put it in, think it looks fantastic with the tile. Yes, green makes the tile even pinker. I don't have a problem with that, as I think these colors look beautiful together.
While I didn't try it, I'm wondering if a soapstone top for the tub would look beautiful. However, I do love the dark edge.
By the way, that fantastic shower curtain comes in several fabrics, and there are dozens of trim colors. There are other styles of trim available and a choice of three lengths.
While I did try at least a dozen other items, the last two are my favorite iterations for Robin's pinky beige bathroom.
I hope y'all enjoyed this post!

Please pin to Pinterest for reference
Below is a shopping widget with all of the items I mentioned. Please click on any item to find out more about each product.

Update July 16, 2023
Robin changed the light bulbs to a cooler white and here's the transformation. The bathroom went from this (below)

To this. (below)
That definitely killed some of the muddiness which I think already looks better.
xo,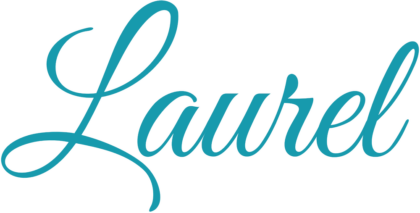 PS: Melissa has worked hard to update the HOT SALES! Please check them out!
***

Also, a big head's up for the Nordstrom Anniversary Sale has begun today, the 13th, for all early-access customers.

The sale is open for everyone on the 17th. You have to have a Nordy's credit card to qualify for early access.

This is a fantastic sale. More about that for tomorrow's HOT SALES!