Fine. I'm a masochist. I admit it.
I mean, I must be because I'm going to discuss a kitchen and bathroom remodel.
Why does that make me a masochist?
It's my kitchen and bathroom.
My trapezoidal galley kitchen and the world's smallest full bathroom.
I realize that part of my decorating dilemma comes from the fact that nothing is really that terrible. But the kitchen must have new appliances before my fridge decides to take itself to the morgue. The dishwasher isn't far behind. I've had both of them repaired twice.
But first a little update. I've decided not to do the fan, but I will probably be giving one away!
And I'm making headway on the hall too. More about that later on.
Today, since I have a tendency to bite off more than I can swallow in less than 20 hours, I'm only going to focus on the bathroom. And then continue next week.
Here's my little bathroom.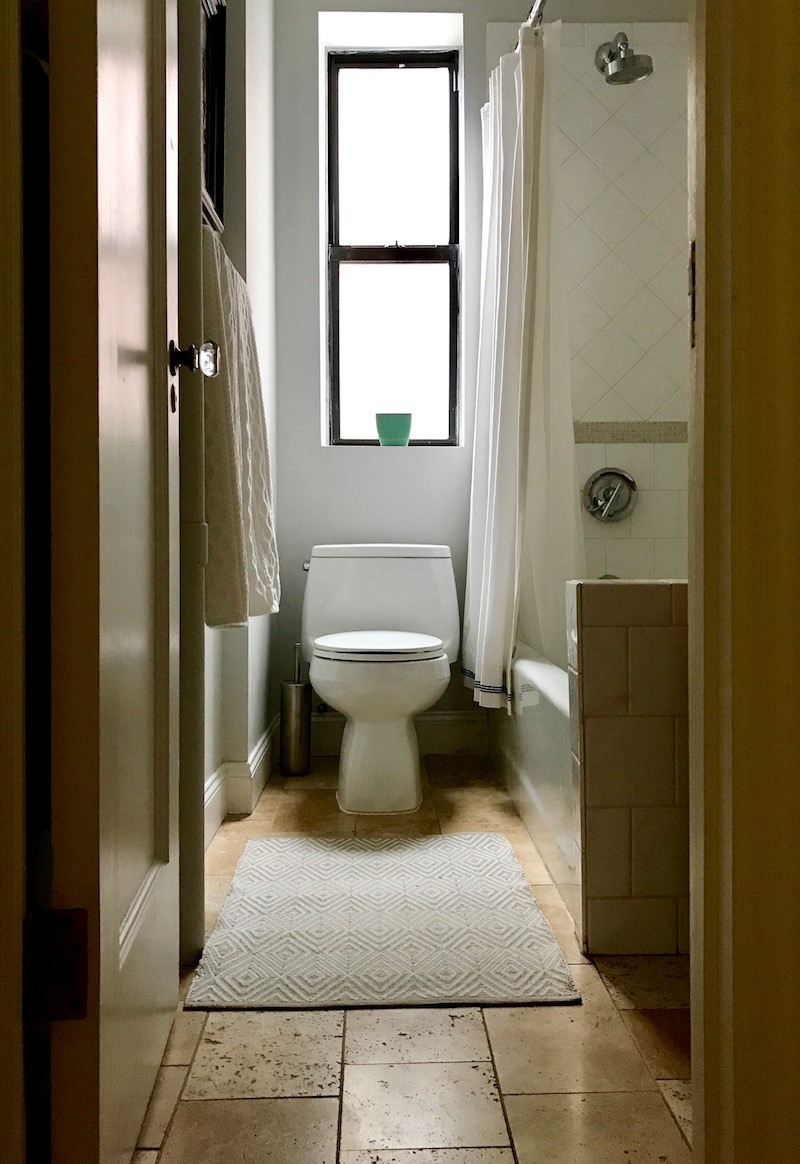 It is also slightly trapezoidal in shape. All of the rooms are.
And I am sorely trying to avoid anything like this.
So, let's start from the floor up.
It's supposed to be Jerusalem lime stone. I guess so. I never would've picked it. It's not the worst thing, but this is a 1920s Tudor building. Not that it has to be a museum, but this is pretty far off the beam.
The vanity. ugh. It's horrible in every way possible. It's the wrong size for starters. There's a three-inch gap on each side. The color is hideous. HIDEOUS!  That's a Dash and Albert little indoor/outdoor rug that's indestructible. The shower curtain is by Serena and Lily and blimey but they've discontinued the Gobi pattern in the shower curtain.
They do have it in these gorgeous towels  and these gorgeous sheets, (lots of colors too!)  but no longer the shower curtain. :[
And My Serena and Lily mirror. They discontinued that too! I adore this mirror. It's too big for the vanity, or rather the vanity is too small for the mirror and the room! I put those little dishes there to catch things. haha.
The wall color is Benjamin Moore Shoreline 1471 from the Laurel Home Paint and Palette Collection. The paint collection is about to have its first anniversary.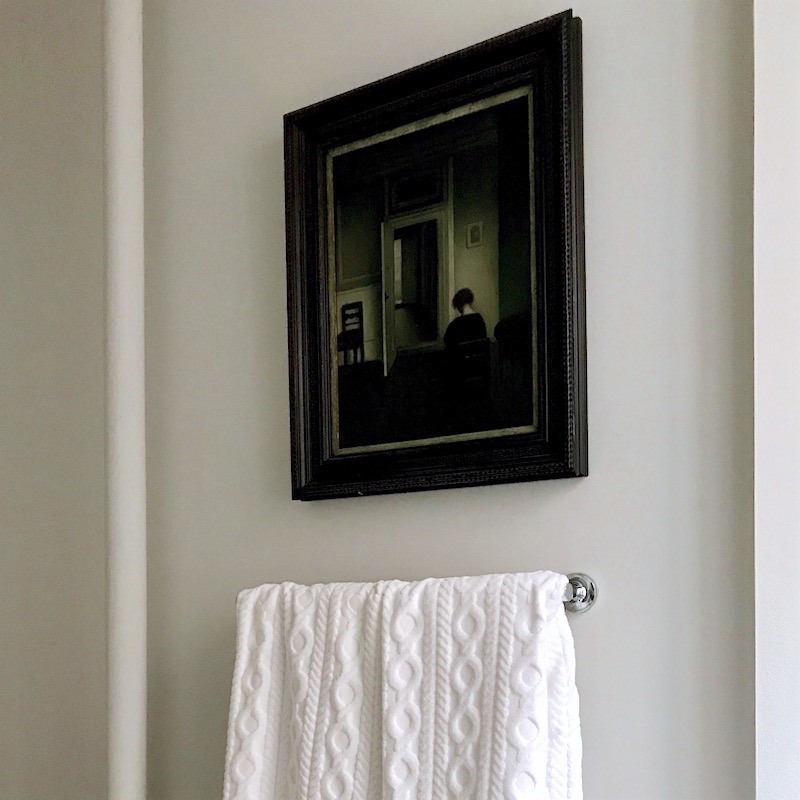 My depression era painting that I got a long time ago and had a very expensive frame put on it. My younger son hates it because he says it looks so depressing. I like the colors and it reminds me of my grandmother. I never met her because she died in 1943, but somehow I feel that it's her.
What I love is if she would just pick up her sweet head, she would see that there's a bright warm light just down the hall. It's a great metaphor for life. The hope for a better tomorrow.
Oh where were we? ;]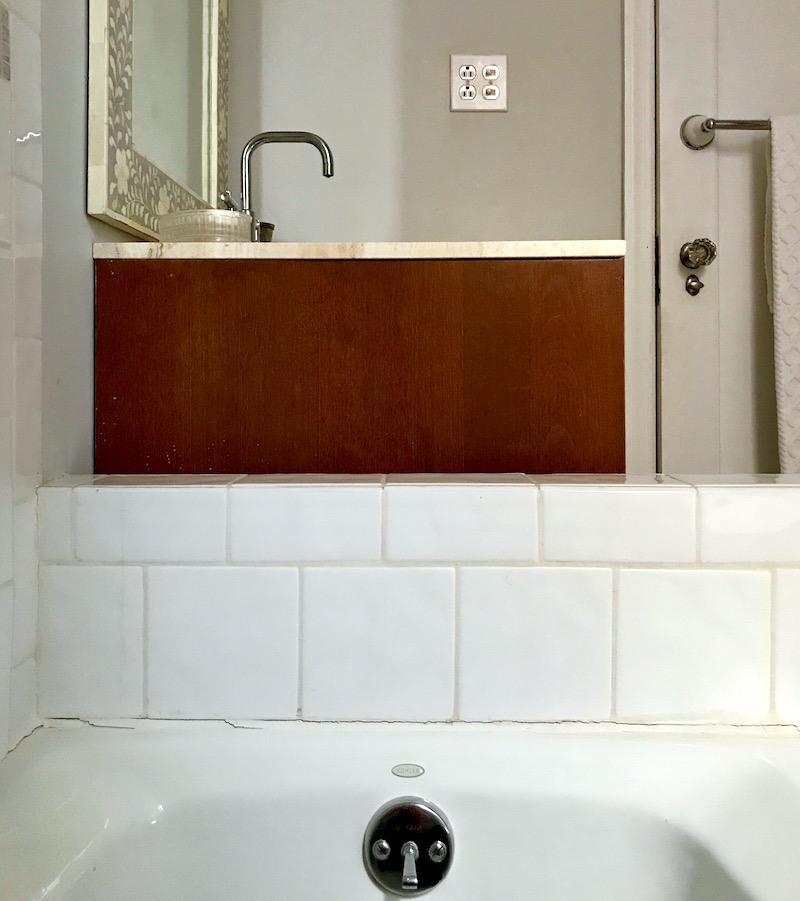 Oh yes… I had to get in the tub for this shot. haha. (yes, yes, I know that we need a little re-grouting.)
But as I was taking the photo, I had a HUGE AHA MOMENT!
A giant epiphany.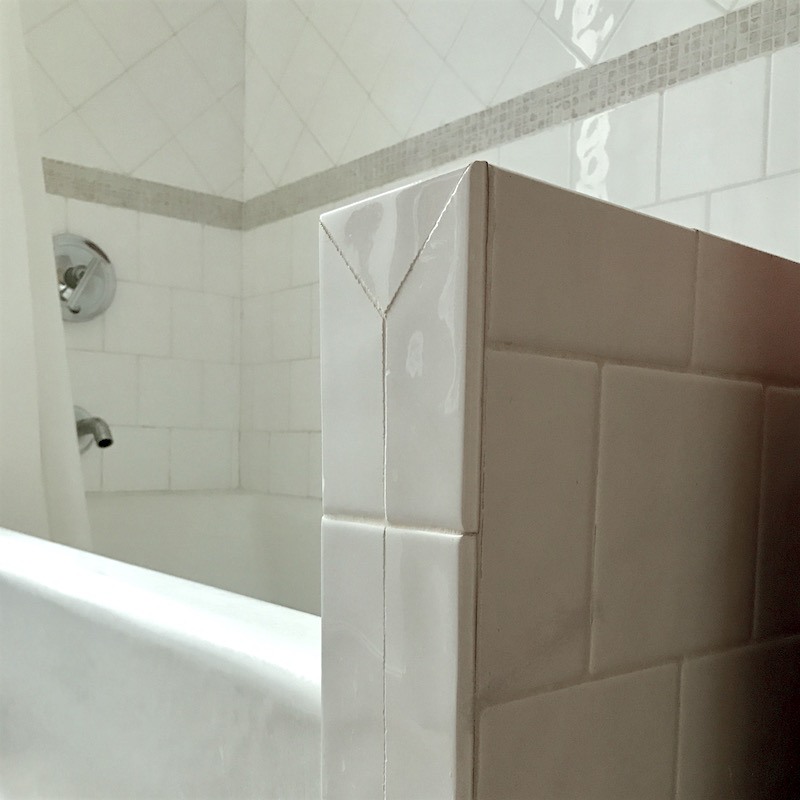 Do we need that thing?
That big white ugly 5.5″ wide weirdly tiled wall?
(no worries, we'll get to the horrid accent tile in a sec.)
Here's me having an epiphany in my bathroom. ;]
The space is 35.5 inches which means that most 36″ vanities will fit in there!
Hooray, it opens up a lot of great options.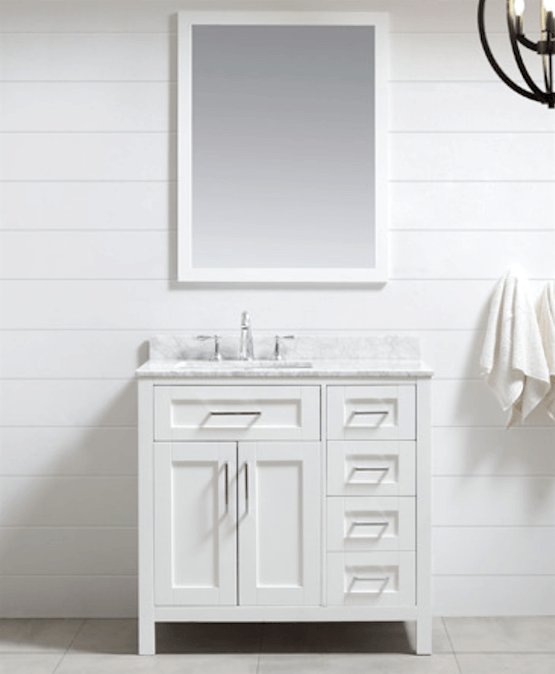 This one from Ove Decor is very cool with 5 drawers! Boy, that would change my life! It really would!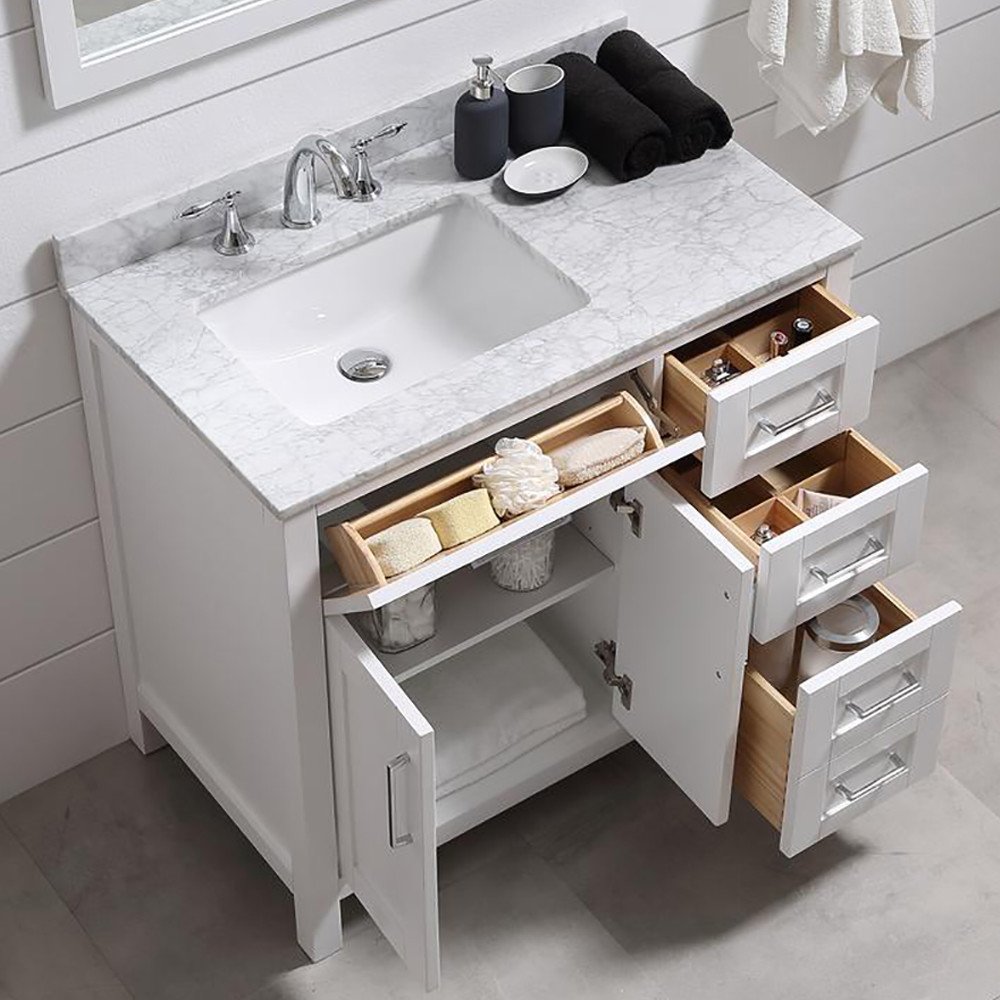 Look at all of that beautiful storage and a shelf too!
Love the little sink drawer; perfect for elastic bands, hair clips and combs, etc.
very nice details and the separators can be removed.
This piece from Avanity is also very nice. I like that I could pick my own top
I'll have to see if there's a compelling reason we need the ugly wall. Right now the vanity is 24″ so even 30″ would be a help.
Here's a good possibility for the floor.
It's a classic Carrara Marble hex.
I looked at a lot of floors, but most of them didn't look so great with the mirror.
I found some lovely Carrara hex tiles here.
This is a pretty bathroom with an interesting marble inlay floor.
Cement tile? No, it sure looks like it, but this girl STENCILED this on her old linoleum floor. (and she goes into great detail to say how she did it.) Good God, that's gorgeous! There are some cement tiles along these lines, but nothing that completely wows me.
I realize that the mirror doesn't exactly evoke the 1920s either. However, the Moorish influence was prevalent in Tudor style design, so it's not that far out.
Here's a typical 20s bathroom with black. The tiles could be white and the floor could be black and white.
But we have the gray mirror that i love. And black doesn't look so great with it. (original source unknown)
But Wisteria does make the mirror in black
In a lot of ways it actually helps the possibilities because then I could add more black. There already is black with the painting and the window frame is almost black. It looks black in the photo but it's not quite there in real life.
Then, I could do this classic Greek Key Pattern tile . That is very 1920s!
And you guys know that I adore a Greek Key pattern!
Speaking of "key," I love Nancy Keyes' gorge black and white bathroom.
I think mine would need to be more white though.

More, this feeling.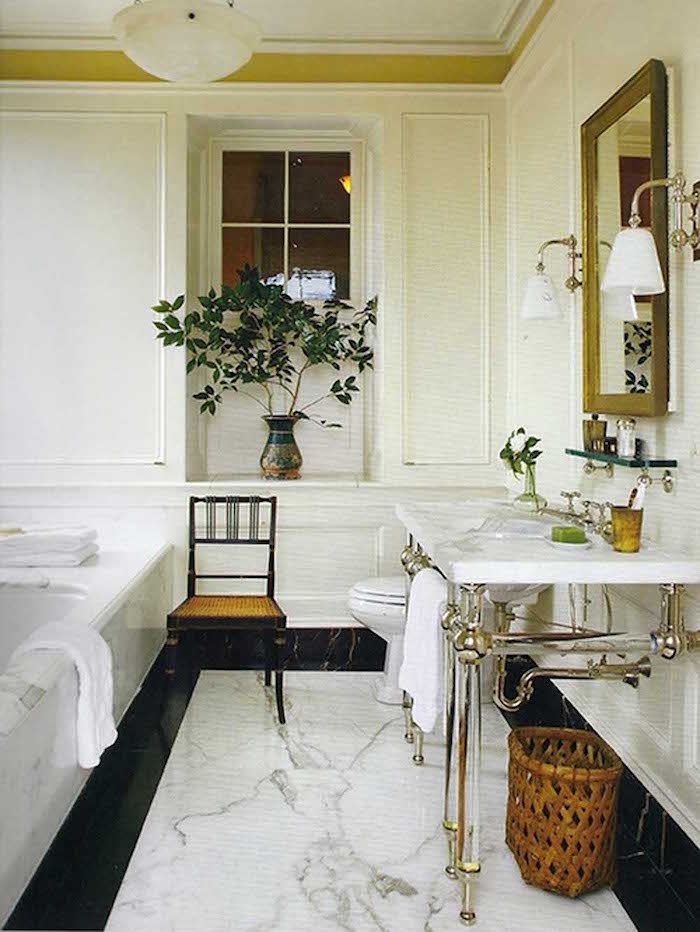 I can't carry this one off. The bathroom is just too small. And I must have a vanity because there's no bathroom storage at all!
In any case, I think that I'd love a Moravian star fixture over the toilet.
Here's a nice one with frosted glass from Duda Home.
Now for the tile debacle.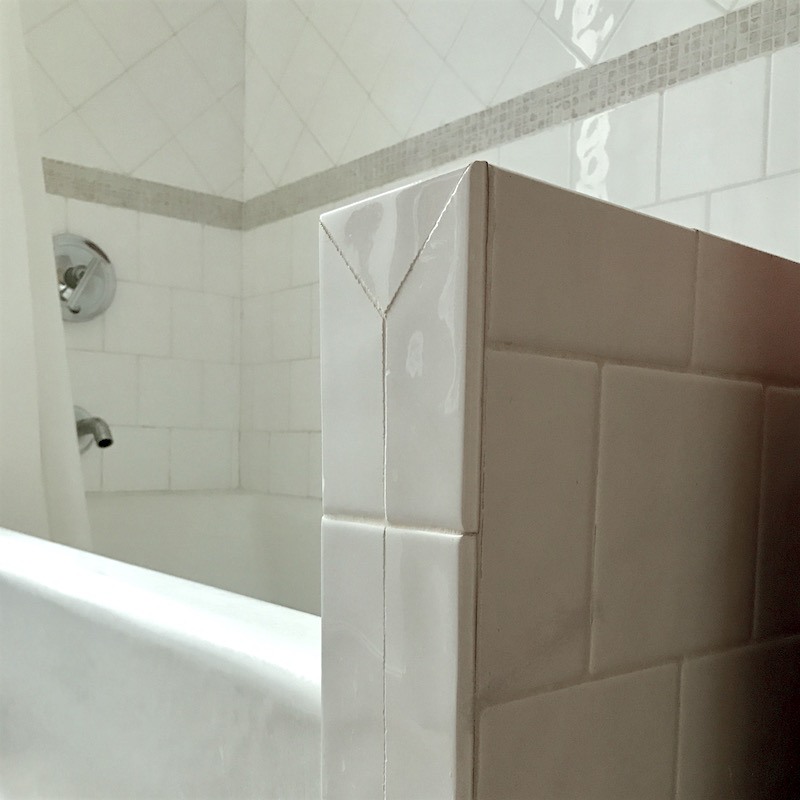 The ol' accent tile stripe that makes no sense whatsoever.
Oh, it was worse. It WAS brown! One day, I couldn't take anymore, so I dabbed on some gray paint. At least I can live with it–barely.
I found this tile by Somer Tile that has a little bit of a handmade look, but at a machine-made price.
The Tile Bar also makes a lovely subway tile.
And to finish off…
The other day I was looking at Mural Sources. I think they must've recently refreshed their website because it's looking far slicker than I remember.
And this popped up going all the way across the screen. And I thought. Yes! That's it!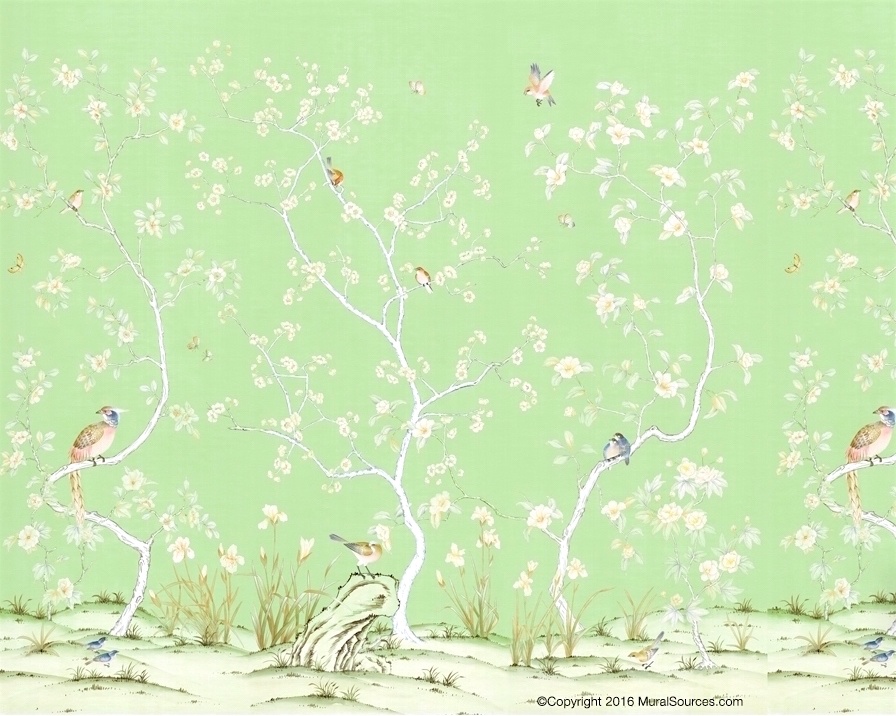 I think this would be beautiful off my living room and would work whether the bathroom was gray and white or black and white. But I'm thinking that maybe I need to make it black and white. What do you think?
xo,