Well, it's another delicate subject. No, not Chinoiserie. I'm done with that one for a while. Well, not completely done. :]
However, there are now at least two subjects on this blog that I need to tread lightly with.
The other hot button topic is:
ART
Why is art a sensitive subject?
Well, it was mostly just one person who, never mind… Let's just say she was hugely angered by even the idea of anyone doing prints. And, since I was suggesting that people might want to do that, oh boy!  I could go on, but I won't. Of course, I realize that she's trying to make a living. Yeah, me too. lol
I admire people who have the ability to paint and paint well immensely.
And, while I can appreciate many styles of art, I adore old art masterpieces.
You know, painted by those geniuses (I'll refrain from calling them dudes this time) mainly from the 17th, 18th, and 19th centuries– Dutch, Flemish, Italian, English, and French. Of course, there were fine painters in the U.S. and many other countries too.
You know, I was thinking of doing another post about Gerald Bland (Gerald Sublime) and "how to get the look."
But, then I realized that to get the Gerald Bland look, it's about the following:
Exquisite classical architecture
White walls, accented with black or very dark gray, greenish doors
Natural fiber rugs
White slipcovers – Everything else in either olive, chartreuse, maybe a shot of blue upholstery. Otherwise, no pattern on the fabrics, except for the odd pillow.
Fine antiques
Some modern classics
gold accents
black accents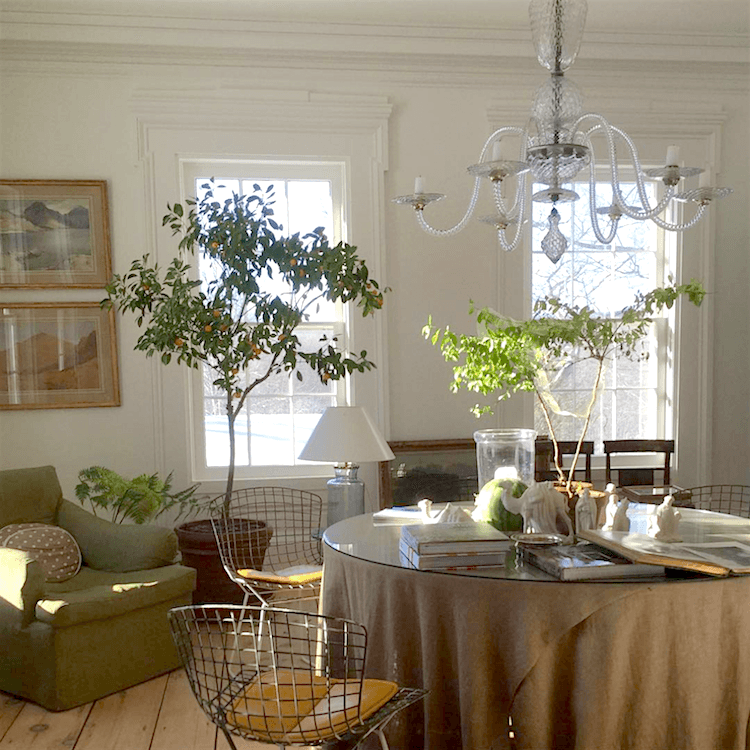 Glass accents, like this magnificent Murano glass chandelier. I saw some Murano beauties when I was in Venice nearly five years ago.
Below are some vintage chandeliers very similar to Gerald Bland's.

However, the star of every one of his interiors is his phenomenal collection of Art Masterpieces  –
So, I went hunting for some on the Internet.
You can find some glorious pieces on First Dibs and Chairish, and sometimes on eBay and Etsy. But, with antiquity and skill comes a hefty price tag.
Below is a widget with some beauties I found.

Here is where I need to stop for a second because some of you have educated me over the years. Or reminded me of your favorite places to shop for art. (especially cheap art)
One is the many fabulous online auction houses. You can get some incredible deals– if you're lucky and every knowledgable bidder is out on their yacht the day the item comes up for bidding. lol
I do love Live Auctioneers, however, and they have thousands of art masterpieces.
And, then, there's Facebook Marketplace. That's a terrific source for cheap everything.
I have to say it's a lot of fun to look there, too.
There are local artists, local auctions, flea markets, fairs, thrift stores, tag/garage/yard sales, and student artists.
If you're the fantastically talented Maura Endres, then you'll have your own resident artist to fill your walls with glorious art. Maura's daughter is a fantastic artist!
I better not forget adult artists. There are several fantastic sources in my Etsy Guide for affordable original art.
I think that most people become artists for the love of art, not so much the money.
However, a few do make a handsome living through their artistic endeavors, but the majority, no. That goes for musicians, dancers, actors, and those involved in the decorative arts like painting. Should it be that way? Well, I don't think so, but I don't make the rules.
Okay, this is bringing me to an idea I've been mulling around for quite a while. And, it relates to my new apartment that's had to take a back seat recently.
I have a lot of empty walls in my new place.
And, some small walls, too.
Plus, I have an expensive and particular taste in art. haha.
I mean, if I could find a student who could paint the way I want, I'd gladly pay them. But, I don't know if there are too many 20-year-olds-painting in the Baroque style of the 17th-century Italians.
So, I came up with a new idea. And, I want to run it past you in case anyone can provide some additional information. This is actually a continuation of what I touched on in the chartreuse post from last Wednesday.
I really would love to have some giant 17th-century-type paintings flanking my fireplace. Forget what's currently there.
Something like this.
And, yes, that would include a new fireplace mantel.
I swiped that one from William McLure's home. (well, one of them)
William's mantel is perfect! We looked at it here as well as some other wonderful mantels.
But, getting back to the art. Based on the other fine art masterpieces I've found, I know that these two pieces in Gerald Bland's shop are way out of my price range.
However, I still want two large art masterpieces.
Okay, yes, there are the companies like 1st Art who did my Melchior de Hondecoeter. I remember when they created that painting for me. The first go-around was pretty awful. It looked like a child had done it, and I told them, no thank you and I wanted my money back. But, the guy was so insistent on me giving them another chance. And, if I still didn't like it, he would then give me a refund.
This time, the painting looked exactly like the photo, and I was happy.
Now, 1st Art does have numerous old master paintings in their library.
Also, they'll paint ANYTHING you like. If you go that route, I suggest giving them the highest res image you can find. I would most likely not use their image unless you want a blurry-looking painting. Also, if the image needs color correcting, you can do that, and then they'll be able to use those colors.
Their stand sizes go up to 48″ x 72″. And while you can get an even bigger painting, the price goes up dramatically by adding only a few inches. 48 x 72 is about the smallest I would like. For my two fireplace walls, my ideal size is about 50″ x 80″. Actually, Bland's Jan Van Os paintings are 50″ x 98″. My available wall space is about nine feet (108″) So, those paintings would work.
However, I have another idea. And, if I could pull it off, I think it could be really cool as well as super cheap.
Okay, one of my favorite posts about cheap art touched on this idea. The post is about getting super cool art for free or almost free.
Oh, by golly gee. That post was from March 18, 2020. Aside from the cheap art, it's a good read to look back at the beginning of the pandemic, one year ago.
However, in the post (the link is above) are also some great sources for free, high-resolution art.
But, here's the thing. The res isn't high enough for the size art I am wanting.
However, I researched it, and there is software available to take care of that issue. In other words, you can print something ten times bigger than it's capable of without the image getting blurry or pixelated. How cool is that! Of course, you can also probably pay to get this done.
And then, of course, printed.
The thing is, I don't know how much the printing is going to cost. Oh, and ideally, the printing should be on canvas.
Some places will do that too. Oh, I found one, and they will stretch your canvas, as well!
Now, I, you, we, could stop right there and hang our gorgeous art masterpiece print. That is unless you wish to have it framed. That is going to be super expensive, however.
Alas, it's going to look like a print, most likely. But, maybe if the source does a good job, it'll be an awesome print.
However, you can paint on the canvas. I did google all of this, and there are many articles and tutorials on this topic.
It's also possible to go over the image with actual paint. I would probably use acrylic since it dries so much faster, and the clean-up is easier too. Now, would I go over the entire 4-foot by 7-foot piece of art, times two? Well, nice idea, but I only see myself painting areas that look a little fuzzy or that I want to hi-light a little.
What I think would be a good idea unless one has experience is to have a couple of smaller prints made and stretched to experiment on. In fact, maybe do that first.
The gel medium or varnish alone might be enough to look at an actual painting.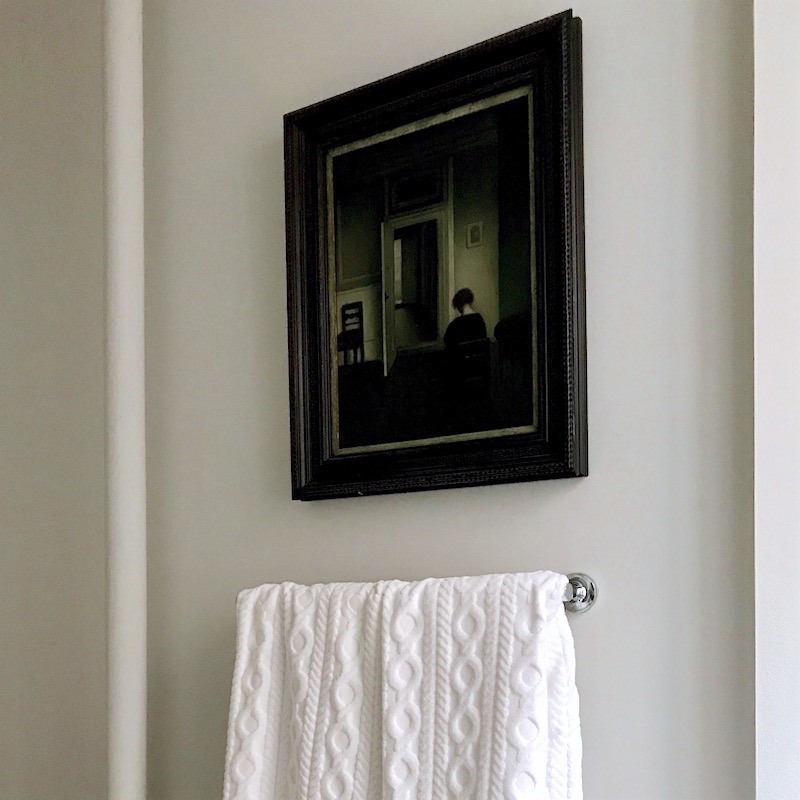 It's possible that my "Holsøe" was created in that manner. That's my old bathroom.  For more about Carl Vilhelm Holsøe, please see this beautiful post about transom windows.
I will finish off with a Baroque Italian artist, Marco Ricci who I discovered the other day.
I wasted spent too much time looking for his most beautiful paintings. His work is amazing!
Metropolitan Museum
This is the first painting I found by Marco Ricci. I love that it has an almost paint by numbers look. It doesn't look like the typical Baroque painting to me. Actually, this one, I believe, is gouache paint. The leaves look like watercolor, but maybe he thinned down the gouache. This is one of their free downloads.
A_River_Landscape_with_a_Figure,_by_Marco_Ricci,_1710s,_oil_on_canvas_-_Blanton_Museum_of_Art_-_Austin,_Texas
Marco_ricci,_campagna_romana_con_rovine_e_un_laghetto
Marco_Ricci_(Belluno_1676-Venice_1730)_-_Landscape_with_a_Woman_and_Child_-_RCIN_406989_-_Royal_Collection

And, this one's a detail that would make a beautiful composition for a vertical landscape.
Below is a piece by Giuseppe Zais is an 18th-century artist who paints in a similar style.
Giuseppe Zais Landscape with a Ruined Tower
probably 1760-80
Oil on canvas, 70.2 x 95.9 cm
Bequeathed by the Misses Cohen as part of the John Samuel Collection, 1906
And, here is a vertical detail from that image.
Hope you enjoyed my idea for turning an inexpensive digital art print into an art masterpiece. Please remember that these old paintings are part of the public domain. But, of course, you'd be using them for your personal use.
For more great sources for digital art, please go back to this post to check them out.
You might also enjoy, "I want that "old money art" but not a crappy art print."
xo,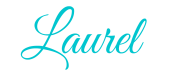 Please check out the newly updated HOT SALES!