Last Sunday's post sparked an idea that I hope that you'll like.
I know that a lot of you love the beautiful designer fabrics that us designers use for our beautiful throw pillows and of course, other soft furnishings and upholstery.
And this relates to my next idea.
There has been a lot of talk recently about the change in the field of interior design and decor.
And there's going to be more discussion about this, a few posts from now.
However, these changes aren't anything new.
I remember circa 2006 was when the shift really started taking hold.
That was the time when all of the exclusive "to-the-trade only" home furnishings, including the beautiful designer fabrics were no longer exclusive.
Internet retail shops selling designer fabrics and furniture  began popping up like zits on your nose the morning of your senior prom.
And let me tell you, that at first, us interior design folk were frantically freaking out like a bunch of hungry, hyper gnats caught in a glass jar with no chance of escape.
But, after a while, we adapted and accepted that the way things are is not the way they were.
Some 12 years later, about 90% of the once exclusively to the interior design trade home furnishings are now available to everyone.
Quite frankly, it doesn't bother me all that much. And it's not only because I'm not taking on new clients any longer.
It's because being an interior designer/decorator is so much more than having access to designer fabrics!
I love my brain surgeon analogy.
One can go out and buy a set of surgical equipment, but that doesn't mean they know how to use the instruments!
And it's the same with the expensive designer fabrics and furnishings.
When I began my interior design business in 1996, over the years, I made more mistakes with fabrics than there are days in a month. (Read about the hideous decorating mistakes I learned the hard way)
The reality is that the interior decorating business is fraught with more pitfalls than there are explosive landmines in Bosnia.
What I'm driving at is that while these beautiful designer fabrics are available, I still recommend working with a professional designer. Believe me, you will almost definitely do something regretful.
After all, you don't know, what you don't know. ;] And what you don't know is going to cost big bucks to fix.
For instance, one common mistake is not ordering enough fabric because you don't realize that a 36″ half drop repeat means you'll need more yardage.
Then, you get the call from the workroom, that they need more fabric; their quote is for plain fabric. You put in a new order for more of the same, only to find out that the $165.00/yd designer fabric is discontinued.
uh, oh…
Or the classic mistake– ordering double the amount of wallpaper because the roll size was confusing. And wallpaper is never returnable, even if the roll has never been open.
And that's a minute fraction of what can go wrong. Those mistakes will cost you money. I can guarantee it!
Who out there has made a mistake when ordering fabric for window treatments or upholstery?
Laurel, you keep mentioning the term "designer fabrics." What do you mean by that? What is the difference between a designer fabric and say a fabric I would buy to make a dress?
That's a very good question.
The designer fabrics, are fabrics that were once (and some still are) completely exclusive to the design trade. And most of them are exclusive to the company they are manufactured for. These fabrics may or may not be hand-screened if they are prints and are generally produced on a very fine cloth.
And the finest printed cloths are hand-blocked. (the link is to an old post with a lame attempt to video myself.)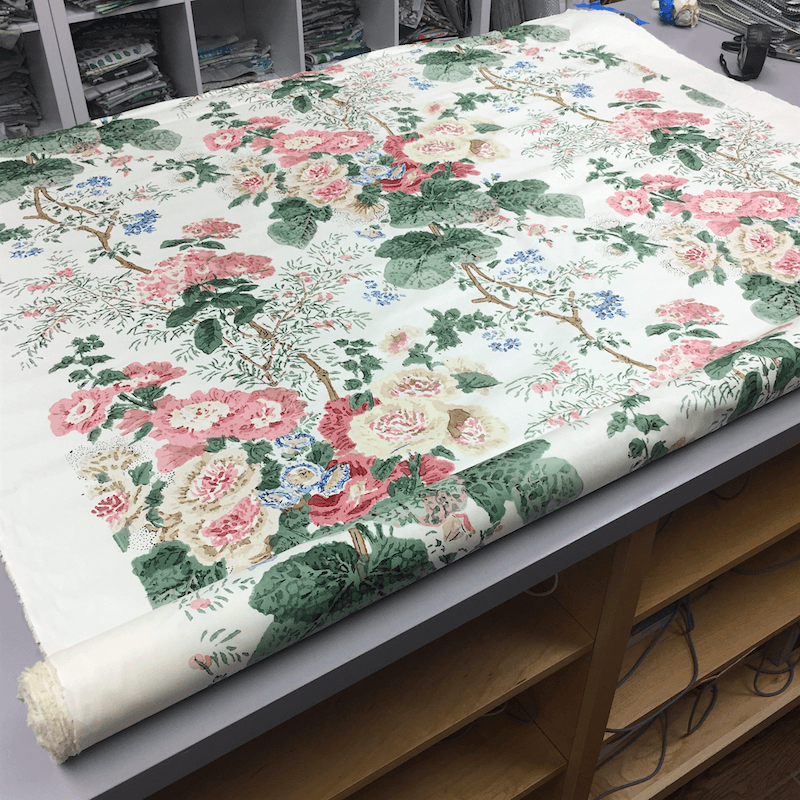 The iconic Hollyhock pattern from Lee Jofa. And this is the mucho bucks hand-blocked version. It's a total work of art. Please note that it is only 47″ wide, not the standard 54″ for designer fabrics.
This looks to be some extra yardage left over at a workroom. It's almost 7 yards and it's listed for only $650 at Chairish. That is about 50% BELOW the wholesale price. I promise you, it is going to be sold by the end of the day today. That is the steal of the week! The retail price is $396.00/yd!
Yes, I'm aware that the top link under the image says that the retail price is $643.10. I have no idea where they get that number.  Below, is a screenshot of my insider design price list.
Whatevs. The actual sale prices at Decorator's Best are very good.
OH!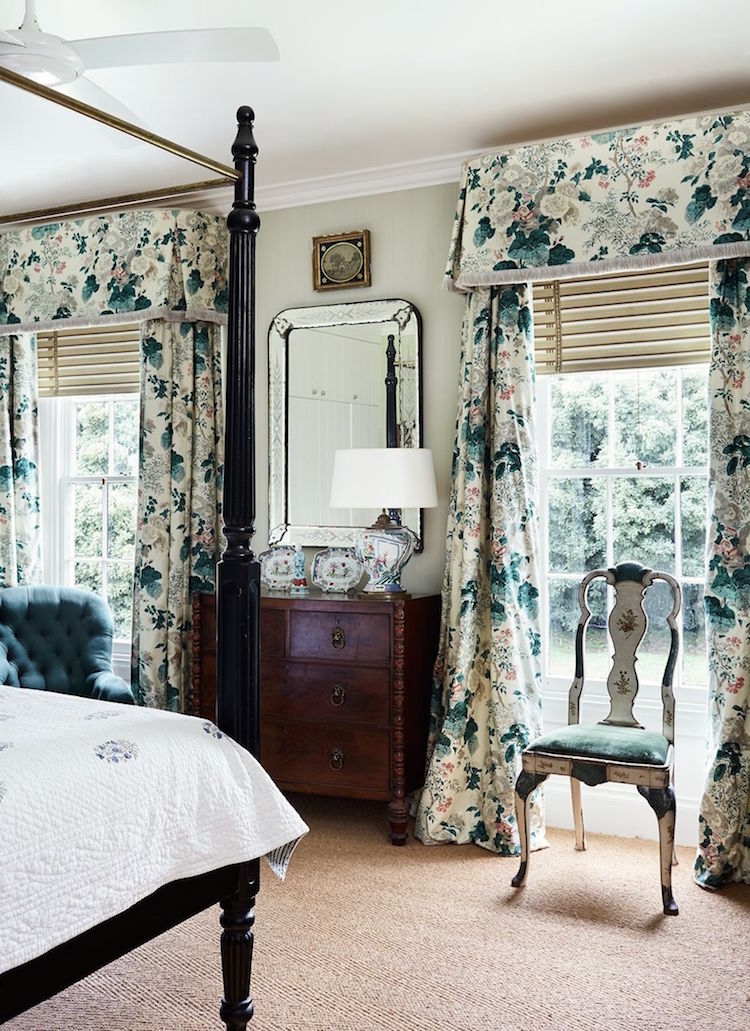 You might remember this image from Sunday's post. This looks to be the Hollyhock in the white brown colorway. The image in the link is a little off-color.
It should look more like this.
This Hollyhock is the granddaddy of iconic designer fabrics and as timeless as they come. My old boss back in the mid-90s, had this fabric in her shop, in Bedford, NY on two slipper chairs and a big Roman Shade. I must say that I enjoyed looking at it a lot for four years!
Some of the designer fabrics are "open patterns." These are not exclusively licensed to only one company and are available through numerous sources. These are less expensive than the exclusive designer fabrics.
Woven designer fabrics are usually exclusive to their company.
The finest ones, such as the ones produced at the Bevilacqua factory in Venice are laboriously hand-loomed of the finest threads. You can see the tiny factory and how the fabrics are laboriously hand-loomed from my 2016 trip to Venice.
Designer fabrics are usually wider than dress fabric. Most are about 54″ wide. But please, always check that one before ordering. I made that mistake once too. It's a horrible feeling to be caught short.
What are the best companies for designer fabrics? Below is a list of some of my favorite sources.
Brunschwig and Fils
Clarence House
Cowtan and Tout
Duralee
Galbraith and Paul
John Rosselli – (numerous lines – just gorgeous!)
Lee Jofa (which in the US includes GP & J Baker, Mulberry and Cole and Sons (wallpaper))
Quadrille (including China Seas, Home Couture, Alan Campbell)
Ralph Lauren
Scalamandre
Schumacher
Thibaut
These and dozens more are all in Laurel's Rolodex.
Today, I've done a few things to share fabrics and sources.
First I made a widget of some 30 of my favorite iconic designer fabrics.
Below that, there's a widget with many of my favorite pillows.
***There are also more pillows and much more info about sizes and inserts here.***
This brings us full circle because all of the designer fabrics are available to anyone, whether one is in the trade or not. These are all at very good retail prices and almost all are from Decorator's Best. For people in the trade, I recommend purchasing the fabrics directly from the vendor.

Below are the pillows. :] Some of them are in the same fabrics as above which helps you see the scale. Please note that all of the pillows from Etsy are for pillow covers only.

And if you're interested in seeing some of the projects I talked about in the post, most of the related posts below have those fabrics in rooms that I did.
Well, they say that we are having yet another storm. Down in lower Westchester that's more densely populated, we were spared power outages. But in northern Westchester County where I used to live, I've talked to people who still don't have power.
And now another storm is bearing down on us.
Let's hope that this one isn't as windy as last week's deadly storm.
xo,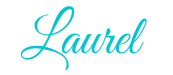 Please don't forget to check out the hot sales. The Serena and Lily upholstery 20% off sale is still on as well as other wonderful sales.