Laurel, what you do you mean the death of One Kings Lane? Aren't you the one who's always hawking their goods, singing their praises on a weekly basis?
Yes, I definitely am! I have loved the One Kings Lane home furnishings website since its humble beginnings in 2009. Oh, and just so you know. One Kings Lane is NOT sponsoring this post; at least not directly. However, the post IS crammed with affiliate links, so if you should happen to purchase something after clicking on the links, I will most likely earn a commission at no extra charge to you.
Back to your question: Did One King's Lane actually die? Effectively, yes, but I will explain how it was brought back from the brink and currently thriving.
The online shopping site was started by entrepreneurs Alison Pincus and Susan Feldman.
And, bravely so, in the middle of a deep recession. But, it was a perfect business model for the time with its popular flash sales. Remember those? You don't see them so much any longer. Brands, back then, were eager to sell, even at a loss, their fine home furnishings and the customers hungrily grabbed up the deals.
For the first five years, One Kings Lane grew like wildfire. And in January 2014, the valuation was up to over 800 million dollars!
However, just as quickly, the flash-sale model began to fail and its fall was a precipitous crash and burn until the doomed company was on life-support, teetering between life and death for much of 2015.
Fortunately, in June 2016 the home furnishings giant, Bed, Bath and Beyond swooped down and in bitter-sweet irony purchased One Kings Lane at the flash sale of all flash sales for a paltry 11.8 million dollars. I'd say that was a pretty good investment. Interestingly, BBB's stock has not been doing so well. I'm certainly no expert in investing, but it seems to me that this would be a good time to buy, if so inclined. This is only a hunch I have!
Admittedly, as a long-time loyal customer of One Kings Lane, both for myself and for clients, I was oblivious to all of these happenings.
however, I did notice that one day, the flash sales were no longer. Have to say that I rather liked that because I found the short time frame to be somewhat stressful. And/or they too frequently ran out of something I wanted minutes after it was posted. Very frustrating.
There was definitely a collective groan two years ago as it came to light that Bed, Bath and Beyond had made the purchase of One Kings Lane.
I suppose that most of us can't shake the decades-long image of BBB as well, how should we say, not exactly having the same panache as a One Kings Lane?
How on earth would they manage a brand that had become synonymous with luxury, style and those wonderful "taste maker tag sales."
Well, I have to say, pretty damned well.
As you guys know, I have promoted One Kings Lane to you ad nauseam – haha and here's why.
One, I love hanging out on their website; they make everything look its best
Two, their prices are usually very good and especially with their sales and promo code sales.
And
shhhh… Laurel's "private sale" (hehe) which is an errant promo code which nobody has noticed and/or bothered to fix and was supposed to have expired weeks ago. Try this code: OKL20CARD – for 20% off most items on the site but not everything.Okay, I have a freakin' condo meeting tonight and so, let me show you the beautiful new One Kings Lane store in New York City, located in SoHo at 143 Spring Street. I went there last week with the beautiful Lotte Meister. Remember her exquisite home we visited recently?
The new One Kings Lane store has taken up residence in a 200 year-old house and purported to be one of the oldest buildings in SoHo.
Let's look at a graphic I made of the exterior of the One Kings Lane store before and after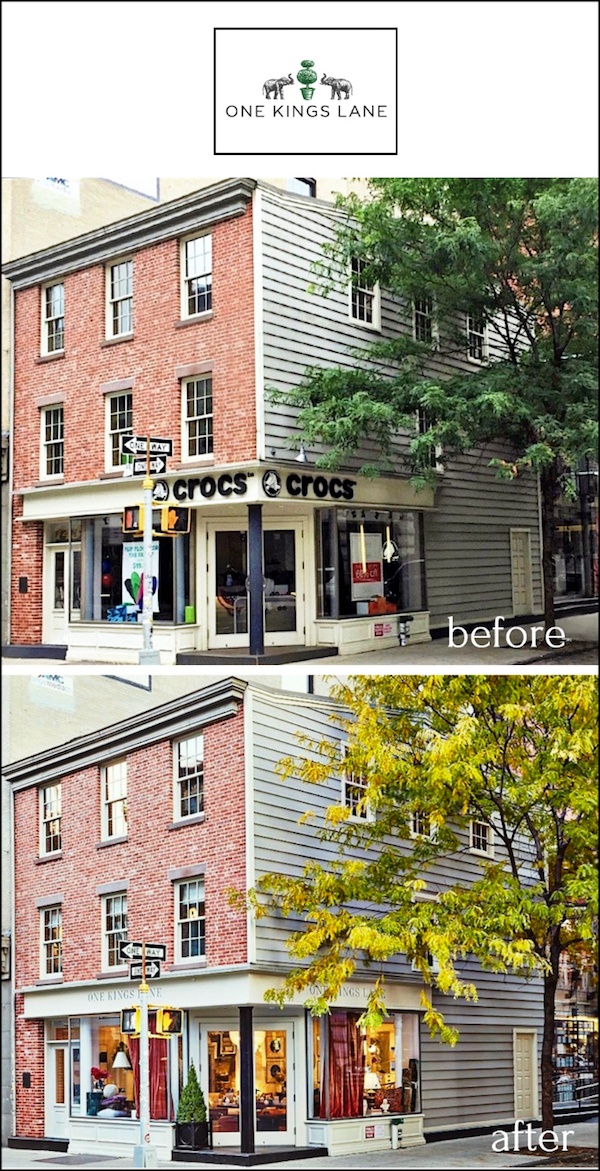 Nice job!
The images above and the two below are from One Kings Lane. The rest of the images are ones I took while there, last week, except for one or two, which I'll note under the image.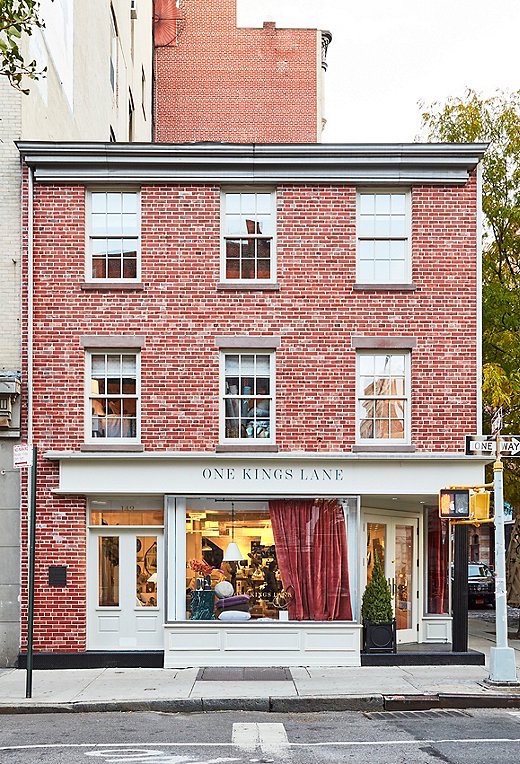 It's perfect!
Gorgeous Aerin Chandelier you can see over the round table as you walk in. Stunning and actually larger than it appears in photos. However, there's a smaller version which you can see here. It also comes in either white or clear beads and either silver or brass finish. Image via One Kings Lane website.
Happy customers looking at the beautiful items for sale at the One Kings Lane store, already decked out for Christmas.
Another beautiful chandelier which you can see in the One Kings Lane widget on the Hot Sales Page.
Oh, my, I've had this wonderful Christmas tree skirt on this page of my holiday shop since last year.
And I recognize the bottom print which I love.
This chair by Miles Talbot is soooo comfy and beautifully scaled.
Kara Mann coffee table (sold out) and lovely holiday decor
This is the new palette program which is quite cool. You pick a frame and then have a choice of fabric, but then you have numerous choices of color of the pattern and then there are three scales of the pattern to choose from as well! Below are some headboards that are part of this custom program at One Kings Lane.
Fun!
Tables are artfully filled with home accessories and gift ideas.
And more wonderful pendant lighting!
A warm dining area with another wonderful Visual Comfort chandelier. They aren't showing the brass version, but they do have it in white. I would probably do a dining table that's a little larger, but I love this idea with the banquette.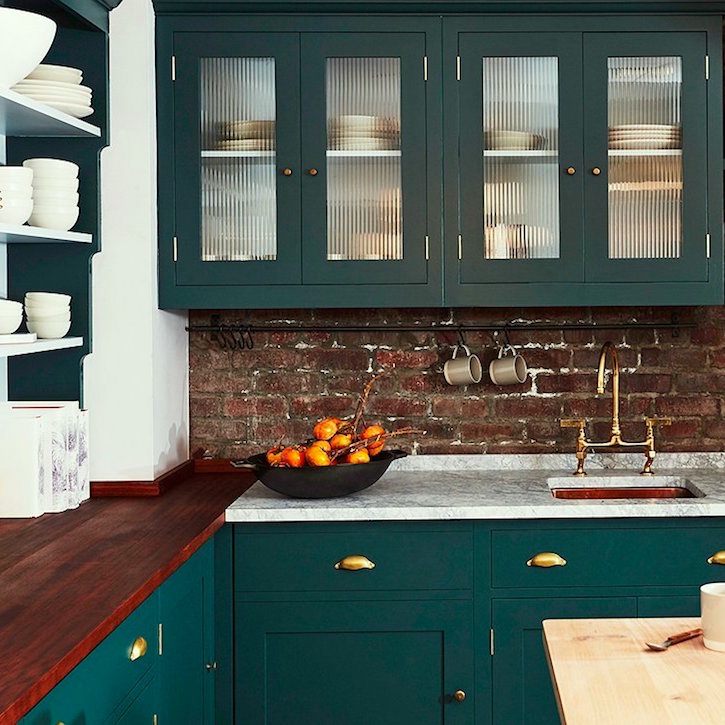 This image is from One Kings Lane. One way to strengthen a business is collaboration. And, One Kings Lane has partnered with Plain English Kitchen which also has a showroom in SoHo, NYC.
Ever since the recession of 2008, collaborations are the only way that some businesses in the home furnishings industry managed to stay in business.
But, these partnerships are a wonderful way to augment a brand with a related product that acts to enhance the other.
Wonderful Robin Bruce English Roll Arm club chairs.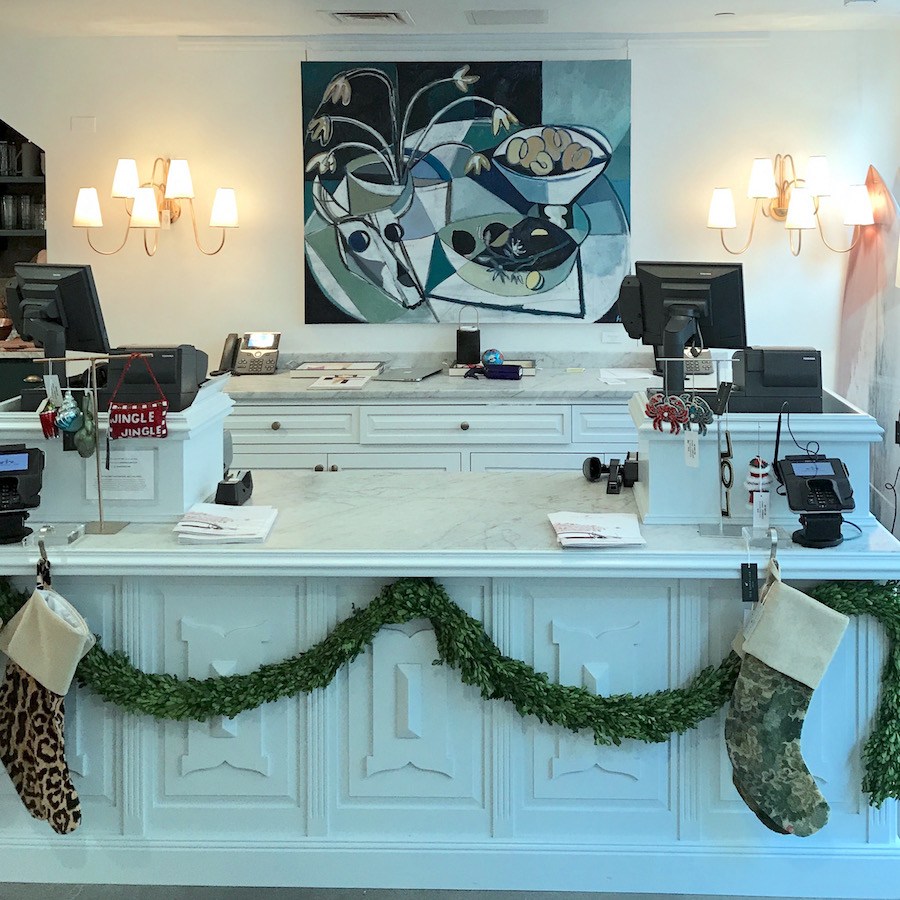 The cash-wrap area. Love the art and the large sconces. I couldn't find the art on the website or the sconces, but here's a link to the sconces on Circa Lighting.
In the back of the store is a small room where one can go for professional interior design services. To find out more about that, click here. Love the pendants from Visual Comfort. They do need a high ceiling, as you can see. I could see them in this kitchen. Or this kitchen.
Sample boards in the design center
Did you know that One Kings Lane has a line of paint? Me neither. But, apparently, they do. I don't know anything about it. The palette is very nice but more limited than in the Laurel Home Essential Paint Color Collection. However, many of the colors look very similar.
I love this shot looking back into the store from the design center. They did such a great job of creating a homey atmosphere; nothing overly flashy. And that's exactly what I would expect from them– a natural extension of the One Kings Lane Online Brand.
Standing in the background is a delightful young salesman named Sam. Lotte and I spent a while chatting with him.
Well, we're not done. Let's go up to the second floor of the new One Kings Lane store in SoHo, New York City.
Please notice the classic Hicks Pendants going up the stairs. This looks to be the small 12.75″ size.
Remember when we saw them here?
Above and below Matouk linens for One Kings Lane
Love the colors in this vignette from the One Kings Lane website.
More linens and pillows. This is a link for the sweater-weave basket. I love these! They always make me think of Mark D Sikes. The promo code works for this one. For more of my favorites, please check out the bed and bath pages, here.
Here's me on a gorgeous Robin Bruce curved sectional. I was so happy to be able to sit on the furniture. And yes, it's supremely comfortable. See how comfortable I look? haha.
This one's a pro shot of the same sofa.
I think that my colors are more accurate, however.
Tucked away in the back far corner is the most delightful child's room.
I tried to find this bed online, but came up short. It's possible that they've sold out already.
More Visual Comfort pendant lighting and another wonderful art wall.
For more terrific art pieces, click here
Or you can also check out the entire collection here.
In addition to this store, there's another gorgeous store in South Hampton on Long Island, NY.
I'm so glad that this brand of brands is doing so well. I'm sure that much of the credit goes to the talented president Debbie Propst. Remember when we got to see her gorgeous Connecticut home?
Okay, there is still a big sale going on, on One King's Lane,  however, it is ending tonight. AND, it's for 30% off. If an item is not on sale, please do try your promo code: OKL20CARD for 20% off. We'll have to see in the morning if that code still works for the items that are currently 30% off.
And in closing. It's Giving Tuesday. Well, you guys have given so much to me. I'm overwhelmed with gratitude because for most of my life, I had nothing to give away. But since I do, thanks to you, I'm happy to give back.
Remember last year about this time, I was sadly reporting about an imposter amongst us who had swindled a group of impoverished children belonging to the All Dorchester Sports League. They rely on donations to fund their after school enrichment activities.
These are children who desperately need a helping hand. Who knows? I fantasize that for some, this program will change their life in a profound way. I see them graduating college and maybe going on to get an advanced degree and then finding the cure for cancer or something of that magnitude.
It happens. Miracles happen every day.
And yes, I gave a generous amount, but it's only because well… you know "Raking It In Friday" (aka: Black Friday?) Well, I'm calling it that for a good reason! I can't tell you how grateful I am. I know that I said that before, but it's because I can't say it enough.
So, if you are looking for a way to give this Giving Tuesday, I encourage you to give any donation you can afford to these darling children. Please click the link here, to donate via a Go Fund Me page set up by Laurie Laizure.
And don't forget, the One Kings Lane 30% off sale is ending tonight and so is the Serena and Lily 25% off sale. Both are two of my favorite online shopping sites. It's not often that they put so much of their sites on sale and for that amount off the regular price.
xo,