In the past year or so, I've gotten dozens of requests to do sponsored posts.
I always say, "no." (Except for Metrie Mouldings)
Why do I say no?
I say no because
the product is not one that you guys would be interested in
it's tacky or weird
I wouldn't use or endorse it.
If I endorse a product, it's because it's really great, not a piece of dreck.
A few days ago, yet another offer for a sponsored post arrived in my in-box.
Something called MY PAINT SAINT.
Uh huh… Yawn… I started looking at it and yawn… quickly turned into HOLY CRAP THAT'S FANTASTIC!!!
So, in a rare move, I said, Yes, I would do the sponsored post! Because this is a wonderful product and something you need to know about.
It's the paint tip of all paint tips!!!
If you've ever had to touch up your paint, you know how it goes…
Your mother (or M-I-L) is coming in an hour. The house is presentable (well, at least you think so)— but she is going to notice those scuff marks in the entry.
She is.
Quick! Go search for the old paint can which hopefully hubs didn't throw out and try to find a clean, useable brush…
Shite! You find the old paint which has been sitting on the shelf for three years. It's now beyond gross and ewww… the brushes are unusable. Damn… I thought I cleaned them!?!
The brushes never get clean.
They don't. I don't know why they don't, but they don't.
[please click the white P to pin this graphic to your pinterest boards.]
Yes, folks. This is my very own three-year-old-gallon-can of Benjamin Moore Regal Select Matte formulation, Pale Avocado and some brushes. Geeezzz. How embarrassing! They are especially grody! Probably, I thought I was going to come back to something, but in the cabinet they went and didn't come back out, after-all.
There has to be a better way!
And now, there is!
Entrepreneur and house painter Mark Lacy worked as the head of maintenance for a prestigious hotel when he was in college. He was immensely frustrated every time he had to do paint touch-ups.
After spending considerable time developing and perfecting his product, he introduced My Paint Saint last year. Since then, the word is getting out fast and furious what a fantastic product this is!
HERE'S THE SKINNY
My Paint Saint is a unique jar that contains a high-quality paint brush that stays in the jar.
Uh huh… it STAYS in the jar!
The jar holds a couple of cups of your left-over paint.
Now, here's where it gets really good.
Since the brush stays in the jar, you never have to clean the brush!
Oh man! They made this for me!
The two lips inside the jar allow one to take the excess paint off the brush.
The ring screws on over the paint brush to make an air-tight seal when you are finished.
But, while in use, the ring screws onto the bottom of the jar.
How clever is that?
This and the permanent brush is what sets it apart from simply pouring some left-over paint into a jar. You could do that but you still won't have the air-tight seal that won't get gunky. And then there's the brush issue.
Touch-ups are a breeze with My Paint Saint.
It is ready to go every time you need to touch up
The paint stays fresh for years and the brush stays soft as well.
AND YOU NEVER HAVE TO CLEAN IT! (I can't say that enough, because they had me right there!)
you don't have to kill yourself prying open a gloppy can of paint.
OR go to the store to get another quart of the paint, only to find out that it doesn't match. aaarrggghhh!
You can even do a small paint project with My Paint Saint.
My Paint Saint is compact and easy to store.
The back has a place to label your color with a Sharpie.
A short video about My Paint Saint
Where can I get this Laurel?
I recommend purchasing it on Amazon because then you can read all of the amazing reviews!

And if you buy in large bulk, the price goes down, but they aren't expensive to begin with.
My Paint Saint would make a wonderful Father's day gift!
You're in good time for June 19th.

And if you'd like to really make it a sweet gift, include The Laurel Home Essential Paint Collection. You can send the paint collection as a gift and time it to arrive whenever you would like.
See you Sunday! (I have a wicked post planned!)
xo,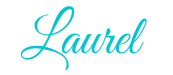 Save
Save
Save