Dear Laurel,
Your post the other day about the Historical Home Renovation– the Georgian home inspired me to write to you. We have the real thing in England!
But the Georgian architecture in our home is driving me mad!
Well, actually, right now, it's only one room.
The master bedroom.
But before I get into it, I need to say that our home is the combination of two flats that were inhabited by college students for umpteen years.

Need I say more?

Are you beginning to feel my pain, Laurel?
Here's the real problem with our bedroom.
It is over 20 feet long and only 10 feet wide. This means that the only place we can put our King bed is where I stupidly reinstated a fireplace without thinking clearly about furniture placement.

Here is the new fireplace and the bed, but it really doesn't work to have the bed on the wall it's on.
I know. Please be kind. I know that I'm an idiot for not thinking this through carefully,
And now I realize that it was a huge mistake. HUGE! So the fireplace needs to be ripped out. And all the electrics are in the wrong place.
But the bed looks great against the back wall and my dressing table and big rococo mirror look lovely as you walk into the room.

The problem is…
Even though I've bought the world's smallest bedside tables and pretty little antique lamp stands, they still stick out over the little Georgian cupboards. You have to understand that I will literally be thrown into jail if I pull them out!
They're listed and the UK is pretty serious about protecting it's heritage.
So my question to you is what gives?
Should I downsize to a double bed and put up with my husband elbowing me in the head at night to fit everything in?
Should I use the cupboards as bedside tables, and accept that means having to get out of bed to reach my water in the middle of the night.
Or should I 'lose' the cupboards by painting them the same colour as the walls or put a pretty folding screen behind the bedside tables? (I've put some wood there for now to see what it looks like – not sure it will work when the bed's right up against the wall).
Whatever I do has huge implications for electrics and I really can't afford to move the plugs round a third time if I mess up again! Any help on how to make this architecture work, and what to do with the empty alcoves and all the empty wall space, is most appreciated.
Thanks,
Kathryn
Dear Kathryn,
Thanks. I seriously hate you! lol
I mean, that is some gorgeous home! And I adore the blue walls, the high ceilings, the old floor boards and that wonderful bed!
When, you asked the question, what gives, I thought– indeed. What gives?
Look. I'm all for preserving beautiful architecture and always seek to maintain the integrity of how a historical home is meant to be.
So, here's my take.
First of all, the home was ransacked by 20-year-olds for how long? At some point the fireplace was pilfered. Where was the UK Heritage Police then?
But graciously the fireplace has been restored– all in good faith.
Now, you realize that the bed needs to be on the fireplace wall and I agree. But don't beat yourself up. It happens. And sometimes us designers make mistakes too.
However, the architecture as intended has already been altered and having cupboards and niches makes absolutely no sense, flanking a king-size bed.
Are you sure that the cupboards are original to this historical home?
I say that because:
They're not that special. At least, not that I can see from the photos.
There's nothing above them in terms of cabinetry or shelves, which is quite odd.
They are unusually narrow. There's a wide area for the fireplace with two little-not-very-special cabinets. Then, two skinny very tall niches.
Awkward.
If it's frowned upon to alter the original, it would appear that has already happened. I base that on everything I know about Georgian architecture and then an extensive search to find anything even remotely looking like what you have.
Let's take a look at what one would expect to see in Georgian Architecture which spans most of the 18th century into the first third of the 19th century.

This Georgian room and the next two are from the wonderful Jamb website that specializes in antique and antique reproduction fireplace mantels.
Yummy!
No built-in cupboards whatsoever.
A wonderful collected room by Ben Pentreath
Gorgeous blog post and a wonderful example of a Georgian Home. Please note that the cupboard is perfectly integrated with the mantel. This is what I typically expect a Georgian cupboard to look like.
The one above is obviously modern, but at least more what I would expect to see in a classic Georgian interior if there was a bookcase above the cabinets.
I did not find anything remotely like what Kathryn believes is something not to be tampered with.
The closest that I found is this beauty. Albeit, more rustic, but the elements are  integrated and obviously original.
Kathryn's  room was originally a living room but now it's a bedroom and that is fine.
The cupboards are meant to flank a fireplace that no longer exists. At the very least, there should be shelves or something above them.
It would be horrible to have to reach behind to get a glass of water, or anything for that matter. Not only that, it would look weird. It is far better to be elbowed by husband. But that's not a viable option either. :]
And the small night tables and little lamps don't look right either.
Therefore, in lieu of direct orders from her majesty, The Queen, I hereby grant Kathryn kind permission to remove said cabinets.
I would absolutely, definitely, positively take out the cupboards and then fill the entire thing in with dry wall.
I would maybe set the new walls back 2 or 3 inches so that the beautiful ceiling detail can be maintained. I'm not 100% sure about that because I can't see exactly what's going on.
This room is now going to be a bedroom and because of its dimensions, the bed needs to live on this wall. There is not enough room on the opposite wall because of the door to enter the bedroom.
The bed will need to live on the current fireplace wall until someone 80 years from now, decides to break it up and make it student housing again. haha.
In front of the new wall will go two beautiful night tables or small chests with two gorgeous lamps.
This is the idea. I would probably do a more simple mirror, although I love this one. (I own one!) Then, I would put the beautiful painting over the bed.
Kathryn told me more later on…
The home is FOUR STORIES! Yowza! and there are already ten other fireplaces! And that is the other reason why it's fine to lose this fireplace— and vestigial cupboards.
Here's one of the fireplaces. How lovely!!!
Back to the bedroom.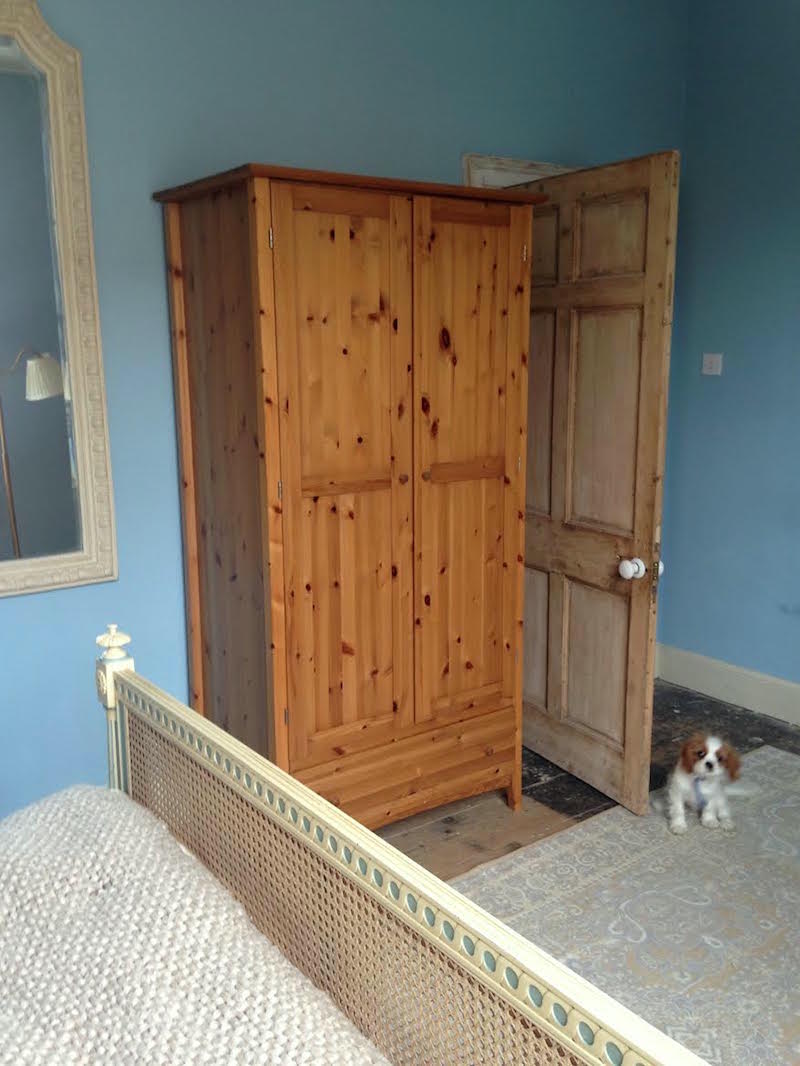 I received another email (because I needed to see more photos) that Kathryn wants to find another armoire, but one that matches the bed and dressing table.
Before I go on. LOVE the stripped down original door, but it should really be opening up on the other side so that it rests against the wall, not into a piece of furniture!
The armoire isn't working in here, but Kathryn knows this. It could be a wood piece, like the French Rocaille armoire below.
But I think it would be interesting to get away from the 100% French style. I'm thinking it should have an antique painted finish and maybe with a painted design.
Here are some ideas I have for the armoire. Kathryn's current armoire could even be painted by her or a decorative artist.

Couldn't find the source and am not sure what country this is from. Maybe Sweden or Denmark. just guessing. One option would be to do something in a dark antique color with a painted design on it.

Here's another pretty piece.
I love this Chinoiserie design. This isn't an armoire, but I love the idea.
The shutters still need to be painted and I think that they should be the same as the wall color. Ditto on the baseboard and maybe even the crown moulding. There's too much of the cream, It's not a crucial thing. But I think it's getting to be too much.
It is fine to mix whites and creams and far more interesting than making them all be one color.
This is Katharine's charming dressing table, chair with toile fabric and matching mirror. While individually, these pieces are all wonderful, it's beginning to be a little too much like a matched set.
I would love to see the mirror in an antique gilt finish.
Something like this. Gold looks amazing with blue walls.
Today, Kathryn sent me a photo of her newly renovated kitchen.

Damn. Now I REALLY hate her! haha!
She didn't say but it looks like a DeVol Kitchen. Just fabulous.
xo,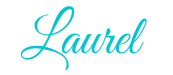 PS: Hey guys. It is Sunday morning and I am at the airport after visiting my 94-yr-old mom in Wisconsin who's in a nursing home. Just a little raw today, is all… blessings.
Save