Dear Laurel,
I've been totally crushing on all of your hot sales and holiday shop. It's inspired me to fix up our home a little better.
One area that I think would be a fairly easy fix is the entry. I was thinking of maybe a small chest with a mirror over it and a lamp and a few accessories.
So, was in Home Depot with hubs the other day when I mentioned that I wanted to look at the mirrors because I wanted to get one for our entry. He made such a face and looked at me in that peculiar way that lets me know without him saying anything, exactly what he's thinking.
And it's never good.
"Wall Mirrors are all so tacky," said he.
I said, trying to be diplomatic in the face of his delusional idea.
"Well, I've seen some very nice mirrors on this blog that I read."
"Oh, that Lauren girl?" (more faces)
"uh… Her name is Laurel and she's old enough to be our mother, so hardly a girl."
"Whatever, she's a decorator and we can't afford whatever it is she's peddling. The entry is fine as is. The kids are only going to trash it, anyway."
Well, Laurel, Curmudgeons R US! I let it go because I could see that I wasn't going to get anywhere. Are all husbands like this?

Thanks,
Suzi
Yes, the words are a complete fabrication but are based on a real comment from a lovely reader, Suzi.
Actually, this is her comment which I found after I wrote that.
Can you tell me what to say to my husband that thinks all wall mirrors look cheap and tacky???? I want to put one on a wall in our huge front entry, above a buffet. Then I would like the tall buffet lamps, but until I come up with a plan, nothing.
TACKY, he says? No, what's tacky is trying to put your lipstick on without a mirror! Yeesh!
Are all husbands like this?
haha!
Yes, Suzi; they are ALL like this. Didn't they teach you that in school? ;]
But you have to understand that they don't think the same way we do. (I have to remind myself of that too.)
The only difference is that some husbands are more of the "yes, Ma'am" type. And some are more controlling, even if there's nothing for them to control. :]
If he's worried about money, there are gorgeous wall mirrors EVERYWHERE and they don't have to break the bank.
Quite frankly, I'd just go ahead with your plans and get your beautiful wall mirror and style it the way you like.
I promise you.
He will not notice.
He'll say something like, "Oh, did you get your hair done?"
And then, even though you haven't washed it in five days, say:
"Yes, do you like it?"
And then make him my chocolate cake (the one that will make you plotz) you can get the recipe here
In fact, after he has a piece. (maybe two), you will be able to get whatever you like.
A spa weekend with your bestie
Tickets to the Ballet (without whining)
Trip to Paris
It's magic, that cake.
And then you will have your beautiful bright non tacky entry.
It is going to be a lot brighter.
It's the oldest trick in the book. (okay, maybe the second or third oldest) ;]
Mirrors reflect light, like crazy!
That's why our clever ancestors made candle sconces like these wonderful ones I'm lucky enough to own.
If it appeals to you, thrift shops, estate sales and consignment shops are great places to start for interesting wall mirrors.
But here are some things I look for.
Good proportions. And that can be relative to the space it's going in or it could be the frame to mirror ratio. Is there a rule? Well, in some cases, but there are so many variations. Let your eyes judge.
Finish. I love, love, love a gilt frame that has the richness and patina of time. Unfortunately, for most of us, that usually comes with a price.
But, I try not to get mirrors with fake sprayed on finishes. Or else get the ol' rub 'n buff
and maybe some shoe polish. No joke. I've used brown shoe polish to mimic age on pieces.
Let's look at some gorgeous wall mirrors.
I bet that Ben Pentreaths giga-gorgeous mantel mirror cost a pretty penny. But you never know. Maybe some misguided sod had thrown it into a dumpster and Ben rescued it from the landfill.
Somehow, I can't quite picture that, but it's a lot more interesting than he paid thousands of pounds for it at an antique dealer.
I so wanted to find a mirror like this. I had fantasies about having one over my bookcase in my entry.
And I found one.
Well, I found it, but it had been sold.
And, it sold for thousands of dollars– on 1stDibs. Sorry, I saved the image but forgot to save the vendor and now I can't find it.
Back in England, this lovely sitting room is from a home that we visited last month. And yes, that's my little head in the mirror.
It belongs to this gorgeous entrance which you guys saw in this post.
This fireplace with mirror above it is from the sitting room of the illustrious English architect, Quinlan Terry.   We saw his charming office in Winchester. Quinlan won my heart by telling our group that the way he approached classical architecture was to copy what was already done. No need to reinvent the golden mean. He didn't say that; I did.
There were parts of his amazing home that reminded me so much of Furlow Gatewood that I asked the gentleman if he knew of Furlow.
He, said with the most charming grin how "provincial" they all are and no, he had not heard of Mr. Gatewood.
Well, I don't know about provincial, but Furlow is of the more esoteric variety, even though he's certainly a superstar.
And Furlow Gatewood uses wall mirrors in the most sublime way!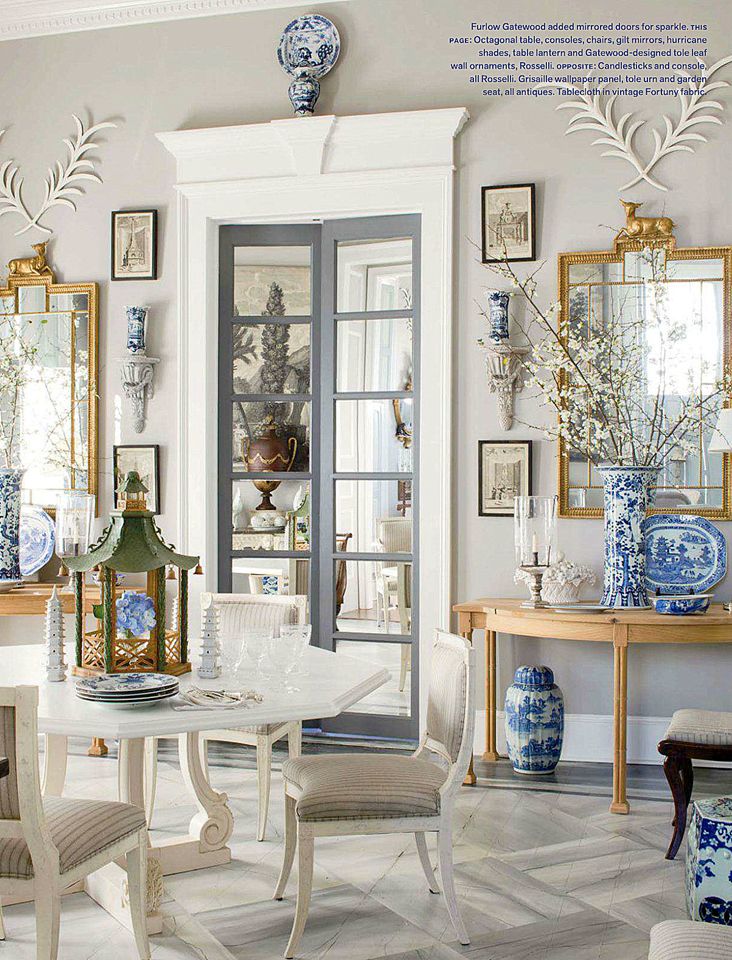 His vignettes are so magnificent. And I adore those mirrored French doors!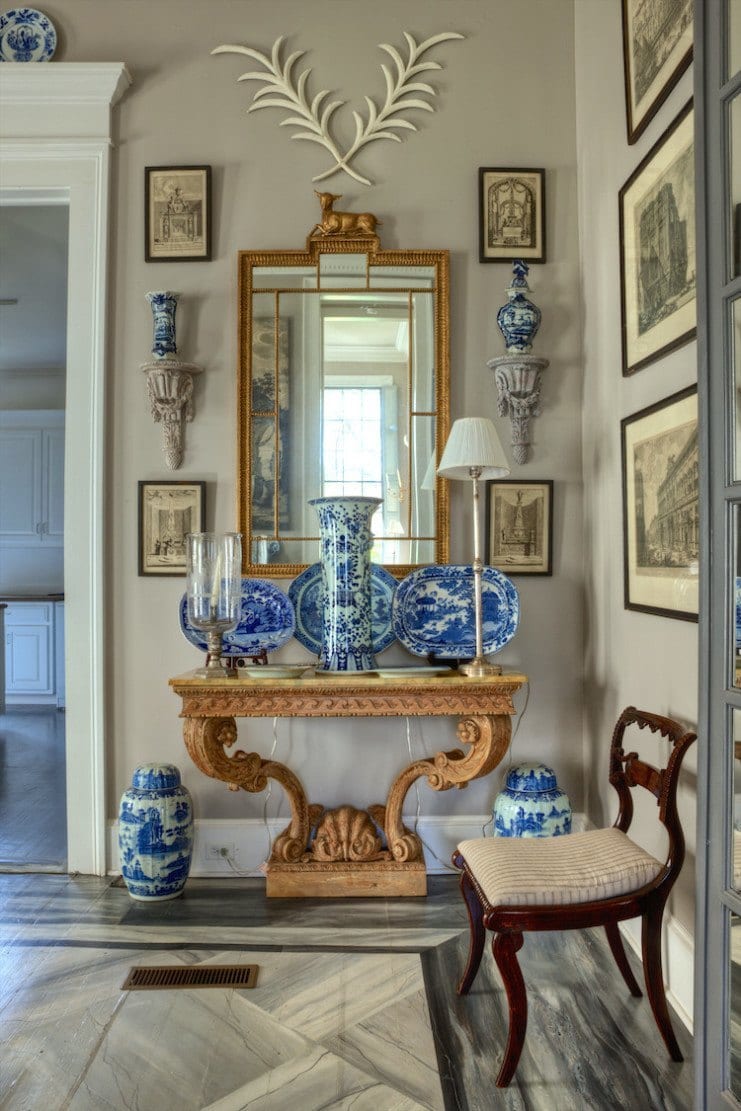 Image Rod Collins
But wait. Is this not the same mirror?
Well, it certainly looks to be the same mirror.
This one was sold at Wisteria. (no longer available)
I dunno. Could be wrong, but I don't think that Furlow shops at Wisteria. :]
Not that there's anything wrong with Wisteria. I love them! But I doubt that he buys retail.
And I doubt that Furlow's mirrors are new since he's quite the antiquarian.
Most likely Wisteria ripped off copied the design.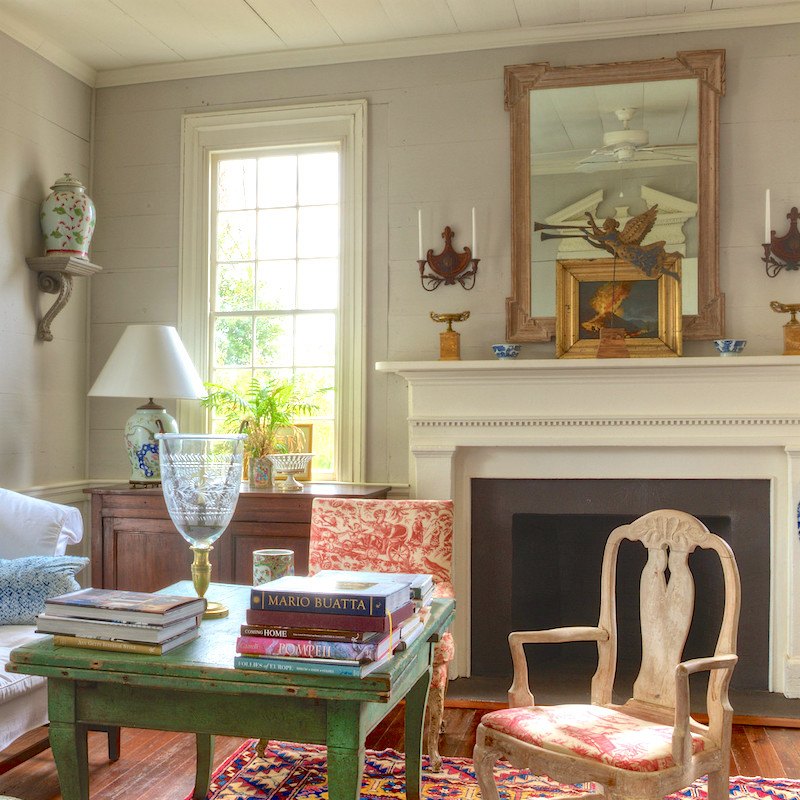 Image: Rod Collins
Another gorgeous sitting room by Furlow Gatewood. (link to his wonderful book)
Hey, another one? Maybe Furlow does shop at Wisteria, for again that is where I found this beauty. (no longer available)
But, actually, no; Mr. Gatewood did not get his mirror there. This has only been in their line maybe a couple of years at the most. And I'm sure that Furlow has had his mirror far longer than that.
Obviously, someone over at Wisteria has heard of Furlow Gatewood! And they have great taste!
Here is the mirror in a holiday shot.
Speaking of gifts. Have you seen my new holiday shop page?  It's full of trees, ornaments, decorations, gifts and a lovely Hanukkah shop too.
Most designers use wall mirrors in their work, but perhaps none better than Suzanne Kasler (below)
I love how she layered and incorporated a screen in this delightful vignette from her own home.
Above we have a gorgeous trumeau mirror. This image and the two below are from the talented young designer and shop owner in New Orleans, Rivers Spencer. Some of you might recall a post I did on her about two years ago.
I always say this, because it's that important. But lamps in front of mirrors are the most amazing thing. These images are from her shop which is why there's plastic on the shade. :]
Elegant mirror that I would say is in the style of Robert Adam. I am not sure if this one is from that period or not, but it does appear to be old.
This is a more typical mirror in the Adam style that I found. And a fine example, it is. It was sold through Millhouse Antiques. For more about Robert Adam, please click here and here. (there you will see a different Robert Adam as well.)
And closing the examples with a chic, urbane living room by Rita Konig.
Below is a widget filled with mirrors in many styles from different sources. Some are new and some are vintage and a few might be antiques. Many of them are under or around $200! None of them are hellishly expensive.
There is an * next to the pieces that are vintage or antique. The rest of the mirrors are new.

And, please check out the new Holiday Shop.  I'm going to be adding to it every day and it should be finished by Thanksgiving, but I will probably keep adding to it. There are also some new things on the Hot Sales Page. And I included some of the new things I purchased last week for Thanksgiving.
xo,