Some of you begged me to do a post about vaulted ceilings.
However, there is a three-year-old post about problem ceilings. So, I'm reworking it and including a larger section on vaulted ceilings.
Plus, a little surprise I worked way too long on. But, it was fun getting rid of the fugly.
Okay, you know, a bad ceiling can really bring down a room. (no pun intended) :]
The ceiling above is not one of the problems. We first saw this beauty here a few summers ago.
There are about six major types of problem ceilings.
So, let's jump in a go over each one and the best solutions.
Probably the most common problem ceilings folks have is:
The ceiling is too low.
But, yes, we just went over that one here. So, we don't have to dwell on it too much. Please see the low ceiling post.
Also, please look at this post about boxy, boring homes with low ceilings.
Some of those tricks to make a ceiling appear as tall as possible include the addition of:
vertical painted or wallpaper stripes
vertical planking
one piece of tall furniture. (but not all of it)
hanging draperies as high as possible under the crown moulding.
And, if possible, making the doorways higher than usual, maybe right under the crown moulding.
Making the wainscoting no more than 30″ tall or as low as 24″.
Also, please check out 16 ways to make your small rooms look larger.
And, there's another device for making the ceiling appear higher.
I talk in this post about the best ceiling paint colors. There are more in the Laurel Home Paint/Palette Collection.
What about painting the ceiling super dark? Is that good for a low ceiling? After all, dark colors make walls and ceilings recede, as discussed in this post.
However, a super-dark color will also feel heavy, and if it's a large room, it's most likely going to feel oppressive.
Recently, I saw where a young designer had proudly painted a wide architrave under her small crown moulding. That's a horizontal piece, and this one was about 12″. And on an 8′ ceiling with white walls, it looked oppressive to me.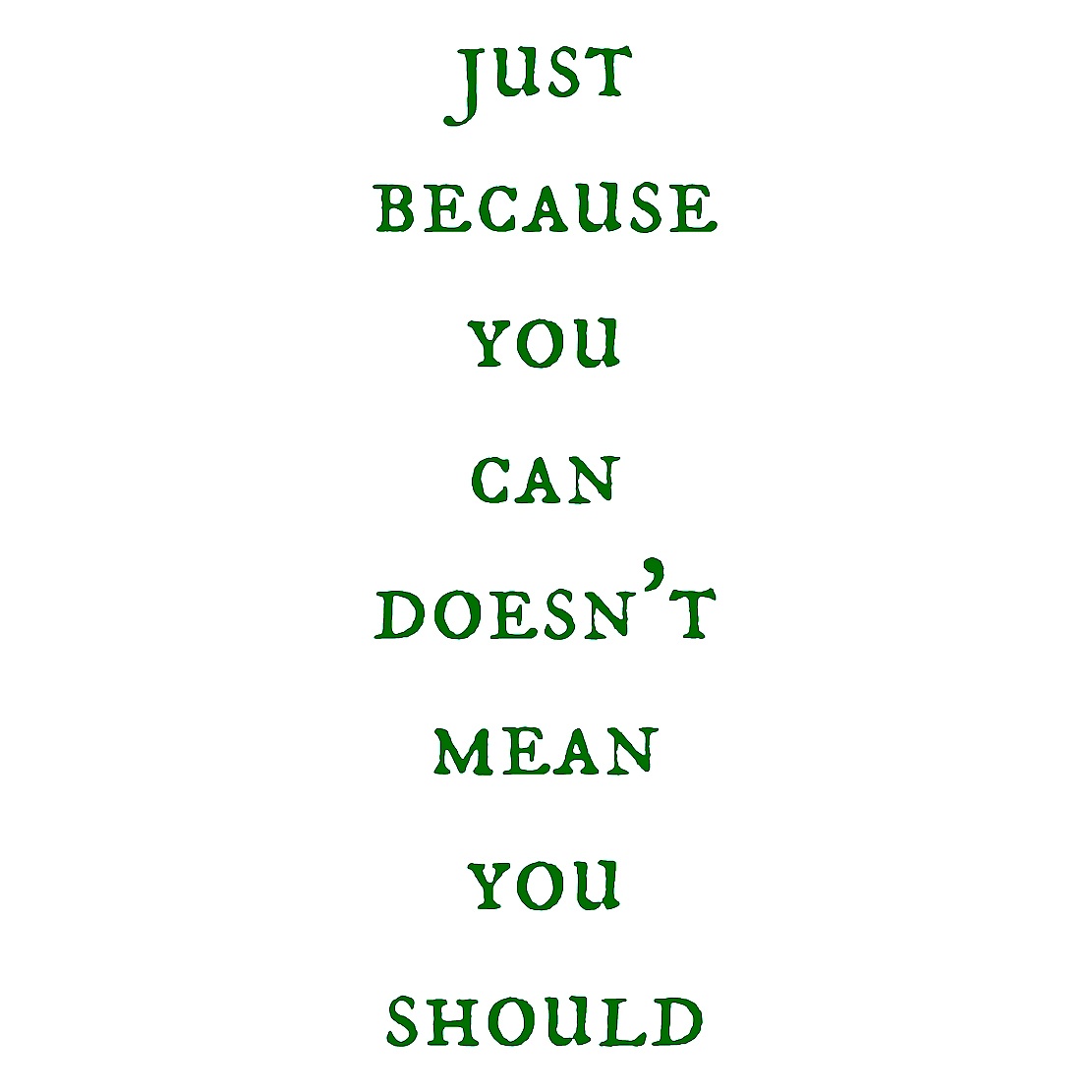 But, in a small room, like a bathroom, painting the ceiling navy or black can be an effective technique to lift the ceiling higher. And it can also be quite chic.
Above and below is Nancy Keyes' fantastic renovated master bathroom. The ceiling color is a soft black – Benjamin Moore Onyx. And yes, Onyx is one of the Laurel Home collection paint colors. It is a touch softer and warmer than pure black.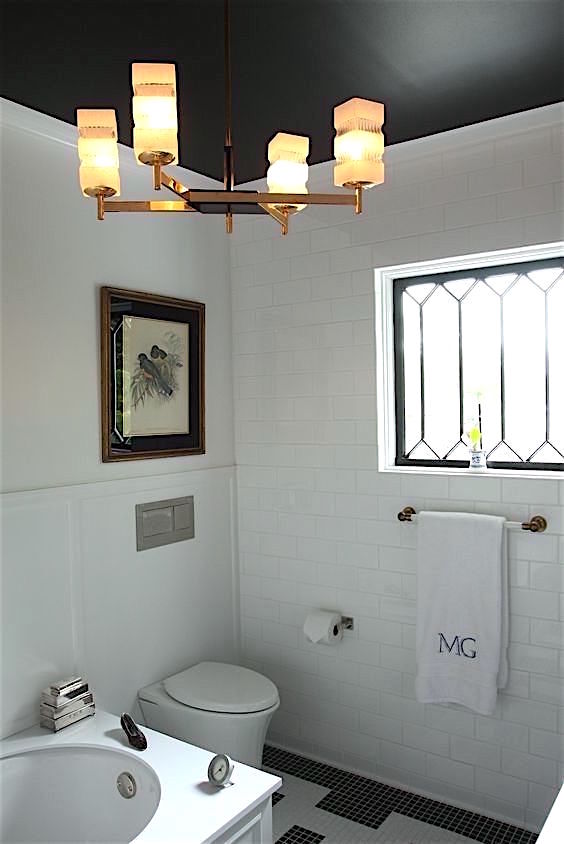 Nancy actually sent me these images at least five years ago! What's funny (to me, anyway.) is that the before pics are also gorgeous!
Leave it to Nancy to create a gorgeous room, in any case. There may have been some other issues that lead to the reno, as well. I love both the before and after!

However, Nancy's ceiling looks to be nine feet. I reckon that the black ceiling would still be fine in a bathroom with an eight-foot ceiling.
Here are some more ideas for dark ceilings
And, please check out this other fabulous bathroom that Nancy Keyes did.
But, what if we have a room with a low and expansive ceiling?
Yes, that's one of the worst problem ceilings.
There's only one worse ceiling issue.
A low, large, expansive POPCORN ceiling. (please click on that for lots of great ideas for problem ceilings)
I can't think of one decorating issue from the 20th century that confounds me more than the all-too-common popcorn ceiling.
I'm sure that there must've been a logical reason for it. Did someone think that it helps with acoustics? Not much, I don't think, but they sure do suck much of the available light. They're just another of those bad ideas made popular in the second half of the 20th century. And, now we want to rid the planet of popcorn; on problem ceilings, that is.
There are two basic ways to get rid of the hideous popcorn. However, it depends on if you have a ceiling that looks more like fossilized seven-minute frosting or more like painted coarse corn grits.
In either case, it is possible to remove a popcorn ceiling.
But, I definitely recommend having a professional take care of it. But, if you insist, please make sure that your ceiling and paint is free of asbestos and lead. Wear protective gear.
IF the popcorn is very even and low, it is possible to cover it with various products.
1/4″ sheetrock
ceiling tiles. Some of them are quite nice these days.
Wooden planks or shiplap.
What is anaglypta wallpaper?
It is a heavy, embossed wallpaper that can go on the wall or on the ceiling. It is usually made of paper or a cellulose product.
Here is one pattern that's either the same or very similar to what I had on my kitchen ceiling for 16 years. I loved it! My boys always said it looked like paper towels. Haha. And, yes, it's paintable. I had it professionally installed, and then the contractor painted the paper high-gloss white.
You can see a bad photo of it here.
Above is a better photo of anaglypta wallpaper on a ceiling. (sorry, source, unknown) There are numerous patterns to choose from. As you can see, it mimics the look of a tin ceiling and so works best for older homes or a home with a quasi-vintage look like our old townhouse tried to have. haha.
For an expansive and low ceiling as in an open floor plan, here's what I think is a good idea.
I would add either beams or very shallow coffers. (we'll get to that in a sec)
Sometimes the beam will make sense because there's already a post holding up the ceiling somewhere. That is a logical place to run a beam if there isn't one there already. But sometimes there's the one post and what would make sense is to add a beam going perpendicular and possibly another post, somewhere else, if necessary for symmetry.
Above is a floorplan of our old townhouse. There's a post located just as you come up the stairs from the front door. It's difficult to see here, but there's a steel beam covered with sheetrock running along the length of the room attached to the post. You can see it better if you go back to the original post.
We could've run a faux beam running perpendicular and intersecting the post if we had wanted to. I don't think that would've looked good in this case, however.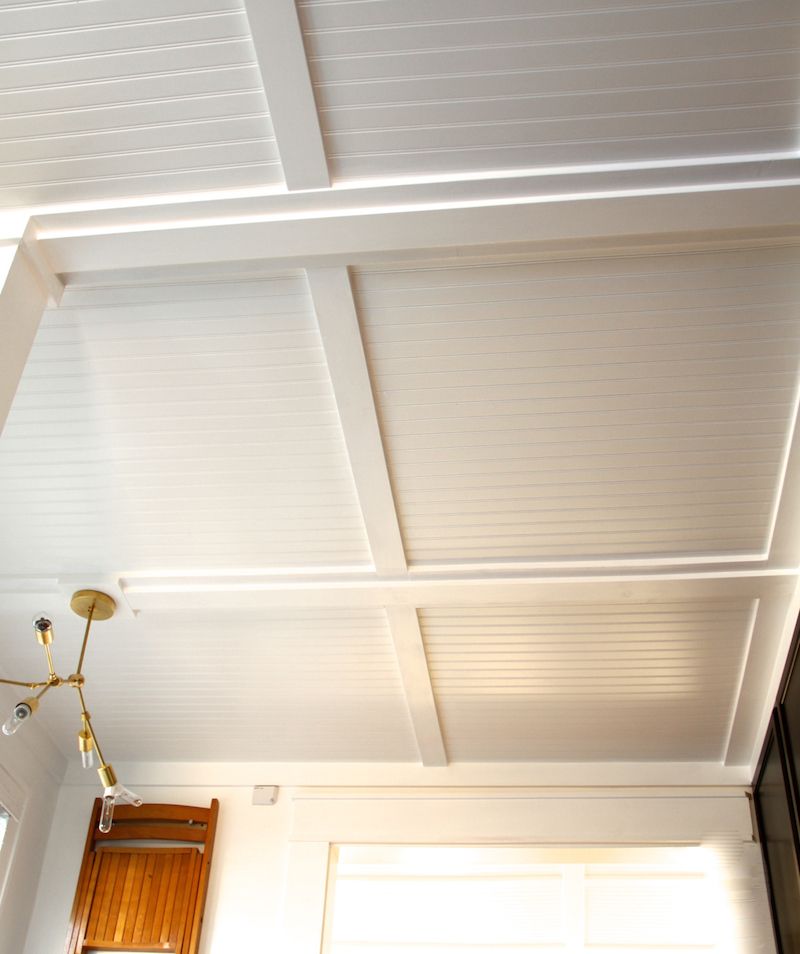 Hallow coffers on a low, expansive ceiling, like above (with or without the beadboard), is a wonderful way to break up a low, expansive ceiling.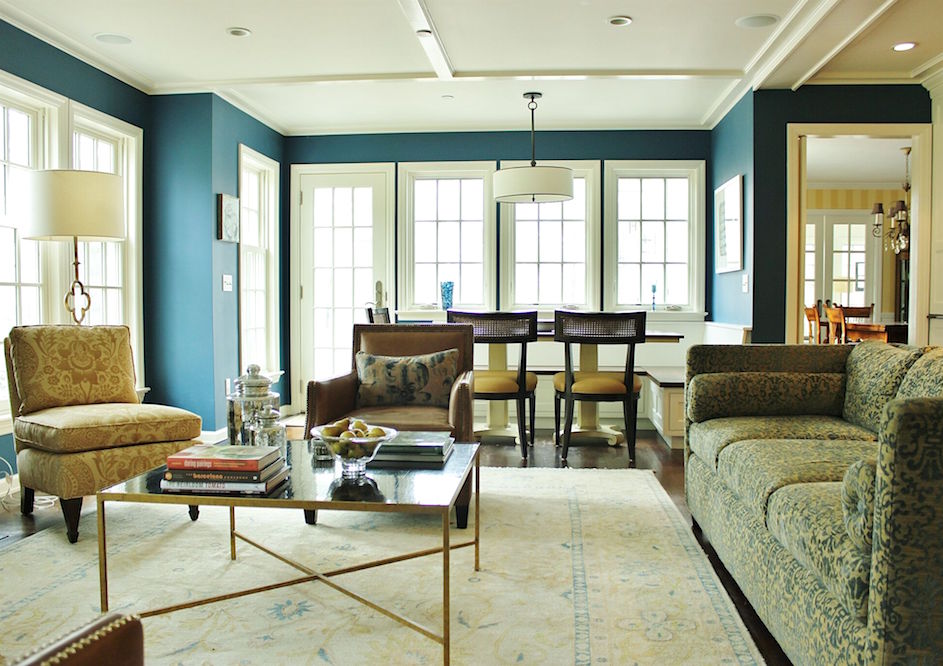 One of most favorite clients from 2003-2012 (with some breaks during the recession) added this lovely kitchen family room addition in 2008. I can't believe it's nearly 14 years old. Crazy! These ceilings are only eight-feet high, but they don't feel low at all.
In my portfolio, there are numerous examples of beautiful coffered ceilings.
Should you paint the inside of a coffered ceiling?
I never have, but you can. I think the ceiling should be high. And indeed, for a coffer as deep as the one above, it needs to be at least a ten-foot-high ceiling.
Next up in Problem Ceilings are those pesky attic ceilings with all sorts of angles, dormers, pitches. It can get confusing as to what's the ceiling and what's the wall?
I usually paint it ALL ONE COLOR. In so doing, it will help the room look softer and less choppy. I typically do a shade of white or cream. But I've also done khaki and gray.
Beautiful office before done by Nicole Balch of Making It Lovely for the One Room Challenge™.
Look at all of those crazy angles!

And the finished room! Great job!
The wall color is Benjamin Moore Brandy Cream oc-4 and 1030
Fabulous bathroom. I love the accent of the aqua above the tile. No problem ceilings here!
His work is totally awesome!
For more blue ceiling and wall ideas, click here.
Related to the attic ceilings are the aforementioned vaulted ceilings or cathedral ceilings. The terms are used interchangeably. However, Cathedral means symmetrical, and vaulted can be asymmetrical. But, sometimes that can be pretty awful.
Okay, let's look at some things I found that I very much don't recommend that you do when it comes to vaulted ceilings. It's not difficult to do.
But, first, one lovely asymmetrical vaulted ceiling that works, in my opinion.
This, of course, is a rustic, farmhouse-type room. Sorry, I don't have the source available for you. If anyone knows, please let me know.
But then, we have this vaulted ceiling mess below.
Let's emphasize how weird this all is by highlighting these bizarre panel mouldings. Horizontal beams going across would be a lot better, I think.
First, the one-sided vaulted ceiling is not accessible to pull off.
It can quickly look like a "lean-to." But add to it these oppressive, heavy beams, heavy stone installed to match the pitch, and dull brown cabinetry that feels wrong.
But, we can add in the ubiquitous bad lighting we were just talking about. What also disturbs me about this space is that it's trying to be symmetrical but just misses by about three or four feet.
How would I fix this? Well, the cheapest, which Nancy Keyes did, and it looks amazing, would be to paint everything white. By the way, Nancy is not in any way cheap. lol, She just didn't feel like putting money into this part of the house.
A more expensive way would be to cover the stone and then create more of a deep tray ceiling by following the angle on the left and then bringing the ceiling straight across for the fireplace chimney, and then bringing the angle down to match the left. Then, I would also fill in the space above the cabinets.
Can you ever stain the beams dark?
Yes, but mostly it's when the walls and ceiling are painted a rich, medium to dark color.
Liz Walton from Liz Walton Home on Instagram (please follow her) did a fantastic job in this lovely family room/library. She achieved the perfect balance with a hunky leather sofa and a gorgeous Oriental rug. – photo – angle eye photography, on Instagram.
Plus, Liz's beautiful website.
Angle Eye Photography's website
Liz is also demonstrating another excellent treatment for a vaulted ceiling which is the flying crown or flying cornice, as it is known in the carpentry trade.
As you can see, the crown sits just under the vault running horizontally, with the effect of flying, I guess.
BHDM, a design firm in New York City, did a fantastic, unadorned soffit. I love it and the white-on-white to unify all of the elements.
But, here's another don't do this when it comes to vaulted problem ceilings.

Running a crown moulding on the angle is just plain weird to me.
What to do instead?
Well, it's fine to run a plain three or four-inch piece of wood, as you see below.

Architect Peter McDonald did a gorgeous job with this beautiful coastal bedroom on Cape Cod. Please check out his stunning portfolio!
Let's keep going with a few more fugly vaulted ceilings.
Above is a virtual design I happened upon on Instagram. Fine, we all need to start somewhere, and I had many failures in my early years, but golly gee. I think this one is self-explanatory.
This is from a real estate listing. Money and taste do not necessarily go hand in hand. No other words here. And no suggestions on how to make it better except to paint it all out and slipcover the furniture with seagrass rugs.
The following kind of problem ceilings sometimes are tray ceilings.
However, I don't have any bad examples, only gorgeous tray ceilings.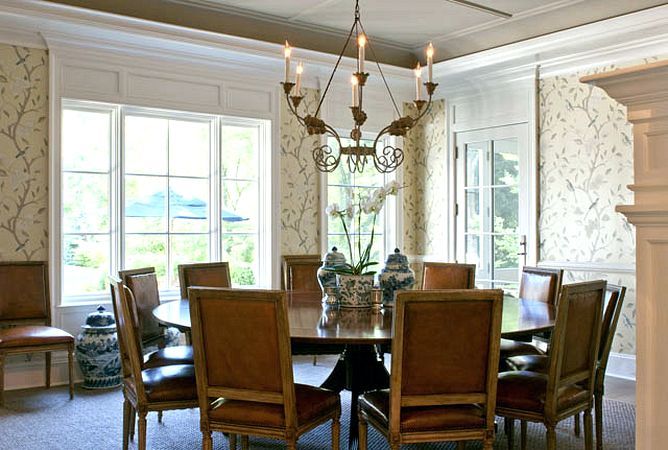 I think painting the ceiling taupe provides great balance in this elegant dining room. This is also an excellent solution when there's ample space above the window. The architectural detailing is beautifully done here. This is a flying crown moulding without the vault.
Gorgeous dining room by Darryl Carter. The color looks like Benjamin Moore Quiet Moments. (one of the Laurel Home colors.)

Striking entrance by Laura Covington. Pale blue, grey, greens are absolutely gorgeous for ceilings.
The rest of the post is not about problem ceilings but some interesting ideas for decorating more regular kinds of ceilings.
Oh my, this was stenciled on! I have a lot of respect for someone who has the skill, patience, and spinal column strength needed to accomplish something like this. If you like this or just want to fantasize about the possibility or can afford to have someone else do it, please take a look here. It's an excellent site filled with tons of wonderful images.
Source unknown. But I love this stenciled design on the ceiling.
The grasscloth texture provides instant warmth to this elegant design by interior designer Brian Gluckstein.
To close, I have one more vaulted ceiling that I think could use some help.
In fact, I got so into it; I ended redoing the entire space. If I had known that, I could've saved some time.
Okay,  let's forget about the horrid furniture and layout and focus on the vaulted ceiling. And, the other architectural elements.
As you can see, there is no adornment whatsoever on the vaulted ceiling. But, something's off. Can anyone see what it is?
Yes, Pamela. I saw your hand go up first. ;]
It's those two very long skinny windows flanking the fireplace, right? And why are they so much taller than the Palladian window and door?
Bingo! You get an A+, Pamela. Thank you. ;]
Believe it or not, I just noticed that there's a window AND a door on the right side. So, we have three window/door elements in one room, all at different heights. Who does that? Never mind. People do stuff like that all of the time!
Of course, we're not going to rebuild the house. (You're going to see it all visually in a sec.) But, here's what I would do.
I would bring those windows down on the inside. (It's okay; no one will notice on the outside. It will look like a shade is pulled down part of the way.) Just take off the moulding, add a piece of sheetrock to bring them down to the appropriate height, and then put back the moulding.
I think a relatively simple running crown or horizontal piece for the vaulted ceiling. And then run about three or four horizontal beams painted white.
Below, I did just that in a virtual redoing of this room. It's not perfect, but I like how it turned out.
Before and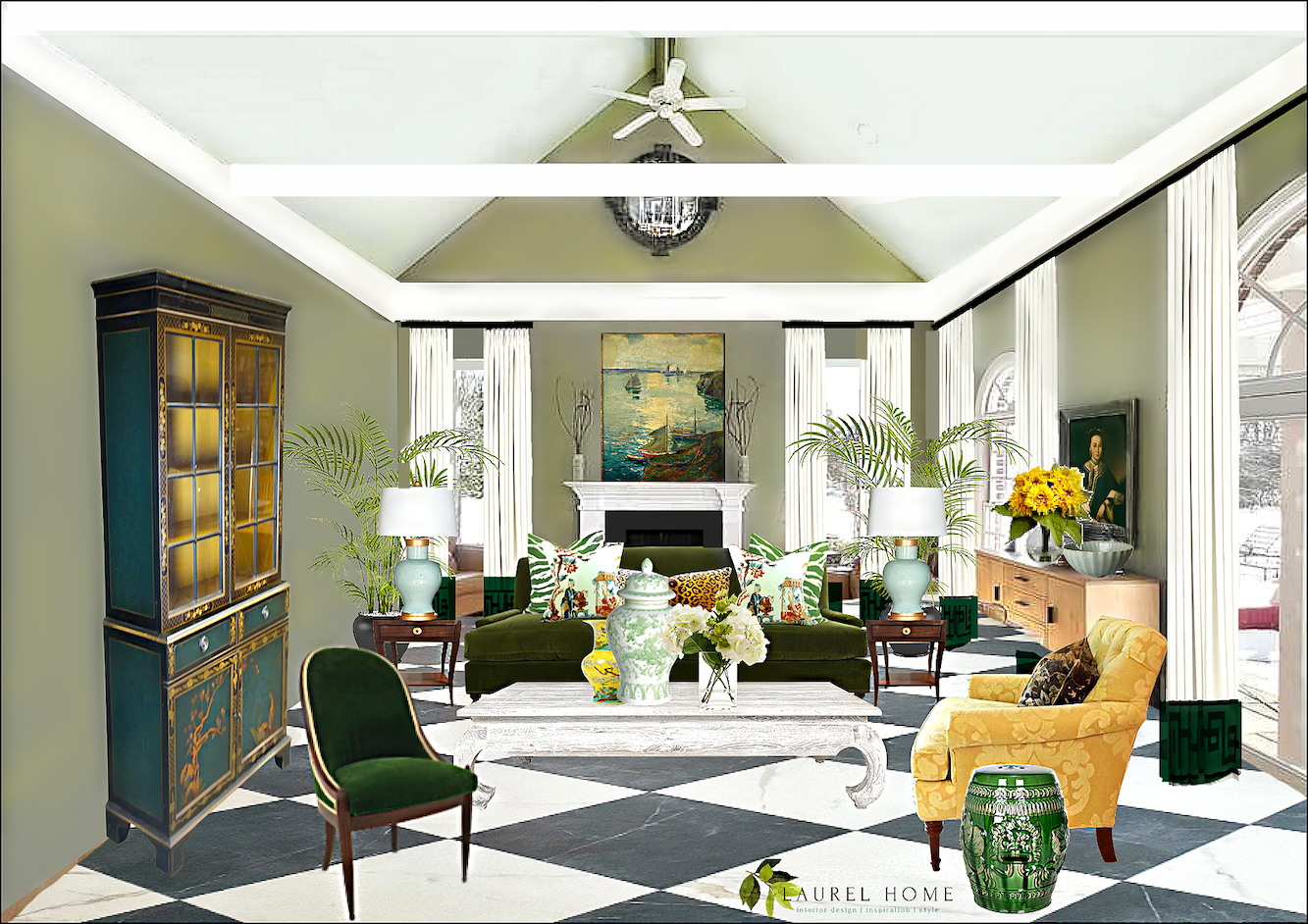 After.
Do you like how I moved the mirror up to where it should be if it were a window?
That one element alone helps this space a lot!
Typically, I don't face a sofa away from the fireplace, but maybe this is a super deep room, and there's another sitting area by the fireplace.
I thought doing the faux marble charcoal gray, and the white-ish floor would be fun. I love how the large diamonds of the floor play off the angle of the vaulted ceiling. Sorry, it's slightly off-center.
Also, I brightened up the green walls a little. The color is very close to one of the Laurel Home Paint Collection colors, Benjamin Moore, Sherwood Green.
Benjamin Moore Sherwood Green hc-18
The ceiling is the palest blue-green. In fact, it's probably a cool shade of off-white. I'm not sure which one. At first, I thought white, but it seemed a little too stark. I like this better.
The sofa is the Kennedy from Jayson Home.
It comes standard in this beautiful peacock velvet. However, it can be ordered in numerous other fabrics they carry. Or, you can provide your material.
Of course, the yellow chair is my own. The manufacturer discontinued it.
If anyone is interested, the painting in the back is by American painter Jonas Lie, 1880-1940. There is a painting over a fireplace in the Bronxville Library by him very similar to this one, only better. It is large and magnificent, and I must take a pic of it the next time I'm in Bronxville for a visit.
The beautiful Chinoiserie china cabinet or bookcase is available at Chairish, and it says free shipping! Wow! That's big!
please pin to Pinterest for reference
And here's another post with lots of architectural ceiling detail and some breathtaking ceilings.
xo,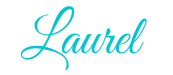 PS: Please check out the newly updated Hot Sales.

Some super-amazing sales are going on this weekend.
And, I just reintroduced a women's clothing widget with some lovely items, primarily for winter and all on sale! Or, at least for a bit as of this writing.