And, I don't mean sunburned!
But, don't get me wrong.
I LOVE Pottery Barn. Always have and probably always will.
I mean, in my old home in northern Westchester County, we had Pottery Barn furniture in every room except our bedroom. Here's the list:
Round Kitchen table which I loved
Kitchen chairs
Dining room chandelier
Mirrors in living room
end tables in the living room and den
two pine beds in the boys' bedroom
small dresser
stool
lamp
Oh, and haha our POTTERY. aka: dishes, glasses, etc.
And then, in November 2017, I purchased a crapload of things from Pottery Barn. Things I desperately needed. Dishes, serveware, glasses, cutlery, pillows, quilt, napkin rings. Love them all. Very happy with my purchases.
In fact, I proudly feature numerous Pottery Barn products in my weekly widgets on the Hot Sale pages.
But, right now, they've extended their Memorial Day Weekend Buy More Save More sale which is now ending at 9:00 PM on May 29th.
However, if you spend $3,000 or more you will get 30% off of the entire order. Plus – FREE SHIPPING.
So, first way you can get yourself in trouble and we've discussed this before. Is FREE SHIPPING.
This term almost always applies to items that are coming via UPS, Fedex and the US Postal Service. This does not apply to items like furniture that need to come on a truck.
Thankfully, Pottery Barn's delivery fees are reasonable. They have a flat-rate system which varies depending on where you live. Makes sense.
To test it out, I put in two of the Tyler leather recliner chairs that we discussed recently in this post about non-barf-worthy recliner chairs. More on that in a sec.
The inside delivery came to $239.00 and I also got the 30% off and would save $1,079.40 on the purchase!
And, the bottom line total for two leather recliner chairs came to just a smidgey over 3,000 bucks! Very reasonable. That is, unless you don't have 3,000 bucks. If you don't, please do a search for whatever it is you are looking for.
Sometimes, you can find great deals at Ebay. However, whatever it is, might be used. But it might not be.
So, here's the deal. No matter how much you order that needs to come on a truck, from Pottery Barn online, I would not be paying more than $239.00!
Now, what inspired this post isn't the terrific sale going at Pottery Barn. Savvy shoppers know that they ALWAYS have a revolving door of sales at PB. Some are better than others, however. And this one is one of my favorites.
Related to Pottery Barn, as you will soon find out, Laurel actually went SHOPPING one day last week. However, it wasn't to go to PB
But, YES! I got in my 16-year-old Audi A-4 wagon that I affectionately call Quatti. That's my nickname as his real name which is Quattro. ;] Who else has named their car? Show of hands please. Nobody? I'm the only freak? Fine. I'll deal with it. I love my car!
Okay, I needed to go shopping, so, I drove Quatti to the nicest mall (oxymoron?) in Westchester County, called "The Westchester." Clever, huh?
This mall is in the largest city in Westchester County, White Plains, which is well-known in these parts for its way-out-of-control nonsensical maize of one-way streets.  Apparently they were intentionally designed this way to bring the driver to the brink of insanity as they drive round and round in circles until they run out of gas.
Can I tell you how many times I've gotten lost in White Plains? And yes, with a GPS. The GPS gets lost too!
However, The Westchester mall is just off of interstate 287 which if you don't get killed on your way over, you should easily be able to find the mall/parking garage blind-folded.
You just turn off the ramp and it goes straight into the garage! Clever!  By the way, a great time to go shopping if you live around here and can swing it, is the Thursday before Memorial Day weekend. It was empty and very easy to get help.
As you can see, we are blessed to have our very own Nordy's, as well. So, I went in to find this amazing perfume, only to discover that they only sell it online. Therefore, I went online and took advantage of their half-yearly sale going on now through June 2nd.
If you're interested, this is what I got.

The coral cardigan is almost sold out and the Ted Baker floral cardigan is sold out. The perfume, I smelled on a woman in Manhattan the day before and it was so divine I asked her what it was.
Okay, I realize that I'm making a big deal out of SHOPPING, but there's a very good reason for this.
And, it might come as a shock to some of you, so please brace yourself.
I HATE SHOPPING!!!
I'm not joking. Look, just because I love beautiful things doesn't mean I enjoy trudging around looking for them! Besides, I'm naturally lazy. That's why online shopping is perfect for me.
However, there's one thing that it is wise not to get online, unless you know your size and that is lingerie.
Right? But, if there's anything I hate more than shopping, it's shopping for a bra.
However, last Thursday, God was smiling down on me for he lead me to the most magical bra I have ever found. Really, it is. I'd put it on and model it for you, but… uhhh… do I really want to have a pic of me in my bra ALL over the internet? hahahaha! My inner editor is madly waving its arms at me telling me that's not a good idea, so sorry, you'll have to use your imagination. ;]
Laurel, are you going to shut the hell up and get back to Pottery Barn? We have gardening to do!
Yes, of course I am dahlings!!! But this is important, too! A well-fitting figure-enhancing bra (fine, push-up bra) is a girl's best friend. wink, wink.
Ummm… menfolk, I know that you're in the john reading my blog on your phones so your wives don't know that you're reading an interior design blog, but can you go in the other room for a minute without your phone, while us girls chit chat for a sec.
You can't???
You know… I find it fascinating that if you want to be sure to have a man listen to whatever it is that you have to say, just begin your sentence with "push-up bra."
Push-up bra – dear, will you please take out the trash when you have a sec?
Well, at least you got his attention. Whether or not he actually takes out the trash is another matter.
So GUYS… I'm letting you stay (like I have a say in the matter?) But, please calm the freak down and stop that inane GRINNING!!! geeezzz….
Okay, you can smile. We do love it when you show your appreciation.
No link because I don't want to trigger the sensitive and if I do, I apologize; it is not intentional. Nobody understands that more than me, but just know that this is meant to be all in good early summer fun.
So, come a little closer and I'll whisper to you the store and the bra I got.
The store is called Intimissimi Italian Lingerie (made in Sri Lanka – lol) and the bra style is called Gioia
Don't all google at once! You'll break the internet! haha
However, if you are on the petite side as I am, and you don't already know about this wonder-bra, you will be thanking me for the rest of your life. And so will your husband or boyfriend. Seriously. These bras are that good. I got four of them and some matching undies and with tax all of that was well under $200 bucks. Please note there's no affiliate link or endorsement for this company. I wish!!!
Okay, I'm sorry (but not really) for that little diversion. You know… I just start writing and I never really know where things are going to go. We start out with Pottery Barn which naturally leads to a great bra.
All right, enough of this chit-chat, let's go back to Pottery Barn.
And that's because, I must tell you that after I got my magic bras, I was in a REALLY good mood. Dare I say euphoric? You have no idea. Hey, maybe this shopping thing isn't really so bad, after-all!
And then I looked up and there it was.
POTTERY BARN
Being in a good mood, and also knowing that since I'm hawking this merch it might be beneficial to go in, so I do.
Of course, I forgot to take a pic of the exterior of the store and I couldn't find a decent one that's current, so I'm putting up this elegant image I found on Wikipedia for the flagship Williams-Sonoma store in San Francisco.

What an elegant, classical beaux arts building!
As most of you know, Williams Sonoma is the parent company for Pottery Barn, and all of its derivatives, which also includes numerous other brands such as W-S Home, Rejuvenation, West Elm and Mark & Graham. The latter is a great place to go shopping for Father's Day.
So, I walked into the store. The Pottery Barn stores always have great lighting and beautiful displays.
As I went through the store, I snapped some of my favorite displays and chatted with the manager who was very nice.
Naturally, since we are upon the summer season, the front of the store was laden with all things evoking the outdoors, the seashore. You know. Good times.
A casual outdoor furniture display
Beautiful faux coral and glassware
Love this analogous blue scheme of summer-time dishes and glassware. Not easily breakable, of course.
Love these fresh natural fiber bed linens
These pillows are new and look really beautiful in person! Do remember, however, to get an insert about two inches larger than the pillow cover. These are not. A fuller insert will look even better.
And, what do we have here? Why it's the Tyler recliner chair in black leather, to boot, that we were just discussing in this father of a post about recliner chairs.
Of course, I sat in it.
Yes, I find it to be supremely comfortable. And, just so you know, this is NOT a small chair. It's not too big either, said Laurel Locks. It's just right. The non recliner version is a little smaller.
HOWEVER— and of all of the things you need to know when purchasing Pottery Barn furniture.
You need to read the descriptions very carefully. Case in point. This leather chair on sale, if you get two of them with the tax is only a little over $3,000.00 delivered for the two. Remember about five hours ago before we got heavy into the lingerie?
That's very inexpensive for two leather chairs with delivery and tax. And this is very nice leather, too. However, the cushions are attached. Both of them.
Why do they do that?
It's one of those things they don't teach in design school, but you will learn, if you don't already know.
The problem is that leather doesn't breathe. After all, it's skin. So, it's really like a piece of plastic covering your furniture. For an expensive leather chair, they will create a venting system, otherwise, the air inside the cushion with have nowhere to go. I don't know if that makes sense or not, but just trust me on this one.
In the case of this relatively inexpensive leather chair, they use fabric on the backside and then the venting issue is not a factor. However, you can't flip your cushions over.
However, if the thought of not being able to flip your cushions is going to make you crabby, you can get one of these chairs instead. But, expect to pay a lot more.
Thorpe leather recliner from Rejuvenation
It's very similar to the Tyler, but just a tad smaller. I mean an inch or two.
You could also get the Addison from Williams-Sonoma Home.
It's a little bit more money, but not a lot. Frankly, I prefer this frame. If you compare the two chairs from the side, you'll see why. However, if you want a hunkier style chair, then the Rejuvenation is the one to get. Both come in a variety of leathers and other options.
This is also the same frame as the Serena and Lily Spruce Street chair. That does come in leather but not in the recliner version. And, you only have until 12:00 AM to take advantage of their 20% off sale on everything but art at Serena and Lily.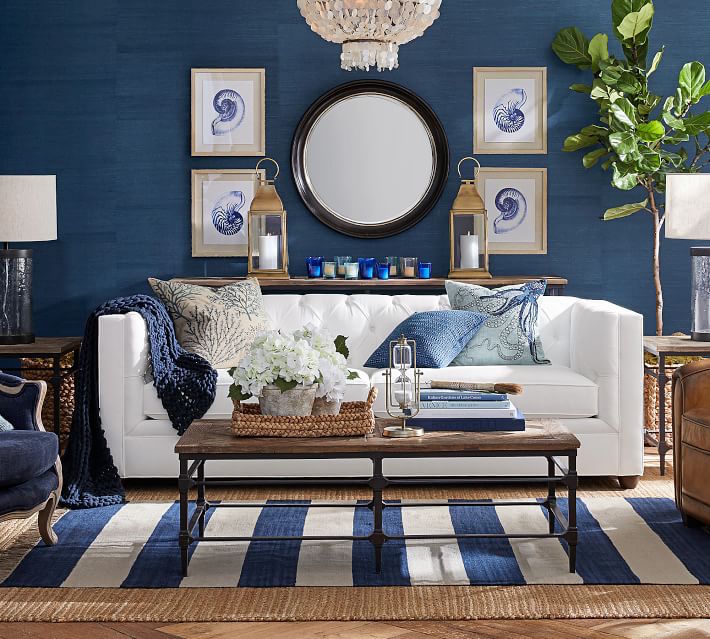 Above is the square arm Chesterfield from Pottery Barn
Below, I've created a widget of 33 of my favorite items at Pottery Barn. All of them are currently on sale. Please click on the individual images for more information. Of course, this isn't everything I love at PB, but it's a good sampling.

Please also check out the newly updated Hot Sales pages as well, for more beautiful sales and favorite pieces.
In closing, I want to add a final note about Pottery Barn. I have ordered from them for decades. I cannot say that I've never had a problem. However, I have never had a problem that wasn't solved and graciously. That is why I love them so much and why they are still continuing to thrive.
xo,