The other day, I received an email from a lovely reader, Janis. (name changed) While she has written me numerous times over the years, I've never published any part of her beautiful home.
Usually, it's timing or the topic. Something in your home strikes a chord that I feel will benefit many readers. So, if you've sent me something before and I didn't do a post, please feel free to remind me or send something else. No promises, but I do love to post your homes if it works out.
The main topic of this post is decorating fatigue.
It appears that I have a chronic case of it. hahaha. Gotta laugh.
But, it's a very real phenomenon. It often happens when we have a large project and are simply tired of making decisions. No, more like– DONE. No can do. Not happening.
I know that many of you have been there and it's very stressful. And especially so, when you have a contractor breathing down your neck for an answer.
Yesterday.
And then, there is the furniture. While you have a vision for the home, sometimes it doesn't work out quite as expected.
Janis lives in a gorgeous rural part of New Jersey in an antique home originally built in 1806.
Man, New Jersey can get such a bad rap sometimes, but this is reminding me of England!!!
Originally, it was built to be a tavern!
But, it has had several additions over the years. Janis says when they moved in, every wall was stenciled!
I can't even imagine. Well, I can, but I'd rather not. haha
As you will soon see, she and her husband have been lovingly renovating this beauty, the past few years.
So, instead of a Dear Laurel letter, I'll summarize what I know with some quotes from Janis.
First of all, Janis' home is really lovely. That's why I'm posting it.
I think that they've done a terrific job, but I can see the decorating fatigue coming out as the room, while there's nothing majorly wrong with it, it's just not quite there yet.
But, I should talk!!!
It's reminding me of this pretty home we looked at few months ago.
Here's some of what Janis had to say:
Laurel, I'm hoping that you can turn this into a blog post. It's been a rough year and I'm exhausted from this house! Massive decorating fatigue!
I don't have one finished room, but I may be finished trying.
Life is pretty hectic as I teach ESL full-time. While it is immensely gratifying, I work very hard to help my students make the transition to their new country and find academic success.
In addition, Laurel, I've lost a lot of my family in the past ten years. It's been very hard… So many strong smart women and they are sorely missed. Most of my 'pretty' things were my nana's. She loved blue and white as do I.
And, here's my little pup who we almost lost as she was deathly ill with kidney stones but seems to have more than nine lives. (thank goodness)
Too adorable for words!!!
I am putting this rug upstairs in my bedroom. The blue in the rug doesn't connect well with the more indigo blues in the room and will look beautiful upstairs.
I love the Serena and Lily Channing rug but not sure how to connect that gray rug to my beige couches.
In addition, I realize that the lighting in the room is awful, but it is a sore subject. However, a sweet electrician was at my house doing work outside and when he comes back, I have plans to send my husband on an errand and get the lighting figured out.
You might need to send him to California! haha!
I love the rug but it is so green compared to the other blues in the room. I can't deal with it.
After school most days I go to the gym and lift heavy weights four hours a week because I have some osteoporosis at 53.
Oh, there's more! I have a beautiful mother who is now dating and helping her write her Match profile was an experience I never expected.
Ugh. I hear ya, Honey!!!
She hadn't dated for 50 years. I miss my father desperately. And my grandmothers.
Honey, it's a sad part of us getting older. Very difficult. But, at least your mom is putting herself out there. That's very admirable. I'm sure that she also very much appreciates your help.

Laurel, how do women make beautiful houses? Did I mention I am taking courses, too,
and writing papers? Today, I worked in my garden. I love my flowers.
********
Wow! Thank you for sharing Janis! Your home IS beautful!!! You know… It is incredibly common to come down with decorating fatigue. And God only knows, you've had enough on your plate as it is.
I think that you're doing a wonderful job!
Later, I discovered that the wall color is Benjamin Moore Feather Down 953.(below)
This is very close to the popular Ballet White which is also one of the Laurel Home Paint and Palette Color Collection
I don't know what the trim color is, however.
So, first, a few observations.
I am not having any problem with the rug whatsoever. In fact, I spent at least three hours "rug shopping" and didn't come up with a whole lot that I like better for this space.
And, some of you may recall recently when we discussed actually INTENTIONALLY having colors "clash" a little. It adds a certain complexity and interest which is far better than choosing one tone and repeating the exact shade – EVERYWHERE in the room.
This is reminding me of a beloved quote of my son, Cale and I which was said by one of his favorite music teachers in high school, Charlie Lagond.
Charlie said:
"If you play a wrong note, play it again and then it won't be wrong."
This is so true and applicable to decorating as well.
And, BTW, if you live in Westchester County or nearby and have a child or grandchild between the ages of about 10-17 and they play rock or jazz on any instrument, please check out the Lagond School under the link above.
Of course, Janis is free to change the rug, but, I do like it in the space. It could possibly be a tad larger, but it is not bad. Just saying. If it were a little smaller, it could be layered over seagrass. But, I feel that this rug is a little large for that.
However, I would love to see a seagrass rug in the dining area. I think that it would warm up that space very nicely.  Fabulous light fixture!
Let's bring the shot of the living room back down here.
Okay. Yes. The lighting.
I'm so glad that Janis realizes the issue. I have a headache just editing the photos. The recessed lights are fine for ambient light, but they should only be on very dimly.
The main lighting should come from table and floor lamps. I love sconces too, but that probably won't work here.
What I would like to see are two end tables with lamps flanking the sofa adjacent to the windows.
For the opposite sofa, they could do an apothecary floor lamp on the far side by the fireplace.
Then switch the chest to the other window.
It is fine to have the occasional chair, but we either need to add something else to the other side, or move the one chair and add two more occasional chairs. There are some great chair options below in the widget.
***Important***
They will need to move the sofas about a foot or so to the right. But it looks like they are off center on the rug, anyway. Actually, I would move the entire thing closer to the entrance.
The rest, are the details, but they are what are going be the cure for the decorating fatigue blues.
Please bear in mind, that you can take almost any room you see in a magazine and if you remove the deets, you'll have what we have here.
The first thing I would add are some curtains. I would do a single panel on each side of the fireplace windows with wrought iron rods and rings.
For the French doors, I would probably only add a double width panel to each end. And then, with a pole going the entire length. If I were in the space, I could better ascertain if this is better, or if it would be better to add a single panel flanking the one middle door. And then, single panels on the ends.
In any case, these are decorative and not meant to close or provide privacy.
While I like the woven wood blinds, I feel that there's a lot of brown and they need to be softened. This additional layer will also add warmth to the room, as well.

I found these panels on Overstock and what I love is that the pattern is blue and brown!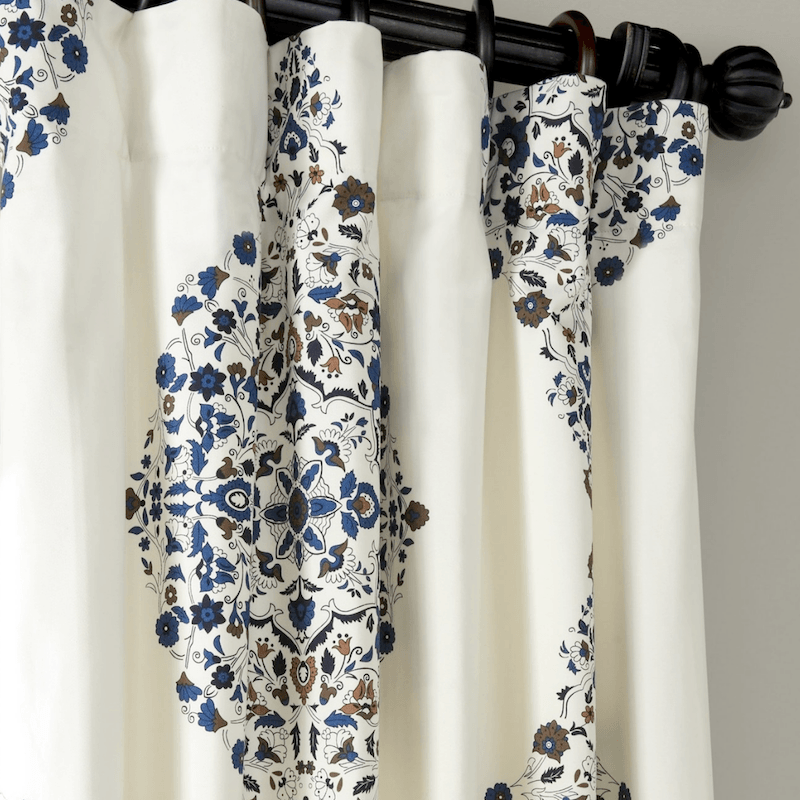 A close-up
Another alternative would be to do something like this, but these would need to be custom, and therefore a lot more money. I would do a simple black wrought iron rod like this.
Then, I would like to bring in some more pattern and color for the sofa pillows. We don't need the plain same fabric. There's a widget coming up with some possibilities for furnishings.
One idea adds some coral accents. There's also a rug option with the rusty-red in it.  But, a little warm red can be added with the rug as is.
In addition, I've included some art pieces. Since the current art is all abstract, I chose pieces with an impressionistic feel, but not totally abstract.
The rug I'm not loving in this context, is the small Greek key corner rug. Although, of course, I do love Greek Key patterns. Yes, it clashes with the main rug. But, it looks more like a bath mat here. I just feel that this one thing is bringing down the room a little.
If we can move the main rug down about a foot, the gap won't be so large.
Below is the aforementioned widget with some furnishing possibilities. If you'd like more information, please click on the individual images.

Another shot of this exquisite property through the screen door. Love it!
Thank you to Janis for sharing your wonderful home! I hope that this will put an end to the inevitable decorating fatigue that plagues most of us! But, I think with a few tweaks, it'll really come together. What she's done so far, is fabulous.
xo,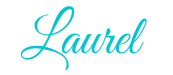 PS: Please check out the newly updated Hot Sales pages!