Dear Laurel,
I have a bay window in my kitchen and I'm contemplating whether or not to add a window seat and cafe curtains, or perhaps Roman shades? The rods for the cafe curtains seem a little scary. Do you have a go to source for those?
I received this request from someone and I apologize that I don't remember who. But, I thought that it would be a good time to discuss what to do with your bay window in terms of window treatments.
But a lot of this applies even if you don't have a bay window.
Of course, we all know what a bay window is, but just in case you've been living in an igloo for your entire life and have no idea what I'm talking about, let's take a look at one.
Or two.
Actually, I'm going to tell you a little (true) story about the very first time I ever lived in a home with a bay window.
In fact, it was two bay windows– in an apartment.
Show of hands. Who here is from the San Francisco bay area? Better yet. Palo Alto?
You're going to love this! But you will need to hang on to something or better yet, sit down.
Back in the mid 1970s when I was still a teen-aged wanna-be-ballerina, I lived in Palo Alto, CA.
I lived in a flat that was the top floor of this home on Lytton Ave, near Cowper, built in the 20s or 30s. I had inherited the apartment at the age of 18 from my big sis who had gone off to Santa Barbara to go back to college. And yes, that is where I parked my car. It was a 1961 Ford station wagon that smoked, that I also inherited. lol (eventually, I got a better car)
The apartment was quite nice, but we used to laugh about the pukey-pink-beige walls. But our landlord insisted that white would get "dirty."
Here I am, right at the time my sister went off to college; I was practicing in the living room. I was 18.
What was the rent, you want to know?
Right. The vestibule, alone would be $5,000 a month now in Palo Alto, especially in this prime location, one block from University Ave. But back in 1974, the entire top floor– living room, dining room, small paneled library, kitchen with eating area, bathroom, two bedrooms, two balconies, roughly 1,500 sq feet and all of the fresh apricots you could ever want to eat was a whopping…
Oh, please do sit down. :]
.
.
.
$165.00/month.
I KNOW. Total insanity!!!
However, after going through three room-mates who were all pretty bad, I decided that I needed to move. It was the summer of '75.
A couple of blocks away, was a building that every time I saw it, my heart stopped.
This building. At the time, called Laning Chateau.  It's now called Staller Court
With the ivy vines, the romantic Juliet balconies over French doors–swoon city!
Right?
And bay windows galore!
Above and below, two more recent shots, obviously in the fall.
Oh, I wanted to live here so badly!!! Surely life would be perfect if I did?
You can read more about this building here.
An aerial view of Laning Chateau and surrounding area.
One day, in 1975, when I was 19 and a half, I walked in and asked to speak with the manager. I inquired if there were any units available.
And she said yes, there was one and she asked if I would like to see it.
I said, "yes, I would love to see it!"
It was a studio, with a separate eat-in kitchen and a large walk-in closet. It was on the top floor and faced south-west.
There it is!!! Right in the corner. Top floor. I got this image off of google maps. Isn't that cool?
And it featured not one, but TWO gorgeous 3-sided bay windows. As you can see, from this recent image, taken from google maps, it was BLINDINGLY BRIGHT during the day when the sun was out.
Gingerly, I asked how much the rent was and she said, "$185.00."
I told her that I would have to think about it and would get back to her shortly.
hahaha! I know, I know! What on earth was there to think about?
Well, at the time, 20 bucks a month felt like a very large expenditure for something that was one-third the size of what I already had! But I did not need that much space and I loved this incredibly charming, blindingly bright apartment!
So, I called my mom and she heartily gave me her approval.
My boyfriend helped me move in.
More in a sec.
Now, this is freaky. I found a unit that looks exactly like mine. (but it's not because this one is on a lower floor)
The ceilings are nine feet and the windows are huge. My bed faced the windows and I used to love to go to sleep staring at the stars.
The kitchen. Exactly the same!
The closet which was actually wide enough for a full-sized bed, but I put my dresser in there. And yes, I had the same yucky wall-to-wall carpet. Didn't like it much then either.
And the same bathroom. In fact, I'm wondering if this IS the same apartment, but no, it's too low down! Gosh, I do remember that medicine cabinet!
Oh, just so you know. The price for this place has gone up a little since then.
hahahahahahahahaha!!!!!!!!!!!!!
But alas, life was not perfect after living there. My boyfriend showed up drunk, one too many times and my ballet life had become unbearable. I only lived here for four months because I decided that I had, had enough and moved back to Wisconsin on Christmas day in 1975.
It was only a year or two ago that I tried to find this place, only after over 40 years, wasn't sure of the street. But, obviously I found it.
Do any of you who are about my age become nostalgic for people and places you haven't seen in decades?
Today, the building looks like this.
They did a number on it a couple of years ago and of course, had to remove the ivy and didn't put it back. I imagine because it does wreak havoc with the structure over time.
Well, I hope that you enjoyed going back in time with me.
However, we need to get back to the bay window situation.
There are several different scenarios for Bay windows.
A Bay Window with draperies, with or without shades and with or without a soffit.
My living room at holiday time.
I'm a little embarrassed that I still have the cheap drapes up, but I did have the custom Roman shades made.
I have all of my rods custom-made, but you can get affordable rods at Wayfair for bay windows.
I've never used them, but they have very good reviews.
original source unknown
I know that a lot of you love shutters; particularly in the south. This is a good idea for privacy, as well. I do love the drapes, but this is interesting. They divided the panel, so that one little piece can go over. That's a good idea, but I just wish that the panel in the middle were a little fuller
Beautiful contemporary living room by Sarah Richardson. Here she mounted the draperies over the small soffit which is perfect. Please note that these drapes are not full enough to close. They would need to be double what they currently are, to close.
The living room we did a couple of years ago. You may recall that the contractor had to put up a two by four so that we'd have somewhere to put the rod! The window is flush with the crown moulding!
And you can't see it, but there is a deep shelf here. It's a little too high to be a seat.
But, here's a seat. While they could have done drapes, I think that these Roman shades over the window seat are perfect by the Kellogg Collection.
A bay window over a kitchen sink
An interesting window situation, but when looking at the entire room, it makes sense. I do love it untreated. However, if there are privacy concerns, then I would do a cafe curtain out of plain linen and mount it on the mullion between the transom and main window.
A great source for cafe rods is Rejuvenation. That's where I got the rods for the Bronxville kitchen.
Love this bay window with the leaded glass. Ideally, it would be left without a treatment as is.
Otherwise, if this were my job and my client insisted, I would have to go and shoot myself. It would have to be a semi-sheer short drape mounted over the moulding, I think. The rod would extend the entire length between the two cabinets, but I would prefer not to have to do this.
A Bay Window behind an eating area with or without a soffit and with or without a window seat.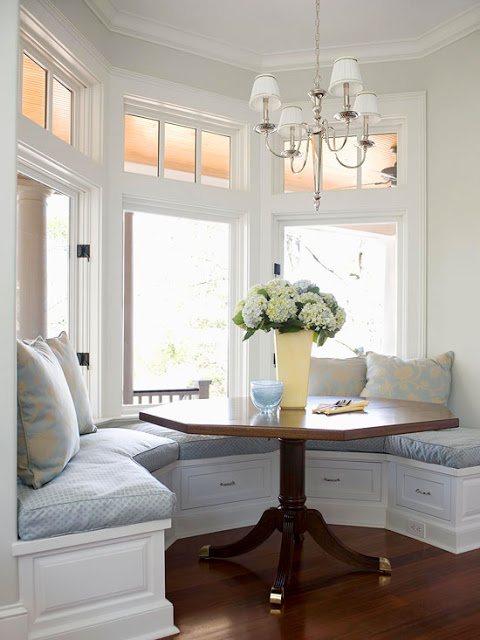 source unknown
This one has no window treatment, but if I were going to do one, it would most likely be inside mount Roman shades. They would be mounted underneath the transom. The bottom window is too tall for a cafe curtain.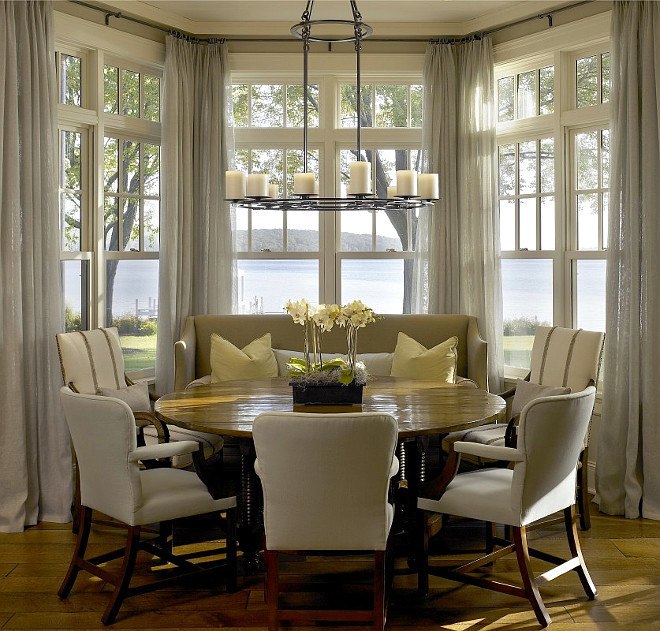 Stunning lake house where they wisely made the lake the star of the show that it is!
Now, might be a good time to bring up the subject of window sill length draperies. Personally, I'm not fond of them. Cafe curtains, if appropriate are fine. Sill length drapes are okay in a boy's room or nursery. But of course, if you like them, that is fine.
Sometimes, there is no choice but to do an outside mount Roman shade.
More about Roman shades if you click the link, above.
A fun design by Summer Thornton.
And that's pretty much it for today.
For more about window treatments, please click here,  here and here.
Don't forget to get your rolodex and/or paint collection orders in.
There are only five more days until the deadline (11:59 PM on November 13th) and then the price is going up for both products. You do get a price break if you purchase them at the same time. For more info, click here.
And paint collection owners. I know that I owe you a board for October. I promise that one will be coming soon and then there will be one more after that. And if you do not yet have the paint collection, but purchase it, you will be privy to the 12 bonus palette boards and furnishings which are my free gift.
xo,