Hi Everyone,
So glad that many of you enjoyed Wednesday's post about cheap fabrics that look expensive.
I think I mentioned that I wanted to continue with budget items that look classy but won't break the bank.
So, today, I'd like to discuss cheap sofas and chai.rs. And, again, I am focusing on pieces that don't look cheap.
Buttttttt, before we get into it, I must remind you guys that the Laurel Home Flash Sale is coming to an end, today, July 26th at 11:59 PM
All of the Laurel Home rocking guides are being sold at 20% off their regular price. This offer is exceedingly rare. In fact, there is usually a price increase in the fall.
Okay, let's dive into our topic of cheap sofas and chairs.
What do I mean by cheap?
Well, from about $700.00-$1,500.00 for a sofa and about $300.00-$800.00 for a chair.
But, Laurel– Aren't these cheap sofas and chairs going to be uhhh– your favorite word, "ersatz" or poorly made, uncomfortable and fall apart?
Those are all great questions. And yes, there is a LOT of ersatz, ugly, amorphous, cheap furniture out there. But, there is also a good amount of cheap furniture that's surprisingly not only good-looking but great looking. And according to reviews, comfortable and well-made.
But sure, there are also cheap sofas and chairs which are not comfortable and will fall apart.
However, I've had clients who, when their kids were little, didn't want to spend megabucks on a piece that was going to get peanut butter and jelly and ice cream sandwiches smashed into it. And worse. But, they also wanted something stylish enough to look good for the time being.
Now, it is doubtful that you are going to get a spring-down luxurious seat. And it's true. The cushions might not hold up so well over time. Plus, very often on a cheap sofa or chair, the cushions don't flip.
It's very important to read the reviews if there are any and any other literature available on your piece before purchasing. If in doubt, you can also call customer service where the piece is sold.
Here are some more things to look out for.
Like all upholstered furniture, we want there to be good proportions for its style. So, for instance, a mid-century modern piece might have a super low back, and that's appropriate for that piece.
Some cheap upholstery is boxy when it is not supposed to be boxy. So, be sure to look at your piece from all angles. The pieces I've selected, for the most part, have profiles that look high-end.
If concerned about buttons falling off, then I wouldn't get tufted furniture. You might be able to crazy glue any buttons back on, or ask an upholsterer if it can be fixed.
However, if it's a piece that should have a pitched back, then make sure that it's not too straight up. Some pieces like Tuxedo sofas do have a straight outside, but the inside upholstery is pitched slightly.
Do you know the biggest aesthetic problem that I often see with cheap sofas and chairs?
It's the legs.
The front legs, be they turned, tapered or straight, look best when they are very close to the edge of the piece unless it's a mid-century style and the legs are meant to be set in.
Ideally, unless it's a style meant to be otherwise, the back legs are curved and not the same leg in the front. However, with cheap sofas and chairs, you will almost always have to screw the legs in after you've received it. It is more difficult to screw in the curved legs, I imagine.
Below, I made a graphic to show in images some leg issues that frequently occur with cheap sofas and chairs. But, thankfully, not all of them, as you will soon see.
More spark plug legs and in the back too. I don't know who created this turned leg design, maybe a former auto mechanic? But, they are horrible. And too bad because they are ruining an otherwise, very nice chair.
Let's continue with our cheap chairs, and then we'll look at the cheap sofas.
There is a widget at the bottom of the post with many more cheap sofas and chairs and information about them. But, I am hi-lighting some of the sofas and chairs in the post.
Those who follow the hot sales will recognize one of my favorite little occasional chairs that's on sale right now.
Another favorite, the Soma Mina from Pottery Barn. It comes in several fabrics and starts at only $319.00!
Classic slipper chair from Wayfair
Ridgedale armchair from Wayfair
It comes in a few different colorways, and there's a gorgeous sofa version, as well.
And another image showing in a room setting. I always love to see these because it gives a better idea of scale.
Some have asked me about skirts on sofas.
Most of these don't, but some do. I like skirts which have a slip-cover look. Or, they are a slipcover.  My sofa has a skirt, but that's because it's a sleep sofa.
Bad angle on a very cool roll armchair from Wayfair. There's a coordinating sofa as well. This is available in dozens of fabrics, and if you're looking for a stylish and deep and cheap chair, this might work nicely for you.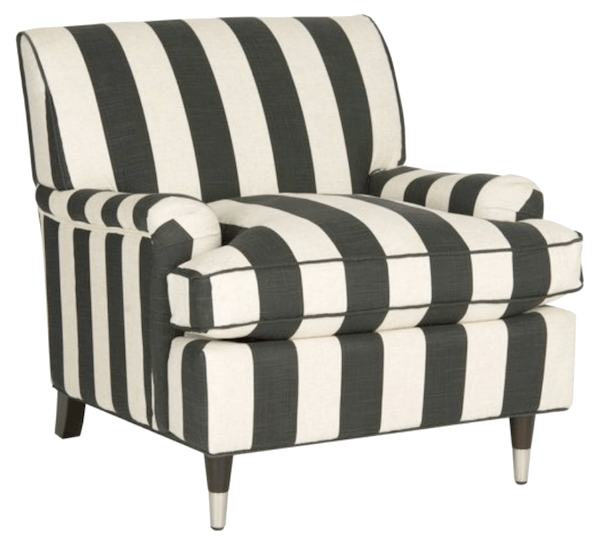 Very stylish roll arm club chair at One Kings Lane.
Use promo code OKL20REVEAL and get 20% off. Plus, shipping is only 40 bucks!
Bourgoin Armchair from Wayfair is in the manner of the Spruce Street series at Serena and Lily.
By the way, all of the gorgeous upholstered furniture is on sale at S & L. (use code: MADEFORYOU) It's certainly not cheap, but it's all made in the USA by Lee Industries, with gorgeous high-end fabrics. So, if your budget allows, I'd definitely consider taking advantage of the sale.
What are the best sources for cheap sofas and chairs?
Some of my favorites are:
Joss and Main – They have a great selection of cheap sofas!
West Elm for more contemporary/modern pieces
One King's Lane has some great cheap chairs amongst their more expensive ones
Let's move on to the cheap sofas.

This Tuxedo style Harcourt sofa from Joss & Main looks so much more expensive than it is. There are lots of images on Wayfair too.
The Lincolnwood slipcovered sofa from Joss & Main – only $1,040.00!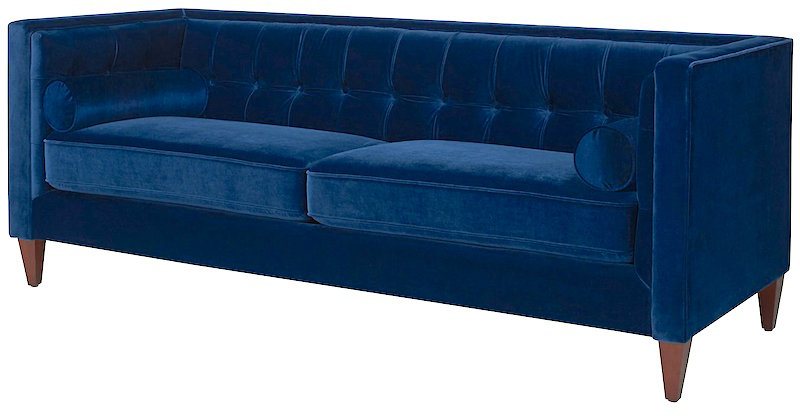 I believe that this is the same frame as the teal sofa above. It's awfully good-looking and under $1,000. This is a situation because of the straight back when it is fine to have all four legs be straight and tapered. I lighted up the image a little because reviewers said that the upholstery is lighter than it looks in the image on the website.
The elegant roll arm Corey Sofa at Wayfair
Love the profile of this piece, and it's only $1,232.00!
Another colorway of the Corey Sofa shown in blue further up the page. This piece is only $900.00. Amazing!

And another deep roll arm sofa– The Durham sofa which is like the white chair above, taken from a bad angle. It is available in numerous fabrics.
Below is a widget of 36 beautiful budget sofas and chairs
(please click on any image for more information)

And below is a graphic to pin to Pinterest for reference.
I hope you enjoyed these cheap sofas and chairs. You might also enjoy this post about 15 favorite classic sofas.
Please be sure to visit the HOT SALES for more budget furnishings.
And, please take advantage of the rare flash sale of my rockin' interior design guides.
xo,