Oh Laurel,
Please, please, please, I'm begging you to do a blog post on the topic of quick fix home decor. I'll do anything. I'll give you my firstborn, I'll clean your toilet. But, I JUST found out that WE are hosting Thanksgiving this year. AND, then my daughter is bringing home her boyfriend for Christmas and his parents will be spending a night or two as well.
I'm sure that we're not the only ones facing this sort of issue. I mean, I just took a look around, and this place is a total shitshow. I'm pretty embarrassed, but life has gotten in the way. However, it's never too late to spiffy things up. Right?
Well, yes, I realize that we only have a month. And, that's not a lot of time to get things in order.
Sure, if we had gobs of money, and a crew of ten, we could do a lot more. Right now, it's my husband, one son who's still at home and I have a couple of friends who might be able to lend a hand.
And, of course, we really can't spend more than maybe $5,000 – tops. So, we won't be able to purchase much in the way of furniture. But, we need to get the most bang for our bucks for every room.
Please do a quick fix home decor post!
Oh, one last thing. The upholstery on the sofa is pretty stained. I like the sofa, but, it's pretty awful and I don't think the stains will come out. I got a quote for $3,500 to reupholster the sofa!

Sincerely,
Donna Prokrastinator
*********
Thank you Donna who only exists in my head. haha But, is based on real people and situations. This is a great topic I think; that of quick-fix home decor. Although, please note that a good bargaining tool does not include gifting me your first-born.  How well I know that trick. I tried giving my rambunctious first born away for years. But, for some reason, every time I mentioned it the folks ran quickly in the opposite direction. ;] ;]
By the time he got out of college and left the nest of his own accord, I couldn't believe that I tried to give him away. ;]
Now, I relish the time we get to spend together. Life is very strange, sometimes.
Just so you know, banana cream pie (BCP) makes a FAR better bribe.
However, I am not chastising or judging. But, Why are you doing this to yourself?
Well, it's okay. I think I have the answer for this phenomenon.
DENIAL
I think that a lot of us, myself included do this. We deny how much time it takes to do things. Or, we don't want to even think of what we need to do until we need to do it. But, by then, we'll have a new problem which is the stress involved with getting things done, in time.
However, I have some quick fix home decor ideas which I think will go a long way towards making your home a warm, comfortable, happy place to be when you only have a few weeks to get it together.
Let's dive in with my list of ten categories.
One) My first recommendation is to CLEAN and PURGE.
It's really not all that different from getting your home ready to put on the market for sale. Please check out this post that shares my philosophy on how to do so.
Since you have some friends who are willing to help, maybe you can enlist them and husband and daughter. Of course, I would volunteer to reciprocate.
For some ideas about this, please read this post where the fabulous mother and daughter organizing team of Done and Done came by and did a much appreciated number on my place.
Please also follow their blog for some fabulous ideas.  That links to their own post about quick fix home decor and other ideas I hadn't thought of. OR, if you're in the New York metro area, you can hire them or their associates to help you out.
Two) Another way we all know adds freshness is with a new paint job.
However, if that's just going to be too much, you can actually wash the grime off of your walls. Here's a tutorial that looks pretty good that explains the best way to do that.
Please however, test first in an inconspicuous spot.
OR, wash walls in the main living spaces and paint only the guest room. For some great bedroom paint colors, you're probably not using, click here.
Of course, if you can manage the painting project and, you're struggling with your paint colors, please considering getting the Laurel Home Paint and Palette Collection
Three) The next idea is to take the sofa and actually PAINT it.
Yes, you can paint fabric.
I did which you can read about here. And, I didn't even use fabric paint, however I do recommend that you do. And mine was only a color wash. To cover stains, the paint needs to be opaque.
Here is a post giving a terrific tutorial about how to do that.
And, if you'd like to see many more ideas and tutorials about upholstery painting, click here.
Also, if you'd like to learn about ways to score some cool free or nearly free furniture, click here.
Four) LIGHTING
If someone were to ask me the number one decorating issue or mistake that people do, it's lighting.
Very recently, I was in a hotel room. There was a flush mount bright white LED ceiling light and then two BRIGHT WHITE LED sconces between two queen-sized beds.
The absolute worst.
And, there's really no excuse. Hotels all have interior designers and that one should be shot at dawn. Okay, I'm sorry; that's a tad harsh. I meant, shot at dawn with a blast of ultra bright LED lighting!
Seriously, it is one of the most horrible ideas ever. I feel that artificial lighting should be warm and resemble candle light. So, if doing LED lighting in a residential setting my preference is for 2700 up to 3000 kelvins and no higher. However, that's my opinion.
There are two situations that I can think of that require such bright lights.
An operating room
An airport runway
So, if doing LED lighting, what should you get?
Great question. LED lighting is measured in kelvins. And, the most yellow sold for residential is probably 2200 and the highest about 6,000. But, there's higher and lower.
For residential and that would go for a hotel too, I would recommend 2700 – 3500 kelvins at the coolest.
I've never understood the so-called "daylight" LED bulb. I've never seen daylight that's so incredibly bright white. After-all, isn't the sun yellow?
But, in all of my years of experience, I've discovered that most folks don't get their lighting right either.
Like a lot of things that really aren't that great, but everyone does them anyway, are recessed down lights. AKA: "high hats." Aside from the kitchen, and maybe a hallway, they are largely awful. In fact, you can read a post here where we discuss this.
Of course, 95% of you almost definitely have them. Me too! (but only in my tiny bathroom).
Here is what I recommend.
Generally, even if you have time and are not doing a major renovation, leave them and put them on a dimmer– very dim.
Then, supplement generously with table lamps, floor lamps and possibly sconces.
Please check out this post on inexpensive lamps
And, another favorite post about chandeliers that look more expensive than they are
There are also a lot of great looking and affordable flush mount and semi-flush mount fixtures here.
For more helpful posts on getting your light right click here
Premium Flicker Flameless wax candles from Pottery Barn can add a soft glow to your tables or mantel.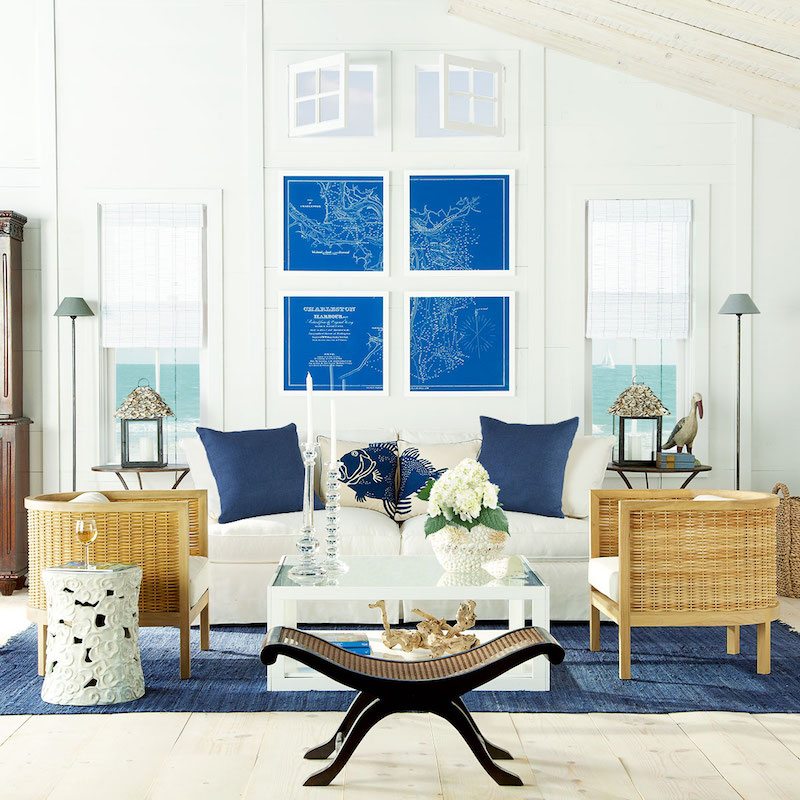 One of my favorite ways to add accent lighting in any space is the very skinny floor lamp from Wisteria. I've specified this lamp that you can tuck in anywhere. And, it is surprisingly sturdy.
In addition, Wisteria is a great place for home furnishings. And, right now, they are having a very cool buy more save more. You only have to spend $500 or more to get 25% off your order.
Five) Pillows and Throws
One of my favorite posts is this one about throw pillows. Throw pillows are an excellent way to update any room with upholstered furniture.
And, for some terrific sources for pillow covers and other home furnishings, please check out this post on the top Etsy sources  This was updated only about six weeks ago.
Six) Accessories, Art and Mirrors
These wonderful accent pieces can really wake up a tired, date room.
Another helpful post is this one all about 50 classic and timeless acessories and home furnishings
Seven) Beautiful bed linens and maybe a new bed or headboard if it's in the budget.
Serena and Lily, right now through the 28th of October has all of their gorgeous linens AND beds on sale. Some of them are in the Hot Sales Bed & Bath page.
This post shares some of my favorite online sources for bed linens.
For more bedroom ideas, on the blog, click here
https://laurelberninteriors.com/favorite-bed-bath-sales/And, of course, please check out the bed and bath hot sales page here.
Eight) Luxurious bath items.
Wonderful towels from Pottery Barn
And, really everything you could want for your bed and bath and at great prices right now.
And, not just fluffy towels, but wonderful soaps, bath salts, hair products, q-tips, cotton balls, a couple of extra toot brushes and tooth paste.
Do you know this brand, Elemis? Well, let me tell you that everything I've tried of theirs is first rate. This lime and ginger is the most divine salt scrub. Please trust me. The smell is very subtle and addictive.
For more addictive, I recommend Moroccan Oil Shampoo and Conditioner.
You can get it here.
Their hydrating shampoo and conditioner is sublime. And the smell, IMO, is out of this world!
And, how about this idea. Get a set of travel-size containers and make your own hotel-sized versions of your favorite toiletries. Label them and make a sheet explaining what each item is.
Put it on a small mirrored tray and be sure to let them know that the entire thing is a gift they can take back with them. Love these trays, above from Pottery Barn and on sale right now.
Eight) Fresh flowers
Or maybe beautiful blooming plants. Hands down my favorite source for stylish cut flowers and blooming plants is Terrain. Above is only a small sampling of what they sell.
Nine) Beautiful Table Top
Lovely holiday table top with items available at One Kings Lane. And, most at 20% off with code: OKL20CARD
Some of you may recall that I was hosting Thanksgiving two years ago. It was just my son and his girlfriend, but I really needed some new dishes and silverware. So, I headed over to Pottery Barn.
I got the salad and dinner plates from this set and love them to bits. I use the dishes every day and not one has chipped or broken. Of course, there are other dishes at Pottery Barn and they happen to be 25% off right now.
And, I also got the Adele beaded flatware which I also use every day and enjoy a lot. That's also on sale right now.
If you want to see my table for Thanksgiving two years ago, click here.
Ten) Stylish Holiday Decor
Very soon, we will be updating the holiday shop to make it up-to-date. Some items will still be current. But, in the meantime, some great sources to look at if you wish to get a leg up are
One Kings Lane – please remember that your promo code: OKL20CARD will get you 20% off on many items
Decor and Lights on sale right now at Pottery Barn
Well, I hope that gave y'all some good ideas for quick-fix home decor. And, some gift ideas too for your holiday guests.
By the way, what time are you expecting me? ;]
Please check out much more on the hot sales pages.
xo,