Dear Laurel,
I'm so confused as to what the rules are for mixing patterns in a room. For instance: Can you mix stripes? Or can you mix stripes with plaids? What about stripes, plaids and geometric patterns?
When is it too much?
Are there patterns that should never be mixed together?
And, how do you avoid making it look too contrived?
Thank you. I hope that you can do a blog post to clarify this confusing topic.
Pat Urnt
*********
Well, Pat asks some very good questions. So, today, we're going to tackle this all-important topic of mixing patterns in a room.
And, actually, there is a post which goes over strictly mixing fabric patterns. Originally, I was going to mix the two posts. But, this is an all new post and takes a different bent.
One solution to mixing patterns in a room is to have no pattern whatsoever.
This is typically associated with contemporary or modern styles, of course. However, traditional rooms or rather, classic rooms as I prefer to call them, can be completely devoid of pattern.
Martha Stewart above and below is known for using very little pattern in most of her rooms.
For more pretty pink rooms, click here and here.
Love those Chinoiserie panels!
Above and below, the exquisite home of antiquarian Gerald Bland on instagram. Remember this post from last year celebrating his gorgeous style.
There's virtually no pattern except in the pillow. By using no or very little pattern, it allows Gerald's exquisite art to shine through.
Well, Laurel, isn't art also a pattern?
It's certainly a consideration, but I see it the same as what's outside the window. And yes, that needs to be considered as well, IMO.
So, let's examine all of the places where we can have pattern in a room.
But, before we do that, I need to tell some of you something.
It's only one word, so I don't think you'll need to write it down.
RELAX.
Look, I'm not trying to negate your angst, however, mixing patterns is not really such a big deal.
It's really not.
Trying to figure out how to pay for your child's college education is a big deal.
Figuring out how to mix patterns in your living room is not.
And, sure, I can give you some general guidelines, but I have found that when I just put together things I love, they usually go together just fine.
For example: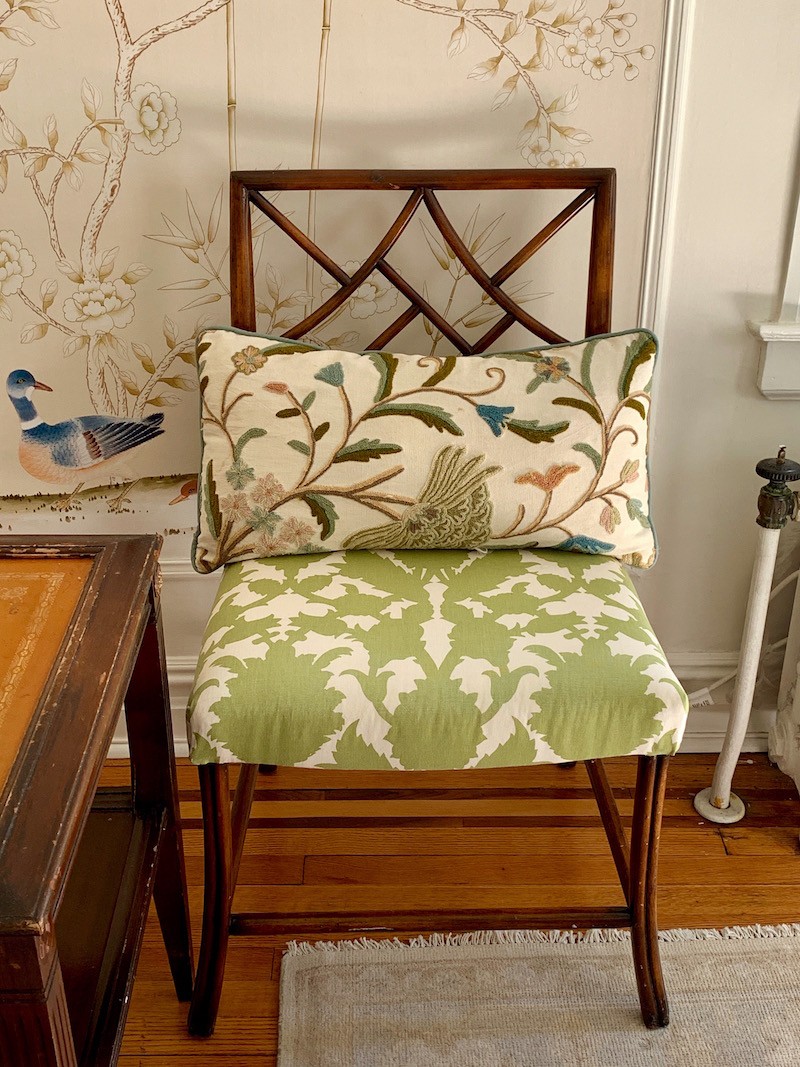 Here's a quick pic I snapped with my new I-phone X. Holy crap, that's pretty freaking amazing! The photo, itself, from a clarity and color standpoint.
Let's take a look at the mix of patterns here.
Do these patterns "go" together?
No. They do not.
Is it ugly?
Really, I don't think so. I think it's interesting. And, I think so, because it looks collected. (It definitely is!)
Is the pattern police going to show up and arrest me for breaking the rules?
Maybe. (However, I hope they send some cute cops this time) ;]
Did I plan for things to be like this?
Ummm… no.
The wallpaper from Mural Sources, you guys know that this is for my bedroom refresh which should've been completed a while back, but… Please, no judging. Thank  you. Fine, judge. However, please keep it to yourself. Actually, all I need is a new light fixture, mirror and the linens.
But, anyway. The chair, from Sarreid, I've had for at least a decade and had it recovered over six years ago.  It's supposed to go in the living room. That fabric on the seat is from Duralee but discontinued. The pillow was made from some scraps in 2010.
And, the rug, I love and purchased from Overstock last year.
The point being that most of the elements in the image were not meant to go together.
You see… something else I discovered some years ago.
In my old bedroom I had a bed from Grange in a cool celery green. And the rug was the one you can see here that was over a wall-to-wall sisal look carpeting. To be clear, the image is from my current bedroom before it was painted and papered last year.
Yes, the rug is gold and the bed was yellow-green. Didn't it clash?
Yes, it did, haha, but I loved it!
I had a similar situation in my den.
The fabric on the sofa was a couple shades different than the green colors in the rug. I think you can see that here.
I loved that too!
The truth is… I would never have taken such chances for a client– intentionally. But, what I learned is what I said earlier.
CHILL!!!
It's okay if the colors and patterns are a little "off."
In fact, it might even be better.
But, Laurel…
Please don't "but me." ;]
But Laurel…
Can't you at least give us the rules and then if we want to break them, we'll do so.
Fine. Sure. I will give you some rules and then you can go and break them. ;]
Some Rules For Mixing Patterns.
For me, the most important thing over pattern, is color. But, please listen up, because this one is interesting too.
I think one the best designers who truly understands how to use color and pattern together is Mark D. Sikes.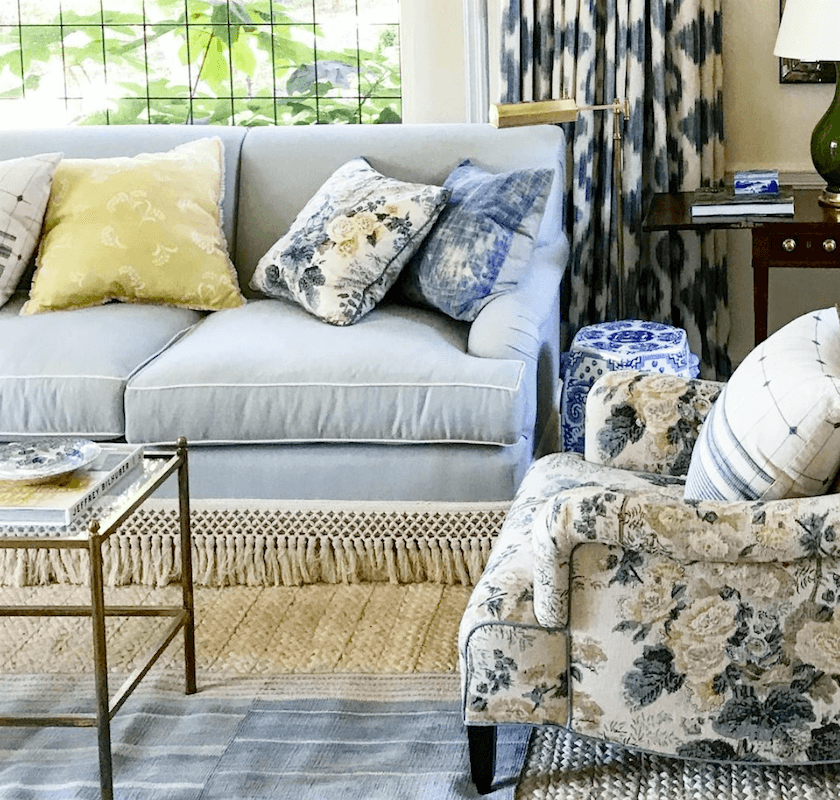 Amy Neunsinger photo – Mark D Sikes
Let's take a closer look at Mark's work because this one is a great example of how to mix patterns.
There's a solid blue linen from Rogers and Goffigon used for the sofa. That is one of my favorite boutique designer fabric companies. I have not seen it sold online to the public.
A floral used on the chairs and repeated on one pillow. We saw this classic block print from Lee Jofa, Althea, in last week's pillow post! It's one of my favorites too.
A small scale floral jacquard, it appears to be in lemon yellow (sorry, I don't know where that one is from)
Then, a more contemporary stripe in blue and white gives a fresh note.
Then, there are the details like that gorgeous fringe, the layered rugs, other furniture, lighting and accessories. All of those elements are what give this room a beautiful richness in texture, color and pattern.
Amy Neunsinger photo – Mark D Sikes mixing patterns
Another shot of the room from the spread in House Beautiful. Interesting that Mark put the chintz on the opposing sofa. However, it's actually further away than it looks. I see another coffee table in front of it. And, who knows? Maybe in real life, the furniture is arranged differently. What you see in photos is not always what you get.
I also think that the pink/orchid chairs is a great example of using something a little off-color to provide a certain tension. This is the element that feels scary for most of us. But, the blue and white chinoiserie, introduces a "clashing" shade of blue and the green lamps, a "clashing" shade of green.
So, maybe it IS the clashing shades and sometimes patterns that create the best designs?
I certainly feel that these are elements not frequently seen in rooms by novice designers. And, I do believe that it takes a particularly refined eye to pull it off so beautifully as Mark does. I'm bringing it up because all of the furnishings that go into making a beautifully designed room are inter-related.
That's why it's so difficult to answer questions without seeing the entire picture.

Mark's method of putting the fabrics up on a board or somewhere and seeing everything together is very helpful tool.
So, to recap. A terrific formula for mixing patterns:
A solid fabric or more than one solid. Or, a solid with a texture or tone-on-tone fabric
large scale floral and maybe a smaller scale floral
jacquard and/or smaller geometric
Larger geometrics can be used too, but probably in smaller doses
stripe(s) and/or a plaid or check
Please be sure to check out this post for more ideas.
Oh, I just wanted to finish with a charming photo of the lovely Russian ballerina, Maria Khoreva who at only 18 is already a first soloist (only one rank under principle dancer) with the Mariinsky Theatre, one of the top companies in the world.
I swiped this from her instagram where she goes by the name of Marachok. If you love ballet even half as much as I do, you will love her feed. Maria also speaks fluent English, and is wise well beyond her years! Smart, beautiful and immensely talented.
And oh my, oh my! Is that a Greek Key pattern I spy on the mirror? Yes, of course!
Last fall, I had the great pleasure of getting to see her perform, here in New York City.
Please, no comments about her weight. She is not under weight for a ballerina. This is Maria's natural body type. She is naturally small boned and finely muscled. And, I can assure you, she does not starve herself to look like that. Think race horse. I'm only saying that because I featured her two years ago and some made some derogatory comments.
Another 18-yr-old Russian ballerina I am adoring also named Maria but frequently referred to as "Masha" Bulanova. Here you can see her dancing brilliantly and with the panache and charisma of one at least ten years older.
Enjoy!
xo,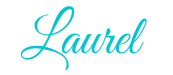 PS: please check out the newly updated Hot Sales and especially the huge TRIPLE dipping sales at One King's Lane.