Dear Laurel,
Thank you for the recent posts about sofas, both inexpensive sofas and more expensive sofas. They're all beautiful. Seriously, there were at least a dozen I would have no problem going out and getting right this second.
But, it's my husband. Oh, I wish I could be original. I wish I had a husband who would keep his mouth shut about the furniture, even though he earns all of the money lol. For some reason, he believes that he's entitled to a say in the matter.
Isn't that ridiculous? ;]
He insists that he HAS to have a sectional sofa in our living room.
And, he would prefer leather. He really wants one of those hideous shiny leather albatrosses with the stadium seats, but I ran out of the kitchen sobbing and refused to come out of my room. Oh, I know… very juvenile. However, my MANipulating tactics worked. I guess he wanted his supper. So, in a moment of vulnerability, he backed down on the stadium seats and leather. However, I did make him that chocolate cake which made him happy.

In addition, our living room has to double as a family room as there is no family room. It is a smallish Bungalow built in the early 30s; yes, loaded with charm. And, yes, the living room is right there when you open the front door.
He showed me the kind of sectional that appeals to him.
This is the one that nearly caused me to have a nervous breakdown.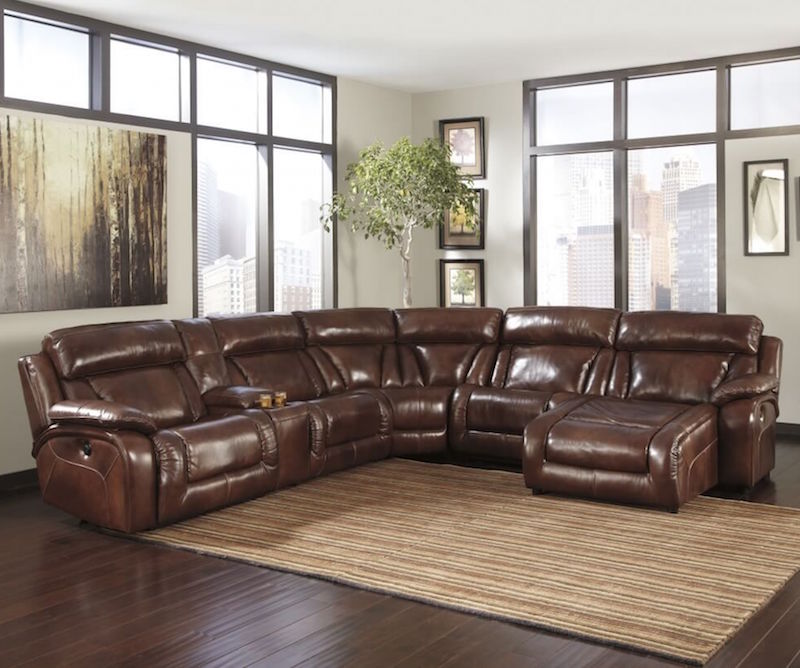 Yes, Laurel, this is what he wants. And no, divorce is not an option. But, like I said, I got him to see the light.

And, here is his "option B."
Fortunately, this one won't work because it is larger than our room. I'm serious! Dodged that bullet.

He says:
"I work hard and when I come home, I want to be able to relax and I want to be comfortable. Is that too much to ask?"
Well, no, it isn't too much to ask. And, yes, he does work hard and I do want him to be happy. But isn't there some other way for him to be comfortable and for me to retain my beautiful living room?
Sincerely,
Sophie Petit
***
Thank you Sophie. I hear you. Just curious; is your husband, per chance, the one who calls me "that Laurel" ? ;]
Before I go on, Sophie is a fictitious character out of my imagination. But, she is based on real people and situations I have encountered. So, I am not bound to solving her specific problem of a comfortable sectional sofa for a smallish living room.
I will be addressing broader concerns. But a universal issue is one of comfort. And, a common problem is a sectional that doesn't fit in the room. Oh, I have seen it more than once. They get it home and it does not fit! Guess they didn't have a plan!
You know, if it was 200 years ago, for comfort, below is the best we could hope for after a hard day of work.
19th Century Chippendale Style Camel Back Sofa – First Dibs
Or maybe this one, below.
19th Century English Eight Legged Regency Sofa – First Dibs
Hmmm… This is reminding me of the Robin Bruce Madeline sofa!
I'm just saying that comfort is obviously a relative thing.
I mean, if we were in early 19th century Sweden, our comfy sofa might've looked like this Gustavian Swedish piece.
Hey, at least it's an L-shape. hahahaha! That's about the closest thing to a sectional I could find from that era.
Oh, except for this French canapé, below.
Claude I Sené (French, 1724–1792) Date: ca. 1775–80 Canapé – Metropolitan Museum of Art
However, it doesn't come apart, even though it is in sections. Interesting, how the ends face away.
There must be a good reason for the, but I don't know what it is. :]
When did the first real sectional sofas come into being?
I'm not quite sure about that either, although I think the Flintstones had one. ;] I can't find much before the mid-20th century modern movement.

Well, we have this 19th century boudoir sofa from France found on 1st Dibs. But, it too is attached. Interesting piece! That's new upholstery, but they left the legs as is. I rather like that. What I want to know is why there are four seats and in this configuration? And why is there this verrrry tall conical back?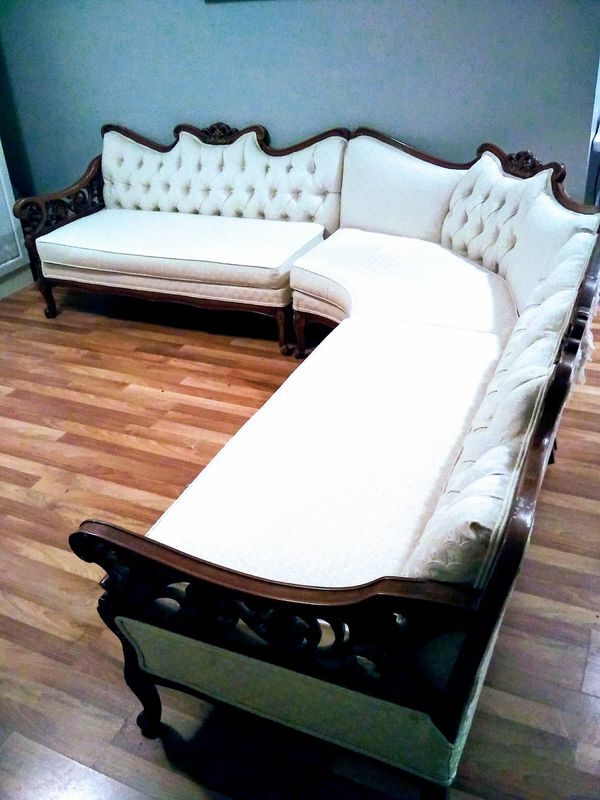 Okay, I found one. One 19th century, Victorian-style piece from France. But, that is all I found that is genuinely 19th century.

And, I found this French provincial-style piece. It's actually 20th century circa 1960.
However, the hey-day of the sectional sofa was in the 1940s-50s. The one above is not what we think of as mid-century, but they are saying that it is on Chairish.
The sectional sofas began to proliferate in the middle of the 20th century.
This Danish Modern mid-century sectional sofa is more what I think of when I think of a mid-century sectional. Aside from the dirty upholstery, I think that this piece is a work of art.
In Evansville, Indiana where I spent my formative years, we had neighbors who had a sofa very much like this one in their family room. I thought it was the coolest thing ever. Everything in their home was mid-century modern. It was always fun to go over as I felt like I was living in alternative reality while there.
So, how did we get from this sinuous masterpiece to the man-eating monster covered in polyurethaned cow-hide?
Good question, I think. :]
Here's the missing link– or part of it.
The Seventies.
Oh well… What's done is done. But, gosh, they still make these monstrosities. If you have one and love it, of course, I will accept that. However, please tell me. What happens when the queen comes to visit? Are you going to make her crawl on all fours to take her seat? Or, do you have some sort of pulley contraption that will hoist her in and out of her seat? I suppose that could work.
The biggest issue I'm hearing, however, is one of comfort. And believe me when I tell you that over the years it was practically a running joke. Invariably, I would hear:
"My husband has to sit in it. He's afraid the sofa won't be comfortable."
[Right. I'm going to sell you a piece of crap that you're going to hate and find horribly uncomfortable. That's because I'm an incorrigible masochist. Hope you don't mind.]
Over the years, I came up with a far more congenial script to explain that they will love the upholstered furniture I sell. Everyone does. And that's the truth! Although, it took about 15 years to get to the point where I could say it with confidence!
However, in the case of Sophie's husband, it appears that he's equating size with comfort.
As in:
BIG, BLOATED BLOB = comfortable
sleek, chic, stylish = UNCOMFORTABLE
Actually, I think that he has it backwards. It's far more likely that the behemoth is going to be the one that's uncomfortable.
A sofa doesn't have to be a distended beast in order to be comfortable. As any woman who's had a baby knows. It's not what's on the outside that counts. It's what's on the inside. ;]
And it's the same with a sofa, whether it's in sections or not. Comfort is achieved with interior depth, cushion fill and pitch of the back.
In addition, there's no reason that a sectional sofa has to be different style-wise from its single unit brothers and sisters.
For example:
The sectional sofa with amputated legs. I never got this look. I mean, we already have a huuuuge hunk of upholstery. Why make it even HEAVIER with this exaggerated rail. (the part under the seat cushion.)
I mean, imagine amputating the gorgeous legs off of the beautiful Chippendale style sofa above and instead, extending the length of the rail.
So, so bad.
What about skirts, Laurel? Does this mean that we can't have a skirt? I'll be so disappointed, because I love skirts.
Of course you can have a skirt. A skirt is a different thing. Although, generally equated with traditional furniture styles, a skirt is actually modern, since they did not appear until well into the 20th century. Always, there are legs underneath the skirt. They might be short block legs. But, I've never seen an upholstered sofa with a skirt that didn't have them.

I love skirts too; especially a beautiful dress-maker or waterfall style skirt like on  the beautiful Jamieson sofa from Serena and Lily. In fact, I've featured this sofa in at least three of the Laurel Home Paint, Palette and Home Furnishings Collection boards.
By the way, S & L has sweetened the pot on their Winter Tent Sale by offering an additional 20% off of their sale items with code: HOORAY
HOORAY, INDEED!
Another thing to watch out for with all upholstered pieces, not just sectional sofas are weird shapes.
If you go back up and look at the big ugly green sectional, please notice the strange curve on the side panel.
The only time I can recall seeing this affectation in furniture is in the Empire or Beidermeier style which was roughly 200 years ago. And, it is elegant on this piece. Ancient Egyptian had these shapes too, I believe.
But, that sectional is hardly Ancient Egyptian, Empire or Beidermeier. On a contemporary piece, it looks quite strange to me.
Same thing goes for this strange arm.
Just because you can, doesn't mean you should. ;]
Therefore, please look out for strange arms and shapes. For some reason, they seem even more commonplace on sectionals than on regular sofas.

As for the shiny leather things with the chaises and cup-holders, aside from their inherent fugly. In a living room situation, it makes the living room about watching TV and that is not really living, IMO. It makes it a media room. And there's nothing wrong with that, but if it's the only room for living, conversing, greeting and watching TV, I believe that it needs to function well for all purposes.
Now, does the husband NEED a sectional to be comfortable?
Probably not. He could be just as comfortable, I think with a plush deep sofa and ottoman.
What about the sectionals that come with a chaise?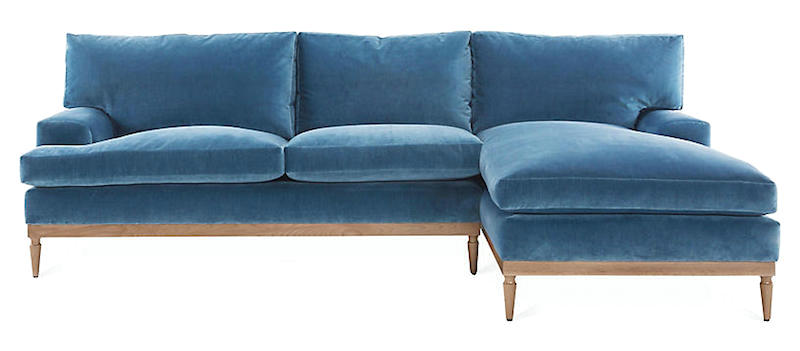 Sutton right facing sectional
I love this piece and have featured it many times in my hot sales. In fact, you can get 20% off this piece by using code: OKL20CARD. But, it's not going to work for everyone and here's why.
The problem here is that one person gets to put their feet up and the other people watching TV, don't. That is, unless they get an ottoman  What makes more sense to me, is to have a piece like this have a back on the right side of the sectional (or left, if a left facing piece.) That way, someone can sit perpendicular. OR that section can still be used as a chaise.
And then, I would put an ottoman in front where everyone can put their feet up.
As per usual, I looked at numerous sofas to come up with my list of the best sectionals.
Here's what I'm looking for:
As always, the first thing I look for is scale and proportion.
My preference is for a back, not higher than 34″. The reason is that it is already a big piece of furniture.
My ideal back cushions are box-shaped because they are sleeker. However, not all of these have that style of cushion, but they are still lovely pieces, so they made the cut.
Do you know why there are almost always back cushions on a sectional sofa?
The reason is because it is not easy to make the pieces of a sectional fit perfectly flush together and the back cushions will hide any small gaps. This doesn't mean that a tight-back sectional will have these gaps, but the cushions will hide them, if there.
What else am I looking for in a sectional sofa?
I look for legs of some kind and they can be straight, tapered, turned or those metallic modern legs for some styles.
However, if your sectional has a slipcover, it will most likely have a skirt and that is fine.
The other details are the same as for any other sofa or upholstered piece.
And also, here is a lot of good information about what to look for in a quality upholstered chair or sofa.
The pieces I have chosen run the gamut for new pieces in the mid-century manner, to English roll arm more traditional styled sectionals.
The following are 15 of my favorite sectional sofas.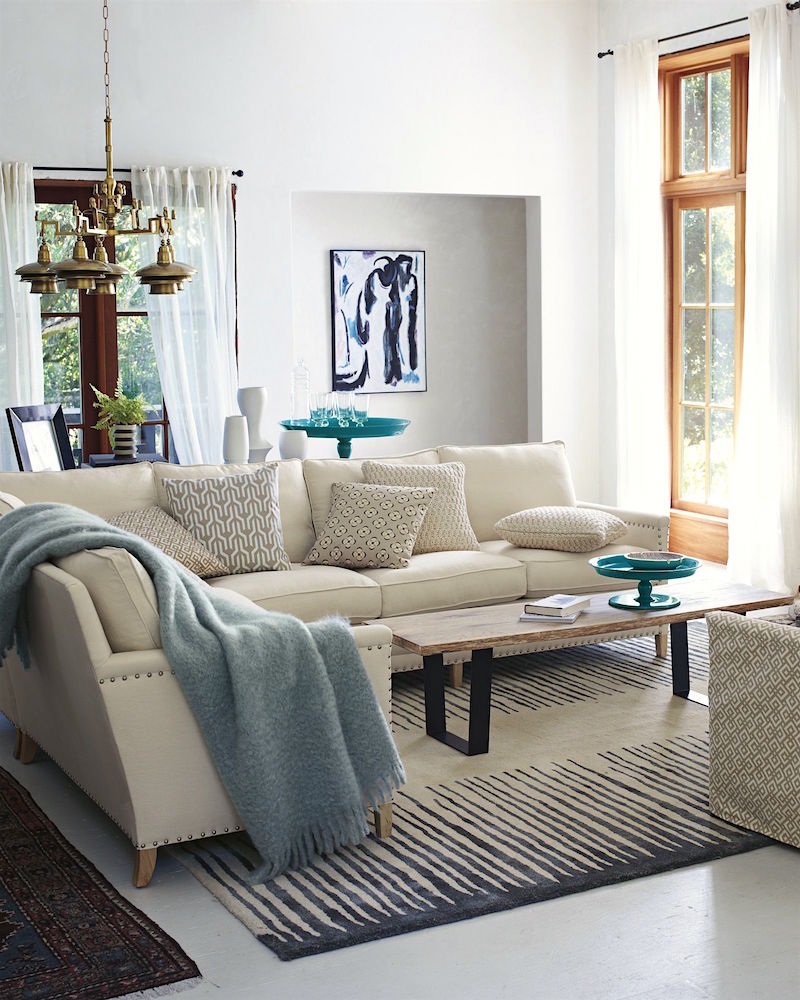 Serena and Lily Spruce Street Sectional Sofa
This is probably my number one favorite sectional that I have featured numerous times on this blog.  It is a wonderful sectional, because it is roomy but still only 35″ deep. It has a lovely pitch and there are dozens of fabrics, choice of leg finishes and nailheads or not.

Another view of the Spruce Street Sectional.
Williams Sonoma Home also has the same frame which they call the Addison. It comes in more size options than S & L and also chairs, sofas and loveseats.
Some of you may remember a rash of posts last summer where I took a real living and/or family room and created some room layouts. And, I used the Spruce Street sectional or some variation of it, in these posts:
about a cramped vacation home wanting to serve as a full-time home
A home with a stunning view, but awkward and unusual lay-out
And this post, featuring two small living rooms and features a Spruce Street loveseat
Serena and Lily Barton Sectional has a more contemporary styling with a partial chaise. I love this piece and as always, it is beautifully styled with throw pillows.
Above and below is Jonathan Adler's Lampert sofa in their sectional version.
Jonathan Adler Lampert sectional sofa

West Elm Andes sectional sofa above and below
It comes in numerous fabrics and two finish options for the legs.
And, the worn velvet shown above is under $2,500 now, on sale!
This is a performance velvet with beautiful styling on this Andes sectional sofa.
Room and Board Reese Curved Retro-Style Sectional Sofa is a faithful reproduction of a mid-century sectional. There are numerous fabric options to choose from.
Room and Board Reese Curved Retro-Style Sectional Sofa above and below
Room and Board Reese sectional sofa in a room setting
It is available in numerous fabrics. Quite stunning, I think.
Robin Bruce curved Oslo-sectional sofa – One Kings Lane
Love this piece which makes for an easy conversational sectional sofa, or for watching TV. It comes in several performance fabrics. You can see them all here.
You might recall me sitting in this lovely piece during my visit to their new store in Manhattan in November. And, it is supremely comfortable. If you are interested in any of these, you can get 20% off with code: OKL20CARD.
Joe Ruggiero Collection – One Kings Lane – Tribeca Sectional Sofa – White Sunbrella
This piece is more expensive than some, but it is a high-end piece with a down and feather fill.
One Kings Lane Upton Right-Facing Sectional Sofa – Ivory Linen
This is a very stylish, versatile piece and also comes in several fabrics. Use code: OKL20CARD for 20% off.
Robin Bruce Amia Sectional Sofa – Charcoal Velvet – One Kings Lane
This piece also comes in several fabrics and you can use code: OKL20CARD for 20% off.
Robin Bruce Brooke Left-facing sectional sofa in ivory crypton
We were looking at the Brooke regular sofa in this post. It also comes in a right facing version. And the promo code works here, if interested.
Jonathan Adler Danner sectional sofa aberdeen cloud
I adore this sectional. It comes in numerous fabrics and leg finishes for a fully custom piece.
The Danner sectional in a room setting. This is very interesting because who would think to put mid-century style furniture in a rustic woodsy home? But it works, I think.
One Kings Lane Davia Right-facing Sectional Sofa retro style – platinum. This is nearly identical to the Room and Board sectional Reese sectional (above). However, there are fewer fabrics available than the R&B sectional but with the promo code OKL20CARD the price is only $3,135.00 That's quite good for a curved three-piece sectional.
Cococo – Radius English Arm Sectional
The Comfortable Couch Company (Cococo) is a retail source that I ordered from once and had a very handsome custom sectional made for a client. What's interesting with this company are their immense customization abilities for their pieces. Not only, the fabrics, but the size, cushion fill legs, nailheads and other details can be specified. And, their prices are quite reasonable.
They actually have numerous styles that I'm quite fond of.
When I worked with them about six years ago, they were quite obliging and sent samples of their fabrics, etc. I was very happy with the experience. (you can see that sofa by clicking the link. It is the leather Chesterfield)
Please note, however, that shipping is completely ala carte and while they can help you set it up, you are going to find out just how insanely expensive it really is. A sectional delivered, could set you back several hundred dollars.
Robin Bruce Maddux Sectional OKL
Now, at first glance, you might think that this would not meet with my approval. But it's proportions and chunky straight arms give it a deco modern feel that could see working in many different spaces. Plus, it's handsome, hunky lines will appeal to men and women alike, I think.
And, you can use your promo code: OKL20CARD for 20% off!
This is the Serena and Lily Miramar sectional that's relatively new for them. Although, they have had the Miramar sofa and chair in their line for years. What I've noticed about the Miramar is that their sofa used to come with a bunch of self-pillows and now, they are selling it as is and the pillows are available later.

Williams Sonoma Home also has a version of this sectional from their Bedford line. It does look a little different, but the measurements are identical. The only difference that I can see are the legs. This is a deep, luxurious piece, and you'll definitely need some pillows.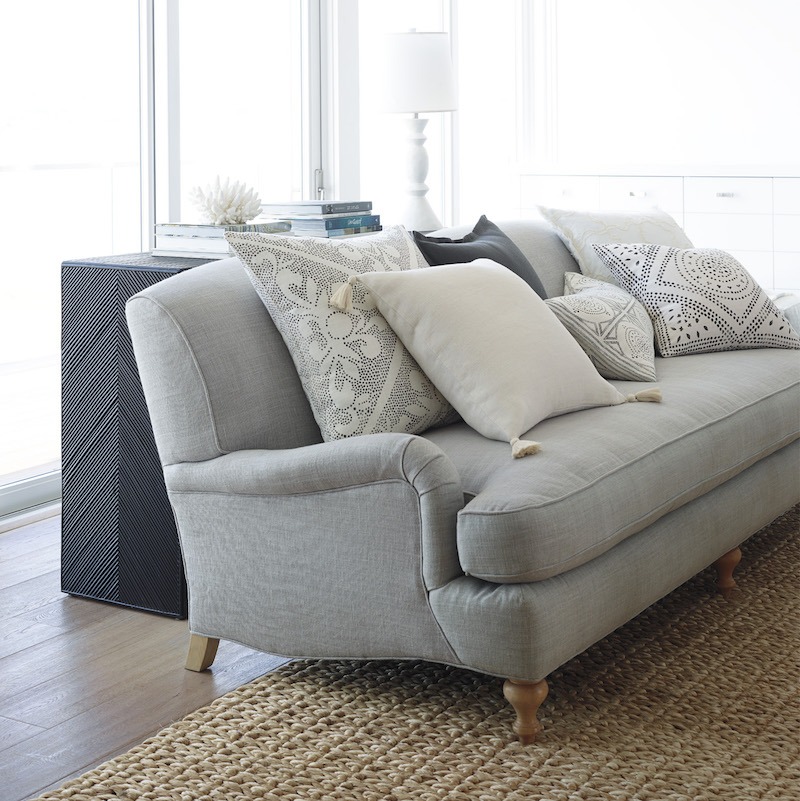 Above, a beautifully styled with pillows Serena and Lily Miramar sofa
And below is a graphic of these sectional sofas
please pin this graphic to your pinterest boards for reference
Well, guess what? My delightful son is here for the weekend and we are planning a trip to the Metropolitan Museum of Art. Really looking forward to that. And then he has a gig in Brooklyn!
Hope that y'all are having a great weekend too!
Please don't forget to check out the hot sales for lots of new items on sale this weekend.
xo,