In Wednesday's post, we took a look at some inexpensive chandeliers.
And naturally,  some of you have had some questions about table lamps.
Now, it isn't that I haven't discussed table lamps before. Of course, I have, but there's always a new way of looking at things.
So, today, I'd like to stick with the inexpensive theme and focus on cheap lamps.
But, not just cheap lamps but ways to make a cheap lamp look far more like its costly counterpart.
But, before I do that, there's always one or two, out there who will say something to the effect that their lamps cost a dollar each and everyone thinks that they're heirlooms. While that's wonderful, not everyone is as lucky, nor do they have the time or patience to seek out one dollar lamps. But, if you're one who does, that's absolutely fine too. I guess what I'm saying is, it's not possible for me to source and put tag sale/thrift shop items on the blog.
And of course, you can get great lighting or potentially great lighting for free.
The best I can do is to put relatively cheap lamps from retail sources. So, that's what I'm doing. And the ideas I have will hold true whether you paid $1.00 or $100.00 for your table lamps.
Expensive lamps, can go into the thousands, but an average retail price for a nice lamp, say from Bradburn Home is going to run you at least $400.00 and many of them cost more.
It starts to add up. Right?
Make no mistake; I'm all for saving money wherever we can, but IMO, one of the worst decorating sins is to have a beautiful room with cheap lamps; or rather, I mean– cheap looking lamps.
It's like putting on a Chanel suit with a plastic pearl necklace. très gauche.
It's true that finding great cheap lamps is more difficult than chandeliers, however I'm going to share some ideas I have to spruce up some of the more awful things you'll find when you go in search of something affordable.
Here is a list of things that shout from the church steeples CHEAP LAMPS!
If it's a traditional lamp, any part of it that is made of chrome. That goes from the finial to the neck and then the base..
Chrome. Really?
Are we (I mean, they) honestly trying to pass this off as silver or nickel? Sorry; not buyin' it. And I hope that you won't literally buy it without doing something about it.
What is the solution? The solution is to put a faux finish on it.
OR, you can avoid purchasing lamps with chrome, especially for the base. Lots of lamps have bases in acrylic, wood or brass. Now, the brass might be shiny and awful too. But it's a little easier to change that, than it is the chrome. However, all of it is doable.
Related to chrome as you can see above is:
a lampshade that's revealing the neck, if there is a neck.
I went over this in this post about lampshades from a while back. Sometimes, yes, the lampshade is too small, but most of the time, it's the harp that's too BIG.
I always feel that something is wrong, when I see the neck exposed. I never noticed this happening until a few years ago. And sometimes, I've even seen part of the socket exposed. Have people no shame?
And by the way, this isn't someone I know; I saw this early today or earlier yesterday haha in an online catalog. Oh, please don't ask me which one or where. I've looked at hundreds of lamps and fixtures today!

This unfortunate creature (a 20″ accent lamp) is another with both chrome and a log exposed neck. It's reminding me of ET. However, the base itself isn't bad. But then, there's more chrome on the bottom. Even though it looks like brass, it's chrome. Plus for this petite ginger jar style, the drum shade while not awful wouldn't be my first choice.
Granted, it is a $48.00 lamp which is very cheap. Great. That gives us a little allowance to turn it into something Edith Wharton would approve of. I'm going to show you what I did in a bit. And no fair looking ahead. ;]
Another thing that irks me about many of the cheap lamps in the market-place:
cheap, plastic looking glazes on a ceramic lamp.
I think I wrote that two hours ago. haha. What happened is that I went in search to see if anyone had successfully painted a ceramic lamp. I did find the usual DIY projects with various finishes and techniques on Pinterest. And some are painted on glass. The jury is out on that one as far as how good it looks…
Here's my opinion on the subject. If it's a ceramic lamp that you got at a thrift shop/tag sale, etc for five bucks and it has a pitiful granny design on it and you want to update it, sure, go ahead and paint it.
IF it's a metal lamp, absolutely you CAN paint it. Remember what the fabulously talented William McLure did here?
And finally, if it's a blue and white Chinoiserie lamp, nothing screams out CHEAP LAMP more than an obviously non-hand-painted design. And/or a design that's too precious.  By too precious, I mean that it looks like "granny."
I'm sitting on the fence about this one. I love the shape, size and proportion for this sofa/console table and for the price, I think it's not bad. But, the blue and white design, leaves me a little underwhelmed.
Oh, and just so you know, because someone is sure to crap on me if I don't say something. But, Granny, doesn't really refer to women of a certain age; it refers to a style of decorating often associated with grandmothers from days gone by. However, I've seen 30-something-year-old women decorate in the granny style. For more on that, please click here.
This blue and white Chinoiserie table lamp has a more authentic and interesting design, IMO. And it's still only $130.00 I would consider painting the foot black and getting a different finial. I'm linking below to some fabulous sources. And there are more new ones in the updated Laurel's Rolodex.
Another hallmark of cheap lamps is that the proportions and shape don't feel quite right. However, there are plenty of expensive lamps that don't feel quite right to me, as well. :]
Now, we can look at some ideas for making that cheap little lamp above look not-as-cheap.
So, what did I do here?
I saw that on the original lamp that the shade is 14″ wide, which looks about right, but it could be one inch less. So, I found a 13″ cone shade and aside from the fact that the perspective is off compared to the base, I think it looks rather nice.  There are zillions of lampshades in various materials, styles and prices at Wayfair. Changing a lampshade is a great way to perk up an old or tired lamp.
Then, I decided to ixnay the tacky finial and I found this lovely crystal finial. Be careful for a small lamp not to get something too big. I couldn't find antique brass, but we can take care of that too.

This one measures 1.5″

in total which sounds about right. For more finials, click here.
Then, I took some virtual rub 'n buff. (I say virtual since I'm not actually doing anything except typing. haha) Remember that magical stuff? And I virtually painted the base and the metal part of the finial. Rub 'n Buff comes in numerous colors and you have to experiment to get the effect that you want.
There's another post which shows how a clever blogger took a dilapidated little brass task lamp and made it quite a lovely thing with rub 'n buff.
If you have questions regarding how to arrive at the perfect size lamp shade, please hop on over to this post in the link. Most of these are rules for a regular side table lamp. If it's a tall, skinny buffet lamp, of course, those rules go out the window.
One little hack I sometimes do is if I see something I like, say another lamp, I'll make note of the dimensions and then translate that onto what it is I'm working on. Another thing with lampshades is to take your lamp into a lamp shop and try them on, just like you would a dress.
What Size Should a Table Lamp Be?
I've probably talked about this before, but here are my general guidelines. And please note, that these are general. And, that's because the variables are too great.
Let's begin with the living room. Most of the time there are lamps on the side table or end table as some people call it.  I have done some skinny end tables. But, to have a lamp on the table, if it's a rectangle, the table needs to be at least 12″ wide and then, I would do a skinny lamp, maybe 27″ tall.
Below, I made a graphic for typical heights, using an English roll arm sofa.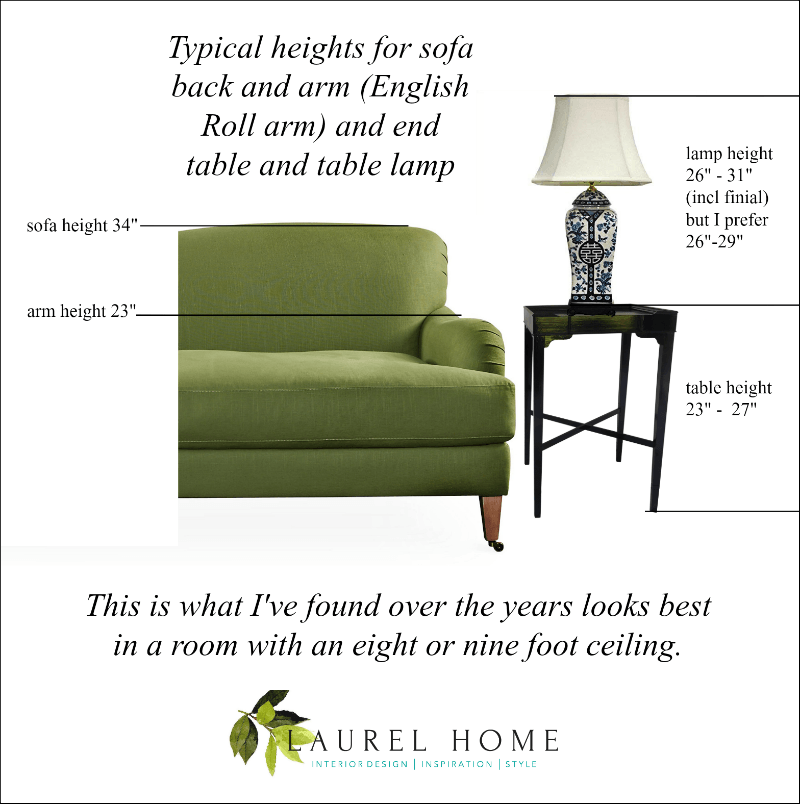 If your table lamp is skinny, you could go with a bit taller lamp. And if you have a more chunky table lamp, then you could probably go down to 23″
However, I see end tables that are 28″ on up and table lamps that are 34″ and up and it all starts to look very weird to me. That is… with a normal-sized sofa. I've talked a lot about what I think are more ideal proportions and shapes for sofas and chairs in other posts.
Now it's time to look at some great cheap lamps and finials.

Some are fine as is and some could use a little paint, a new finial, or even a little trim on the lampshade; nothing crazy.
And then, I just had to go to Etsy. Etsy has some of the best Vintage lighting ever and most of it is quite reasonably priced. Yes, the vendor got it for next to nothing at the county flea market. But then they fix things up; remove the donkey dung and spit. That sort of thing.

I know… aren't those

Greek Key

lamps fabulous! Believe me. I was trying to make them work somewhere but have few options in my small apartment.
And I found a wonderful new source which is where most of the lamps in the above widget came from.
But speaking of that, if you don't have a Laurel's Rolodex, I'm including for no extra charge (until November 21) a 70 product guide for the best of Etsy, Chairish and OKL vintage, antique and hand-made.
If you already have a rolodex, you should've received your updated for 2019 rolodex on Thursday evening. If you are just tuning in and can't find it, please check your spam folder. OR, you can download the new one with an old link as long as you have used up your downloads and, you can find it. haha. I know. I know!
xo,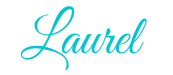 PS: Don't forget to check out the hot sales for this weekend. And, the holiday shop is fully open. And if you need Hanukkah gifts, it's time to get cracking because it's quite early this year.