Dear Laurel,
I am a very attentive obsessive reader of your posts. Not only do I love the education received, I love the many people you've featured that I now follow.
But here's my problem.
I was all excited about this post where you talk about cheap decorating advice when plumb broke.
Well, one man's "cheap" is another man's no-can-do. And I guess broke is a relative term? What I mean is–
We need FREE furniture or else super-duper cheap. Like a $50 dollar sofa that looks nice.
Laurel, look. We're phenomenally house poor. Spare me the lecture. I know. I know! Not that you would give me a lecture. We've had some unexpected expenses. But, I love our new home and believe me, the house is nothing even remotely ostentatious. It's a modest 3 bedroom Cape Cod style home built in the 60s and only 1575 sq feet.
In addition, I'm six months pregnant with twins! The doctor says that I might need to go on bed rest, but I need to take it easy, so I'm not working right now.
To add to the problem. I have Mark D Sikes tastes and seriously, maybe $3,000 to furnish the entire place.

Antonio_Zucchi,_Potrait_of_James_Adam

How does one incorporate pieces that we have and cannot afford to replace or even cover?
My personal example includes a wrong choice of color for my sofa. And then there's a chair that I re-upholstered 15 years ago and is still in perfect shape, but, my taste has evolved.
We've managed to get the house painted. There's a decent rug that works in the living room, but it is not a long-term piece for me.
One thing I have done is a DIY drop-cloth drape in the living room. I am quite satisfied– for now.
So perhaps a post on ways get dirt cheap or free furniture that's of good quality and looks great. And also, how to use what you have and make it work for what you want.
For some of us, even custom slipcovers are too expensive.
Thank you again for your hard work and sage advice.
Sincerely,
Carolyn
Hey Everyone,
Thanks for that Carolyn.
But  before we dig in, thank you all so much for your words of encouragement and kind votes for the Amara Blogger Awards. If you don't know what I'm talking about, you can read about it in Sunday's post.
And oh my… Thank you for the abundance of difficult rooms and floor plans. I realize now, that was probably a foolish thing to do because it requires me to ask you questions and then I need photos. Great photos. And I need the furniture drawn in the room. Or at least the measurements of your current furniture.
You expect us to do all of that, Laurel?
Well, yes… I mean, no. I don't expect anything. :] But, that's what the job of an interior designer is. Just one teeny tiny facet. And since I'm not there to measure everything and take photos, you're the designated driver, if you so choose. To make matters worse, I can't guarantee that your home will make it onto the blog. But I do enjoy looking at them. I've already spent a lot of time doing that, even if I didn't respond.
Okay, let's jump into today's topic which is how to decorate beautifully with not just a meager budget, but no money at all.
Is it possible?
Yes, it's possible.
For some people.
Just so you know, this is based on a real "Dear Laurel" email I received recently.
I can relate so well to Carolyn's difficulty. Back in 1991 when we bought our townhouse in Northern Westchester, I guess we didn't realize how much things were going to cost.
Plus, we had baby Cale, just turning one. I had just finished up what ended up being my last semester at the New York School of Interior Design. And, I wasn't yet, working. I was doing the Mommy and Me and Gymboree thing that year.
But, when I did get a job a year later, working for a Bedford, NY decorator, I wasn't even making enough to cover day-care expenses for three days.
However, I am grateful for that job because I learned much during those years.
Okay. I dug up one image taken around the end of September 1995. That's baby Aaron, 8 months, the wild child, Cale at 5 and me, of course, pushing 40.  And, you can see a tiny sliver of shrimp-pink carpet and an ugly beige electric radiator which we later removed as it wasn't necessary.
It wasn't until I began my business in 1996, nearly a year after this image was taken, did we take out an equity source loan, so that we could get rid of the carpet, add the mouldings and paint.
Oh, what a difference all of that made!
And, then things started to improve for several years. And in that period, I acquired several pieces that we needed and fixed up others.
But let's get back to the subject of FREE FURNITURE.
BTW, Did you know? My favorite word in the English language is "free."
My second favorite word is "scholarship."  :]
There are a lot of ways to score great free or almost free furniture.
1. You find it
In some urban areas like New York City, you can often find some terrific furniture on the street. Over the years when I lived in the city, I couldn't believe what people would leave on the street. In fact, when my husband moved me out of my UWS apartment, we left a few pieces of crap on the street and it was gone within an hour!
2. Ask Around
I guess that's kind of obvious, but maybe you haven't thought of it. The best place to start is with family and friends; particularly elderly family and friends who have not yet down-sized. They may be thrilled that you want to take some of their furniture off of their hands. Less for them to do.
If there are any dementia issues, however, I would check in with children first if it's an aunt or uncle because they may have laid claim on something. And of course, if you have siblings, it's best to be equitable about this.
What if the free furniture is in great condition, but not really your taste?
We'll get to that in a sec.
3. Then, of course, are estate, yard and tag sales. Sometimes you can get some fabulous deals. You already know that.
4. Local thrift shops. You know that one too. :]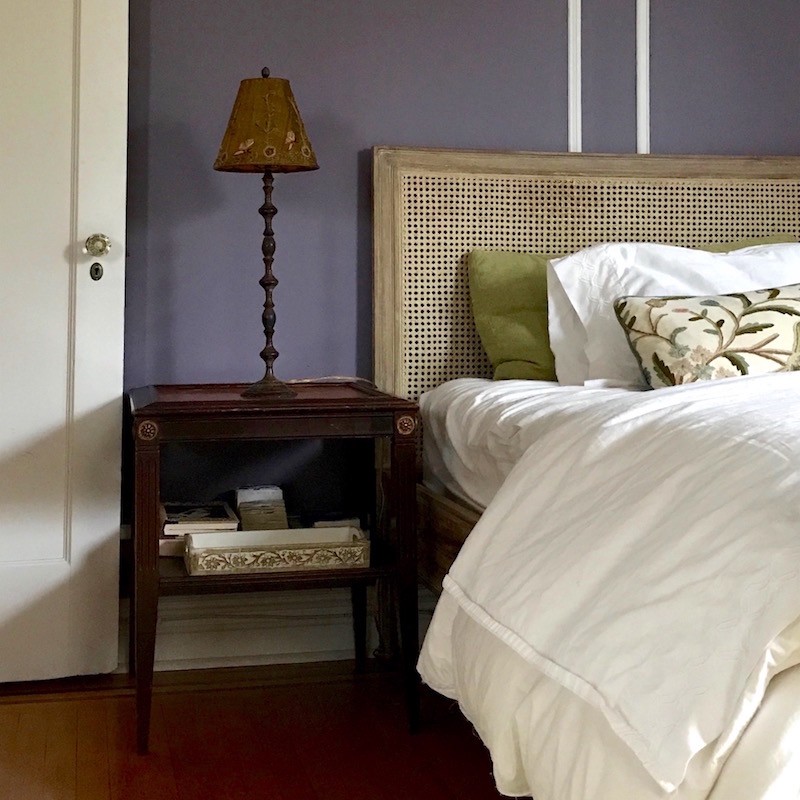 I found my wonderful night tables at a thrift shop in Katonah, NY 19 years ago. 50 bucks each. I just wish that they were a little smaller and had a drawer. Otherwise, they are perfect. lol
5. Flea Markets
More of my old bedroom. But I am sharing it again because there's a great photo of my pretty little white wing chair. I picked this up at a flea market about 6.5 years ago. It had this horribly ratty-ripped-to-shreads fabric and there was an exposed wood frame on the back and part of the arm.
I took it to my upholsterer and told him that I wanted the wood to go away. No problem. He understood exactly what I wanted, agreed and seemed very excited about this project.
A couple of weeks later, he proudly delivered the chair.
And yes, I'm kicking myself that I didn't take before pics.
6. But, if you want to be able to see a lot of free and/or super cheap furniture without killing yourself, (meaning online) my favorite internet sources are:
I mean, check out this baby.
Are you ready?
45 bucks for a vintage, well-made china cabinet! Yes, it's in East Rockaway, NY where only five people live because it's that remote. (I apologize if you're one of the five and I just insulted you) But go and rent a U-haul with a couple of body-building friends and it's yours. 45 bucks. How can you go wrong? That is, unless you can't fit it through the door. Please don't forget to measure!
Or how about this apartment-size sofa for $150- in Brooklyn, NY and in very good condition.
In addition there's
Craigslist (which also has a free section)
Nextdoor which is a neighborhood social networking site.
HOWEVER,
Before you go all hog-wild acquiring all of this stuff for free or close to free, you still need to have a plan.
Otherwise, you may find yourself needing to dump pieces that don't work. Of course, it won't sting as much if it never cost you anything in the first place. But still.
I know that you know it, but just a friendly reminder. :]
7. You could also try putting up notices in community bulletin boards, social clubs and houses of worship. Like, "looking for a Louis XVI set of dining chairs, but Gustavian will work too."
8. Many communities also have a local Pennysaver where people post items for sale. Some of them are free too. They usually have a listing of local estate and moving sales.
What if I find some fabulous free furniture, say a sofa or chair and the fabric sucks? Remember, I can't afford custom slip-covers.
Hmmm… but Carolyn did say that she reupholstered a chair. If you can sew, there are a zillion tutorials on both upholstery and slipcover making.
Personally, I think that slipcovers even if you have to clean toilets five days a week to pay for them are the way to go.
And here's a great source for cheap white (and other colors) cotton duck (canvas).  And they also have video tutorials on slipcover making. ( please click the link for that)
IMO, Miss Mustardseed is the queen of tasteful furniture make-overs. She also has a lot of great tutorials. I really don't know how these people do it.
But fine. You're going to stand firm and say no to slip-covers.
9. Well… there is another option which I've touched on a few times. And this might be a great option for Carolyn who goofed on the color of her sofa.
Paint. Paint the upholstered furniture.
Let's explore this option because there's paint and there's paint. And it could be wonderful, or you could make a big bloody mess and that would not be so great.
Many of you may recall, oh my over five years ago, I received these wonderful chairs in some expensive Kravet fabric. I loved the fabric. In fact, I had just done the exact same chair for a client. (you can see it in the link)
And I have a confession to make related to this.
I didn't make it then. Back then, I wanted people to think I was perfect. Now I don't care. (as much) lol
I really goofed. I had gotten two chairs that ended up being too big. Here's what happened. They were supposed to go where the green settee is. I tried to sell it even though I still love it. But it's really not very comfortable to sit on.
Nobody wanted it; not so much as a nibble. I considered putting it in my bedroom. No can do.
Well, let me try it in front of the radiator.
Gorgeous!
Great! Well, then I'll just put the new chairs across from the sofa. There's plenty of room.
The chairs came and at first I thought it was a matter of me getting used to them. That happens sometimes.
I woke up the next day. No change. After a week of hating them more and more in that location, I decided to cut my losses and I put them on Craig's List and a nice young man came and picked them up for about half of what I paid at wholesale. Great find for him!
I knew that the CR Laine chair would look great. And the fabric would be wonderful too!
After 10 weeks, the chairs arrived. They did look great. But the fabric seemed too summery to me. I probably said all of that in the original post. And I knew that if I could tone down the white, they would be absolutely perfect!
Let's look at more painted upholstery and techniques
Excellent tutorial on DIY Network for painted upholstery.
Homemade By Carmona has some excellent tutorials using Annie Sloan Chalk paint.
Here, she uses a dry-brush method, but she used a wet-method with another chair, also with great results which you can find in the link. It seems that chalk paint is the way to go for the best, softest results. However, it works best on fabrics that can be brushed like velvet.

Please check out the after of this chair on Taryn Whiteacker. You won't believe the transformation!
Kristi from Addicted To Decorating painted an entire sofa. And it looks pretty good in the photos. But she confesses that it's best for a temporary solution.
And on A Beautiful Mess they transformed this vintage settee into a striking piece.I love the color, but, think it looks a little like plastic.
Very poor review for simply spray fabric upholstery paint on Apartment Therapy.
We'll stay away from that one!
Here is my over-all view on painting upholstery.
Unless you're me, ;] if it's a piece of free or almost free furniture, there isn't much to lose. If possible, try to test and experiment in an inconspicuous spot. An idea situation would be if you have a sofa or chair and are planning on taking the skirt off. You can use that. But, you have to be patient and go through all of the steps. That's the hard part.
Some techniques will take a fair amount of time.
Over-all, I probably wouldn't do it unless necessary on a piece that was sat in a lot.
DO make sure that your technique is one that the paint won't come off on people's clothing.
It's best for small chairs, benches and ottomans.
In fact, if there's one thing that can breathe new life into some dated furniture, it's paint.
Remember the fabulous painted vanity in this bathroom?
And the master of paint both in paintings and his dwellings is William McLure.
While it's possible to decorate on the cheap with free furniture or nearly free, I think that it does take a lot of patience and time. If you enjoy thrifting, then of course, I think it makes a lot of sense for many people. And some people have no choice, if they want to have something to sit on– AND they want it to look nice.
Have you done a furniture makeover that is EXCEPTIONAL, please feel free to send it to admin @ laurel bern interiors dot com.
Please do not send it to the other address.  Oh, and I'll also need to have a before pic. If I get some really great ones. I'll do another post and feature your fabulous projects. If you have a website or instagram account, of course, I'll link back to that.
Okay, I have some terrific news and it isn't free furniture–
But… there is a fabulous unpublished sale going on at One King's Lane! 25% OFF!
And it's going on through October 30th. Holy Crap! Okay, it's not every brand.  (list of exclusions)
This page is the list of exclusions. But here's the thing. Just put in the promo code which is:
OKLPREFALL

But, here's the really great news. The sale DOES include the fabulous new Mark D. Sikes line and there are new pieces in the line.
Also, definitely included are all of the great Visual Comfort pieces and most of the art and of course, all of the One King's Lane private label pieces.
Well, that's all for now, but expect to find a very special widget for Friday's Hot Sales.
xo,