Okay, Guys; you asked for it and you got it!
For now, we're done with the fluffy, symmetrical room floor plan

that we did the other day.
Yesiree… I've combed the interwebs for the most difficult, poorly laid-out rooms, in terms of their original architecture.  Furnishing a floor plan like this is a nightmare because the fireplace is in the corner, there are no walls, no entrance, no space. On and on…
Unfortunately, there are a LOT of houses like this.
To me, it's a lot like a restaurant that serves bad food.
I mean, ALL they have to do, is make something you put in your mouth, taste good. That's it. Food. Delicious. But no, it's revolting. As Woody Allen said, "the portions are small too." hahaha.
And, it's the same with our home builders. All they need to do is come up with a house layout that has beautiful, well-proportioned rooms with great flow. And yet again, they fail to do so.
Before I go on…
This post didn't turn out exactly the way I had planned.
Lots of stress this week, both good and bad.
For instance, last night, my website was down for nearly five hours!
That's right. If you tried to get on my site, you would've gotten a white screen. Isn't that just peachy?!
Of course, that meant that I also couldn't get on my site. Apparently, the server was having its period or something. I don't know. I'm switching soon.
But, things have gotten a little backed up.
However, I do have something interesting to share with you, so please hang on.
The other thing with homes with poorly laid-out interiors. You know, the ones that many of you can't figure out? Even though you've been in the home for 25 years? ;]
It's always, an "if only."  Right?
Alas, "if onlys" usually cost a lot of money to fix and/or are impossible to change for some reason or another.
I lived in such a house for 22 years. A townhouse where certain changes are impossible.
And I am not joking when I say that over the years, I spent dozens of hours trying to figure out our L-shaped loooong living-dining room. So did every other neighbor who had the same townhouse model. There were ten of the same model. And maybe in that time an average of 2.5 turnovers. That's 25 homeowners who couldn't figure out this space.
Here is the floor plan that I actually drew from memory haha– today!
Now don't get me wrong. I loved my home. Many, many reasons: I loved it for its light and bright airiness. And, I loved the white on white. I ADORED the mouldings that we added years later.
I told my husband in 1990 that our new home must have a fireplace. He rarely ever argued with me.
Early in 1991, we began our house hunt with purpose. We were living in an apartment in the Flatiron District in Manhattan that I talk about a bit in this post.
However, with a rapidly growing infant and a small, 700 square foot, one-bedroom apartment, we needed more room. Besides, I was tired of tripping over homeless people laying in the street while strolling my baby.
We focused on Northern Westchester County after a rec from a friend of friend. You know how it goes.
We saw a few places in our price-range that completely underwhelmed us.
But, when the realtor took us to "our home," I knew before we even walked in that we had found "the one."
And folks, I have to tell you something.
Please listen verrrry carefully. (she said in her most gratingly condescending voice)
Are you listening? Good. :]
When we walked in, there was puky-pink carpeting–EVERYWHERE.
And not one stick of furniture. NOTHING. The house was EMPTY!
Oh, it gets even better.
It was February.
In New York.
The heat had been turned off completely. (hmmm… not too wise, actually)
Of course, it was FREEZING inside. We also had our seven-month old baby with us. Yes, that baby.
There were no mouldings. The kitchen cabinets, made of the most tasteful almond melamine ever. haha The kitchen floors? Faux terracotta that was really linoleum.
And there was hideous wallpaper in all three bathrooms.
Hideous.
None of that mattered.
And here's why.
Gorgeous fireplace and mantel.
I was in heaven and even though I was shivering to death, I'm not sure if it was from the excitement or the cold. I think a little of both.
The point that I'm taking a long time making, which you got the second I said that the house was empty is that it doesn't matter.
(note: I realize that some of you make your living as home stagers and at this moment wish to stick a large sharp object into me somewhere that will let out a lot of blood quickly. My statement is not an absolute blanket deal. If you have furniture, of course, it must be staged!)
But, Laurel, you have great powers of visualization and many of us don't.
Ummm… no… it appears, not so great over here, either.
IF I had these wonderful powers of visualization you speak of, I would've gone whoa! This floor plan is a bear and a half. Come darling husband, let's move on.
But noooo… In typical impulsive fashion, I was so infatuated, we had an accepted offer within 90 minutes! That's another story. The house had been on the market for a year. hahahaha. There was no need to make such a rash decision. But that didn't stop us.
I think I've mentioned that I don't have a lot of pics of the house which is a little dumb of me.
However, get this. Even though we sold the home over five years ago, I found the old real estate photos!
Ugh. Okay, better than nothing, but have to say that they are HORRIBLE! Sorry, to be so negative. But they are even worse than the photos of the home you guys ripped to shreds helped Cyndi with while I was on a little R & R.
The good news is that a lot of the furniture was gone because I had already moved out. But, I was there the day the photographer came to shoot. He didn't just take photos. He had a high-speed camera that he clicked a million times to give a special "depth" to the images.
And yes, he used that horrible wide-angle lens. The images are washed out and BLAND and the lens needs to be banned.
By the way, our bad photos didn't matter either. We did not need to wait a year. We had our offer at full asking price only 3 weeks later.
In our case, I got us the most badassiest realtor in all of Westchester County; Angela Kessel.
Apparently, she sleeps with her cell phone surgically attached to her ear. That is how fast her response is any time of the day or night! Can't recommend her highly enough.

This is a photo that I took in our den about six years ago.
Okay, time to look at the real estate photos
The best part of the house, but still a little distorted as you can see by looking at the wicker chair.
Ugh. The sheer linen Roman shades are not purple!

:] I took the four gray chairs. Here's how it looked before.
These colors are far more accurate here.  Do you see my "rolodex?" haha?
The wall color, Pratt and Lambert Ancestral is similar to Benjamin Moore White Dove.
The walls are white, not yellow. So weird. The floor looks yellow too. It was a beautiful cognac color. We put the floor in, in 1996. I mean, we had it put in. :]
Ahhh… but just shut me up. There's the fireplace.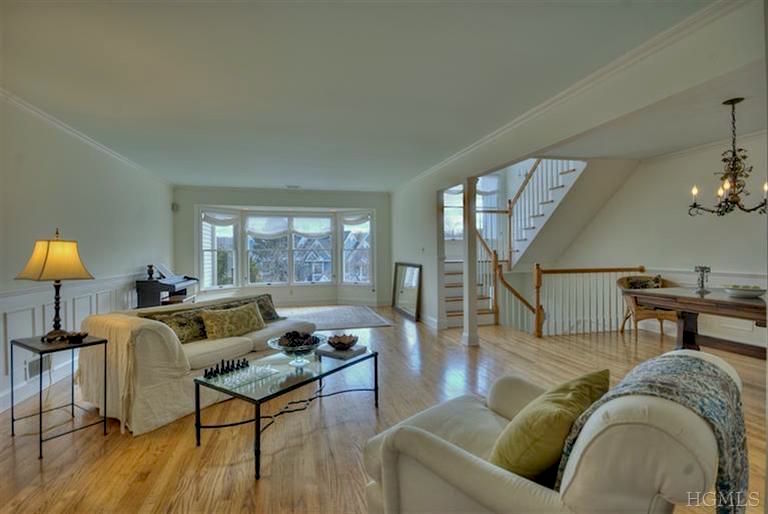 And thar she is in her entirety. Almost. The ol' L-shaped living-dining room floor plan.
What is that ugly thing with the rag on it, Laurel?
Be nice. :] It was the best we could do at the time. And, it's distorted. (what else is knew?) It was part of my wasband's old sectional with a semi-unconstructed slip-cover I designed in 1991. There's a better, albeit fuzzy pic below.
So distorted, washed out and yellow-ish. I know. It just bugs the crap out of me. The ceiling is a pale aqua too! I mean, it's supposed to be.
These are the Melamine cabinets! I had a guy nail on moulding! And then he sprayed them. Now, everything was re-painted. It was a crap job with plain white latex. I wasn't around for that.  We should've put on knobs, but other than that, I was very happy with the facelift we gave the kitchen and cabinets. We changed the floor and the ceiling is Anaglypta wallpaper, painted a glossy white. My boys always thought it looked like paper towels. haha!
The dishwasher was new and the range, and micro- hand-me-downs from a neighbor. Not kidding.
The wall color here IS a muted yellow-green from Pratt and Lambert– Flaxseed.
Yes, that's snow outside. The kitchen and den face north, north-west, so rather dark except for occasionally a ray of sunshine in the afternoon. The hill killed the light most of the time.
The round pine table is vintage Pottery Barn. lol
The little den. I'm embarrassed about that cabinet the old TV is sitting on. That was a hand-me-down from a friend too. Oh well. All of our money went for music lessons. And then we hit some hard times for numerous years.
Alas, that is a little Odegard Tibetan rug which Peaches mutilated pretty well.
And I had that little built-in cabinet made.
It's really only about 40 feet from the back of the house to the front. It looks like 80 feet here, at least!
The green table was one of my many air-head mistakes. It was supposed to be red. The table looked great in our den, so not such a bad mistake.
Another part of the sectional with some expensive Lee Jofa fringe and cheap linen velvet from ABC Carpet and Home! That is one of the few fabrics that Peaches did not destroy. The white chair didn't do too badly and same with the linen. However, the other chairs in the front, had to be dumped. That's how bad they were.
Notice, the prints over the green table are gone. Lots of things are gone. I had moved out already, but I did bring some things back for the shoot. The colors in the den looked so lovely when IN the room. It just doesn't translate here at all.

Here is a sketch of our room floor plan with the furniture. If we had company and needed more seating, we'd just go grab a wicker chair or two. It worked out fine. I liked that the room didn't have a lot of furniture. Oh, there's another photo here. I moved the white chair for the photo.
Below is a little messing around I did earlier today with the floor plan.
It's a little rough, but the rectangles in the middle stand for chairs. The piece to the left of the sofa is a chest.  It does not look good to have the sofa facing the fireplace directly.
See? Very difficult.
This is one of those "if only" the room were a foot wider. Just one foot. Because the area adjacent to the dining room table is the central traffic artery in the down stairs, and I raised two hellions. We really needed to keep more than three feet clear the entire way.
Here's a pic from a neighbor who sold her townhouse recently.
She just put everything by the bay window.
I was going to do some more with this room, but time has run out.
In any case, I hope that this helped those of you who have an awkward layout maybe something like this. I do have a few other difficult room layouts and if you're interested, I could explore those.
xo,