Memorial Day Weekend is upon us! And since it's the unofficial start of summer. (they say), what better topic than to discuss furnishing outdoor rooms and spaces.
So, what's the problem?
Well, it used to be that pretty much all you could get was the kind of stuff you see with lots of curly cues and fake looking, plastic-y molded metal. And everything matched.
And that's kind of what we're not about.
But now, there's so much out there for outdoor rooms and spaces, it's a little overwhelming!
Plus, the kinds of outdoor spaces vary too. Mostly, this is about patios and garden areas; not porches and sun rooms or rooms that can switch from indoors to outdoors. Otherwise, we'd be here until Tuesday.
However, the really great news about outdoor rooms and the furniture that's available is that so much of it is so good-looking, that it can just as easily go inside. And that's pretty awesome, because if it can weather the exterior elements, it should fare pretty well at the mercy of your messiest family member.*
*a little foreshadowing of things to come. :]
But these days, some exterior spaces are really more like living rooms, just outside.
Are there any rules we need to know about furnishing outdoor spaces, Laurel?
Well, yes and actually, they're all quite logical and you really already know them, but we'll go over them anyway.
The most important thing is that the outside is an extension of the inside. So, if you have an orange and purple color scheme inside, you shouldn't do a red and green exterior.  Okay? ;]
But what if your furniture is more formal inside, but one wants a more appropriate exterior.
Well, I wouldn't do weathered teak in that case.
I would pretty much copy Mark D Sikes. We talked about him a lot last year which you can see his incredibly elegant patio and my attempt at recreating it for us mere mortals.
The other thing is… let's say that you have an art collection that you want to feature inside. In that case, I would keep the exterior more neutral, or pick out the primary color as an accent.
There's a lot of logic in this business! That's what my old boss used to say.
Or just create a luscious jungle like this incredible outdoor room in Elle Decor
That looks like the garden of heaven.
And then, it depends on the house. Some homes, especially in the south yield far better to blending the interiors with the exteriors because people probably spend more time outside.
Here are two beautiful examples of this.
Gorgeous patio design by Cameron Schabenton in House Beautiful
This house and the one below are both in Charleston, SC
What a fabulous outdoor space for entertaining! I wonder what happens in that little house in the center. Maybe it's a cabana, because the pool is probably close by.
In both of the links, you can see the rest of the house the designers created.
An attractive mix of materials makes for an inviting little eating area by Andrew Howard.
Teak is very popular wood for outdoor furniture, but I often like to mix it with an outdoor wicker.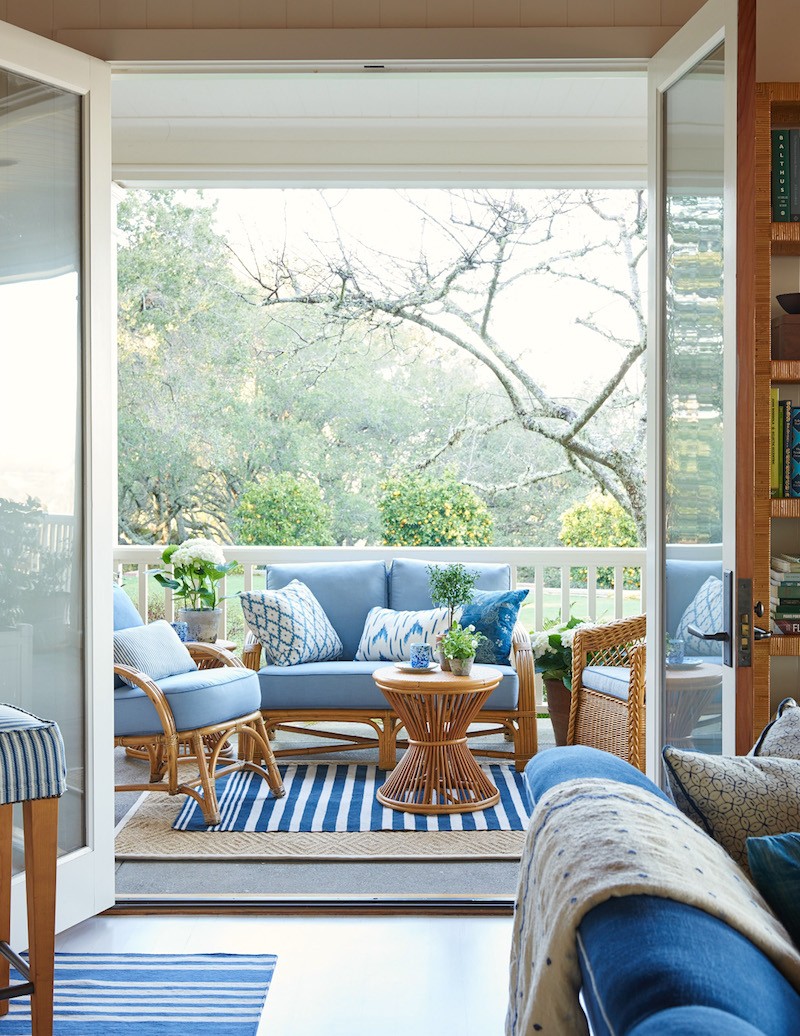 Mark D Sikes' seamless transition from interior living room to outdoor living room
I came across this garden stool and hunted it down. I think this has to be one of the prettiest blue and white garden stools I've ever seen.
It's too much like my Chinoiserie ginger jars that are now located in my bedroom. If you'd like to see that, please check out my instagram.  (but come right back!) ;]
And if you're not following me there, please do so. Some of the pics posted on there are not on the blog. I only use insta for inspiration, not "here's what I had for lunch aren't you glad you're wasting your time looking it?"

In the widget below is the little greenhouse above from Terrain. (use code: FURNITURESALE) They have an extraordinary collection of outdoor furnishings and of course, everything to do with gardening and it's all on sale this weekend.
But, don't you just love that little greenhouse? The woman says that everyone thinks it's an antique.
The only question I have is can you use it as a real greenhouse, or is it just a decoration or a place to store your peat moss?
You can find a lot of beautiful exterior and garden accessories here.  (a lot of it is on sale too!)
For more ideas about exterior spaces, please check out this post
And this is a post with some great pergola ideas.
Below is a widget from numerous vendors who are all having sales right now on their outdoor (and other) furnishings.
In fact the entire world is on sale this weekend…
There are some phenomenal deals, for real like Serena and Lily's 20% off sitewide sale and Nordie's half yearly sale with up to 40% off!
Please enjoy the furnishings I found for you. There are some unusual pieces mixed in. A lot of this could be mixed and matched. And most items are very affordable. A few are more expensive, but almost everything is on sale right now.

Please have a wonderful rest of your holiday weekend!
xo,