Hey Everyone,
A lot of you have been asking me how to make their TV Wires Disappear
And, while we're at it; the TV. Let's make that disappear too.
You know… we've become so spoiled.
Cue the flashback effect……..
~~~~~~~~~~~~~~~~~~~~~~~
Remember this?
"You've come a long way baby…
to get to where ya got to todaaaaay…
you've got your own cigarette, now babeeee…
You've come a long, long waaaay….
Yes, indeed. If you have no idea what I'm talking about. It means that you were born after 1965 and missed out on a lot of fun. But, we can make up for that. (you must watch the link below)
Here… a little extra fun while you're sitting on the beach.
Don't forget your Metracal! hehe… but just for lunch!
You see, for me, it all hearkens back to the big ol' box.
Black and white, of course.
Well, today, we don't have to deal with that issue anymore.
A TV can go anywhere. But you already know that much. But, it's never enough, is it? ;]
Folks often ask me…
Well… what do you do with all of the wires? How do you make them disappear?
How should I know? You call an AV (audio visual) guy. That's how I do it.
It's electricity and I don't mess with that.
The wires go in the wall, or get snaked through furniture. But you need a pro to do that.
In the meantime, we do have a big flat black thing on the wall.
So, how do we make the TV disappear too?
My mother said it so well…
It's like a marshmallow in the snow.
Or in this case, a piece of licorice in a tar pit.
Sorry; it's late.
In other words, to make the TV less obtrusive, the wall gets painted a dark color.
Like this room we did NINE years ago!
I mean, is that easy or what?
But, what if I don't want to have my entire room dark, Laurel?
Well, it depends.
I'm not big on accent walls for no good reason.
But, a TV in front of a wall is a good reason. ;]
Here's an example of a dark accent wall over a fireplace. There's no TV, but there could be.
What's interesting is that when I first looked at the image, I thought that was an opening on either side, but those are mirrors! The rest of the walls in this room are white.
Another version of a TV on a dark wall with an art wall surround via West Elm.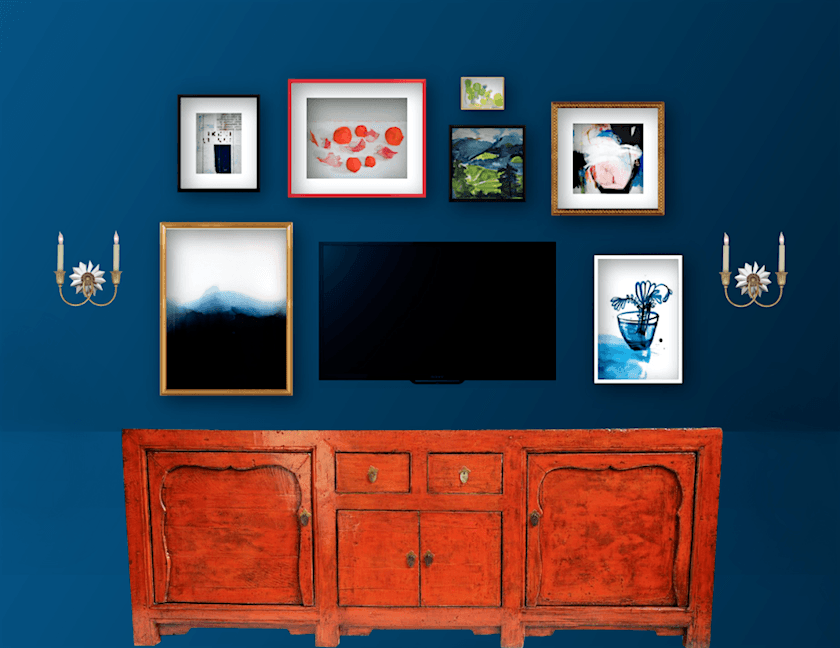 I made my own TV art wall using art from Artfully Walls.
I love this company! They have a nifty app that lets you pick the art or you can use their suggestions. And then you can move it around the wall as you see fit. Genius idea and very easy to use.
And I just discovered a gorgeous collection of Art on Anthropologie by Artfully Walls. So pretty!
I took it a little further and took my wall off-site (picmonkey.com) and put in a cool antique buffet I found on Chairish.
Also, please check out Minted. They also have a very cool collection of beautiful original art prints.
(Oh! Sorry to interrupt, but it looks like they've continued their huge sale for one more day. All of the W-S brands including Pottery Barn and West Elm)
Or, you could put the TV in a bookcase and paint the back of the bookcase a deeper color.
Barbara Westbrook
Someone asked me what to do when one doesn't want to put the TV over the fireplace.
Good question!
Well, we need to go back to 1998 when we were still putting the TVs inside armoires.
Yes, it's off to one side, in this case. Love that painting over the fireplace mantel!
But, remember the ol' TV swivel? That works.
And for a lot more ideas about what to do with your TV, please enjoy a post from quite a while back. There are lots of great ideas here.
And this idea blew me away!
Please enjoy the rest of your weekend and/or vacay.
There's a new gorgeous bed and bath page
And for those interested, I updated the clothes too. Lots of pretty new things for late summer into fall…
xo,