I mean, it was downright nasty and for me and a lot of other people, quite a shocker!
But three years ago, a super-talented designer friend visited the Kips Bay Showhouse. And she nearly passed out over the gorgeous room that Darryl Carter created. After she picked herself off the floor, she overheard two women yakking to each other.
"Why that Darryl Carter did the most dreadful room I've ever seen."
Hey bitches. Yes, I'm talking to you. Can you please take that somewhere else?
DREADFUL?
One woman is swooning for joy and another can't stand it?
How can that be so?
Here's my take.
Darryl Carter's genius is on a different plane than some people are able to comprehend. Ya know?
And I think it's because Darryl is a decorator who doesn't "decorate."
I mean, not in the typical decorator way.
First of all, you will never see even the tiniest hint of froo froo in any of his rooms.
And by that, I mean, No trim. No or very little pattern. And usually, not a lot of color.
(Although, I think that whites, creams and beiges ARE colors!)
But, in Darryl's rooms there is always a rich blend of tone on tone, whites, creams, beiges off-set with a healthy dose of black, brown and other rich earth-tones.
Naturally, there are some people who won't "get it."
But for those of us who do…
If Tony Duquette is a classical maximalist, then Darryl Carter is a classical minimalist.
I just made that up. Do you agree? It's okay if you don't.
His ability to restrain himself is amazing. Decorating that is… In other areas of his life. I have no idea. But that mischievous grin he frequently wears conveys a fun side. Very interesting! And if you look closely, there is a lot of fun in his decor too.
Darryl, you may recall started his career as a lawyer.
During my research, I found a superb interview that Paloma Contreras of La Dolce Vita did a few years ago.
You can find it here. It's quite delightful.
The other thing that some people love and some don't about Darryl Carter is his soft neutral  palette of colors.
The don't liking confounds me to no end, but I will respect that it's different strokes… I like a lot of different things.
I think that it's common knowledge that Benjamin Moore released the Darryl Carter paint collection several years ago. The colors are wonderful. But they are not original colors. They just renamed them.
I'm fine with it, but still… I don't know why they had to rename them. I'm sure that there's a good reason. Or maybe there isn't.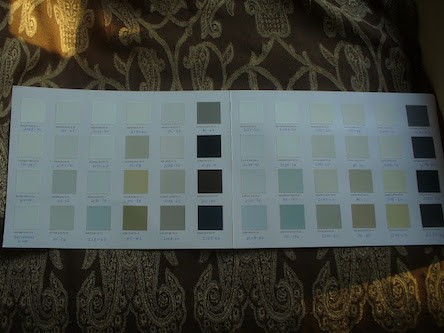 If you'd like to see, My Knotting Hill "cracked the code" and wrote a wonderful blog post about it. (you'll be able to actually read her chart on her blog. :]
Once in a while, one can find a whisper of blue or pink or a touch of red, but for the most part, it is a lot of white, neutrals, beiges, browns and blacks and gold. And in his paint palette, some soft blue, grays. Just lovely. And many of my favorite colors and a number that are in the Laurel Home paint collection.
But maybe it is that Darryl Carter isn't years beyond us. He's years behind us.
A lot of years because he uses a lot of antiques in his decor.
But nothing ever looks stale or old.
And thus, he coined the term (at least I think that he did) The New Traditional and wrote a book with the same title.
You can find the book on Amazon.
The new traditional is paired down, refined, elegant and the very meaning of timeless. In that way, his traditional rooms are quite modern, if that makes any sense. It probably doesn't. :]
But maybe that is why those women didn't get it.
They were expecting Nancy Lancaster and instead they got something that didn't compute.
First I am going to take you to Darryl's gorgeous home in Washington DC
Whoa! Look at the number he did on this place. I adore the painted brick.
Or maybe it's parged? Oh dear. It's late.
I know of parging but forgot offhand what the technique is. Oh wait.
There's a link, if you're interested.
It's not something that's done or very rarely in the northeast.
Remember when we discussed painted brick at length in regards to fireplaces?
Gorgeous!
One of my favorite spaces ever done by Darryl. Here's something funny. I found the image on one of his pinterest boards only he took it from my blog. Well, probably someone doing his social media. But you never know!
Oh wow! He only has 2,308 followers. How is that possible? Well, how if everyone who's on pinterest follows him and then his Klout Score will go through the roof. Not that he needs it. lol
Don't know what a Klout Score is?
Count your blessings. :/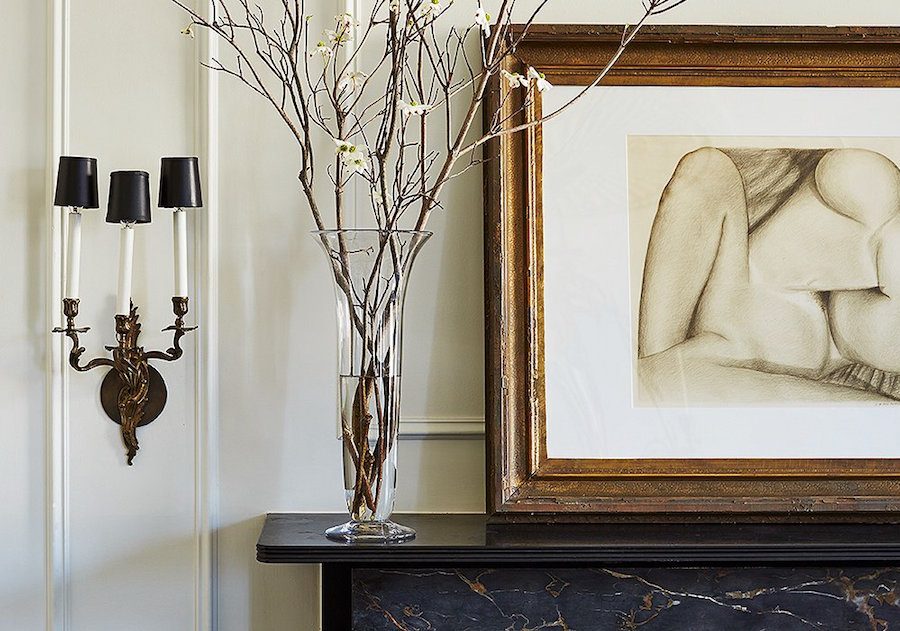 too elegant for words
I didn't realize this until the other day. But this is Darryl's bathroom.
Sure, put in an 18th century gilt Federal mirror in your steamy bathroom
And while you're at it. Put in an antique secretary on the other side of the bathroom.
Hey, why not?
So, it gets wrecked from the steam.
Soooooo?
Hell, life is too short. And I love how the rich wood warms up the room so beautifully.
You don't suppose that he did the campaign canopy bed from Anthropologie do you?
Well, it sure looks like it! I've always loved this bed.
Speaking of bedrooms. How pretty is this!
While it has Darryl's signature touches of black, it retains its femininity without being precious.
Another wonderful bed too! Did you see the post about bedrooms?
And all is not beige, black and white. Darryl too, loves blue and white porcelain.
And here's the most brilliant kitchen with a lot of yellow and a toile wallpaper.
I love that etagere thing he has over the island.
If it were my kitchen, though, everything would be on the floor, but that's just me.
Above and below a most elegant home that Darryl did in collaboration with architects Franck & Lohsen.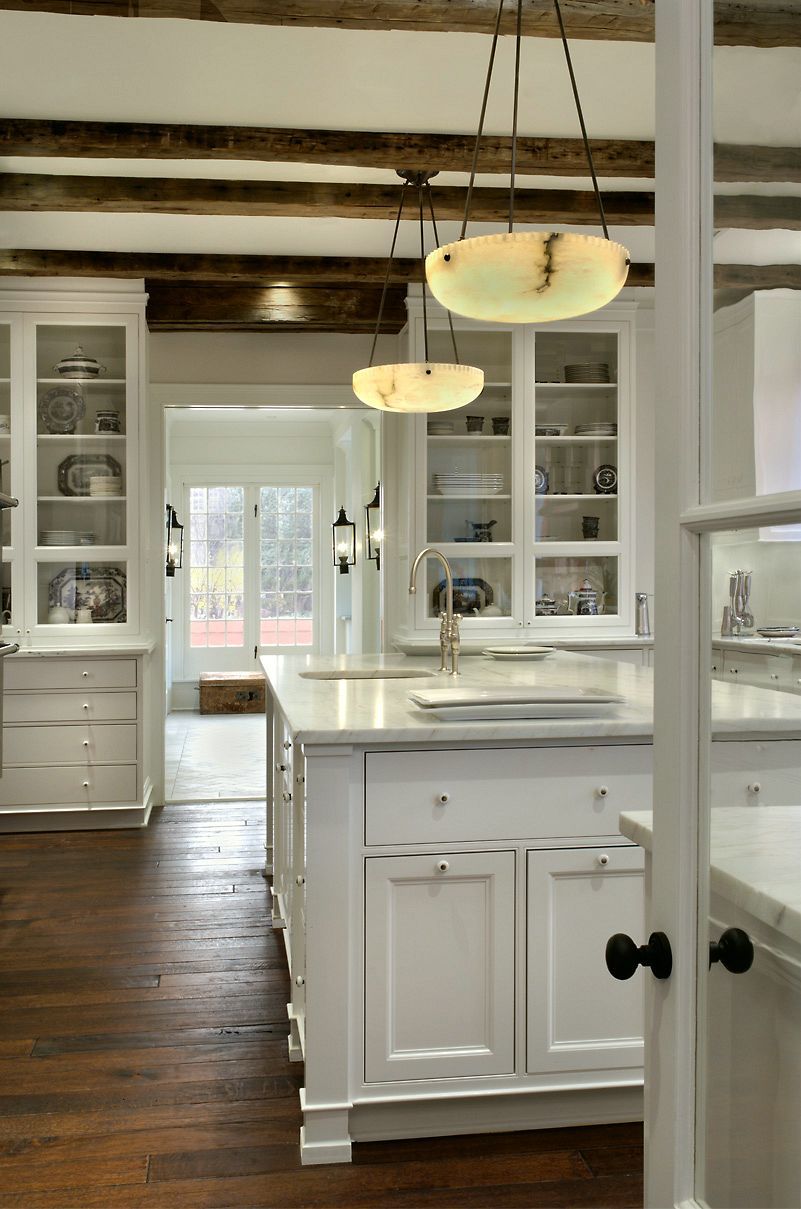 And his collaborations with architect Donald Lococo are legendary.
Well, with me, they are. I've posted this kitchen a few times and every time, Donald Lococo makes a point to thank me. Totally not necessary but that's a class act!
That's not the same mirror that's in Darryl's bathroom, is it?
(no, I just checked. Darryl's is completely different)
And now for the "dreadful"  AWESOME room that Darryl Carter did for the Kips Bay Showhouse in 2014.
I love absolutely everything about this room. Nothing else to say.
Love this!
And now, I have done my best to channel Darryl in the furniture grouping below.
I so wanted to find some cool Gustavian chairs, but didn't come across anything as sublime as the chairs he has.
But, I found the most amazing vintage screen from Maitland Smith.

xo,