Dear Laurel,
I love your blog and have gotten your rolodex and your paint collection and paint palettes. It's all so incredibly helpful as we make plans to fix up our modest 60's ranch home.
AKA – Boxy, Low Ceilings, Plain, Boring and not-what-I-want.
I want a Georgian or Federal style colonial, but that ain't gonna happen.
Our windows are far wider than they are tall. The ceilings are only 8 feet. And there's nothing else. No crown or other applied mouldings.
What we have is everything that one rarely sees in magazines and even in the examples on your blog.
I guess I'm afraid that since the home wasn't intended to have those things which I love so much, it'll look odd to add them? I don't know. But I'm figuring other people are in the same situation.
Thanks,
Brenda
Brenda's problem is very common. In fact, I have worked on many of these homes as there are a lot of them in northern Westchester County.
It's always a challenge to make them look more charming. And even a lot of builder's homes that proliferate around here are very plain.
But… there is no law that says that a modest ranch home could not become the charming home of Brenda's dreams.
First of all. While eight feet is a lower ceiling, it is not a LOW CEILING.
Seven feet is a low ceiling and I once worked on an antique home with seven-foot ceilings.
That was 16 years ago!
It was in the December issue 2004 of Better Homes and Gardens. So, it's also fitting as we are now officially entering the Christmas Season.
This is the home, an antique, built circa 1800 in the sleep hamlet of Waccabuc, NY.
Never heard of it?
Right. And that's just the way they like it! :]
But, let me just say that if you are looking for God, this is where she lives. ;]
Waccabuc is one of the most beautiful places on earth. (shhhh… I'm not supposed to say anything)
Let's go inside this historical home with low ceilings– only seven feet!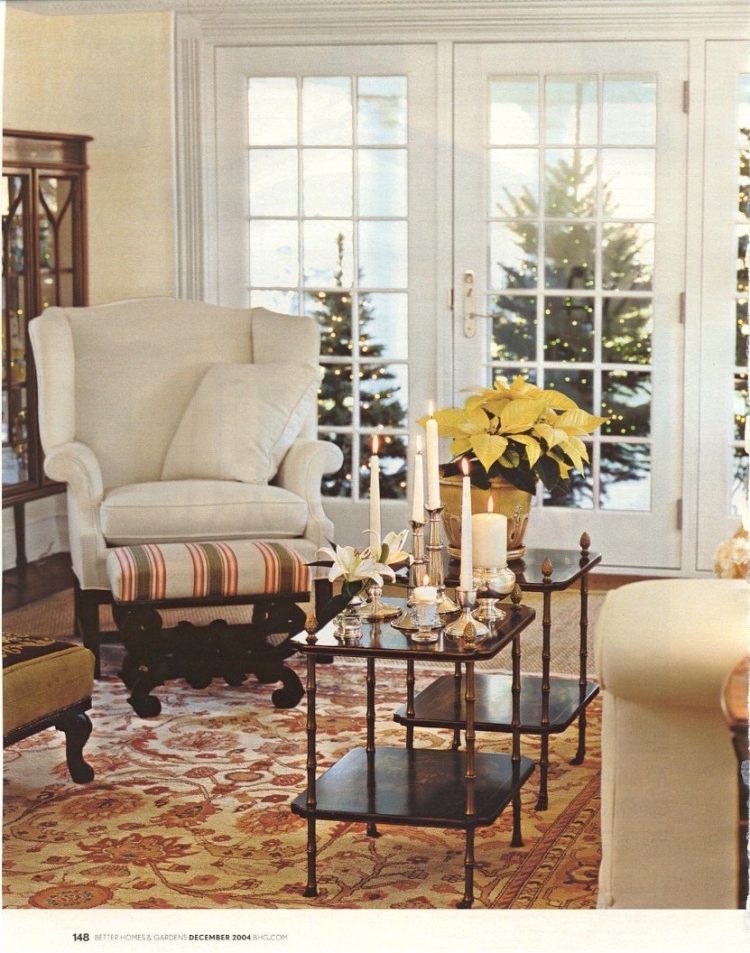 The living room where we intentionally layered an oriental over sea grass. See? I was doing this back then!
The wing chair had belonged to the client's mother and we had it reupholstered in cream linen. The stools were hers and everything else we did. Love those Chinoiserie tea tables from Brunschwig and Fils. I don't think they have them any longer. Not sure.

A shot from the living room looking into the dining room. And OH! Those are NOT my pillows! I had given my wonderful client two beautiful Aubusson pillows. They removed them and put in this cheap crap. But, it's a case in point that what you see in a magazine isn't always the designer's work!
But, those are the original mouldings. The clients removed the paint from the fireplace before I became involved. This one would not have been painted.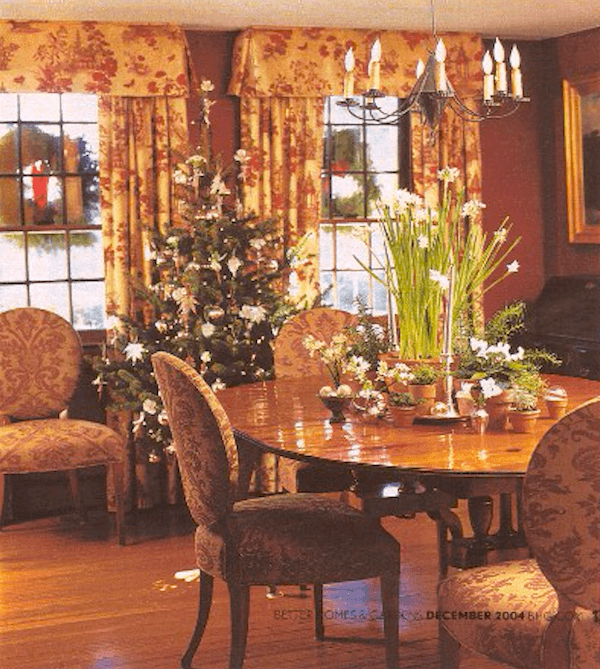 The dining room is my favorite.The trim is wood here and there's a lot of it which you can't see here.
The only staircase in the home is behind this shot.
We took the valance straight up to the ceiling as you can see. I also made it proportionate to the seven-foot wall. Usually, a valance like this would be about 16″ but I believe these are about 13″. The wonderful toile is from Cowtan and Tout but was discontinued shortly after we did this room.
The table and chairs are from Baker Furniture. This was the most amazing table which is actually 54″ round, but it looks like they have the leaf in it. It's discontinued.
The chairs are my favorite dining chair–ever. They were part of the Charleston Collection and also were discontinued. The scale, proportion is something I have never found again. And they are the most comfortable chairs!
The fabric is discontinued as well lol and one of my favorites that I did in other colorways from Pierre Frey.
Ahhh… those were the days! But alas, nothing stays the same.
I do love how the stylist decorated the table.
The walls are a cinnabar color that was troweled on by decorative artist and designer, Robert Hoven. He also did the checkerboard floor below.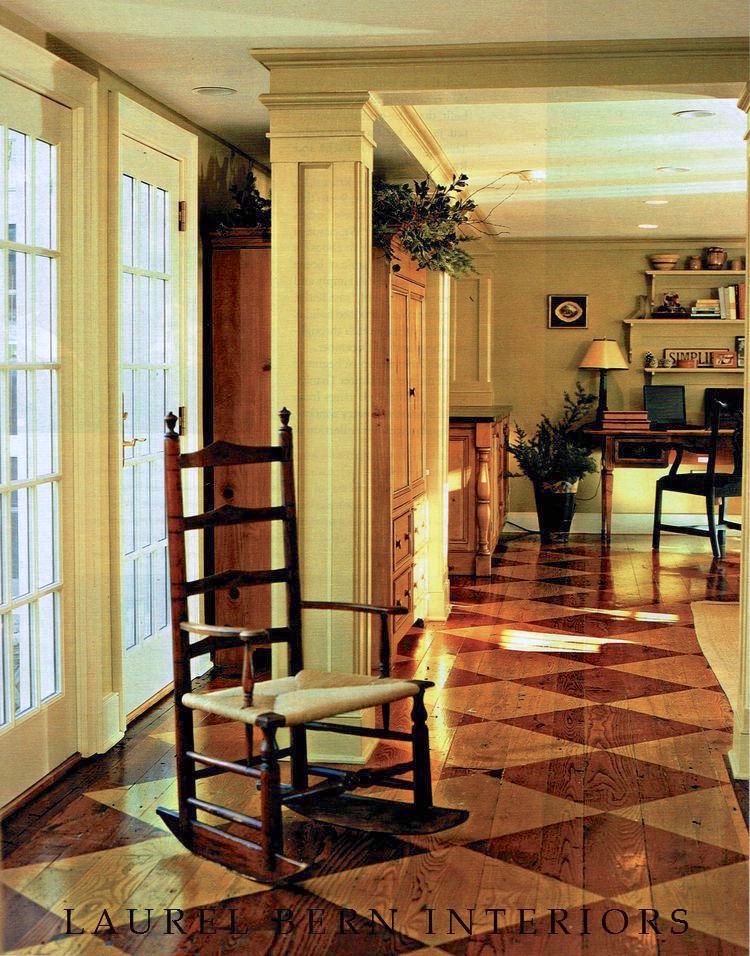 Beyond the dining room is the kitchen/family room. Here, you can see how wonderful the mouldings and architectural details look. This area was completely gutted. I did not have anything to do with the architecture or kitchen, but think that they did a great job.
The clients turned the adjacent garage into the one tall (double story) room in the home. They called it the rec room, but it's the one with the big TV. This project took two years. I don't have the stomach for that but admire others who do.
I haven't quite made the point yet, but perhaps it's obvious, that just because a home is small or was built 60 years ago, doesn't mean that it can't become a charming home filled with wonderful architectural detailing.
That detailing is essential for creating a wonderful, traditional home.
Well guys. I have a lot more for you… but it's Thanksgiving as all of us Americans know.
My kids are here and staying in my one-bedroom apartment. One is on the sleep-sofa and the other sleeps on the sofa cushion in the entry. Cozy. But it works!
So, I'm sorry but you're going to have to wait until Sunday for the rest. I will explore other rooms with eight-feet ceilings and lots of tricks for making the ceiling appear taller. (not just hanging the drapes high) And lots of other beautiful spaces, too.
Please have a blessed holiday!
xo,