And why don't they want you to know this decorating trick?
Well… I can't speak for them. :]
But this one's so simple and yet I don't see anyone writing about it.
The trick to creating beautiful, professional looking interiors is…
Are you ready?
You steal it.

That's right. Take. Borrow. Copy. Follow. Imitate. Steal.
Oh, I know… you would never do such a thing. You were taught not to steal. Well, this is one time when I'm telling you that it's okay.
I mean. That's how we learn. Right?
When you were born, did you know how to walk and talk? No. You copied other people.
Did all the great painters just put their brush to canvas and out came a masterpiece the first time? No. They learned by imitating and  copying their mentors.
And then, over time, they developed their own style.
Did Mozart just sit at the piano and start composing a concerto when he was three?
Okay, that one isn't a great example. But he still learned from his father and his fellow musicians. There was a particular form and style that they all employed. He just did it better than everyone else. And then other musicians copied him.
When I was a ballet dancer. I copied my teacher and dancers who were better than me.
It made me a better dancer.
Well… it's no different when we're designing and decorating our homes.
By now, it's all been done before.
But dang it all, sometimes we see stuff in magazines.
We become obsessed.
A piece of furniture.
A fabric.
And damned them! They don't tell us where it came from! They tell us where everything else came from except for the two things we really want to know about. Doesn't that drive you nuts?
Well, I can help you with that too! So, please hang on!
As another decorating exercise, I thought it would be fun to take a really gorgeous home  to demonstrate the decorating trick of "stealing."
However, I also want to try to save you guys some money without sacrificing the look, so we'll be covering that too.
It's this beauty that was on the cover of House Beautiful May, 2016 by one of my favorite interior designers the fabulous Chicago (my birthplace!) interior designer,  Summer Thornton!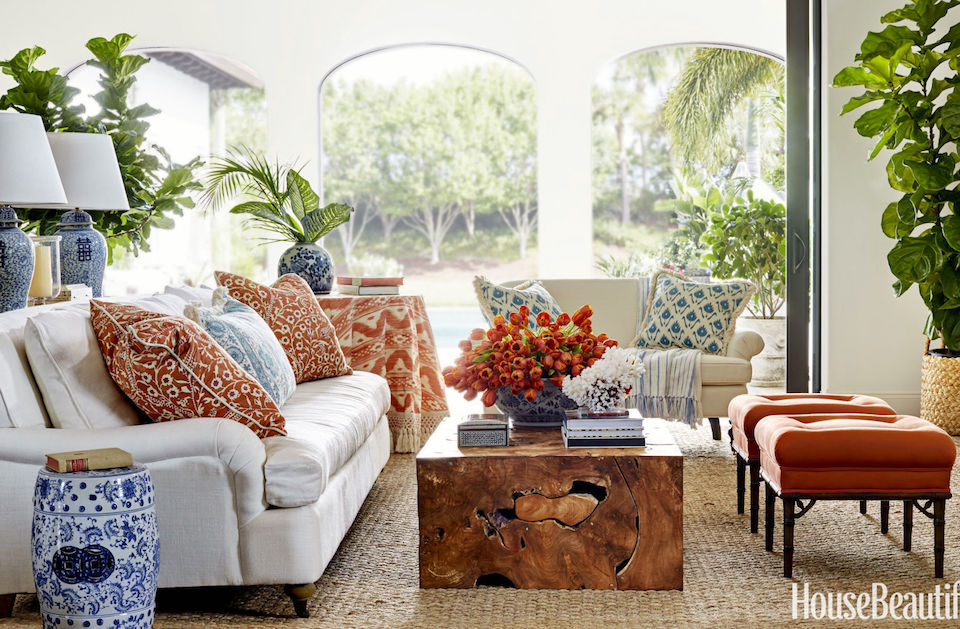 One of the things I love about her designs is that not everything is insanely expensive. Some of it is, yes, but not everything.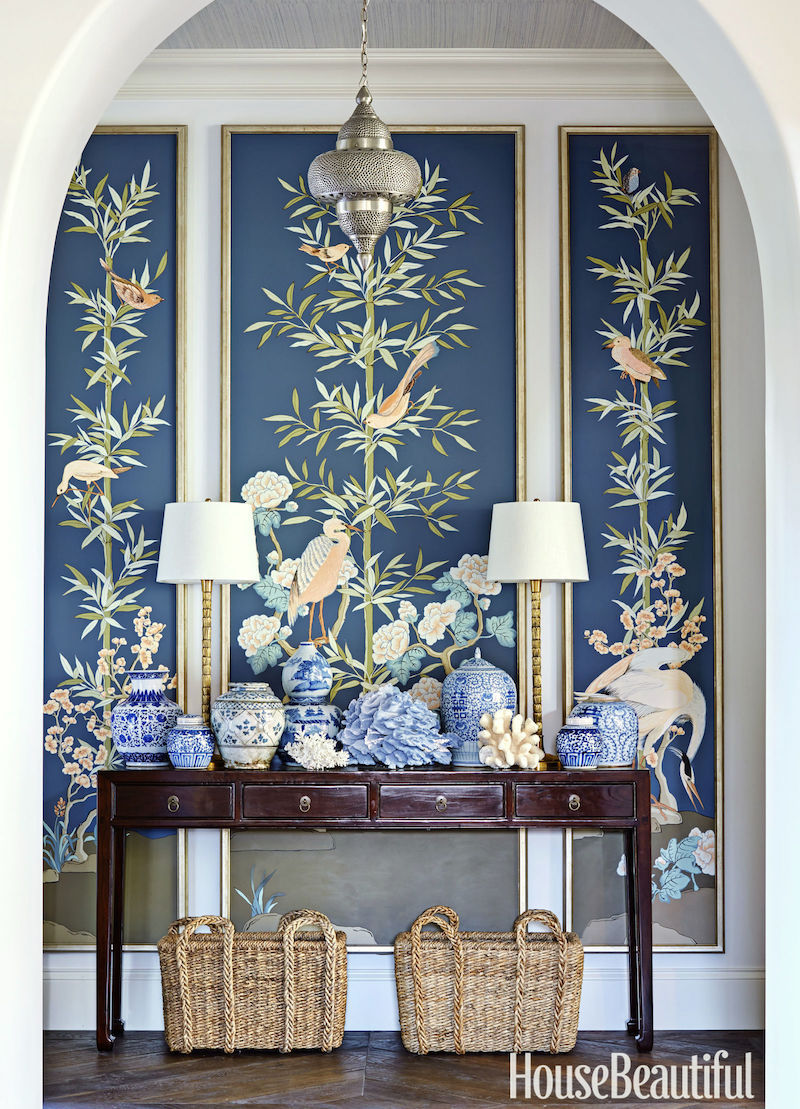 Photo: Luke White
Let's begin with the fabulous entry.
I don't know about you, but I'm in heaven. There's nothing I would change. (although, that's probably not going to stop me. haha)
The exquisite Chinoiserie panels are hand painted by Allison Cosmos
hmmm… That has to be somewhere in the 'hood of 5k-10k. But I don't know. In any case, most of us, myself included don't have that kind of money, no matter how spectacular.
Here are some alternatives and most will be a lot less than 5k.
The first thing we will do is put up the picture frame moulding. If one has the tools and the gumption it is not a terribly difficult DIY project. For me, it would be. But I know that some of you are immensely handy and resourceful.
Lucky for me, these are pretty big files that House Beautiful put up, so we can zoom in. Thanks guys!
This looks to be pre-finished picture moulding as opposed to architectural moulding. If one wants to hand-paint, it would be far less expensive to get the latter, but a lot easier to find a similar pre-finished moulding.
Then, for the panels.
We could do something fabulous from one of the companies like Zuber or Gracie, but that might end up costing as much as the hand-painted ones.
Then, there are some knock-off Chinoiserie Wallpaper companies in China who look to be pretty good. Anyone ever order anything from any of them?
I took a look at Tempaper.  Here's an image from their booth from the High Point Market last Spring. This is removable wallpaper with a Chinoiserie hand-painted look scene!
That would be a lot less expensive and they do custom sizing, but dang, I don't think they do custom-coloring (but I'm not 100% about that.) So, that's probably not going to work. They have some nice colors, but no deep blue.
I found this Chinoiserie paper at Ralph Lauren that I had not seen before. I think it's pretty sensational. Not as much color, but very pretty, just the same.
And then, there's Fromental. Just gorgeous! It's an English company and you may have recalled their partnership with CR Laine when they introduced their Studio Collection of gorgeous printed Chinoiserie Wallpapers. These should run around the same as other designer wallpapers. Not cheap, but nowhere near the expense of the hand-painted papers. There are two designs, Bambois and Florent. They are both gorgeous, but for this job I would go with the Bambois.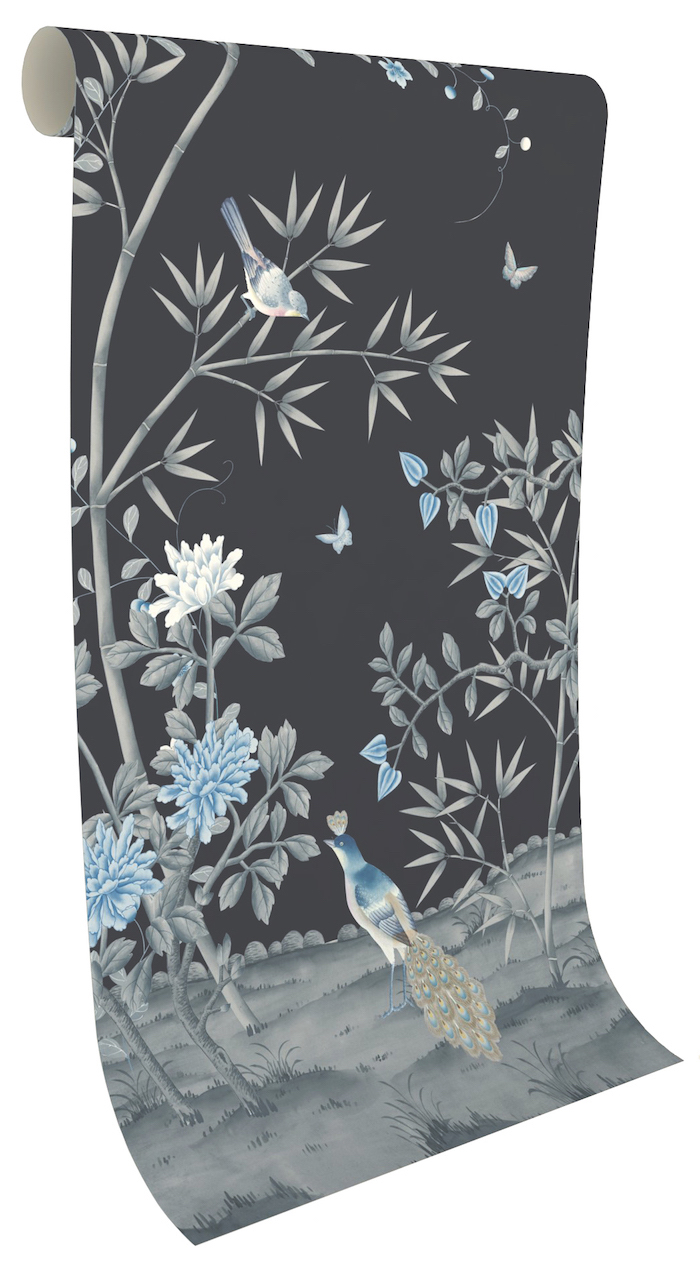 This one is stunning, but here's the problem. I don't think the black background is a good fit for our entry panels– for this particular home.
There are two with blue backgrounds, but the colors are quite saturated, so probably not right for our subtle, sophisticated color-scheme.
See what I mean?
While I love the idea of getting the hand-painted Chinoiserie look for a lot less, some of the colorways I feel could use some tweaking.
I put the bright one above in the photo editor and knocked it back to this version which I think would be a fabulous replacement for the hand-painted version. I'm wondering what would happen if a tinted glaze were applied to the paper. I did that once; not for an entire wall, but to cover the backs of some speakers.
And finally
Qu'est que c'est? For the tres adventurous, patient, crafty, energetic of you out there, this is done with a stencil! (Cutting Edge Stencils) Woo Ha! And you have to see (in the link) how they created it and what else can be done. Below is a technique that's really close to our hand-painted mural.
The question is… Do you stencil on the wall or on paper? Well… for me, there would be no question that I would do it on paper that could be removed, moved and then handed-down as an heirloom!
Oh wow. We have only just covered the Chinoiserie panels? Well, they are pretty important.
Moving on…
The Ming table in Summer's room is a gorgeous antique.
I found this 19th century Chinese altar table beauty at Fea Home for $6,500
That's fine if one has the funds but I think we can do better price-wise.
So, what else did I find?
Even when "stealing" another designer's design, another decorating trick I have is to explore other options. :]

So, let's do that.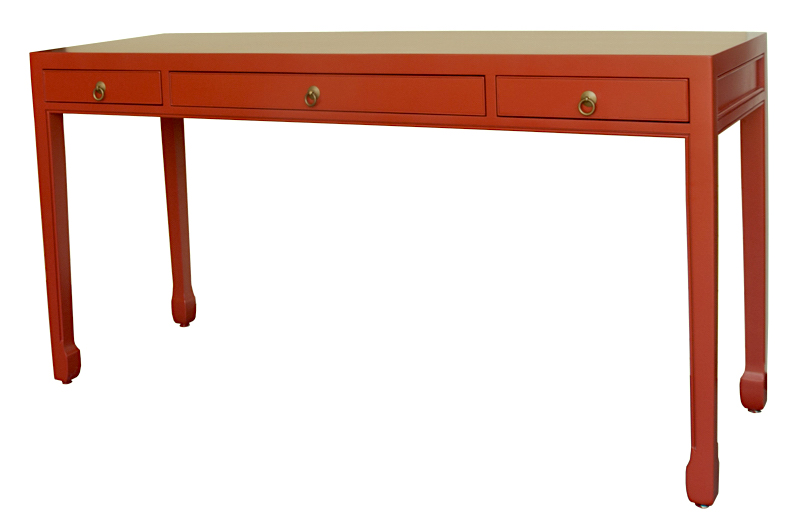 Above and below is an awesome console table from Red Egg. I saw it somewhere online for $3,800 retail, but I think that price is probably inflated.
People often think that there are amazing furniture deals all over the internet and that is just not true.
Remember the story of  how Ira Joe Sukerstein got royally screwed when he bought furniture online?
Back to our console tables. There are so many gorgeous ones out there. We could also do a white one.
I've long admired the Asian furnishings at Legend of Asia.
Or we could do a persimmon orangey color.
This is a fun piece from Circa Who. They sell vintage furnishings both in a store in Palm Springs, FL and online. The best things get snatched up very quickly.
One of my peeves however, is they keep items online after they've sold. It's like saying. "See what you could've had?" That's not nice.
This cool console table is under $400 from Ballard Designs
I like the white-wash finish.
But the buffet doesn't have to be an Asian piece.
One common decorating mistake is to get too "theme-y."
Where does one draw the line?
That's a good question. I think the rule of threes is a good one. And if we look at Summer's vignette, we have three distinctly Chinoiserie elements and everything else is something else.
Throughout the home is a thread of Chinoiserie. So, the theme is carried from room to room but in a subtle way.

Above and below from Phillips Scott.
Phillips Scott is one of the 36 sources in Laurel's Rolodex that I can't live without! (page 311)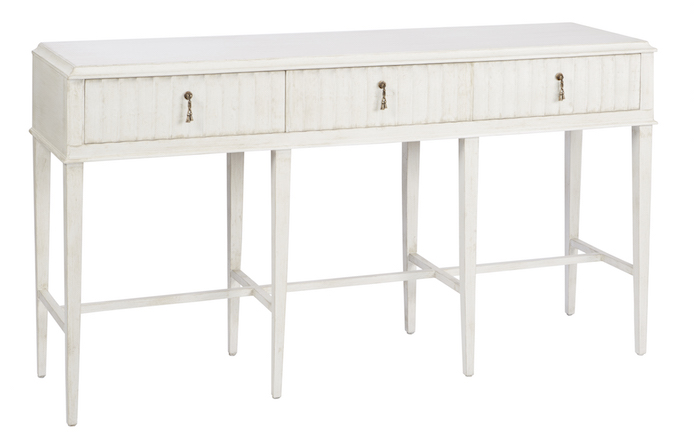 and one other interesting piece.
You guys know that I can't resist a Greek Key design.
And I think this piece has just the right amount of informality/formality for the rest of the space.
Next comes lighting.


Those are some way cool buffet lamps but I don't recognize them. I did one of my favorite tricks when I don't know where a lamp is from. I crop it tightly and put it in google images.
Nope it didn't work.
So, now what?
I opened up Laurel's Rolodex.
Oh man, if you don't have a rolodex, then you are missing out. I use mine all the time and wonder now how I got by all those years without it! (not very well, sometimes. lol) I just went to the lighting section and started scrolling through the dozens of sources and bingo! I found the source on page 246- Vaughan Lighting!  I feel giddy when that happens!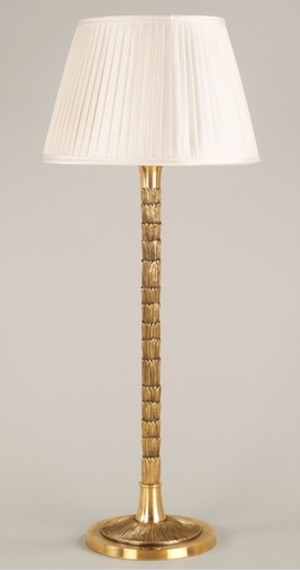 The shade is different, but Vaughan offers many shade options.
What is so great about using Laurel's Rolodex is that all of the links are right there, so you can quickly click on a link and go through each vendor's products, as fast as you can scroll.
In the meantime, I also found some other lamps I like.
Below are two similar lamps that could work.
From Circa Lighting and/or Visual Comfort

And I adore this chic buffet lamp from Regina Andrew.
I easily found the Moroccan-style pendant too. It's from Currey & Company.
I do like this piece but I also selected some other options that I think I like even better.
One of my favorite chandeliers of all-time that I've done at least twice before is the Sara Chandelier from Canopy Designs. (Note: They are no longer in business as of 2019) This is the smaller version. Depending on the size of the hall and height of the ceiling, it might be possible to do the larger one, but I think this size is best for this situation.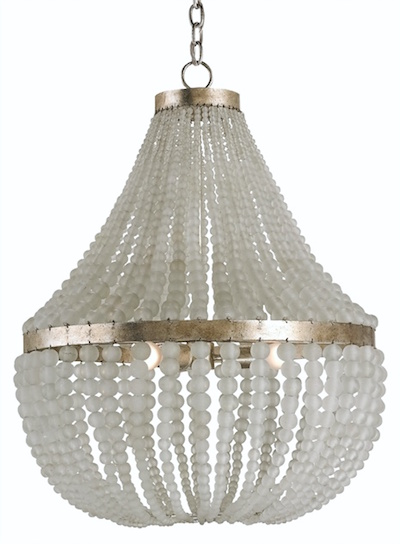 Another great option would be this lovely beaded pendant also from Currey and Co.
For the accessories, there are so many places that carry great stuff.
My favorites for Chinoiserie porcelains are Legend of Asia, Bungalow 5, Avala, amongst others. There's an entire section devoted to accessories in Laurel's Rolodex.
I know I'm talking a lot about the rolodex and that is because I'm very proud of it. It's probably one of the best things I've ever created; it's a tremendous time saver too!
The other really cool thing is that every source except for one of the fabric places is in the rolodex. Most of the sources are sold to the trade AND retail as well. Or, they are sold through interior designers. But many of those sources are available online.
This is not meant to be a way to shop your designer. However, designers should be able to compete with REPUTABLE online sources if they are getting their products from the vendor and not a middleman.
AND the other thing is… This is your final reminder that at midnight on August 7th 2016, is the deadline to get your orders in for the rolodex and/or the laurel home essential paint color collection. This is so that you can be in the running for one of three prizes which is a choice of a free interior design consultation or the next product which is an elaborate paint palette collection product for free.
Monday, I will be doing a random drawing and announcing the winners later in the week. If you are a winner, you will be notified by email.
Gosh. (I do say "gosh" a lot, don't I?). You know, I had plans to go over the living room, dining room, another vignette and the bedroom. If y'all are interested, I can keep going. I have some interesting things to say about the living room and I found everything there too! It's a lot of fun when that happens!
Good luck to all who are in the running for the prizes!
xo,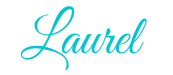 PS: I forgot to say something. And that's that when we begin by "stealing" someone else's design, by the end what we often end up with is something perhaps reminiscent of the original design, but in the end, it becomes our own. And I think that's one of the coolest aspects of design.
Save
Save
Save