The other day, I got a comment on another post about a no-fail whole house paint palette.
She wrote to tell me that one of her colors had failed.
I quickly read through the note to find out that her failed color is Benjamin Moore Horizon 1478.
She said that it looked like Crest Toothpaste and that her husband was horrified.
Okay.
I used Horizon before we sold our home three years ago. I had heard so many great things about it from trusted sources. The master bedroom and bathroom were both painted Horizon. It is a light gray with a hint of blue-green. The bedroom faces south-east and the bathroom has no windows except for a skylight. I thought the color looked great in both rooms–especially the bathroom. Our bedroom, architecturally, was very boring, and I think so more mouldings and artwork could've made the color that much nicer.
The color in the bathroom matched our gray carrara marble perfectly. It did not look anything like Crest Toothpaste.
So what happened here that the color failed so miserably? I don't know for sure but here are three possibilities.
The paint was mixed incorrectly.
She used a painter who unscrupulously went out and "computer matched" with a cheap off-brand. Look for paint in a plain bucket. If he can't show you the original bucket, I would wait until he's gone and then change the locks. Have a male call him with a stern voice and say, YOU'RE FIRED.
Somethin' is going on with the lighting. If the paint is going green, what bulbs are you using. What happens if you switch the bulbs with something else? Of course, this is in a room that has no windows, or a room too dark to use without lights on.
Something is reflecting into the room to cause the light to be  tinged with that color.
There are some odd angles going on.
[tweet_box design="default"]This is why I say… No matter what. No matter how glorious I say a color is or you read it 16 other places, you must always test and compare what is on the wall to your paint chip![/tweet_box]
Alright, that was the warning. Now, for the surprise.
Remember that I promised you three Downton Abbey paint posts?
Well, here's the thing. I have about 20 images that I HAVE to use. I just have to, but in order to keep it from getting too confusing, (and too long!) I think I'm going to separate them and every once in a while, create another Downton Abbey surprise.
I've had lots of requests to do a paint palette around the pale blue, gray, green images, as well as Cora's Bedroom and the Dower House.
And this one.
What I have done is to create a palette of 25 colors that you can mix and match. Below are more inspiration paintings and a few rooms which mimic the paintings from Downton Abbey.
Here's a room by Jay Jeffers in these beachy colors.
There's a lot of debate over what is Cora's bedroom color.
It appears to have changed over the years, but that could be the lighting. It's TV. The colors could be very different from how they appear.
However, I think what's so wonderful about Cora's bedroom…
is Cora.  I only started watching the show about 3 shows into the 3rd season. When I first saw this character, I thought, "is she for real?" But then I soon realized, that she was a genuinely, sweet, sweet woman. No snobby airs about her!
And then, there's that yummy apricot-colored silk-damask headboard. For the show, it's probably not silk, but back then, it most likely would've been.
I don't know who this character is, but adore the water and the beach palette.
I love the way this photo turned out as a water-color.
Anna visiting Bates in prison. These are similar colors in the Downton Abbey kitchen.
One of the most interesting characters on the show, IMO is Lady Edith. I've come to the conclusion that her main problem is that she was born 100 years or so too early. She's a modern woman and obviously out-of-sync with her place in life, it seems. Don't you love that chair?
That is… until she took over as publisher of a magazine; it was then that she began to find herself and her voice. I was so happy for her when the delightful, Bertie Pelham came into her life.
Oh rubbish, the truth had to come out about Marigold, Edith's illegitimate daughter.
What a catharsis it was to finally hear the words from Edith to her sister that we longed to hear!
You're a nasty, jealous, scheming BITCH! YOU'RE A BITCH!!!
Well, not an out-and-out bitch. Because if she was, Mary wouldn't have rallied as she did.
Alas, Edith seemed to understand that her lot in life was to live alone as a spinster, albeit a spinster mother. But true love cannot be broken and Mary who first tore them apart, brought Edith and Bertie back together again. Well, she had to! We love Mary too. How could we not? Everyone has their moments. Right?
Nail bitingly, it was touch and go on account of Edith's future mother-in-law; at the 11th hour, Edith came clean to her about Marigold.  Fortunately, by dinner, the prude got a hold of her senses and gave the anxious couple her blessing.
The epitome of a chic wedding in 1925. And she's a Marchioness or something now; whatever that is, I don't know. Apparently, it was a big deal back then. Spinster no more and through marriage outranked everyone in her family.
So there!
Didn't you about pass out when Lady Rose came waltzing in, on the last episode in this glorious frock! I mean– smashing doesn't quite cover it. I think the bear looks ready to devour her.
Furniture designed by Aerin Lauder via Modern Duke
Violet obviously cooking up some plan or other at the Dower House. Or maybe, she's just admiring her enviable surroundings. Hard to tell.
Another shot of Violet's parlor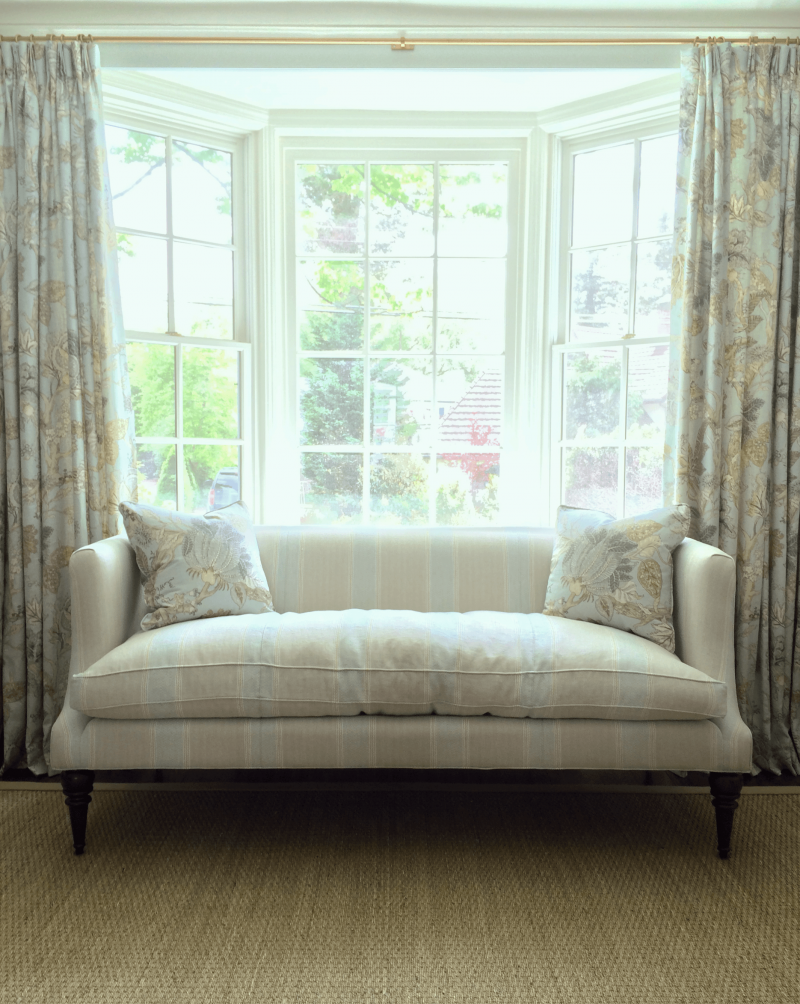 We used a seashore palette in this recent job.
Please pin the following to one of your pinterest boards. I worked my fingers to the bone making it. lol
A Whole House Paint Palette Featuring 25 Benjamin Moore Colors
(you won't use all 25 colors unless your home is the size of Downton Abbey! haha! But the colors could also appear in a fabric and you can mix them up.)
I know… You want to know what the colors are. Here are the first 2 rows.
Newburg Green hc-158
Caribbean Teal 2123-20
Stratton Blue  hc-142
Palladian Blue hc-144
Woodlawn Blue hc-147
Peale Green hc-121
Great Barrington Green hc-122
Georgian Green hc-115
Green Thumb CSP 870
Glass Slipper 1632
Hope that's okay. I think I got a little grandiose with the 25 colors. Most of them are in this post or this post.
Happy Spring! We made it! Over-all, not the worst winter. We even have lots of budding trees in the northeast last year. Nothing.
xo,