Dear Laurel,
I'm at my wit's end. It's about the home builders!
My husband and I finally decided to purchase a beautiful home, yet to be built in a new community of about 70 homes. The model had everything we wanted. Well, lo and behold sometime after we went to contract, another entity got involved and things began to change and by a lot. Apparently, there is a clause in our contract which states that the holding corporation may change home builders without notice.
This home builder cut every corner imaginable– and making any changes is prohibitively expensive. For instance, we could put in our own kitchen, but we would have to pay for their kitchen and an absurd fee to install our kitchen.  In addition, we are not allowed to have a home without a kitchen! It would be less expensive to rip out this kitchen and put ours in later!
We consulted with our lawyer who just shook his head and said that pretty much we were going to have to live with this; it is very common in the home building industry. They call the shots while the home owner has virtually no control!
Here's my bucket-list of issues.
The cabinets are one foot short of the nine foot ceiling.
The cabinets are WHITE, I mean the brightest white I've ever seen. I want white just not so blinding. We did have another choice and that was this weird ashy gray finish.
The counters are white silestone. I cannot get my own sample. I have to go the sale's office to look at it.
The back splash is white subway tile. That one, is alright, I guess, but it's the cheapest crap God ever created!
There's more. I just found out. There's no pantry! There is a side by side washer/dryer however in the kitchen. Is that weird, or what? We have two little kids and lots of nephews and nieces. We need food storage! Can we move the washer/dryer? I really don't want to move it to the basement. They won't be finishing it. Yes! Another surprise. No finished basement!
Then, the wall color. It is all Sherwin Williams Putrid Gray. I don't remember the real name, but it's not what I want and I certainly don't want it all over my home. I don't mind Sherwin Williams. They have some nice colors. Why on earth can't we select our own paint?
The bathrooms are the same situation as the kitchen. Same finishes. Same colors.
Laurel, we are already maxed out on this purchase. Oh, I guess another 20k wouldn't matter at this point, but that won't buy a new kitchen or bathrooms!
I want moldings too!
The house is still basically nice. The ceilings are still nine feet and the windows are big. It is bright and airy but just lacking in the character and charm I was so hoping to get.
I am hoping and praying that you'll come up with some solutions but I'm so upset, I can't think straight about this. I read your post about the horrible painting contractor.
Do all home builders and contractors suck?
Thanks so much,
Betty Baitinswich
*********
Oh, Betty and anyone else out there who is at the mercy of their home builder, first of all… No, they don't ALL suck, but a lot of them do. And sometimes it's difficult to know in the beginning what you're getting yourself into. They will always try to make themselves appear as attractive to you as possible.
They want to sell you a home.
Before, I go on… For those of you not familiar with my "dear laurel" letters. There is no actual Betty Baitinswich. However, she is an amalgam of a few different letters or comments I've received recently and my prior experience with clients who've purchased a builder's home.
I also want to add that I do receive a lot of letters asking for advice like this. You can certainly ask and perhaps I will include it in a blog post, but generally cannot give specific interior design advice without a signed contract and a hefty design fee.
Love your comments so much because they enrich the blog and help to foster an even greater learning situation. But the point is, it needs to benefit everyone, not just your unique sitch.
End of lecture.
And now… we will return to our regularly scheduled program…
"How To Kill Your Home Builders And Make It Look Like It Was An Accident"
hehehe… I'm being my usual cheekysefff. There are some wonderful home builders (I guess). But of course they are in business to turn a profit. It would appear that many home developers do not care one iota about the people who are buying their homes. If you are a home builder and feel differently, please state your name, company and why you feel that statement is false; respectfully, of course. We're listening.
Yes, there are rotten people in every industry, including my own. But your home is almost definitely the most expensive purchase you will ever make. And well… it's your haven. It should be beautiful, well-built and safe!
I am not saying not to buy a builder's home in a development. Just be careful. Make sure your lawyer looks over every letter of the contract.
If they seem at all slippery. Run. Read online reviews about your home builder. Here is a scathing report I discovered from Consumer Affairs about Toll Brothers.  In this age of internet information, you would think it would be in their best interest to keep their rep a little cleaner. No?
The upside is that you are getting a brand-new home, usually with none of the issues typically found in old homes. Usually.
Deb, please just go out and buy the paint you want. Never mind that he's charging you for paint he's not using. He buys Sherwin Williams Disagreeable Gray by the 5 gallon container.
You can go to the manufacturer(s) for samples of tiles. They'll be happy to send you whatever you want.
Alright. Let's get to the rest.
And please know that this isn't just about home builders homes, but it could be any home you're planning on purchasing, OR already live in!
Let's begin with your Home Builder's Kitchen. The basic model.
Generally, the home buyer is given some choice in cabinets but usually it's maybe 2 or 3 choices and they are all pretty bad I have found. Sometimes, they'll offer an "upgrade." Same thing.
Cabinet manufacturers usually offer two shades of white.
and
neon-blindingly-bright-to-match-your-washing-machine-white.
The cabinets almost never go up to the ceiling. It's all pretty craptastic.
You have three choices when dealing with the homebuilders kitchen.
Live with it.
Rip it out and start over. (I've known some who've done this!)
Augment and paint.
Here we go. Standard fair. This is the kitchen of a wonderful blogger I just discovered, Cristina from the Romodelando  La Casa blog . She chose door #3— Augment and Paint.
Here's what she did for 11 large. Holy Crap! And, she and her hubs did it all by them selfies! Folks, to be clear, these are the SAME cabinets, but everything else is new. Please check out her blog in the link above and here and here. It is chock full of wonderful advice— including how to paint your cabinets. There are lots of other great projects too!
IF you don't like the color of your cabinets, it IS possible to paint them. It is a lot of work, but from one who did it or rather had it done, it is absolutely worth it!
Waterleaf Interiors
HGTV – photo by Jeffrey Herr
Let's discuss the laundry in the kitchen.
I had a client who has this. Actually, it is in the eating part of the kitchen. One solution for Betty who is sans pantry, would be to have a top and bottom washer/dry and then use the other section as a pantry and/or broom closet.
HGTV – photo by Jeffrey Herr
Hendel Homes
This is a very cool idea, I think. That is a radiator grille material in the doors. Very clever!
dum dum dum.
The ol' ledge-going-to-know-where-with-no-access-gathering-copious-amounts-of-dust-over-the-front-door-abomination.
Yes, indeed. Oh, it seemed to be a good idea. Homeowners want to put coats somewhere grumbled the home builder. Fine. There you go. I made them go somewhere.
via: Addicted To Decorating
Yes, typically, what lives underneath the overhang to nowhere are two coat closets. Fair enough.
Sorry, but it's shit design.
For decades, homeowners have been scratching their perplexed heads wondering what on earth to do with the dangerous and unreachable landing. I have seen it all. Dead plants. Living plants. Murals. Plastic flowers. A dead cat.
There's a lot of death in a place that's inaccessible.
Hope we don't get a little earthquake. Hate it when the sleds fall on the kids and they have to go the hospital for stitches.
Sweet.
This one, the builder added just for spite.
How do these homes get a C of O? Anybody? You can't take possession of your home without so much as a lightbulb, but you can build a death-trap of a ledge. That's okay.
no words.
However, about 13 years ago, I had a lovely client who lives in a home with one of these. Hers, however, is 4 feet deep. Four feet is actually enough to do something with. And so we did. We put in a door which you can't see, from the master bedroom and created a sunny nook for reading. We could've put in a door on the other side, but that lead to one of the kid's bedrooms. BTW, this contractor was a doll. We were of one mind about everything. There was no railing originally, but now, it is a safe place to go!
So, as long as your ledge is at least two feet deep, you could put in a door (and a coordinating railing) from whatever room and then you could put up some living plants. Or create a little, safe play area.
I've always loved the idea and have done it of putting a frame around an existing, boring bathroom mirror.
That's better! Bathrom makeover by Home Talk
The builders home – standard oak staircase.
In all fairness, this isn't the worst thing I've ever seen. But it is wrong and lacks finesse, that's for sure. It should not be all wood unless you are living in a hunting lodge in the Adirondacks. Something like that. The risers should be white, as well as the spindles and newel posts.
Maggie Overby
They did a nice job on updating their standard builder's staircase.
Traditional Home – Louise Brooks
Here's one that is anything but standard but I think i love it!
My favorite classic newel post and stair railing. (original source unknown)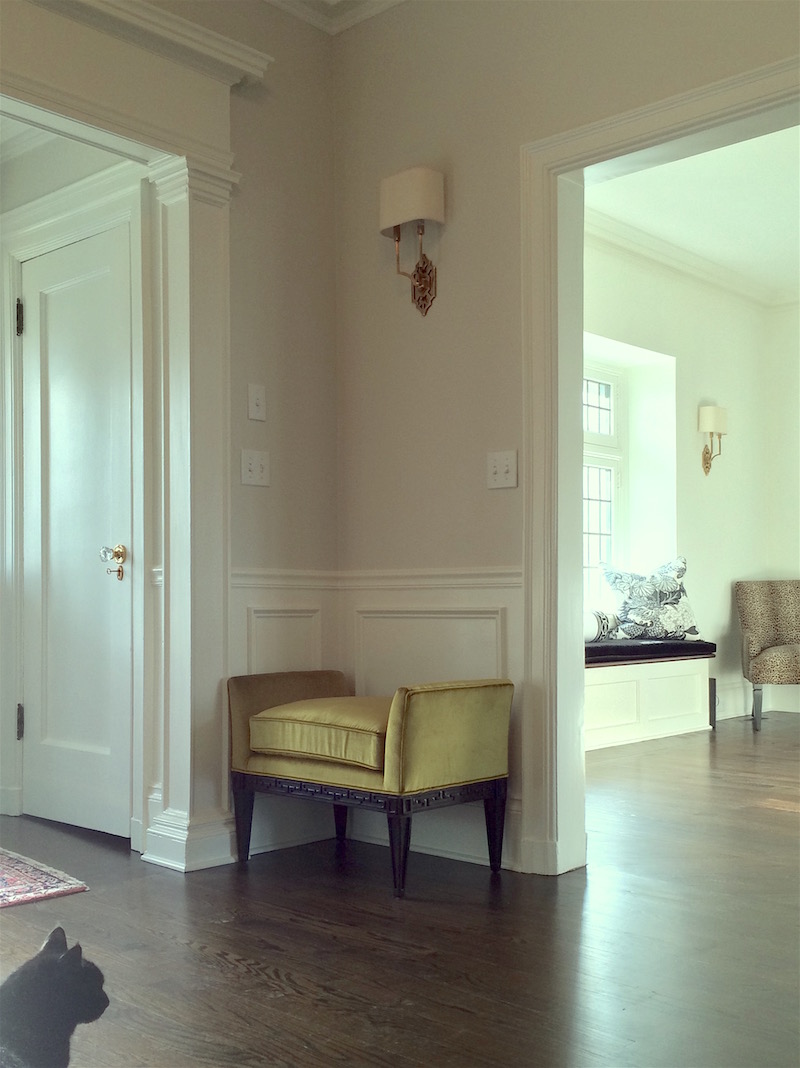 This is me! Well, not me, but my fabulous client who lives just a half mile from me in Bronxville. Just a couple snaps with my phone. I'll take proper photos later. This is the job I was talking about in this post. A lot of the furniture is in already and is looking quite smashing.
Love how the door is framed. Very elegant! That was there, I believe, but the wainscoting is new. I didn't have much to do with that other than to give a reassuring, yes!
We just put up window treatments in the dining room. The wainscoting is new too.
You want to know the wall colors?
Yes, please Laurel…
The walls in the entry are classic gray. Everything else is Cotton Balls except for the ceiling in the dining room which is Glass Slipper. All by Benjamin Moore.
Make It Love It
Windows. Not really much to say. What a difference!
I saw this room a couple of days ago by Rachel Halvorson on her instagram have to admit that I'm a little obsessed with it. I've already posted it on instragram, twitter and pinterest. Love everything and especially all the little trim details. That's what makes it soar, IMO!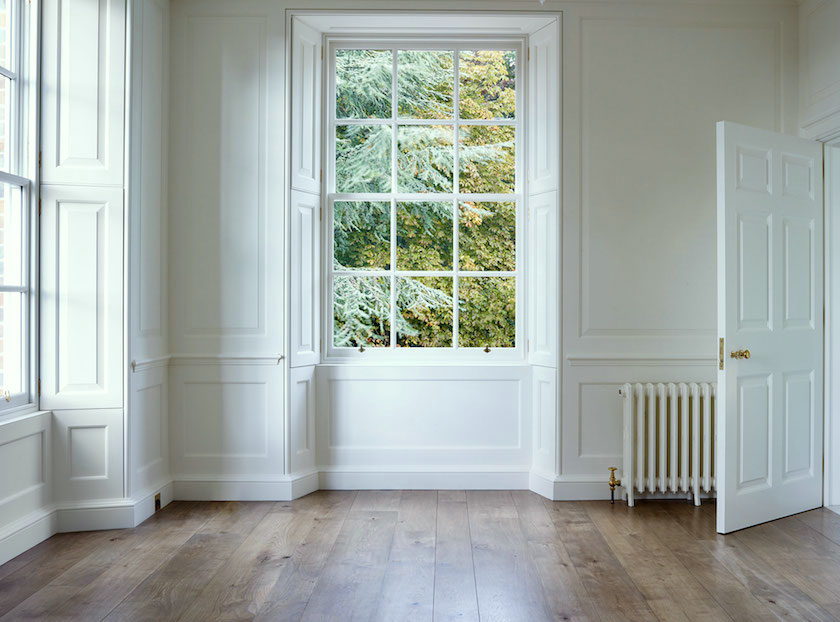 Closing with a little piece of heaven by the wonderfully talented Ben Pentreath. Please check out his website. It is chock full of room candy for days!
Above, lots of wonderful ideas for classic mouldings from Windsor One to add charm and class to your boring, builders home. Or really, any home that could use sprucing up!
Guys, I'm on my way to the design blogger's conference! I apologize for any typos,  etc.
xo,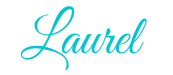 Save