Dear Laurel,
My Husband Todd would love to paint our entire home beige because he says that it goes with everything. He finds it soothing and he needs calm. I asked him about white, but white shows the dirt he says. I HATE beige. It depresses me. I LOVE color! What am I going to do?
Sincerely,
Coloratura Soprano
Dear Coloratura,
I gather that you're planning on staying married to this curmudgeon prince? Fine. I think that we can find a way to keep him happy and give you more of what you want. How? I'm going to give you ten non-beige colors that act like neutral paint colors. What that means is that they go with pretty much every other color. That is—most colors that you'd want to use.
Sometimes people have certain mindsets about colors based on some prior experience. Perhaps  his childhood home looked like Barney and Big Bird shacked up together. That'll do it. I find that once people are exposed to beautiful, interesting colors, they can reprogram their mindset to some extent. Well, we can only hope. :]
How Can You Tell Which Colors Will Act Like Neutral Paint Colors
Because I'm going to tell you. ;]
But really, the easiest way to tell for certain is to take a color and if it exists abundantly in nature, you're good to go. These colors don't shout out madly like a toddler demanding attention, "LOOK AT ME OVER HERE!!! I'M A COLOR DAMN IT! STOP LOOKING AT THAT 18TH CENTURY OVERPRICED ANTIQUE. OVER HERE! ME!!!" No, they are confident to know that their place is to sit quietly on your five walls in the background harmonizing with all that is before and around them.
All colors via Benjamin Moore. And no, that's not an affiliate link. I'm too chickenshit to ask them for money for helping to sell hundreds (maybe thousands!) of gallons of their lovely paint. I did ask a while back and was turned down with a "we don't do that."  :/  Any ideas?
Back to the program.
Ten

Colorful

Paint

Colors

That

Act

Like

Neutral

Paint

Colors
The first color is the palest warm pretty pink.
Yes, pink.
A Cup of Jo
OPAL OC-73
(I have to share a little secret with you. Men LOVE pink! They really do!)
Pink is a wonderful neutral too!
Bohemian Babies
SEA FROTH 2107-60 is a wonderful color we did a couple years ago. I don't have any good photos of it but here it is done in a nursery. And below too. It is vaguely mauve.
Hal Williamson via House Beautiful
MAUVE, you say? Yes, mauve. Oh poor mauve. It is such a crying shame what they did to it in the 80's that makes us want to hurl just hearing the word. But please give it a chance. When done right with lots of browns and white and a touch of chartreuse perhaps, it's a glorious color.
Billy Cotton
At The Ball Vaclav Brozik 1898
Tiffany Eastman
TEMPEST AF-590
Tempest is a deep gray-brown-purple. It's a very relaxing color. It's perfect for a bedroom. Just trust me on that one.
Louis Emile Pinel de Grandchamp "Lady With A Fan" 1831-1894
bad photo by Laurel Bern
RAINFOREST DEW – 2146-50
My number one pick for a soft yellowy-green is Benjamin Moore RAIN FOREST DEW. Depending on the light, this soft color can look more yellow or more green, but in either case, it is a wonderful colorful neutral that's uplifting without being blinding. This is from a recent job and I really need to go over and take some proper photos. This was just a quick cell phone shot while we were hanging the window treatments.
Phoebe Howard
BROWN HORSE 2108-30
Brown horse is like the perfect brown. It's not too sticky or red or dead and dreary. Again, brown brings on connotations of a horrid kitchen that's beige on brown on beige on brown on…Brown LOVES white! And it really loves all of the other colors. It is mad about every shade of pink. Or blue. And only if you are Miles Redd can you do them both in the same room. ;]
Florencia – John Singer Sargent 1856
original source unknown
Angele Parlange
DOLPHIN'S COVE 722
Dolphin's Cove is the color of the walls in the Grace Home stores. I've never been in one but apparently, it is very popular. It makes for a fabulous backdrop. It's turquoise but not on steroids, ya know?
those colors!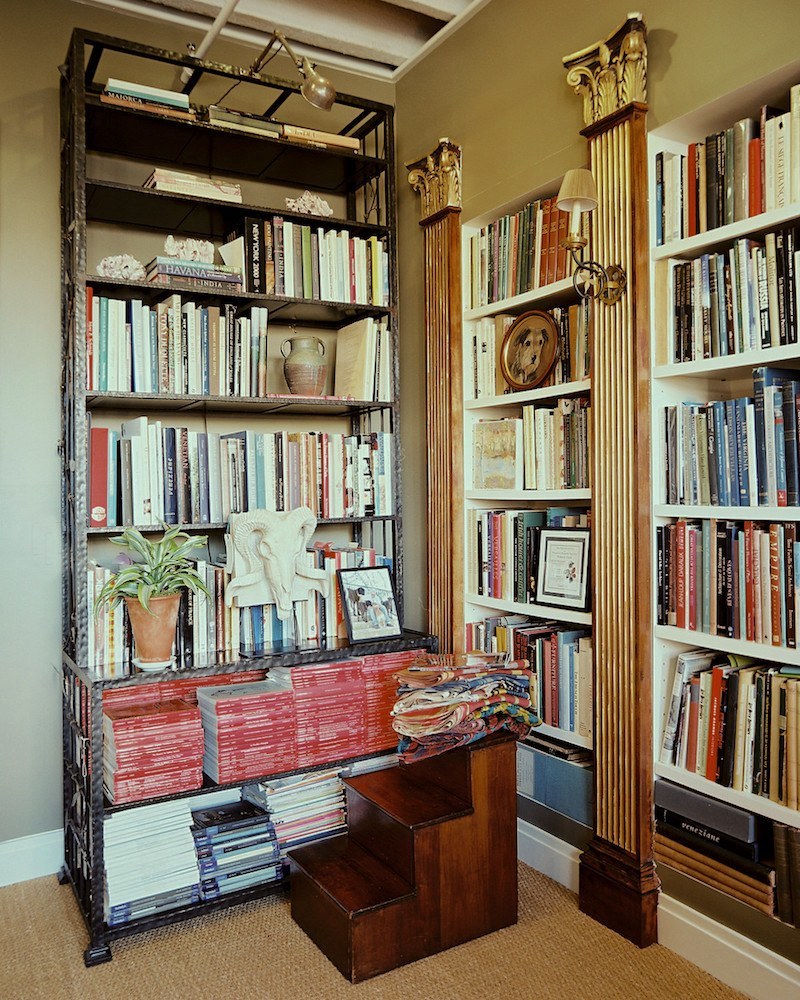 CLEVELAND GREEN 1525
This interesting shade of bronzey browny green is Bunny Williams favorite color. That is her fabulous office.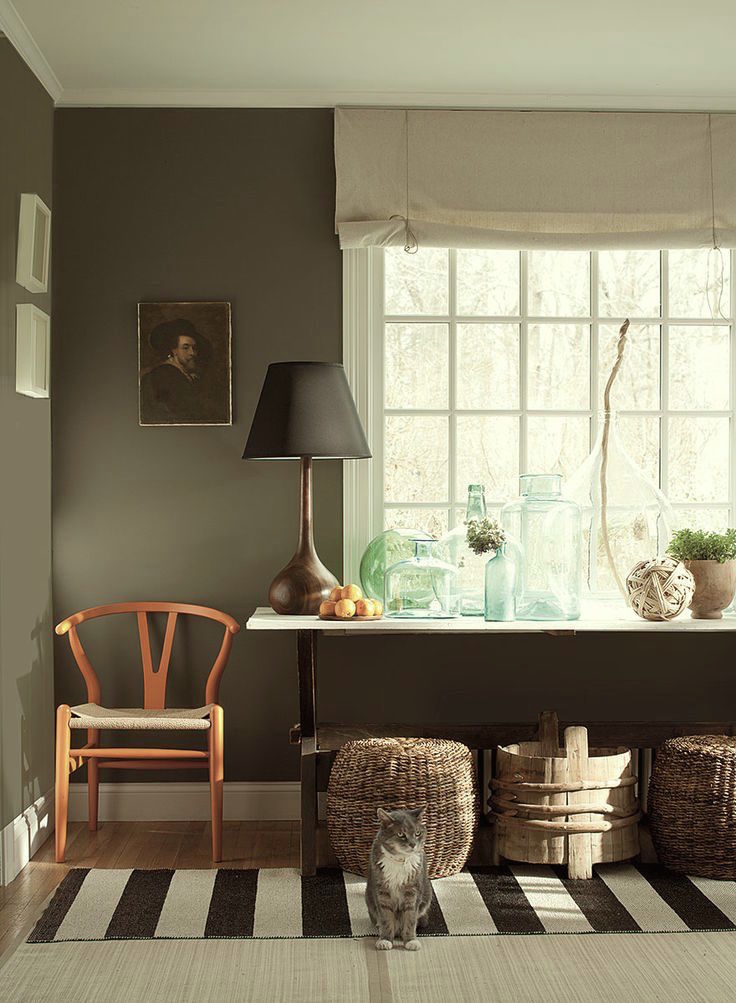 Benjamin Moore
COPLEY GRAY HC-104
Copeley Gray is a deeper bronzey, not brown, not gray, not green, not taupe but all of them put together. A few years ago we did this in a bedroom belonging to a son who was now grown. I walked in and my jaw dropped open. Everything looks great against this color. The wood tones were rich and any color would go with this wonderful deep tone.
ADOBE ORANGE 2171-30
It's not really orange, but the perfect coral. Not peach. Not neon bright, but a coral that's veering a tad towards red. It's a soothing AND uplifting color.
A lovely home in Charleston, SC
Design Manifest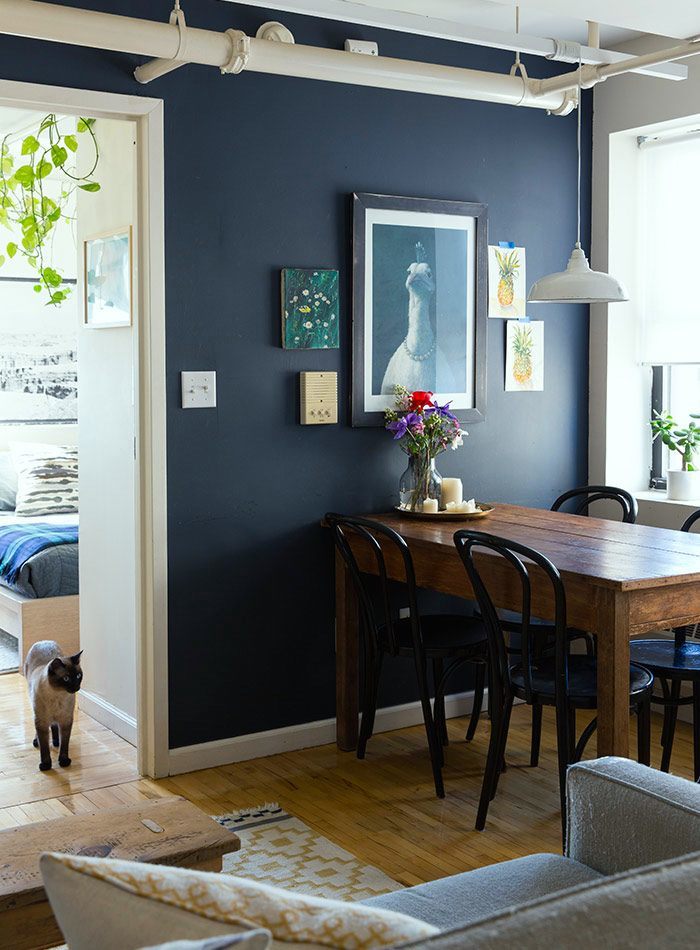 Design Sponge
VAN DEUSEN BLUE  HC-156
This is the richest, navy with just the right amount of warmth to it. I don't generally like navies that are too cold, or that have red in them. Navy is a fabulous neutral. It loves every other color and these days is having a passionate love affair with pink.
Well, there it is…
Ten Colorful Paint Colors That Act Like Neutral Paint Colors
Coloratura and anyone else that's afraid of anything that isn't "builder's beige," I hope this helps y'all feel more confident in branching out. After all… It's only paint. ;]
Would I do all of these colors in one home? Well… probably not. At least not all on one floor!
I'm still working on a paint collection. It's taking a while, because every single color is being scrutinized ruthlessly. There are only going to be 144 colors and I want everyone to be a winner. Otherwise, what's the point?
I love hearing from you guys! Do you have any favorite colors that go with everything? Colors that act like neutral paint colors? If so, please share!
xo,