Common' Laurel… That one's easy. Everyone knows that painting walls white will make a room appear larger. Right?
Sorry, but that answer is false.
Oh stop looking at me like I just told you that Little Bo Beep is a militant vegan! I mean, I know, I know… it's EVERYWHERE! Believe me, I see it on a daily basis.
"if you want to make your room appear larger, paint it white or a pale color."
And every time I read it, I get angrier and angrier because it is one of those interior design myths that's proliferated into our mainstream thinking like two horny gerbils locked in a cage together for a month.
Here ya go. Here's what I'm up against. Some magazine or blog will write an article or a post.
How To Make A Room Appear Larger.
That's a great headline. Very compelling; everyone wants a small room to appear larger.
Here are some quotes from some articles I found.
"White Rooms Always Look The Largest. " ~ Forbes
"Lighter colors tend to open up a space, while darker hues give a closed-in look." ~ Bed Bath and Beyond
Oh, I could keep going… Thousands of online magazines, forums and bloggers believe that painting a small room white will make it appear larger. Their justification is that white is reflective therefore creating "expanse," while dark colors absorb light making a room feeling more closed in.
It sort of makes sense enough for most of it not to question it. Yes, it's true. A light color will give the feeling of light and airiness because it reflects the light. But that is not what we are talking about. We are talking about the size of the room. And reflections of light come forward making the room appear to be smaller by making the walls appear to be coming towards us.
Take the ubiquitous white ceiling. Yeah… Painting it white will make it appear to be lower.
When I go on paint consults I hear the same thing over and over.
"No, Laurel, we don't want to paint our room Chelsea Gray because it'll make the room look smaller."
ARRRRGGGGHHH!!! (just in my head)
My face is smiling sweetly.
This is what I say to my clients when I see that they think I'm a clueless idiot.
"If you want your legs to look thinner do you wear, white pants or dark pants?"
Common', I'm thinking waiting for the answer. It's not a trick question. Don't think too hard. (trying very hard not to look smug)
"Well… dark pants." They smile back at me.
Still… I can see the wheels turning.
I know what they are thinking.
What that hell is she talking about? How does that translate to walls?
It's the same principle.
Dark colors recede.
Light colors advance.
This is physics, not an opinion; not a debate; pure science. Here is the proof..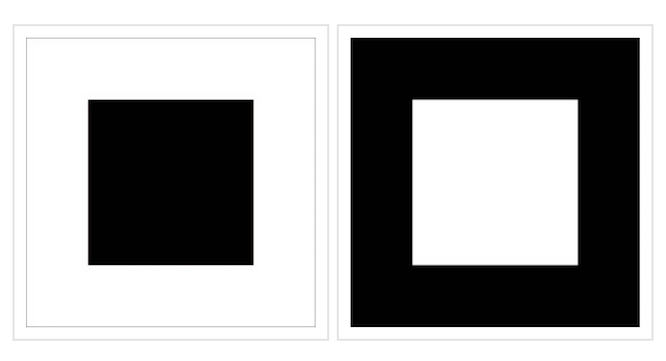 The black recedes and the white projects. The white square also looks larger, doesn't it?
It's not. The two squares are the exact same size. And the two outer squares are also the same size. The white one appears to be thicker.
Okay, Laurel, so that means that because the white square looks larger, it means the room will look larger? Right?
Sorry, no. I get your thinking. But it's not one wall. It's six counting ceiling and floor.
Four walls and a ceiling painted white will look bigger and closer than they really are. Therefore the room will appear to be smaller.
Surely Bo Peep eats meat? No, I'm afraid to tell you that she doesn't and never did. It's a difficult nut for some people to swallow. I understand. It takes time to turn the ship around.
Images say it best.
Lonny
Notice how the walls appear to go deep into space.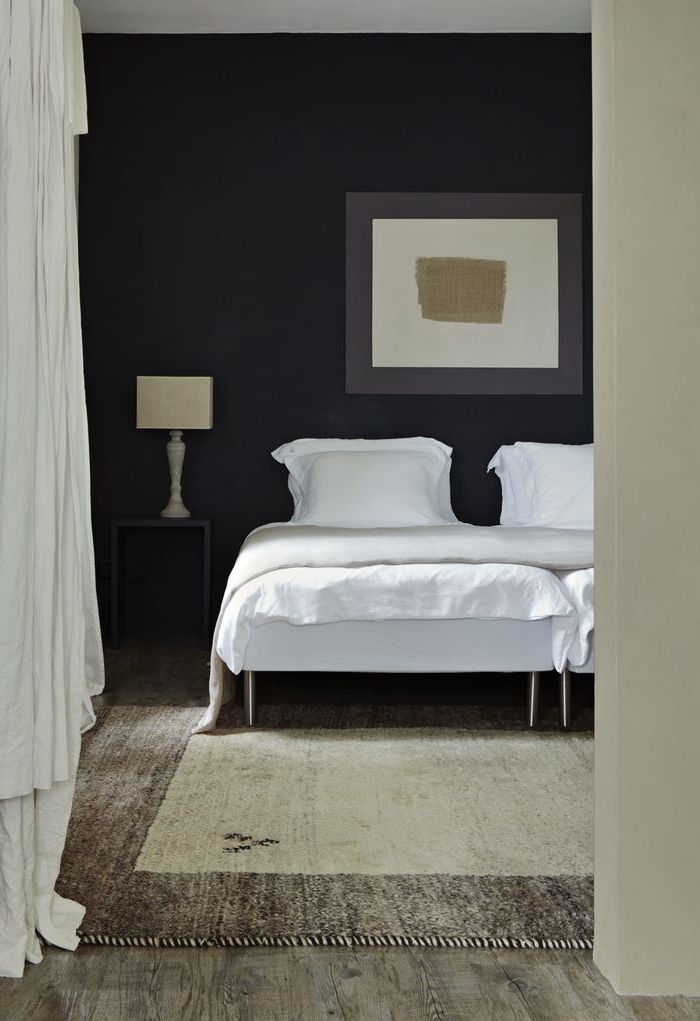 Farrow and Ball
Normally, I'm not a huge fan of accent walls. Two exceptions are when they are architecturally meaningful like in a dormer or in bedrooms, behind the bed.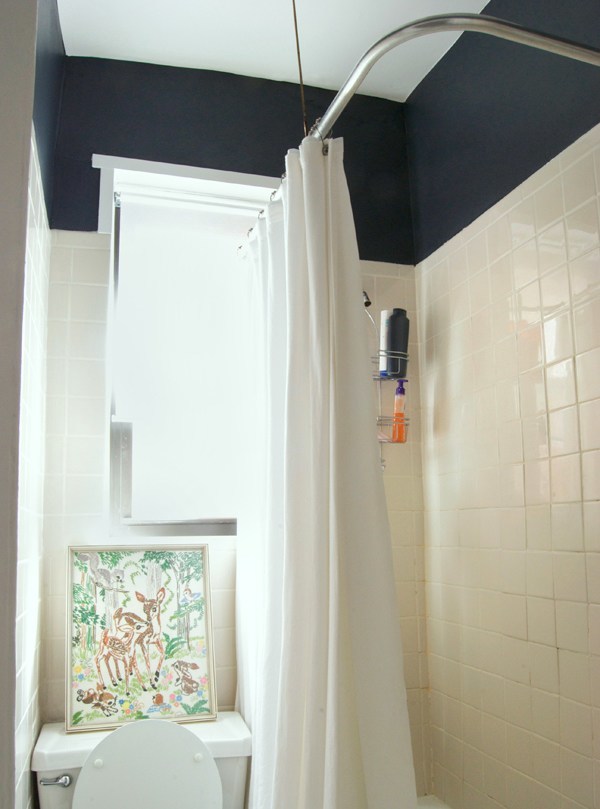 Manhattan Nest
This is a rental in NYC. You have to click on the link to see the before. Amazing what can happen with a little paint and a scrub brush. ;] Again, notice how the dark wall recedes and the white tile appears to be coming forward.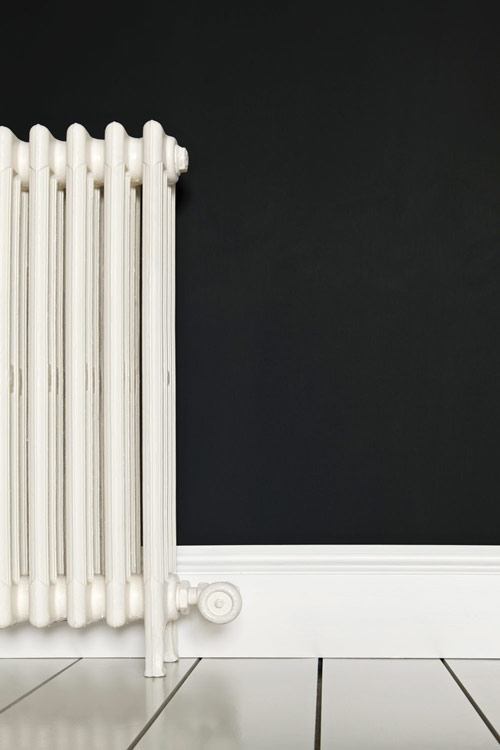 Notice, the white "popping" forward against the receding wall.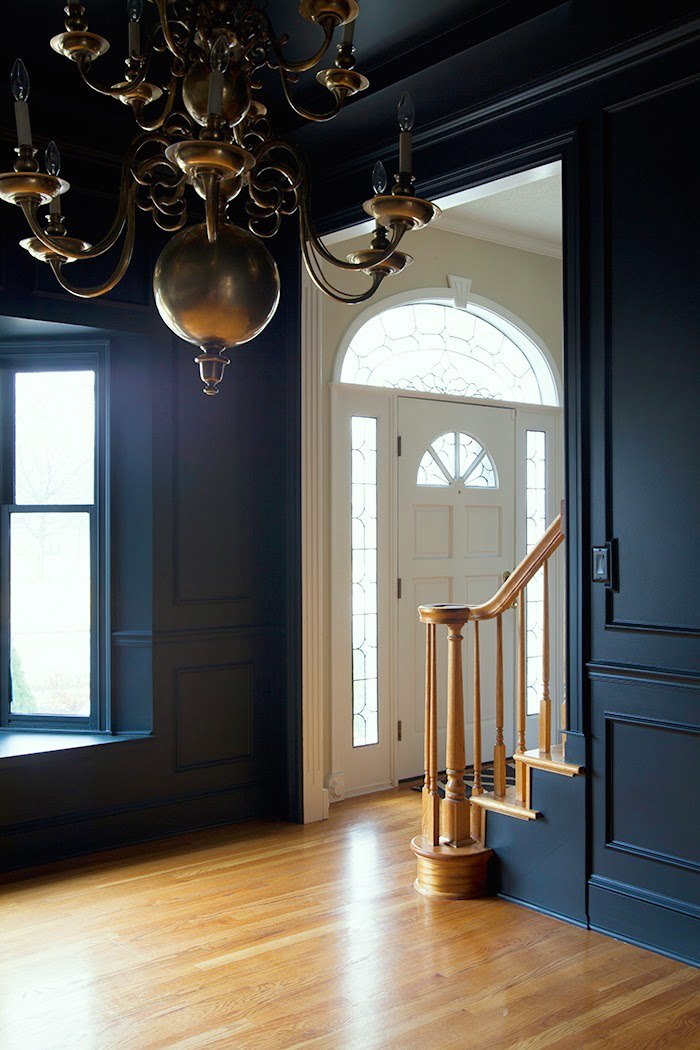 The Makerista
Fabulous blog post (if you click on the link) explains her process and how she hung the cool chandelier. Notice how fabulous colors and the warm metal looks juxtaposed against the cool dark blue. Notice too, how she took the black all the way up and onto the ceiling. Love.
Farrow and Ball Stiffkey Blue
A sea of infinite inky blue. I love how the color draws you in to its depths like looking into a deep dark ocean.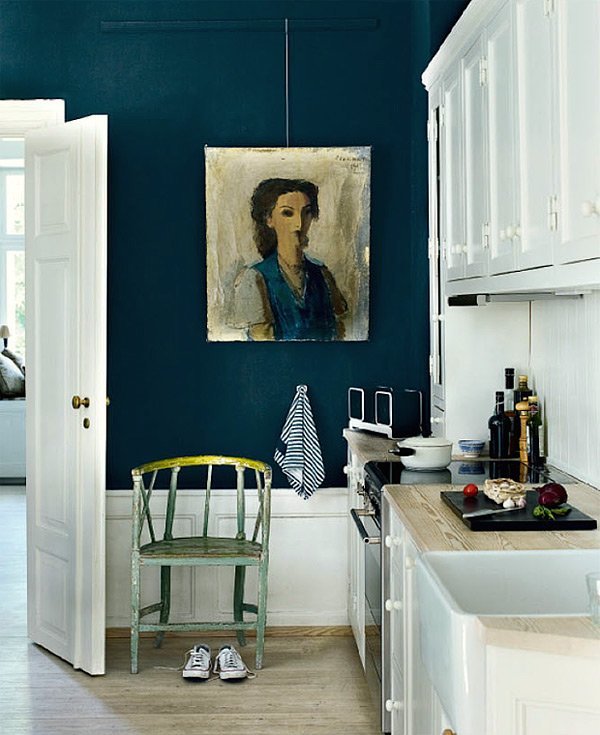 Jeannette Whitson – Garden Variety Design
Farrow and Ball Hague Blue – Warm blues make my heart sing! And this one is divine!
I could not find an original credit and I realize that this space is pretty funky. But I actually love this look. It's like it's been there for 300 years, scrubbed but well-loved.
Toronto To Three Blog
Above and below. Notice how the black ceilings have the feeling of deep space. The dark ceiling pulls it upward.
via apartment therapy
Matt Carollo via Lonny    photo: Attic Fire Photography
Another wonderful color Is Farrow and Ball Down Pipe. It is a charcoal gray with slightly blue-green undertones. I've never used it but there are many who have who consider it to be the greatest color ever!
Little Green Notebook.
Love the way the bright colors in the artwork pop out.
Another wonderful color from Farrow and Ball called London Clay which is a Brown-Gray, these days called "Bray" This is another fabulous color juxtaposed next to wood and art.
Our Boat House
An exterior shot using Benjamin Moore KENDALL CHARCOAL HC-166. This is another great, deep rich, warm charcoal color. Please notice how it appears to recede against the white which is projecting.
I hope I've won you over to the dark side. If so, will you gently correct folks who insist that light rooms look larger? They don't. They look lighter, yes, but smaller. This  is why LARGE rooms (with a lot of light) look wonderful painted in a light color!
My point is… Don't be afraid to paint a room as dark as you like because you're afraid that it'll look smaller. That is pure hokum!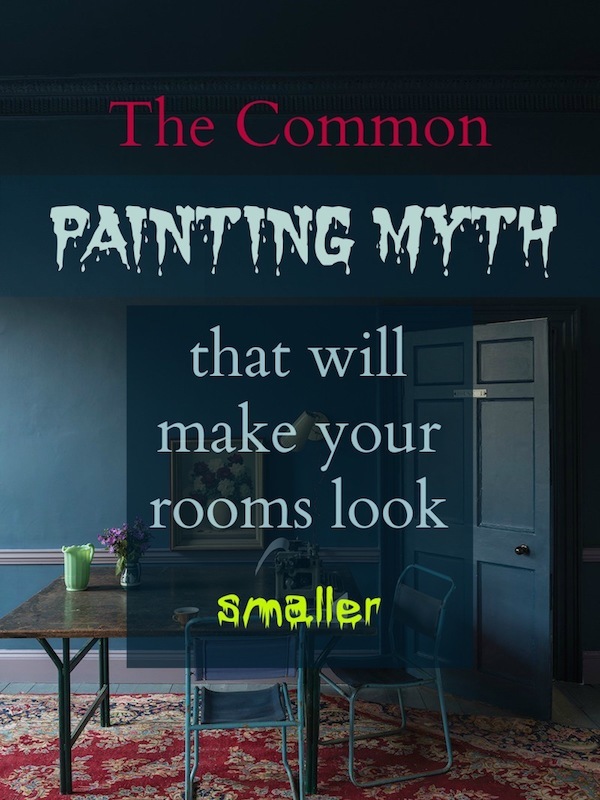 if you want to make your room appear larger, paint it a pale color. no, no, no!"
Here are some other tips when using dark colors in your rooms to make the most of them.
Dark colors love white
Dark colors love brighter colors
Dark colors love mirrors and metal, especially gold
Black loves dark blue. Insanely.
Cooler dark colors will make the room seem the largest. (another myth is to paint a room a warm, bright color to make it larger but that's a different post!
To make a ceiling appear higher, paint it darker than the walls and don't forget the floors. Dark floors will appear to go deeper.
To make a room look longer. Paint the back wall dark and the side walls light.
Lighting the corners of a dark room is essential
While I love matte paint, for blacks and navy I generally favor an egg-shell or even a satin finish. However, the walls must be very smooth. No shiny orange peel please!
I realize that I've been talking a lot about black and dark shades recently. I am fine with you painting your home white. I could happily live in an all white house.
Years ago, however, I visited a home that was largely black and dark blue.
It was absolutely the most heavenly thing I've ever seen. Deep, enigmatic and very comforting. I could've lived there too. The kitchen was all white. I would've painted the walls a rich navy.
It's just something to consider. How do you feel about it? Would you paint a room a very deep color? Black? Have you done so? Any tips I might've missed?
xo,

Save