In honor of mother's day, a post about kitchens and the one trend that I hope never leaves!
A Girl Chopping Onions by Gerret Dou 1646
In days of yore… kitchens looked a lot different than they do now.
Pehr Hillestrom 1732-1816
Antoine Raspal c. 1778 Interieur de Cuisine
Cute. I don't like eating at the kitchen table either.
Justus Juncker before 1767 – The Maid in the Kitchen
I couldn't decide which image to use so I put in all three by David Emile Joseph de Noter 1818-1892
This dude was obviously a real foodie. Or else, the Victorians were just slobs. But it sure is pretty. Oh yes, we're supposed to be focusing on the KITCHENS. Yes, these are all kitchens. And there is nary a cabinet, much less an overhead cabinet!
Hope that doggie didn't drag something in…
You're going to hurt your back, honey? I surmise that's the least of your problems… but your stove is way cool!
"Hmmm… Did I give Bob the regular or the decaf???"
I see that she has a wonderful floor to ceiling cabinet, so handy for putting the dishes away at least!
And then the thirties… Things started to change very quickly. Fun colors and patterns help with depression I guess.
40's-50's. She can't possibly be that happy lining her shelves? common now… Girdled up the wazoo and wearing pumps?
The sixties. Gosh, THAT was my mother— always on the phone! Except our kitchen was blue.
the 70's. Obviously the result of too many drugs in the 60's. Scary time.
And beyond… I STILL see this. The ubiquitous oak kitchen with fugly cabinets just stuck to the wall with all sorts of crap sitting on top. But will someone tell me why? This is so bloody ugly I can't stand it.
And possibly worse. Melamine. Almond. What IS that thing hanging there over the peninsula? In this photo and the one above, imagine removing all of the upper cabinets (and the hideous balloon shade). Doesn't that already look better?
And that is the Kitchen Trend That I Hope Never Leaves. NO UPPER CABINETS!
(Or at least very few and if they are there, they make sense within the composition.)
We've certainly come along way from house maids shucking pea pods with the rest of the groceries strewn all over the floor.
Tammy Ramsey via: Lonny
This classic white kitchen is open and airy. The cabinets  integrate into the ceiling and windows. There is a gorgeous island with a little sink close to the range. This is vital if the primary sink is further than an arm's length away!
via: Better Homes and Gardens
Our ranges are frequently separate from the ovens. Double ovens have become increasingly popular.
Kitchens By Eileen
Floor to ceiling cabinet is great. Now that we have islands, we really don't NEED all of those upper cabinets. That's what pantries are for. (another post!)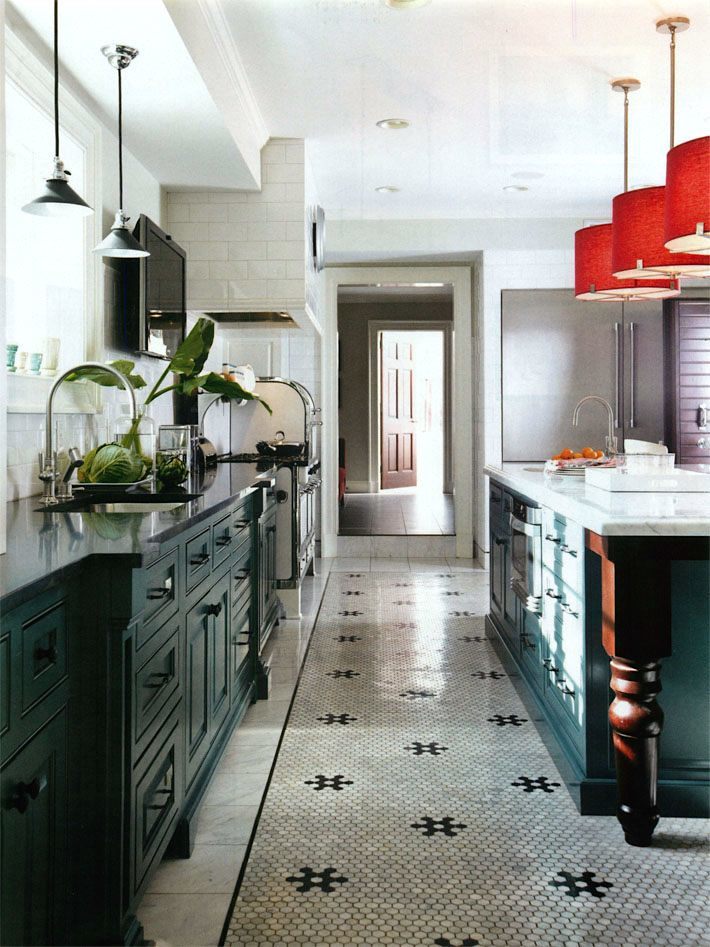 Bob Williams (of Mitchell Gold + Bob Williams) fabulous retro inspired kitchen. Love the hexagonal marble tiled floor!
Windsor Smith's charming beauty!
Above and below, a lovely blend of trad and contemporary in a sophisticated kitchen by Hubert Zandberg.  Notice how seamlessly the cabinets are built into the range area.
Kvanum
A small over cabinet next the range built into the soffit makes total sense in this case.
via
A modern European kitchen. I have to admit that I was seduced by that huge window!
I think a bit of this Walker-Zanger Duquesa Tile would've looked amazing in the kitchen above.
Muse Interiors
A perfect example of upper cabinets that make sense within the composition.
Christopher Peacock classic
I love this kitchen but just don't know about those giant hooks. A little scary, no?
I've posted this kitchen before and attributed it to Donald Lococo who is the architect, however, Darryl Carter is the interior designer. I'm not sure who did what, but no matter; this is one of my favorite kitchens ever. Again, there are very few upper cabinets.
A good rule of thumb is that if you have any upper cabinets, they must never round the corner.
(of course, there's an exception to every rule. One would be a very small squareish kitchen in an apartment for instance)
photo by Sharyn Cairns
A contemporary kitchen with counter to ceiling way cool green tiles and concrete counter tops.
Cantley and Company
Another fabulous kitchen! I adore antique rugs in kitchens.
Smith & Vansant Architects
Their style is a wonderful blend of craftsmen and traditional. Their kitchens have lots of windows and few if any upper cabinets. And they've been doing that for a long while!
What do you think of kitchens with no or few upper cabinets? Do you like that look? Do you think it's here to stay or a passing trend? If you ask me, I think there's a trend to NO cabinets! I have seen this and it's pretty interesting. I mean, they did it 300 years ago. but then again, they didn't have hot and cold running water either!
You might also enjoy these posts about kitchens
breathtaking beautiful classic kitchens that aren't white
12 of the hottest kitchens trends – awful or wonderful?
the death of the boring white kitchen KBIS
xo,