brrrrrrr… Winter? Old man Winter? Helloooo? Dude? Time to give it up! It's April First and there is absolutely no sign whatsoever of SPRING here in the northeast.
Some years it seems to go straight from winter to summer. I'm afraid that this year might be one of those. We'll see…
Spring is my favorite season because first of all… it's usually mild weather.
The days are longer and then one day, that delicious yellowy-green begins to emerge. After months of frigid temps and filthy snow, this sign of young freshness makes me heady like no other color. I wrote about it in one of my very first posts about chartreuse.
The color chartreuse, is the sign of new life, rebirth, hope and good things to come…
Vincent Van Gogh
Except for this year.
This year, apparently, they (whoever they is) decided to cancel spring.
So, I guess I'll just have to recreate it here. Although I really don't need an excuse to showcase my favorite color!
These first three images are by the sensational Ashley Whittaker. This is from a home in Florida. It's perfect without screaming FLORIDA!!!
Le Pavillon Frais – Versailles Castle – built in 1753, torn down in 1810 and fully restored in 2010 by Tricotel
More Treillage. Bunny Williams and John Rosselli's dining room. OH, did you hear? Their store, Treillage, that I was just writing about is closing in June!
Suzanne Kasler
Above and below by Cullman and Kravis
Mario Buatta
Mario loves Benjamin Moore 396 Chic Lime
Love these Paul Montgomery hand-painted Chinoiserie wallpapers!
Jeffrey Bilhuber and another lacquered ceiling. This one in chartreuse! How fabulous is that!
Just out! From Mary McDonald's brand new collection at Schumacher–Grey Gardens – Jet.
***
Okay… God listened…
I began this post, yesterday, March 31st. Yesterday, it WAS cold and dreary. Today, I was out. I drove my car and did notice that the trees are starting to look ever so slightly "furry." I also went into town to buy some flowers. As I was walking, I noticed this:
Daffodils! A week ago, this hill was covered in snow!
I needed some flowers for an impromptu photo shoot in my little kitchen. I love walking past this delightful shop. Tryforos & Pernice Florist.
Very upscale. A little too upscale for me since I knew that the flowers would be dead before nightfall. I felt a little guilty not buying anything, so I told them I'd give them a shout out.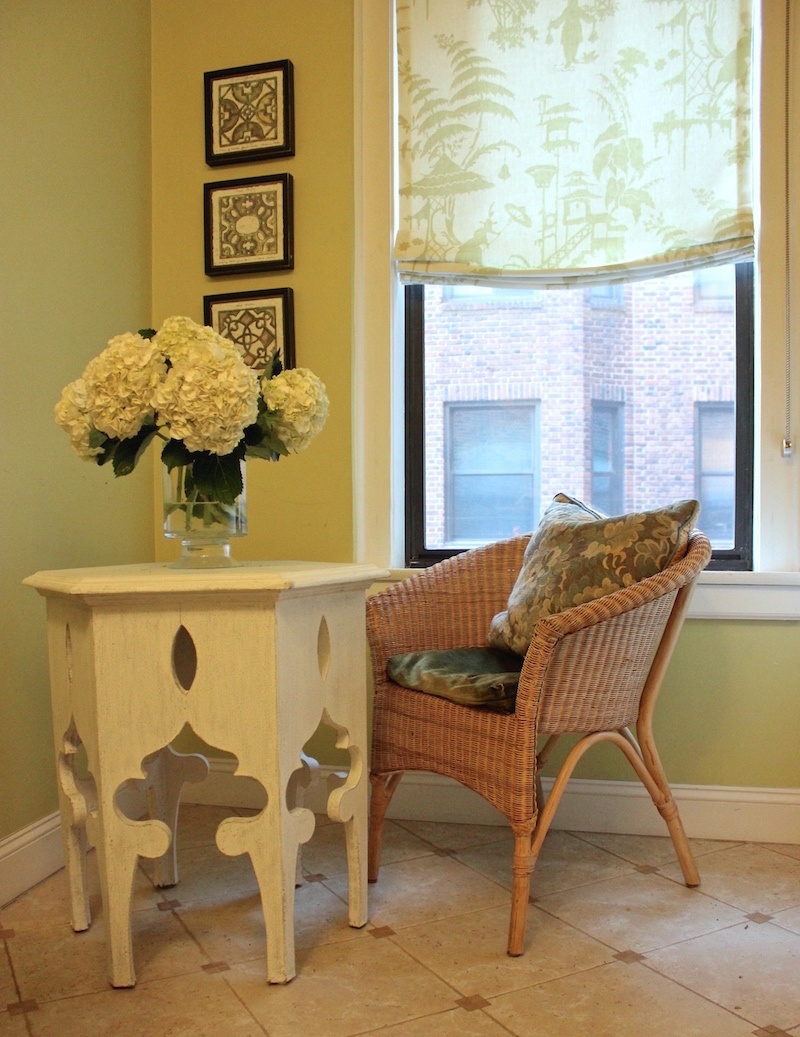 Back home. My (relatively) cheap but beautiful hydrangeas from the Korean Grocer.
I've been looking for an excuse to show off my new Roman shade! You may recall that I used this fabric for my client in Bronxville and I liked it so much, I tacked on a couple extra yards to the order so that I could have a shade for my kitchen. It is Barbara Barry's Indo Day for Kravet.
The walls were already painted this color when I moved in. It is Benjamin Moore Pale Avocado 2146-40. This is just one under the lovely Rainforest Dew 2146-50.  Both are fabulous colors!
The table is from Noir Furniture.
By the way… those beautiful hydrangeas ARE half-dead already. I cut them and stuck them in water right away. Oh well.
Happy April!
xo,